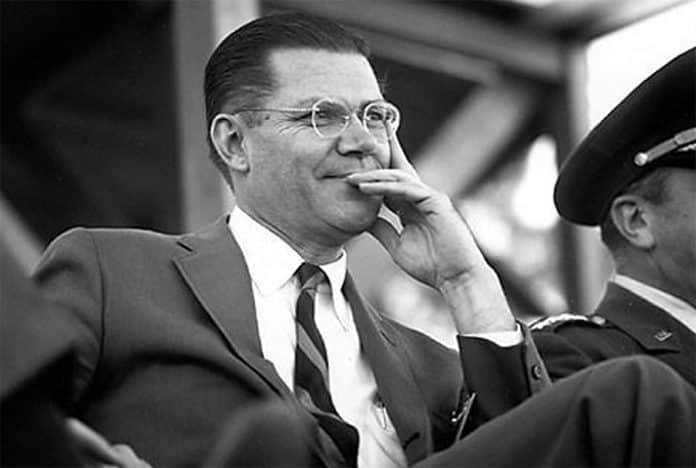 On this 10th day of November in 1964, at a news conference, Secretary of Defense Robert McNamara says that the United States has no plans to send combat troops into Vietnam.
When asked whether the United States intended to increase its activities in Vietnam, he replied, "Wait and see."
By 1969, more than 500,000 American troops were in South Vietnam.
Opps!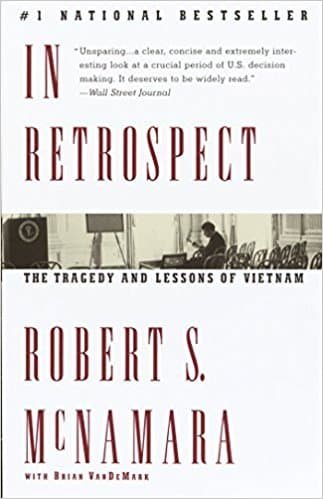 During President John F. Kennedy's term, while McNamara was Secretary of Defense, America's troops in Vietnam increased from 900 to 16,000 advisers, who were not supposed to engage in combat but rather to train the Army of the Republic of Vietnam.
The number of combat advisers in Vietnam when Kennedy died varies depending upon source. The first military adviser deaths in Vietnam occurred in 1957 or 1959 under the Eisenhower Administration, which had infiltrated Vietnam, through the efforts of Stanley Sheinbaum, with an unknown number of CIA operatives and other special forces in addition to almost 700 advisers.
The Truman and Eisenhower administrations had committed the United States to support the French and native anti-Communist forces in Vietnam in resisting efforts by the Communists in the North to unify the country, though neither administration established actual combat forces in the war.
The U.S. role—initially limited to financial support, military advice and covert intelligence gathering—expanded after 1954 when the French withdrew. During the Kennedy administration, the U.S. military advisory group in South Vietnam steadily increased, with McNamara's concurrence, from 900 to 16,000.
U.S. involvement escalated after the Gulf of Tonkin incidents in August 1964, involving two purported attacks on a U.S. Navy destroyer by North Vietnamese naval vessels.
Records from the Lyndon Johnson Library have perhaps indicated that McNamara misled Johnson on the attack on a U.S. Navy destroyer by allegedly withholding calls against executing airstrikes from US Pacific Commanders.
McNamara was also instrumental in presenting the event to Congress and the public as justification for escalation of the war against the communists.
In 1995, McNamara met with former North Vietnam Defense Minister Vo Nguyen Giap who told his American counterpart that the August 4 attack never happened, a conclusion McNamara eventually came to accept.
President Johnson ordered retaliatory air strikes on North Vietnamese naval bases. Congress approved, with only Senators Wayne Morse (D-OR), and Ernest Gruening (D-AK), voting against, the Gulf of Tonkin Resolution, authorizing the president "to take all necessary measures to repel any armed attack against the forces of the U.S. and to prevent further aggression." Regardless of the particulars of the incident, the larger issue would turn out to be the sweeping powers granted by the resolution.
It gave Johnson virtually unfettered authority to expand retaliation for a relatively minor naval incident into a major land war involving 500,000 American soldiers. "The fundamental issue of Tonkin Gulf involved not deception but, rather, misuse of power bestowed by the resolution," McNamara wrote later.
In 1965, in response to stepped up military activity by the Viet Cong in South Vietnam and their North Vietnamese allies, the U.S. began bombing North Vietnam, deployed large military forces and entered into combat in South Vietnam. McNamara's plan, supported by requests from top U.S. military commanders in Vietnam, led to the commitment of 485,000 troops by the end of 1967 and almost 535,000 by June 30, 1968.
The casualty lists mounted as the number of troops and the intensity of fighting escalated. McNamara put in place a statistical strategy for victory in Vietnam. He concluded that there were a limited number of Viet Cong fighters in Vietnam and that a war of attrition would destroy them. He applied metrics (body counts) to determine how close to success his plan was.
McNamara with Australian Prime Minister Harold Holt at The Pentagonin July 1966
Although he was a prime architect of the Vietnam War and repeatedly overruled the JCS on strategic matters, McNamara gradually became skeptical about whether the war could be won by deploying more troops to South Vietnam and intensifying the bombing of North Vietnam, a claim he would publish in a book years later. He also stated later that his support of the Vietnam War was given out of loyalty to administration policy.
He traveled to Vietnam many times to study the situation firsthand and became increasingly reluctant to approve the large force increments requested by the military commanders.
McNamara said that the Domino Theory was the main reason for entering the Vietnam War. In the same interview he stated, "Kennedy hadn't said before he died whether, faced with the loss of Vietnam, he would [completely] withdraw; but I believe today that had he faced that choice, he would have withdrawn."
---
Other Important Events on this Day in History
1971

Khmer Rouge forces attack Phnom Penh airport
ATTENTION READERS
We See The World From All Sides and Want YOU To Be Fully Informed
In fact, intentional disinformation is a disgraceful scourge in media today. So to assuage any possible errant incorrect information posted herein, we strongly encourage you to seek corroboration from other non-VT sources before forming an educated opinion.
About VT
-
Policies & Disclosures
-
Comment Policy
Due to the nature of uncensored content posted by VT's fully independent international writers, VT cannot guarantee absolute validity. All content is owned by the author exclusively. Expressed opinions are NOT necessarily the views of VT, other authors, affiliates, advertisers, sponsors, partners, or technicians. Some content may be satirical in nature. All images are the full responsibility of the article author and NOT VT.