… from Press TV, Tehran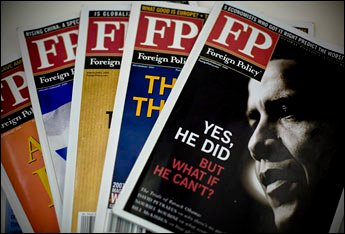 [ Editor's Note: It was certainly a surprise to see Foreign Policy ripping Bolton's appointment to shreds like VT would, categorizing the man as a national security threat to us all.
This is a huge public blow to Trump's presidency as FP cannot be brushed off as a flaky dovish group. So we have the makings here of a broad front to pressure the White house, and hopefully trigger more public response over putting this lunatic in a key position like this.
It confirms VT's editorial position that Trump feels he has to surround himself with tough guys to show he is a leader of tough guys, possibly a throwback to how he built his real estate empire via his long relationship with the NY mobsters would were powerful in the construction rackets and with City Hall politically.
The next step is to see if the Congressional Republicans will come forward with a similar position, easier for them to do now with FB leading the way. Bolton's record is beyond horrible on where he stood on policy and his total inability to acknowledge what a disaster Iraq was. His unsaid is "it wasn't a disaster for the billions that were made on the war."
Bolton exhibits the typical sociopath mentality of denying the most obviously wrong position, proven by history, was such. They are not curable, and should never be recycled back into a top position to do more damage.
I think the country is faced with another challenge of pouring the phone calls and emails into the White house and Congress over his appointment.
We are seeing that less and less now as the public is bombarded with a daily list to support this or that. Social media alone has huge numbers of people's attention held hostage.
Gordon's recent comment about the public having the attention span of a gnat was made as a joke, but his point of its inability to follow through on any resistance effort is valid. Part of that is the modern phenomenon of people communicating in the shortest, most labor free way possible. If it is not fast and easy, it does not get done. … Jim W. Dean ]

Jim's Editor's Notes are solely crowdfunded via PayPal
Jim's work includes research, field trips, Heritage TV Legacy archiving & more. Thanks for helping. Click to donate >>
– First published … March 25, 2018 –
President Donald Trump's appointment of John Bolton as his national security adviser has "profound implications" for the direction of US foreign policy and increases the risk of military confrontations with North Korea and Iran, according to an analysis by the Foreign Policy magazine.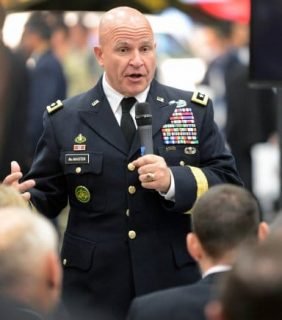 Trump announced Gen. H.R. McMaster's replacement on Thursday, making Bolton, a former US ambassador to the United Nations, his third national security adviser since coming to office and continuing a shake-up that creates one of the most hawkish national security teams of any White House in recent history.
Even though McMaster "was no dove," Bolton, "falls into an entirely different category of dangerous uber-hawk," the FP article argues.
Bolton championed the 2003 invasion of Iraq, and to this day, he holds the conviction that "the most disastrous foreign-policy decision in a generation was a good idea," it adds.
Shortly before the US and its allies launched the catastrophic invasion, Bolton reportedly told Israeli officials that once Saddam Hussein was removed, it would be necessary to deal with Syria, Iran and North Korea.
"He has essentially maintained this position ever since," the FP says, adding that for Bolton, "there are few international problems where war is not the answer."
Trump's choice of Bolton as national security adviser dims the prospect of reaching a peaceful solution with North Korea as the standoff reaches a critical point.
"McMaster supported diplomacy and, as a military man with extensive combat experience, understood the costs of war. Bolton, on the other hand, has spent his entire career sabotaging diplomacy with Pyongyang and seems downright giddy about a possible military confrontation," reads the article.
As undersecretary of state for arms control and international security, Bolton played a key role in President George W. Bush's decision to abandon diplomacy with North Korea in 2002 and scrap the 1994 Agreed Framework with Pyongyang, which had frozen the country's plutonium program under effective verification.
North Korea had pursued a separate plutonium enrichment program, reportedly with the help of Pakistan. Arms control experts urged the Bush administration at the time to expand the Bill Clinton-era framework to prohibit plutonium enrichment. However, encouraged by Bolton, Bush decided to kill the framework. Consequently, North Korea moved to build about half a dozen additional nuclear weapons and tested its first in 2006.
More than a decade later, Bolton continues to hold on to this hawkish worldview that diplomacy does not work.
In a September 3, 2017 interview with Fox News, Bolton declared that the only option to address the North Korean nuclear standoff is "to end the regime in North Korea" and engage in a preemptive strike.
"Anybody who thinks that more diplomacy with North Korea, more sanctions, whether against North Korea or an effort to apply sanctions against China, is just giving North Korea more time to increase its nuclear arsenal," Bolton warned.
"It would be a lesson to every would-be nuclear state in the world that if you just have patience enough, you can wear the United States down," he argued.
Bolton invoked former President Franklin Roosevelt's advice that "when you see a rattlesnake poised to strike, you don't wait until it has struck before you crush it," arguing that "today North Korean nuclear weapons and ballistic missiles, and Iran's while we're on the subject, are the rattlesnakes of the 21st century."
To further lay the groundwork for a preemptive strike against North Korea, Bolton penned an op-ed in The Wall Street Journal last month titled "The Legal Case for Striking North Korea First." In it, the former ambassador contended that the "threat is imminent" and the US should take military action before it is too late.
Bolton's appointment comes as Trump has accepted an offer of meeting by North Korean leader Kim Jong-un. However, "the entire endeavor is doomed" if Bolton reflects, or influences, the FP says.
Bolton has argued that the only value in having this "unproductive" summit — which could take place in May — is to "foreshorten the amount of time that we're going to waste in negotiations that will never produce the result we want, which is Kim giving up his nuclear program."
Bolton, the analysis reads, is equally likely to encourage Trump toward military confrontation with Iran.
Inspectors with the International Atomic Energy Agency (IAEA) have filed nine consecutive reports over the past two years verifying Iran's compliance with a 2015 nuclear agreement officially known as the Joint Comprehensive Plan of Action, or JCPOA.
However, Bolton has said, "I don't think the evidence is there that this agreement is slowing them down." As the case with North Korea, the former ambassador has called Iran an "imminent threat," and claimed, without offering any evidence, that Tehran is on the verge of obtaining off-the-shelf nuclear weapons from Pyongyang.
For Bolton the debate over whether Iran is living up to its commitments under the JCPOA is beside the point. Bolton's appointment comes at an incredibly sensitive time for the Iran nuclear deal as well.
Trump is approaching a May 12 deadline for a decision whether to continue waiving the nuclear-related sanctions against Tehran or quit the JCPOA.  The US president delivered a 120-day ultimatum to European allies and Congress to "fix the terrible flaws of the Iran nuclear deal" the last time he did so in January.
McMaster along with Rex Tillerson — who was fired as secretary of state this month and replaced with CIA Director Mike Pompeo, another Iran hawk – repeatedly urged Trump not to withdraw the US from the international accord.
A State Department team has been working with their counterparts in France, Germany, and the United Kingdom to identify a compromise that would encourage Trump to remain in the agreement.
Bolton, perhaps with support from Pompeo, "is likely to tell the State Department not to bother and encourage the president to reject any arrangement with the Europeans as insufficient," the FP analysis says.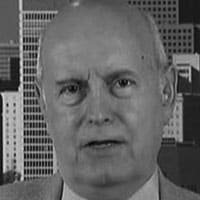 Jim W. Dean is VT Editor Emeritus.  He was an active editor on VT from 2010-2022.  He was involved in operations, development, and writing, plus an active schedule of TV and radio interviews.  He now writes and posts periodically for VT.
ATTENTION READERS
We See The World From All Sides and Want YOU To Be Fully Informed
In fact, intentional disinformation is a disgraceful scourge in media today. So to assuage any possible errant incorrect information posted herein, we strongly encourage you to seek corroboration from other non-VT sources before forming an educated opinion.
About VT
-
Policies & Disclosures
-
Comment Policy
Due to the nature of uncensored content posted by VT's fully independent international writers, VT cannot guarantee absolute validity. All content is owned by the author exclusively. Expressed opinions are NOT necessarily the views of VT, other authors, affiliates, advertisers, sponsors, partners, or technicians. Some content may be satirical in nature. All images are the full responsibility of the article author and NOT VT.