… from Sputnik News, Moscow
"In the principal, our objectives are the same. We respect the independence, the unity and sovereignty of Syria. We want Syria for all Syrians on the equal basis regardless of their sector ethnicity or religious affiliation. We want Syria that is stable, secure and prosperous and we want Syria that is free from terrorist groups and sectarian militias and foreign troops." ~ Saudi Ambassador to Russia Rayed Krimly
[ Editor's Note: This is a long interview that covers a lot of ground, some old silliness, and a few interesting statements if they are true. The Saudis pretend, like the rest of the US coalition, that they have in no way been involved in state-sponsored proxy terrorism, when even VT alone could go into court tomorrow with a lot of evidence that they are.
But that said, geopolitical shifts sometimes happen abruptly, but most often in steps. The mention that Saudi military cadets are now in Russian military academies is an example.
And of course, we do not see Trump raising hell about the Saudis buying Russia's S-400 missile systems, when Erdogan is getting the whipping-boy treatment. The term "fog of war" is well known, but not "the fog of diplomacy" 🙂 … Jim W. Dean ]

Jim's Editor's Notes are solely crowdfunded via PayPal
Jim's work includes research, field trips, Heritage TV Legacy archiving & more. Thanks for helping. Click to donate >>
*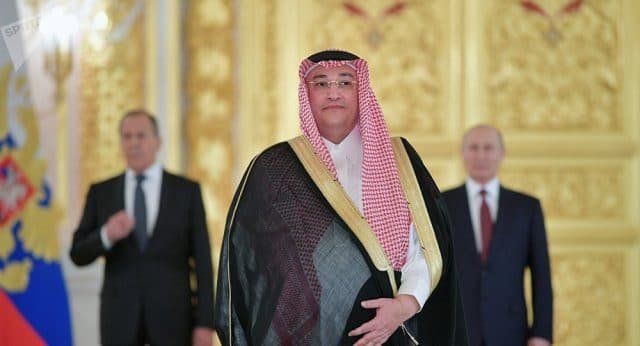 – First published … May 31, 2018 –
Saudi Ambassador to Russia Rayed Krimly, in an interview with Sputnik journalist Anastasia Dmitrieva, commented on the Russian Direct Investment Fund, foreign troops in Syria and the upcoming FIFA World Cup.
Sputnik: Your Excellency, there has been a large delegation from Saudi Arabia at the St. Petersburg Economic Forum comprising over 100 representatives. Can you share results of the forum for Saudi Arabia- Russia relations?
Rayed Krimly: We had a very large delegation because of the importance of our cooperation and good relations with Russia especially and the importance of the event, of course. Mr. Al-Falih, the Minister of Energy, was the head of our delegation, which included also the president of the Saudi [Public] Investment Fund and the various representatives of the Saudi [Arabian General] Investment Authority, of Saudi Aramco and also Saudi businessmen.
We also had a nice Saudi wing explaining important reforms regarding making Saudi Arabia attractive for investments, easing doing business, helping investors to have all permits in matters of hours from all agencies, speeding up all necessary procedures and explaining incentives, both financial and legislative, that are offered to foreign investors.
Saudi Arabia is ready for business and this is a major part of the Saudi Vision 2030. We have to increase our reliance on new investments to compensate for our dependence on oil revenues.
Sputnik: In total, how many agreements and memorandums of understanding were signed at SPIEF?
Rayed Krimly: We have signed 1 Memorandum of Understanding with a Russian airplane manufacturer and others were discussed indeed. This is between various agencies. At the official level, Mr. Al-Falih had very constructive talks with Minister of Energy in Russia [Alexander Novak] as they are continuing their consultations. They see each other quite frequently now.
READ MORE: Saudi Energy Minister Says Had Meetings With Heads of Rosatom, LUKoil at SPIEF
We started this process two years ago, oil prices were around $40 [per barrel], now they almost doubled. This is important for both our countries but also for the world economy. People think the price of oil is only benefitting oil and energy producers, this is not true. Unless you have an attractive price for putting more investments to satisfy near future demand for energy, you will have a problem in the near future. We achieved this level together.
Sputnik: Saudi Energy Minister Khalid al- Falih also held meetings with LUKoil and Rosatom on the sidelines of the SPIEF. What topics were discussed? Can they participate in Saudi Vision 2030?
Rayed Krimly: We are open to all of them and we are discussing the opportunities for cooperation not only in terms of gas and energy, traditional energy sector, but also in terms of peaceful nuclear energy and other projects, as well as we discuss investment opportunities inside Russia. We are open to Russia's participation in the bidding for building nuclear reactors. All these talks in all these fields are producing real results.
We already have a historic visit of King Salman to Moscow, we are already implementing the agreements that were reached then and we are now opening the way for the new and more extensive cooperative agreements in other fields as well as fields already mentioned.
We have a very important cooperation in military affairs, not only in military purchases and industrialization inside Saudi Arabia in some components of military deals, but also in terms of sending our officers to be trained and schooled in Russian military academies for the first time. [ Editor's Note: This is a big deal that will not be missed in US military circles...Jim Dean ]
We have almost 200 Saudi military personnel studying in various cities in Russia. This was agreed two years ago. As you know, this qualitatively different stage of our bilateral relations with Russia started with several visits of Crown Prince in Russia starting from 2015 and culminated in the historic visit of the King to Moscow.
Sputnik: As for the Saudi-Russian military cooperation, what is the latest update on Saudi Arabia's purchase of Russian S-400 systems?
Rayed Krimly: We are still continuing technical details of the agreement. We signed the contract during the King's visit, what is now happening is the implementation requires technical details of technology transfers, other technical details between experts of both sides. It is no secret that Russia's Rostec already opened an office in Saudi Arabia. We moved ahead with 3 other agreements because they were more simple in nature. But we expect movement in this agreement.
Experts need to finish their discussions, we can't put a date for the end of discussions, but it is proceeding in a very positive manner.  Frankly speaking, we have so many delegations already meeting on this issue. Whether the meeting is in Saudi Arabia or they are meeting in Russia sometimes – it is on a continuous basis.
Sputnik: Moscow and Riyadh have greatly increased bilateral ties in the past two years. Ironically, the first match of the FIFA World Cup would be Russia against Saudi Arabia. Are any of Saudi Arabian officials planning to visit Moscow on June 14 to see the game?
Rayed Krimly: First of all, it is a golden opportunity for Saudi Arabian fans to visit Russia. Our estimate is around 10,000 Saudis attending the opening match and other matches. This is the largest number ever of Saudis coming to Russia. This is important not only for touristic or economic reasons and for sports and youth and people-to-people contacts.
It is important because frankly both sides have limited knowledge of each other and some of the images are taken from Hollywood movies that distort reality in both Saudi Arabia and in Russia. Seeing firsthand the reality and then meeting firsthand with Russian counterparts is very important for both sides. This will tremendously increase the number of Saudi tourists coming later to Russia.
Regarding the official delegation, yes, of course, our head of Saudi sports agency is coming with the team to attend [the opening match], but also I expect some high-levels coming as well. It is a very important occasion. It is impressive to me how well the organization is moving for this event. It is not really strange to Russians, because they hosted Winter Olympics in Sochi, but it is really well-organized, impressive and with open communications with all the countries participating.
Sputnik: The Russian Direct Investment Fund (RDIF) and Saudi Arabia were set to discuss the expansion of investments at the SPIEF. Did they? By how much could investments increase?
Rayed Krimly: We have already invested 1 billion dollars in the Russian fund and our people are happy with the results. This means that it will probably increase. Our commitment reaches $10 billion in total and we implemented already $1 billion.
Sputnik: Another important topic of the SPIEF was Iran. As of late, Tehran has shown itself willing to push for a ceasefire in Yemen and ease the humanitarian crisis there. Why do you think Iran has suddenly stepped up its efforts and expanded its role in settling the conflict? Can it be connected to recent US sanctions?
Rayed Krimly: We have always asked our neighbors in Iran to behave in accordance with the norms of the international community that are not mysterious to anybody. It is total respect for the independent sovereignty of each other, good neighborly relations, opening up avenues for cooperation.
Unfortunately until now, on the ground, we don't see this. We see continuing efforts to interfere into internal affairs of others, to arm, establish and finance sectarian militias in other Arab countries from Lebanon to Syria, Yemen, Iraq, Bahrain, and Kuwait. For us, these groups are really terrorist groups…
In the end, it should not be allowed for armed groups to establish sectarian militias whether Sunni or Shiite and to target innocent civilians to do all these civil wars that are tragically inflicting in many Arab countries so much damage and so much suffering of the people. We are for the political solution not only in Yemen, in Syria, everywhere. [They] have to be based on international law and international legitimacy.
Sputnik: French President Emmanuel Macron in April suggested that a small group of countries should mediate between two parallel peace processes on Syria – the Geneva process and the Astana process – to "fix" the situation there for the long term. How do you assess the proposal? Do you agree that the third parallel negotiation platform is necessary?
Rayed Krimly: Of course, Saudi Arabia supports UN-led efforts to have a political solution. We also support the Russian role to promote a political solution in accordance with the Geneva process and UN Security Council resolutions. We are in consultations and coordination sometimes with Russia regarding the ways to move this process ahead in the near future.
In the principal, our objectives are the same. We respect the independence, the unity and sovereignty of Syria. We want Syria for all Syrians on the equal basis regardless of their sector ethnicity or religious affiliation. We want Syria that is stable, secure and prosperous and we want Syria that is free from terrorist groups and sectarian militias and foreign troops.
Sputnik: Do you agree that the third parallel negotiation platform is really necessary?
Rayed Krimly: The French were talking about a bridge between a group of like-minded countries that include Saudi Arabia, France, the United States, Britain and the United Arab Emirates on one hand, and Astana process on the other hand. We will see. For us, we directly cooperate and consult with Russia bilaterally encouraging brothers in Syria to find a political solution.
Sputnik: Is the US conducting any negotiations with Saudi Arabia regarding putting Saudi or other Middle East countries' forces in Syria?
Rayed Krimly: We participated from the start in the coalition against ISIS [Daesh], which includes operations in Eastern Syria and we led the effort to establish the Islamic anti-terrorism group which includes most Muslim countries from Indonesia to Morocco that are ready to fight terrorism and extremism not only in terms of military fight but more importantly sometimes in terms of ideology, media, youth, preventing extremists from recruiting more young people to the evil deeds.
READ MORE: Saudi Arabia Outlaws Sexual Harassment One Month Before Women Take the Wheel
We are ready to cooperate with all international actors regarding fighting extremism and terrorism. We have zero tolerance for terrorism and extremism. And we have, I would say, some of the toughest laws available for preventing the financing of extremism, legally criminalizing and punishing any Saudi who participates in any foreign conflict without distinction, because only the military and security forces of Saudi Arabia should be allowed to function as military and security forces, not individuals.
Sputnik: And final question, Your Excellency, we witnessed a historic visit of King Salman to Moscow back in October 2017. Do you expect a return visit of President Putin to Saudi Arabia any time soon?
Rayed Krimly: We welcome President Putin to Saudi Arabia and we hope that he will visit Saudi Arabia at the time that is convenient for the President.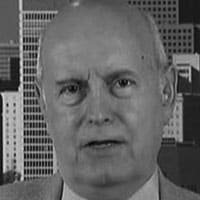 Jim W. Dean is VT Editor Emeritus.  He was an active editor on VT from 2010-2022.  He was involved in operations, development, and writing, plus an active schedule of TV and radio interviews.  He now writes and posts periodically for VT.
ATTENTION READERS
We See The World From All Sides and Want YOU To Be Fully Informed
In fact, intentional disinformation is a disgraceful scourge in media today. So to assuage any possible errant incorrect information posted herein, we strongly encourage you to seek corroboration from other non-VT sources before forming an educated opinion.
About VT
-
Policies & Disclosures
-
Comment Policy
Due to the nature of uncensored content posted by VT's fully independent international writers, VT cannot guarantee absolute validity. All content is owned by the author exclusively. Expressed opinions are NOT necessarily the views of VT, other authors, affiliates, advertisers, sponsors, partners, or technicians. Some content may be satirical in nature. All images are the full responsibility of the article author and NOT VT.