By Justin Michealsburg for VT
Just as the United States and Canada respond to trade tariffs imposed by both sides, American authorities have started to raise red flags over a series of actions that have occurred in Canada over the last 20 years. Canada claims to be a country of transparency, except when it comes to their politics and the dark judicial system. One man alone has exposed the dark justice system inside Canada.
Mikhael Jaime Shamis Mezrahi, an international financier and philanthropist, has been the target of the Canadian government, as they have continued to allege he posed a risk to their national security.
For his protection and that of his family, he has decided to break his silence and disclose the information that has been so threatening to the Canadian government, that they have deliberately continued their campaign of maligning and impugning his character to other governments.
This malicious action has taken the form of having his passports seized, being held at various airports for questioning, and he and his family being refused entry into certain countries. Never mind the fact that Mezrahi and his children were also Canadian citizens.
Background
To understand the level at which these are taking place, one must first understand the background.
Mr. Mezrahi's father served in the Intelligence Services and worked on various projects throughout the North American continent. His father did engage Mr. Mezrahi on a mission to follow the trails of an Islamist Terror Organization operating in North America via an Embassy in Ottawa, Canada since 1983 from Arizona, California, New York, Boston to Ottawa.
When Mr. Mikhael Mezrahi delivered his report to the Canadian Security and Intelligence services (CSIS) as well the Royal Canadian Mounted Police (RCMP) about this terrorist organization, there was an attack on Mr. Mezrahi – an attempt on his life. When two armed attackers jumped into his car, he leaped out and ran. Some friendly RCMP officers assisted Mr. Mezrahi to sneak him out of Ottawa to a remote area of Quebec by Mt Tremblant.
Mr. Mezrahi established his re-entry within the Canadian Government via the Liberal Party and became close to the Prime Minister, where eventually Mr. Mezrahi was mandated by the Canadian Liberal Government to assist them in their printing of new money overseas.
Mr. Mezrahi's mandate was to then deposit 22-percent of these funds into 3 European countries' banking systems – consisting of approximately $20 billion US – using special Green Diplomatic Canadian Passports given to him and others by the Canadian Authorities.
These special passports would allow him to go between countries, and carry funds without questioning or detention. The funds were then converted into Dollars and Euros, thus devaluing those currencies as a result of the over-printing of the Canadian currency. Canadian authorities should conduct an audit on all of their printed currency, and they will easily discover this massive financial scandal.
In the mid-2000s several scandals emerged regarding past and present Canadian politicians with slush funds overseas, the consciousness of the Canadian people was awakened, and the government began a new zealous campaign to remove Mr. Mezrahi from the North American continent. It was clear that Mr. Mezrahi was a potential danger to expose the source of these funds.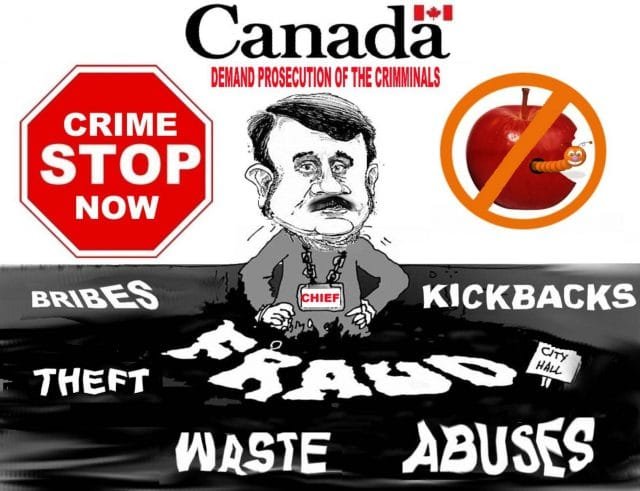 The government began by seizing Mr. Mezrahi's funds, assets, and property in Canada; using the Canadian Revenue Agency (CRA) was the weapon of choice. They then levied a heavy tax bill and penalties upon him. What the government did not foresee was the vigorous and costly fight Mr. Mezrahi launched.
As Mr. Mezrahi retained a group of former politicians to assist him with the Conservative government to resolve these matters; the government removed them one by one from assisting him. Finally, as the fight continued, the government utilized their next weapon, the RCMP.
The fight escalated to an early morning intrusion into Mr. Mezrahi's Canadian family home by RCMP agents in a search and seizure based on a false premise and accusation that Mr. Mezrahi was part of a RCMP investigation. This was later admitted by the prosecutor that Mr. Mezrahi was not part or a subject of the Operation Cancun at all.
This was an attempt to gather financial documents and other materials and deliver them to the CRA and to outside countries.
Planting of weapons was the way the RCMP could make something stick to Mr. Mezrahi.
The Canadian authorities utilized a paid informant to set him up in order to destroy him politically through a corrupt judicial system. The informant, Ms. Juanita Cree, had long been a paid informant by both the Provincial Police and the RCMP inside Canada, receiving discretionary funds for Aboriginal and governmental information gathering. On May 2, 2011, Cree, recanted and issued a sworn affidavit admitting to procuring two hand guns to plant them inside Mezrahi's house.
The joint task force and RCMP used this tactic to give credence to a secured search warrant and raid the Mezrahi household without any credible evidence. She lamented over the history of one Sgt. Claude Condo, who was the kingpin within the Provincial Police who sought to nail Mezrahi and advised Ms. Cree to secure two hand guns, which had a US provenance, for the illicit purposes.
Even more devastating to the Canadian government's own case against Mezrahi, is the fact that Cree filed the affidavit into the registry of the Court and to date, the Courts have failed to take action to clear Mezrahi's name and allowed the trumped-up charges to remain in place.
Following this episode, the next agency the government used in their campaign to destroy Mr. Mezrahi was Immigration Canada. In spite of having a Ministerial permit to remain in Canada, Mr. Mezrahi's wife was subjected to a deportation order in 2011, thereby sending the entire family out of Canada, even though the children were all Canadian citizens.
American citizens and companies should rethink even going to Canada, or even doing business there. It is clear that if the Canadian Government does not like someone, they will utilize any tactics available to secure a false case against anyone that is not in line with their policies.
The Canadian government continues to maliciously pursue Mr. Mezrahi and his family. Since he will not give up, he is afraid that they will take more drastic measures to remove him as a threat to their secrets.
The Canadian people should demand justice and Canadian Prosecutors should prosecute all of the politicians who received their pro rata share of the over printed $20 billion in currency that was deposited into various Swiss bank accounts. Until an honest judicial official rises up to correct a monumental miscarriage of justice, the Canadian Justice system remains in the dark. Beware to all who venture into Canada.
ATTENTION READERS
We See The World From All Sides and Want YOU To Be Fully Informed
In fact, intentional disinformation is a disgraceful scourge in media today. So to assuage any possible errant incorrect information posted herein, we strongly encourage you to seek corroboration from other non-VT sources before forming an educated opinion.
About VT
-
Policies & Disclosures
-
Comment Policy
Due to the nature of uncensored content posted by VT's fully independent international writers, VT cannot guarantee absolute validity. All content is owned by the author exclusively. Expressed opinions are NOT necessarily the views of VT, other authors, affiliates, advertisers, sponsors, partners, or technicians. Some content may be satirical in nature. All images are the full responsibility of the article author and NOT VT.