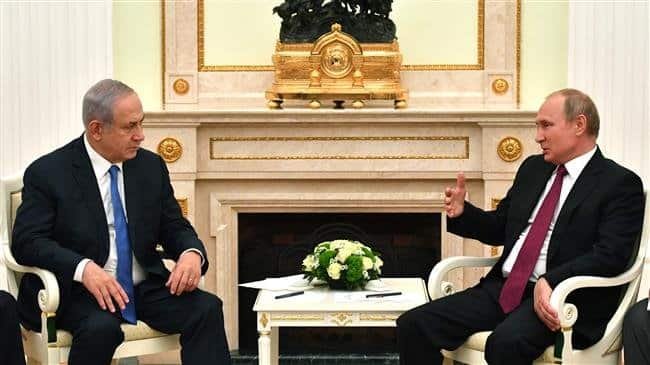 Netanyahu to meet Putin after Russia gives S-300 to Syria
… from Press TV, Tehran
[ Editor's Note: Netanyahu has himself in a bind with Russia and is trying to put the genie back in the bottle, which might not be possible.
It seems that killing a Russian surveillance plane and crew crossed a blaring red line with Russia, which should come as a surprise to no one. The Israel-Russia Mideast relationship has changed; and Israel, which probably had the US' approval for the shoot down, realizes it miscalculated.
The US showed its involvement by the statement below that more F-35's would be "supplied" to Israel – a strange term, as usually these are sold to countries that want them. Will the US be "supplying pilots" also – or maybe even advanced electronics that can defeat the Russian jamming?
That is why I used the term "showdown" in the title, as modern air war is primarily an electronic warfare (EW) battle. No matter how well the planes can maneuver, if the other side has better EW, the planes will be turned into scrap metal in a jiffy.
Would the US want to risk losing an F-35 in an attack on Syria and reveal its vulnerability when the F-35 is the mother of all cost overrun defense boondoggles? Or, does the US have EW superiority that it has been saving exposure of until it is critically needed, and this might be that time?
Does Russia want to take the risk now of the possibility of its EW being defeated? We may be finding out much sooner than anyone expected.
I reported early after the shoot down that, when Putin had first put out a statement about the incident being the result of a chain of errors, the Russian military command, in an unusual move, stepped in immediately with their own statement to refute Putin's.
The Russian threat below, that Israel should "exercise good judgement" in the new S-300 environment, would indicate that Israel would lose planes should it continue to push the envelope, that Israeli pilots would die, and then Netanyahu and the Israeli military can deal with that with the Israeli public … Jim W. Dean ]

Jim's Editor's Notes are solely crowdfunded via PayPal
Jim's work includes research, field trips, Heritage TV Legacy archiving & more. Thanks for helping. Click to donate >>
– First published … October 07, 2018 –
Israeli Prime Minister Benjamin Netanyahu says he will soon meet President Vladimir Putin amid tensions over the downing of a Russian aircraft during Israel's bombing of Syria last month.
Netanyahu made the announcement at a cabinet meeting on Sunday, without citing a specific date or venue for the talks with Putin.
Netanyahu has traveled to Russia several times in the past in order to mollify Moscow over frequent Israeli airstrikes in Syria under the pretext of confronting Iran and Lebanon's Hezbollah.
Last month, Israel angered Putin after a Russian Il-20 reconnaissance aircraft was shot down and all 15 servicemen on board were killed during Israeli airstrikes in the northwestern Syrian province of Latakia.
The Russian leader held Israel responsible for the downing and ordered the delivery of advanced S-300 missile system to Syria, which Netanyahu had successfully prevented in the past with his visits to Moscow.
Russian Defense Minister Sergei Shoigu told Putin during a meeting on Tuesday that the delivery of the surface-to-air missile system to Syria had been completed.
Russian Deputy Foreign Minister Sergei Vershinin told Sputnik news agency on Thursday that the delivery of the S-300 systems will be followed by additional steps, but did not provide any further details.
He also issued a veiled warning to Israel, saying Russia hoped the Tel Aviv regime would exercise "good judgment" on the shipment of the S-300 batteries to Syria and other steps being taken.
Russia urges Israel to exercise good judgment on Moscow's delivery of S-300 missile defense system to Syria.
Russia will further start to electronically jam aircraft flying in to attack targets in Syria, Minister Shoigu said last Sunday.
"We are convinced that these measures will calm down some hotheads and keep them from careless actions which pose a threat to our troops," he said.
Netanyahu had earlier warned that giving the S-300 to Syria was "irresponsible," and vowed to continue airstrikes against what he called Iran-related targets in Syria.
A senior Israeli official has admitted that Russia's delivery of the systems to Damascus would pose a serious "challenge" to Tel Aviv.
General Joseph Votel, who heads the US Central Command in the Middle East, called the Russian deployment of advanced anti-aircraft missiles in Syria a "needless escalation".
The delivery of the anti-aircraft batteries constitutes a game-changer in the seven-year-old war in Syria, with Israel and the United States trying to adjust to the new realities.
Israeli intelligence website DEBKAfile reported on Saturday that the United States had decided to provide Israel with more F-35 stealth fighter jets in response to Russian measures in Syria.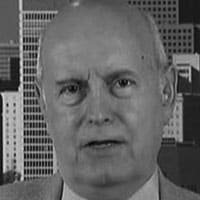 Jim W. Dean is VT Editor Emeritus.  He was an active editor on VT from 2010-2022.  He was involved in operations, development, and writing, plus an active schedule of TV and radio interviews.  He now writes and posts periodically for VT.
ATTENTION READERS
We See The World From All Sides and Want YOU To Be Fully Informed
In fact, intentional disinformation is a disgraceful scourge in media today. So to assuage any possible errant incorrect information posted herein, we strongly encourage you to seek corroboration from other non-VT sources before forming an educated opinion.
About VT
-
Policies & Disclosures
-
Comment Policy
Due to the nature of uncensored content posted by VT's fully independent international writers, VT cannot guarantee absolute validity. All content is owned by the author exclusively. Expressed opinions are NOT necessarily the views of VT, other authors, affiliates, advertisers, sponsors, partners, or technicians. Some content may be satirical in nature. All images are the full responsibility of the article author and NOT VT.