By George Galloway and Russia Today
George Galloway was a member of the British Parliament for nearly 30 years. He presents TV and radio shows (including on RT). He is a film-maker, writer and a renowned orator.
Riyadh is accused of allegedly murdering their critic Jamal Khashoggi in Turkey, the key question is how President Erdogan would respond if suspicions are confirmed. My money is on him responding with blood and iron.
Khashoggi was allegedly killed inside the Saudi consulate in Turkey last week. If a Washington Post columnist had been 'murdered and dismembered' in Moscow, the UN Security Council would already be in session. If he had been carried out in boxes from an Iranian Embassy, the US and its allies would already be at war with Iran.
Not one British newspaper has reported the story on their front page despite the UK's kissing-close relationship with the Saudi Crown Prince Mohammad bin Salman (MbS) and the fact that Khashoggi was, only a week ago, a visitor to London where he appeared on the state broadcaster BBC.
Saudi Arabia denies having murdered Khashoggi, a writer on the Washington Post and exiled critic of the absolutist monarchy, inside his country's consulate in Istanbul. But Turkish sources close to President Erdogan say that is the preliminary finding of their police officers examining the alleged scene of the crime.
For certain, Khashoggi, a resident in Washington, has disappeared.
His fiancée waited for him outside the consulate into which he had gone to attend to paperwork in connection to his impending marriage in Turkey. He never came out. Turkish sources report a 15-man potential hit and disposal team which had flown in from Riyadh and left the country on the day of Khashoggi's disappearance.
If Turkish suspicions are confirmed, sharp questions – sharper than any cleaver – arise for a large circle of international players.
The first is Turkey itself. If true, the Khashoggi murder in Istanbul is a blood-insult to Turkish strong-man president Erdogan. Khashoggi is/was close to the political line of the Muslim Brotherhood which Erdogan supported.
Turkey sides with Qatar in the comic-opera stand-off between the emirate and its bigger neighbor Saudi Arabia. The Qatari-funded international media network is in concert with Turkish media in a chorus of condemnation.
If Erdogan keeps schtum about this apparently unspeakable crime it will be a major blow to his prestige – inside and outside Turkey. If he responds severely, he will place himself on yet another collision course with Donald Trump and his administration – who are deeply in the pockets of MbS.
Precisely because of the Trump family financial exposure to the Saudi regime, the US opposition will ramp up demands for Trump to take serious action against the Crown Prince (even though the Clinton family are equally in hock to Saudi beneficence).
After all, Khashoggi was living in political exile in the United States and working for the country's flagship newspaper, the Washington Post. Were Trump to do so, the extent of his true links – and those of his son-in-law – to MbS might become exposed.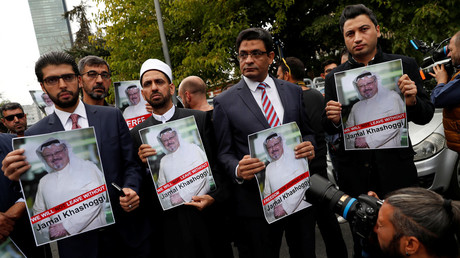 Turkish authorities to search Saudi consulate after dissident journalist vanishes (WATCH LIVE)
Britain has been engaged in a kind of Dutch-auction with the US over the "modernizing" Prince, desperately touting for Saudi privatizations to be listed on the stock exchange in London rather than New York, selling weapons worth billions to massacre school children in Yemen and seconding British military personnel to help them do so. Resisting all opposition efforts, from shadow Foreign Secretary Emily Thornberry and even Corbyn himself, for an arms embargo.
The very newspapers which downplayed the crime today were only yesterday accepting lavish advertising of the "rock-star prince" during his recent visit to London, including the liberal 'Guardian'. The entire British establishment may now find they have invested heavily in a man who turns out to be a gruesome Mafia-style killer though even Gambino's stomach might have turned at this one.
Inside the kingdom it is impossible to say what the impact of this and subsequent events will be, literally incalculable. The schismatic Al Saud ruling family is already deeply split. MbS only recently was said to be hanging his own relatives upside down in a luxury hotel turned prison until enough money fell out of their pockets to satisfy his shakedown of billions of dollars for his treasury. Whether this crime, or rather its consequences, will be the straw which broke the camel's back only time will tell.
Finally, let us examine the likelihood of these allegations being true.
The Al Saud family has a long and grisly history of abduction and murder.
The former Prime Minister of Lebanon Saad al Hariri was famously "kidnapped" whilst still in office by the current Crown prince and humiliatingly forced to fly to Riyadh and make a televised broadcast, like a hostage blinking into the cameras, reversing his policy on internal domestic Lebanese policies.
Even members of their own family are not exempt. In 2003, Sultan bin Turki bin Abdulaziz was drugged and kidnapped in Geneva by Saudi agents and flown home against his will. At least that's what he said when he escaped and launched a court action against his own family in Switzerland in 2016.
Prince Turki bin Bandar Al Saud was another suspected of being abducted and rendered to the kingdom. When he escaped and moved to Paris he began opposition to the regime in 2012. His whereabouts are unknown but a Moroccan newspaper reported that subsequently Morocco detained him and sent him back to Riyadh.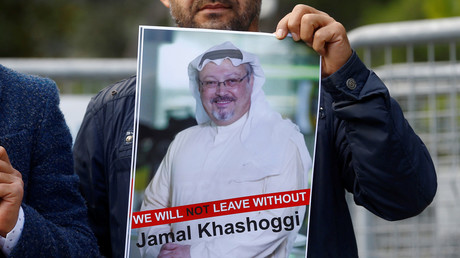 Murder at consulate? Turks say dissident journalist killed at Saudi diplo building
Another prince, Saud bin Saif al Nasr, a Twitter opponent of the regime, is said also to have been tricked onto a Saudi-bound plane and his current whereabouts are unknown.
Other less princely opponents of the Saudi regime are of course beheaded, crucified and tortured in record numbers last year and this. Many others languish on Death Row.
The Crown Prince is gambling everything on a series of clearly failing policies. His war on Yemen is an unmitigated disaster. Despite 80% of Yemen's already poor population facing starvation according to the UN, and scores of thousands of deaths from bombing and from Cholera, Saudi Arabia is no closer to winning the war against its impoverished neighbor than it was when it started.
His multi-billion pound investment in the crucifixion of Syria has been a catastrophic failure, and not just for the hundreds of thousands of dead Syrians. As the Chinese say "sometimes the enemy struggles mightily to lift a huge stone, only to drop it on their own feet."
My own guess is that Trump is already tiring of MbS, not least because the economy of Saudi Arabia is making it hard for the rulers to keep their hysterical financial promises to the Americans. Certainly Trump's recent insult, that he told the Saudi monarch "King: you wouldn't last two weeks in power without our support" can be read that way.
My money is on Erdogan responding with blood and iron to the Crown Prince's alleged outrage against Turkish sovereignty.
A new sense of outrage might even begin to emerge from the so-called mainstream media fan-club of the rock star prince, though I wouldn't put money on that.
In the end, even Elvis had to finally leave the building.
Think your friends would be interested? Share this story!
ATTENTION READERS
We See The World From All Sides and Want YOU To Be Fully Informed
In fact, intentional disinformation is a disgraceful scourge in media today. So to assuage any possible errant incorrect information posted herein, we strongly encourage you to seek corroboration from other non-VT sources before forming an educated opinion.
About VT
-
Policies & Disclosures
-
Comment Policy
Due to the nature of uncensored content posted by VT's fully independent international writers, VT cannot guarantee absolute validity. All content is owned by the author exclusively. Expressed opinions are NOT necessarily the views of VT, other authors, affiliates, advertisers, sponsors, partners, or technicians. Some content may be satirical in nature. All images are the full responsibility of the article author and NOT VT.