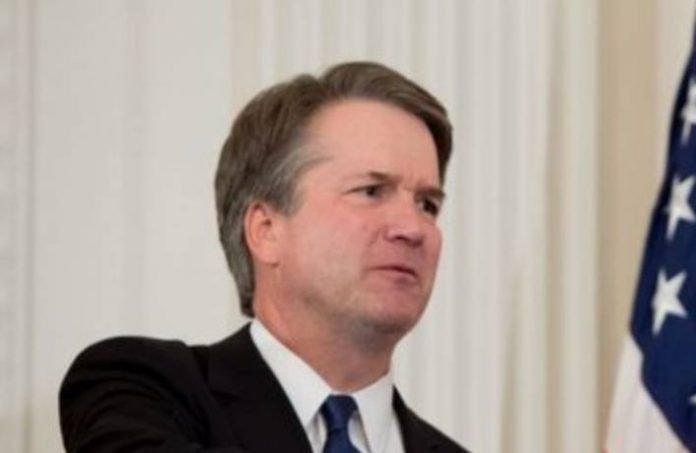 By Professor Emeritus Akbar Montaser, George Washington University and VT
In the previous article before the final vote for Judge Brett Kavanaugh to serve for a lifetime on the Supreme Court, I articulated the reasons why Mr. Kavanaugh must be denied the opportunity. In the following discussion, the focus is on the worst Senators that enabled the Judge to tarnish the highest court.
In ranking the current members of the Senate, the area of focus is essential. For example, some Senators have remained true conservatives. The farm bill last July led two Senators to band together to preserve conservation. Senate Agriculture Chairman Pat Roberts (R-Kansas) and Ranking Member Debbie Stabenow (D-Michigan) stayed clear of contentious changes to the Supplemental Nutrition Assistance Program (SNAP) included by the House. They sought nonpartisanship throughout the process. Their action was commendable.
In the nomination of Mr. Kavanaugh, five Senators, three Democrats, and two Republicans were likely to be the only legislators with any real influence over the confirmation of the nominee whom the President named to replace Justice Anthony Kennedy. Two pro-choice Republicans and three moderate Democrats facing tough re-election fight this year. Collectively, they could force the President to recommend a brilliant judge more like Justice Kennedy.
In the selection of the Judge, the five pivotal senators were: (1) Senator Susan Collins, a moderate Republican from Maine; (2) Senator Lisa Murkowski, a highly esteemed Republican, from Alaska; (3) Senator Joe Donnelly, who is in a difficult spot as a moderate Democrat from Indiana, and a Senator who backed the President's nomination of Justice Neil Gorsuch last year; (4) Senator Heidi Heitkamp is in the similar situation as Senator Donnelly and voted for Justice Gorsuch; and (5) Senator Joe Manchin, the very conservative Democrat in the Senate, representing West Virginia, a state that the President won by nearly 42 points.
After the President proposed Mr. Kavanaugh to the Supreme Court on July 9th, it was the Senate's responsibility to study his judicial views, legal perceptions, and the other judicial abilities prior to offering advice and consent to the President. Mr. Kavanaugh served in the D.C. Circuit Court for 12 years and listened to hundreds of cases. Indeed, he has had a long record as an appellate judge. He also worked as an attorney for President George W. Bush's White House. Before the Judge's first hearing, his file embraced over 480,000 pages of information on his opinions and actions from his era as a partisan operator in the White House, and tutelages he had written. Admittedly, the volume of material was more than the earlier five Supreme Court nominees pooled.
It is highly regrettable that only sixty-five of the 100 Senators took the occasion to meet Mr. Kavanaugh personally. He met all of the members of the Judiciary Committee, with the bipartisan Judiciary Committee staff, and had several FBI background checks, although the last one was not comprehensive, and he engaged in public and private and hearings.
On July 30th, Professor Christine Blasey Ford wrote a confidential letter to Judiciary Committee Ranking Member Senator Diane Feinstein, accusing Mr. Kavanaugh and another person of sexually assaulting her when she was in high school.
Senator Feinstein transmitted the contents of Professor Ford's letter to the FBI on September 13th. She presented a document devoid of private or delicate information. The New York Times published on September 14 an article summarizing the charges but did not name Professor Ford. Appallingly, Chairman Chuck Grassley did not learn about Professor Ford's identity until he studied the article in print on September 16th in The Washington Post. Correctly, he invited the Judiciary Committee to start its investigation into the accusations.
The Judiciary Committee staff started by questioning Mr. Kavanaugh on September 17 and September 25. In the standard protocol, Committee Democrats were asked to participate in the Q&A sessions. All of them declined! Mr. Kavanaugh explicitly denied the claims. He proposed to meet with the Committee to unblemished his name.
The Judiciary Committee has the power to lead investigations, with a knowledgeable and proficient staff. The Committee has subpoena power. The Committee can oblige witnesses to show up and testify. They regularly run background surveys for judicial nominees, the Executive Branch, and law enforcement officials. Giving false accounts under oath or otherwise is a defilement of federal law carrying up to a five-year jail.
The chamber, however, has not always met its supposed conception. At many points throughout its history, the Senate ignored its founding principles. For example, it has fully supported the occupants of Palestine against Palestinians. How can 100 Senators support bombing of Gazans when the people of Gaza are denied access, for example, to food and health care? The question is: Do ordinary Americans agree with the U.S. Senate voting 100-0 to support Israel's invasion of Gaza? Of course not.
As to the selection of Judge Kavanaugh, the absolute foulest are Senator Joe Manchin and Senator Susan Collins. The two Senators knew they are lying. Their only aim was to shelter themselves against the good of the majority of Americans. Most importantly, Justice Kavanaugh may join other conservative Justices in overturning Roe vs. Wade along with ensuing abortion decision. It is highly likely Kelo vs. New London would be overturned. The consequence is that towns and metropolises would encounter new difficulties in attempting to appropriate the homes of occupants except for public usages, for instance, the development of power and water substructure and the schools or roads. Obergefell v. Hodges could be overturned to allow nuptials between two people of any sex. A conservative majority could overturn Massachusetts v. EPA leading to undoing guidelines such as the Clean Power Plan. If U.S. Term Limits, Inc. v. Thornton is overturned; each state would have the control to ascribe conditions for congressional candidates. If Kennedy v. Louisiana is overturned, states might be allowed to carry out the death penalty for criminalities such as serious child rape.
Most importantly, having a more conservative court prevents closing the locks for corporations to use millions to billions to sway elections. Over the last election, Senator Bernie Sanders claimed the effect of affluent individuals and corporations in elections had commanded the enactment of acts that have widened the gulf between the wealthy and the poverty-stricken. Candidate Hillary Clinton campaigned for meaningful campaign-finance reform while receiving one billion dollars for her failed campaign against Candidate Trump! Mr. Trump joined the bandwagon, asking his Republican opponents for being indebted to their chief donors. The definitive capitalist, Candidate Trump, and a Democratic socialist, Candidate Sanders, consented on it! Mr. Trump has unveiled the wild animals by confessing that he offered money to legislators to cajole with them! Indeed, Americans are fed up with the sway of money on politics. The entire system endangers misplacing legitimacy. With Justice Kavanaugh Citizens United v. Federal Election Commission cannot be overturned. By their votes for Mr. Kavanaugh, the two Senators helped corruption in politics!
The importance on the effect of money on elections surely allows foreign governments to affect the United States foreign policy. It is not difficult to bypass the laws against contributions by foreign entities. The controversial Supreme Court decision, Citizens United, such an organization exists. It is called Social Welfare Organizations that can receive countless contributions from corporations, foreign or otherwise, to canvass for a contender! They do not tell any person about where the cash came from! Social Welfare Organizations are exempted from admission under federal tax laws. The third largest advocate in 2012, just behind Candidate Obama and Candidate Romney's drives, was a Social Welfare Organization called Crossroads GPS that spent millions attacking Democratic candidates. Who dares to say America is not under the thumbs of, for example, Saudi Arabia, United Arab Emirate, or Israel! By their votes, Senator Collins and Senator Manchin indirectly, but knowingly betrayed the Nation. These Senators wreaked profound tears upon this nation for a generation to heal.
Finally, here are confirmed facts concerning the nomination of Judge Kavanaugh. On 60 Minutes last week, Senator Jeff Flake consented that if Mr. Kavanaugh can be proved to have fibbed, his nomination is over. The assertion is worthy, but also chillingly puzzling! Did not the Senator already know the Judge was lying? The journalists of our supposedly "free press" heard what Mr. Kavanaugh stated in the hearing. They fact-checked all sources to report the results. In bevies of instances, the nominee misled the Senators. For example, his former roommates accused him of telling outright lies. Relatedly, Mr. Kavanaugh is guilty of refusal to answer Senators' questions directly and candidly. In some cases, no answers were provided.
Here is the most vital point. Mr. Kavanaugh's countless deceptions should have debarred him from taking any judicial office.
Brief Bio
Akbar Montaser is Professor Emeritus, The George Washington University (Washington, DC) where he taught and conducted research for 32 years (1981-2012). He also served as a Program Director in the Division of Materials Research at the National Science Foundation for nine years. Born in Esfahan, Iran, he received his BS degree from Shiraz University in 1969 and his Ph.D. in 1974 from Michigan State University. As a postdoctoral fellow, he investigated high-temperature plasmas at the Ames Laboratory, a major US Department of Energy Federal Laboratory, located on the site of Iowa State University (ISU). He taught and conducted research as the faculty at Sharif University of Technology (Iran) from 1975-1979. After the 1979 Revolution, he immigrated to the US. For two years, he was a Research Professor at the Ames Laboratory – ISU before joining the faculty at GWU in 1981.
Professor Montaser is globally acclaimed as one of the top three experts in plasma spectrometry for trace, ultratrace, isotopic, and speciation analysis of materials, such as nuclear wastes and semiconductor materials. The US Department of Energy, several federal and state agencies, and instrument manufacturers strongly backed his research for over 30 years. His expertise is centered on fundamental studies, modeling, simulation of plasmas and aerosol systems, development of smart plasmas and smart aerosols, instrument design, and the applications of aerospace, mechanical, electrical engineering, theoretical astronomy, and optics to the chemistry and the physics of novel plasmas.
Professor Montaser and his team are the authors of over 500 articles and presentations in diverse areas such as chemistry, medical sciences, forensic science, and engineering. His discoveries have graced the Cover Pages of several scientific Journals.
Professor Montaser is the co-author/co-editor of six significant books that are famed as the "Bible" of the field. The books have been translated into, for example, Chinese, Japanese, and Korean. His three new books on plasma mass spectrometry are due for publication in 2018 and 2019. The techniques described in these comprehensive volumes have revolutionized the practice of analysis and led to the development of new devices, such as cell phones, high-speed laptop computers, and other high-storage devices.
Currently, Professor Montaser serves globally as a consultant in areas such as intellectual property, development of novel chemical instrumentation, hand-held laboratories, and invention of innovative and transformative techniques for chemical analysis of nanomaterials, semiconductor, pharmaceutical, food, nuclear substances, biological, environmental, geological, petroleum, forensic, and works of art. These studies not only address current challenging problems, but they are vital for tackling likely difficulties that could arise in the future.
Professor Montaser is an antiwar devotee of human rights, an advocate of nuclear disarmament, and a partisan in the elimination of weapons of mass destruction. He writes on political subjects pertinent to Iran and the United States.
ATTENTION READERS
We See The World From All Sides and Want YOU To Be Fully Informed
In fact, intentional disinformation is a disgraceful scourge in media today. So to assuage any possible errant incorrect information posted herein, we strongly encourage you to seek corroboration from other non-VT sources before forming an educated opinion.
About VT
-
Policies & Disclosures
-
Comment Policy
Due to the nature of uncensored content posted by VT's fully independent international writers, VT cannot guarantee absolute validity. All content is owned by the author exclusively. Expressed opinions are NOT necessarily the views of VT, other authors, affiliates, advertisers, sponsors, partners, or technicians. Some content may be satirical in nature. All images are the full responsibility of the article author and NOT VT.