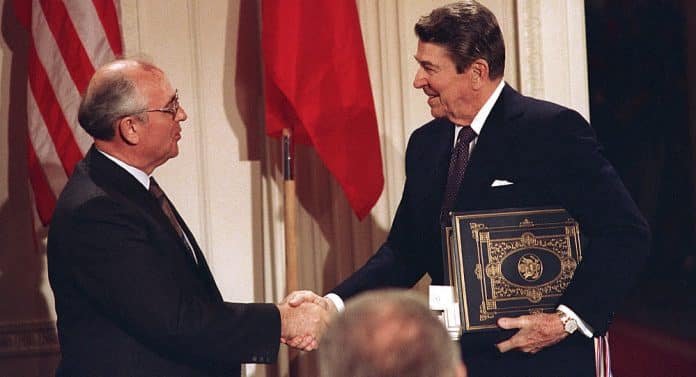 …from Russia Today, Moscow
[ Editor's Note: The US Nuclear treaty fraud continues on schedule. The US always knew that breaking its pledge to not expand NATO eastward toward Russia would eventually create a new Cold War.
Europe foolishly went along with this, which will put them back under a potential shower of medium-range Russian missiles. Greed and corruption were the main motivations. They went with the flow in return for their not fulfilling their NATO defense expenditures, preferring the US taxpayer carry the greater load, instead.
Then came the fake US missile defense screen under the con that it was to defend against an Iranian nuclear attack on Europe. To this day I have found no one in Europe that thought this was a feasible threat.
If the US was going to pay for it and have more long term base expenditures in the EU, that was fine with Europe. Putin always claimed the missile shield was against Russia, and was proven right when the JCPOA negotiations proved Iran was not developing a nuclear missile threat, and the US knew it.
Rather than the US backing off after being exposed, it just doubled down, expanding even closer to the Russian border and bringing its Aegis missile systems, with their allegedly legal kinetic-energy warheads.
But we all knew, including Russia, that the launchers could be reloaded with mini-nuke warhead cruise missiles in a few hours and used for command center first-strike weapons. When those were eventually replaced with hypersonic missiles, Russia would need a deterrent, and is building one.
The US launchers are in Romania, and more were destined for eastern Ukraine within range of hitting a Russian ballistic missile retaliation strike from their Ural mountain positions while they are ascending, their most vulnerable point.
The American people, including the Vet orgs just sat and watched a New Cold war being slow birthed, as if they were watching a sporting event with a "go team" spirit. Are they concerned about a $23-trillion deficit, mostly driven by manufactured foreign wars? Hell no. They allowed themselves to be led around by a ring through their nose with the "blame it all on the Rooskies" drivel.
America has been betrayed by Americans without a glove being laid on the perpetrators, be they Republican- or Democrat-led. The only thing that changes is the speed by which the country is run down hill. Never have so many owed so little to so few… Jim W. Dean ]

Jim's Editor's Notes are solely crowdfunded via PayPal
Jim's work includes research, field trips, Heritage TV Legacy archiving & more. Thanks for helping. Click to donate >>
– First published … December 18, 2018 –
Russia may easily respond to the US withdrawal from the milestone INF Treaty by developing new types of land-based missiles, Vladimir Putin said, warning that Washington's decision to pull out "is one step towards an arms race."
The Russian president reiterated that Moscow did not violate the Intermediate-Range Nuclear Forces Treaty (INF), but if Washington ditches it, Russia will be left with no choice but "to react accordingly" to defend itself.
"As you know, we do have sea and airborne [missile] systems and there will be no difficulty to carry out research-and-development and make them land-based if needed," Putin told a Defense Ministry conference on Tuesday.
Russia's successes in developing sea- and air-launched missiles became a source of concern for "our partners," prompting them to undermine the treaty. Putin had also praised Russia's newest Kalibr cruise missiles which saw action against terrorists in Syria.
Over the past months, Washington has been repeatedly accusing Russia of violating the INF. Moscow, for its part, denied such accusations calling them unfounded.
But, Putin said, the US is violating the INF directly, as it's actively building up Aegis Ashore facilities in Romania and Poland. Meanwhile, there are strike drones in the US military arsenals whose properties fall under the treaty.
They blatantly violate it and make hypothetical, unfounded claims against us.
The Russian president noted that the US and Russia – two signatories to the treaty – are not the only countries to possess short- and intermediate-range missiles. "There are plenty of them … why don't they [the US] engage these countries?"
Putin believes they don't do it "simply because it apparently hampers certain aspirations and these aspirations are unlikely to be peaceful ones," while the US pullout "is one step towards an arms race."
ALSO ON RT.COMA new arms race has begun – Gorbachev on Trump's INF pullout plan
He also reminded the conference that the US military is profiting from a record $725-billion "militarist budget" that dwarfs Russia's annual defense spending worth $46 billion.
Earlier Putin suggested the US planned their withdrawal beforehand. Notably, the Congress authorized funding an effort to build new missile systems "before Washington announced withdrawal from the INF. The decision had been made some time ago, but quietly – they thought we wouldn't notice it."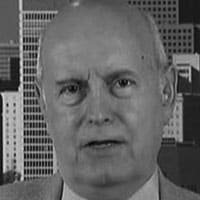 Jim W. Dean is VT Editor Emeritus.  He was an active editor on VT from 2010-2022.  He was involved in operations, development, and writing, plus an active schedule of TV and radio interviews.  He now writes and posts periodically for VT.
ATTENTION READERS
We See The World From All Sides and Want YOU To Be Fully Informed
In fact, intentional disinformation is a disgraceful scourge in media today. So to assuage any possible errant incorrect information posted herein, we strongly encourage you to seek corroboration from other non-VT sources before forming an educated opinion.
About VT
-
Policies & Disclosures
-
Comment Policy
Due to the nature of uncensored content posted by VT's fully independent international writers, VT cannot guarantee absolute validity. All content is owned by the author exclusively. Expressed opinions are NOT necessarily the views of VT, other authors, affiliates, advertisers, sponsors, partners, or technicians. Some content may be satirical in nature. All images are the full responsibility of the article author and NOT VT.