by Press TV, Tehran
"Israeli governments may have gotten used to having so many poor people, but the poor children will never get used to it," Latet chairman Gilles Darmon.
[ Editor's Note: Oh my, just in time for Christmas and Hanuka, Israel has a vast underclass of impoverished Jewish citizens to add to the Palestinian ones. They have kept a lid on this for some time, covered as always in their own press but with controlled media being waived off the story.
It's not like Israel does nothing to help these people. It has always sought foreign Diaspora funds for "underprivileged" Israelis. It's the government that prefers to let them suffer while it attempts to rule the Mideast.
It would be much cheaper for the US to support these hungry kids than Israeli aggression, including its huge espionage operations here. One has to one why our top military and intelligence organizations have not figured this out.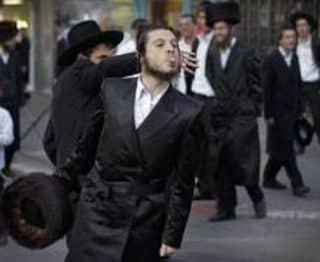 And lastly, US Jews and even more, US Christian Zionists pour huge sums into Israel, with it seems most of it being sucked up by the parasitical orthodox settlers who refuse to work, considering that beneath them.
That said, if only a few hundred are going to protest, that is going nowhere other than getting some news coverage. If the numbers are not big enough to threaten the ruling class nothing will change. Even the Jewish Diaspora has been quiet on this. What does that tell you?
Some years ago the secular Jews in one of the towns was pushing for secession from the freeloaders, whose only response for objecting was, "then who is going to pay for all the government services that we get".
At the end of the day, the minister of the interior, supported by the settler orthodox Jews, put the kabosh on the secession plans.
Working Jews had to subsidize the non working ones, who viewed this as the "natural order" of things in that as they are closer to God, they deserve to have Palestinian AND Jewish slaves take care of them… Jim W. Dean ]

Jim's Editor's Notes are solely crowdfunded via PayPal
Jim's work includes research, field trips, Heritage TV Legacy archiving & more. Thanks for helping. Click to donate >>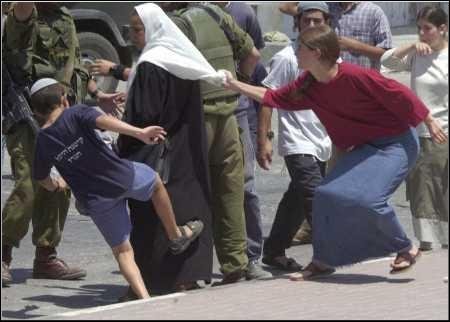 – First published … December 16, 2018 –
An NGO has found that more than one million Israeli children, or 35.6 percent of all kids in the occupied territories, are living in poverty.
The food security NGO Latet said in its latest report that in addition to one million children, 1.3 million Israeli adults are also defined as poor. Overall, 26.5 percent of the entire population in the occupied lands live below the poverty line, according to the report.
It also found that one in four children from the families receiving support from the NGO frequently go to school without a packed lunch, and one in three skip at least one meal a day.
The report  further said that some 6 percent of aid-dependent Israeli children have had to beg for donations, another 6 percent collected food from the ground or garbage bins, and some 5.4 percent stole food.
"When there are more than half a million poor families and more than a million poor children, you cannot just get used to it and accept it," said Latet chairman Gilles Darmon.
"Israeli governments may have gotten used to having so many poor people, but the poor children will never get used to it."
Additionally, Latet CEO Eran Weintraub said that the Israelis have simply got used to such reports as they have "the worst poverty rates in the West."
In recent months, Israel has seen a wave of price hikes in electricity, water, gas, food, insurance and property tax.
Inspired by France's 'yellow vests' movement, hundreds of protesters took to the streets of Tel Aviv on Friday to blame the Israeli regime for rising living costs.
Israelis organize a rally against planned price rises, urging the public to show up wearing French-style yellow vests.
According to the Latet report, 53 percent of the Israeli families defined as poor did not have enough food while 72 percent feared that their food supplies would be finished before there was any more money.
It also found that 71 percent of aid recipients in Israel are in debt, 49 percent in foreclosure proceedings and more than half of them do not have access to heating.
Standard of living protests in Israel were going on long before the yellow vests and also happened with the Netanyahu shady oil deal probe protests which hes guilty of at trial: https://www.timesofisrael.com/yellow-vest-protests-reach-israel-as-hundreds-demonstrate-in-tel-aviv/ …

'Yellow vest' protests reach Israel as hundreds demonstrate in Tel Aviv

Inspired by French movement, activists blame government for rising cost of living and block a central junction; at least 10 arrested after confrontations with police

timesofisrael.com
Israeli lawmaker Ayelet Nahmias-Verbin described the figures as a "disgrace" to the regime of Prime Minister Benjamin Netanyahu.
"This report attests to the severe detached nature of a government suffering from choice blindness – no traffic jams with new cars or lines at Ben-Gurion Airport can hide the shameful hunger of one million children," she said.
"Anyone who does not understand the meaning of a million hungry children, even if you cannot witness the horrific sights of swollen bellies because there is always white bread and margarine available, will never try to solve the problem and the social gaps."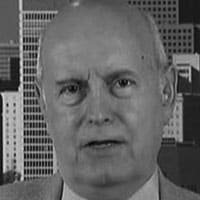 Jim W. Dean is VT Editor Emeritus.  He was an active editor on VT from 2010-2022.  He was involved in operations, development, and writing, plus an active schedule of TV and radio interviews.  He now writes and posts periodically for VT.
ATTENTION READERS
We See The World From All Sides and Want YOU To Be Fully Informed
In fact, intentional disinformation is a disgraceful scourge in media today. So to assuage any possible errant incorrect information posted herein, we strongly encourage you to seek corroboration from other non-VT sources before forming an educated opinion.
About VT
-
Policies & Disclosures
-
Comment Policy
Due to the nature of uncensored content posted by VT's fully independent international writers, VT cannot guarantee absolute validity. All content is owned by the author exclusively. Expressed opinions are NOT necessarily the views of VT, other authors, affiliates, advertisers, sponsors, partners, or technicians. Some content may be satirical in nature. All images are the full responsibility of the article author and NOT VT.