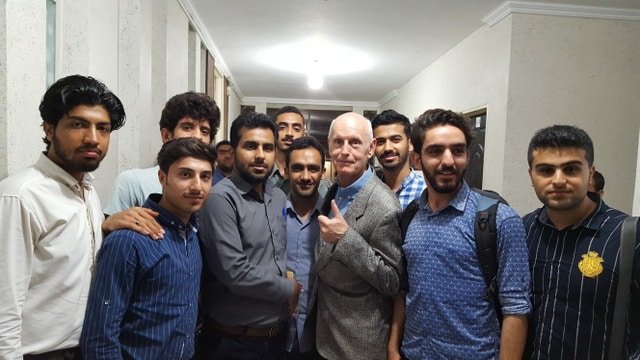 US wants Iranians to 'have better lives' with sanctions: Pompeo
… from Press TV, Tehran
[ Editor's Note: My God, Captain Pompeo seems to be in a race with President Tweet to make the dumbest foreign policy statement. We will to have to give this blithering a lasting name. How about TrumpSpeak, in honor of the master linguist?
Pompeo has certainly not talked to any of the people I met while in Bandar Abass, Iran (on the Gulf), last Spring. I had attended the 2018 New Horizon Conference in the religious capital, Mashad.
When the formal meetings were over, for the first time they allowed the attendees, about 50, split up into small groups to spread out across the country to rub shoulders with the regular folks who actually were delighted to see Americans there.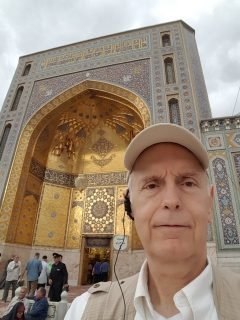 Two things stuck out the most among the myriad of questions we asked each other in casual conversation, across different stations in society. The Iran-Iraq war is seared into their memory like the Civil War is in the American South, as so many families lost breadwinners or sons.
They remember running to the air raid shelters, not only for bombings but the chemical weapons missiles that came down on them when they had nothing comparable to shoot back.
They also remember their civilian airliner being shot down, supposedly by mistake; and where the US Navy captain was decorated for it. I had no answer for them as to why.
If Pompeo thinks there is a pro-Shah political faction waiting for the right time to come down out of the hills to take over Tehran, he must be smoking crack.
Sure, there is an opposition in Iran like there is in Russia, waiting for the day to be US puppets and run the country as proxies. Iranians know that the US has only the boot to offer them, for their necks.
I found them to be mostly like people everywhere. They wanted a good job in a growing economy to take care of their families; and they are sure they will have that when the US Deep State machine leaves them alone. But I told them that would not be an easy thing to do, as we Americans can't even get rid of it here… Jim W. Dean ]

Jim's Editor's Notes are solely crowdfunded via PayPal
Jim's work includes research, field trips, Heritage TV Legacy archiving & more. Thanks for helping. Click to donate >>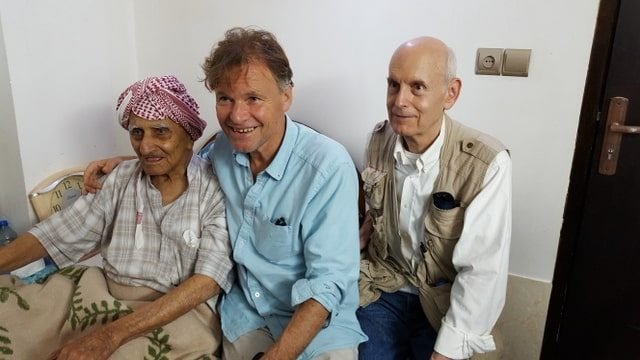 – First published … January 04, 2018 –
US Secretary of State Mike Pompeo says Washington's tough sanctions against the Islamic Republic are aimed at giving the Iranian people a chance to have better lives.
"The sanctions on Iran have this ultimate goal: creating an outcome where the Iranian people can have better lives than they have today," Pompeo told Newsmax TV on Thursday.
The administration of US President Donald Trump announced on November 5 the reimposition of the "toughest" sanctions ever against Iran's banking and energy sectors with the aim of cutting off its oil sales and crucial exports. The bans had been lifted under the 2015 nuclear deal, officially known as the Joint Comprehensive Plan of Action (JCPOA).
While the US claims the bans do not target civilians and ordinary people, they are actually hampering the import of food and medicine to the country, endangering the lives of millions of patients in Iran.
A senior Iranian academy official says the US has endangered the lives of many Iranian patients by imposing food and medicine sanctions against Tehran.
Pompeo earlier told BBC Persian that Iranian officials must listen to Washington "if they want their people to eat."
He also said since the re-introduction of the sanctions, there was no sign yet that Iranian officials would return to the negotiating table.
"We have provided, we have accommodated the Iranian people with our sanctions, and it's now the Iranian government's responsibility to make sure that they do the right thing…It's their job to do the right thing for their people," he noted.
In reaction to his comments, Iranian Foreign Minister Mohammad Javad Zarif said Pompeo's open threat to starve the Iranian nation was "a crime against humanity" and "a desperate attempt to impose US whims on Iran."
#WeWontForget @SecPompeo openly threatening to starve Iranians—a crime against humanity—in a desperate attempt to impose US whims on Iran. Like his predecessors, he'll also learn that—in spite of US efforts—Iran will not just survive but advance w/out sacrificing its sovereignty.
"Like his predecessors, he'll also learn that—in spite of US efforts—Iran will not just survive but advance w/out sacrificing its sovereignty," Zarif said.
US has 'lots of things' to work on with Turkey
In his interview with Newsmax TV, Pompeo also referred to Washington's ties with Ankara, saying the US has "lots of things to work on with the Turks" and President Recep Tayyip Erdogan.
"There are places where they are very supportive of the things that Americans care about, which keep Americans safe," Pompeo said.
"There are other places where we have real concerns," the secretary added. "We still have Americans who are being held there. The conversation with the Turks continues."
Pompeo also announced that National Security Adviser John Bolton and Jim Jeffrey, special representative for Syrian engagement, will meet with Turkish officials next week "to talk about Syria."
"There are lots of places where we need to work with President Erdogan and the Turkish leadership to get good outcomes for the United States."
The comments came as the US is reportedly evacuating its military bases in Syria after President Trump pledged to pull American forces out of the war-torn Arab country.
Tens of US forces left the base in Syria's Hasakah and headed to Iraq along with their equipment, Turkish sources reported.
America's military presence in northern parts of Syria, where US troops are working closely with Kurdish groups, have drawn fire from Turkey.
Ankara has launched its own military incursion into Syria, with a declared goal of destroying Kurdish groups causing unrest in Turkish territories.
Upon announcing his decision to leave Syria, Trump said Turkey would be taking on the US military responsibilities in the country.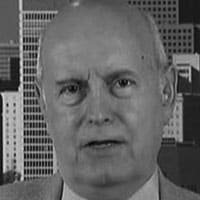 Jim W. Dean is VT Editor Emeritus.  He was an active editor on VT from 2010-2022.  He was involved in operations, development, and writing, plus an active schedule of TV and radio interviews.  He now writes and posts periodically for VT.
ATTENTION READERS
We See The World From All Sides and Want YOU To Be Fully Informed
In fact, intentional disinformation is a disgraceful scourge in media today. So to assuage any possible errant incorrect information posted herein, we strongly encourage you to seek corroboration from other non-VT sources before forming an educated opinion.
About VT
-
Policies & Disclosures
-
Comment Policy
Due to the nature of uncensored content posted by VT's fully independent international writers, VT cannot guarantee absolute validity. All content is owned by the author exclusively. Expressed opinions are NOT necessarily the views of VT, other authors, affiliates, advertisers, sponsors, partners, or technicians. Some content may be satirical in nature. All images are the full responsibility of the article author and NOT VT.