By Lou Louis MD for VT, Damascus, Syria
Dear Readers
After many false starts the dates for my trip to Syria as part of the Boxers for Peace group had been finally confirmed!
However, as the situation in Syria was still fairly unstable and our trip may had to be cancelled at the last minute, it was only when we left Australia on 23/6/2019 that I finally knew our small troupe of five ( myself, fighting father Dave Smith, two young fighters, Henri King and Michael Lekkas and Imogen Smith, Father Dave's daughter who is a contestant in the Miss Australia contest) was actually going to be in Syria in the next 36 hours.
It was a long tiring flight to get to the Beirut airport, and then get a minibus (organised by the Syrian sports Federation) to go overland to Damascus.
The Minibus was not air-conditioned and the outside temperature was over 40° and we were quite crowded in the bus, but were excited at the thought of being on the 'road to Damascus'. What usually is a four-hour trip turned into a seven-hour trip because of a slight hiccup at the border of Lebanon and Syria, but this was all sorted out and we finally arrived at our hotel in Damascus quite late on Monday, 24 June 2019.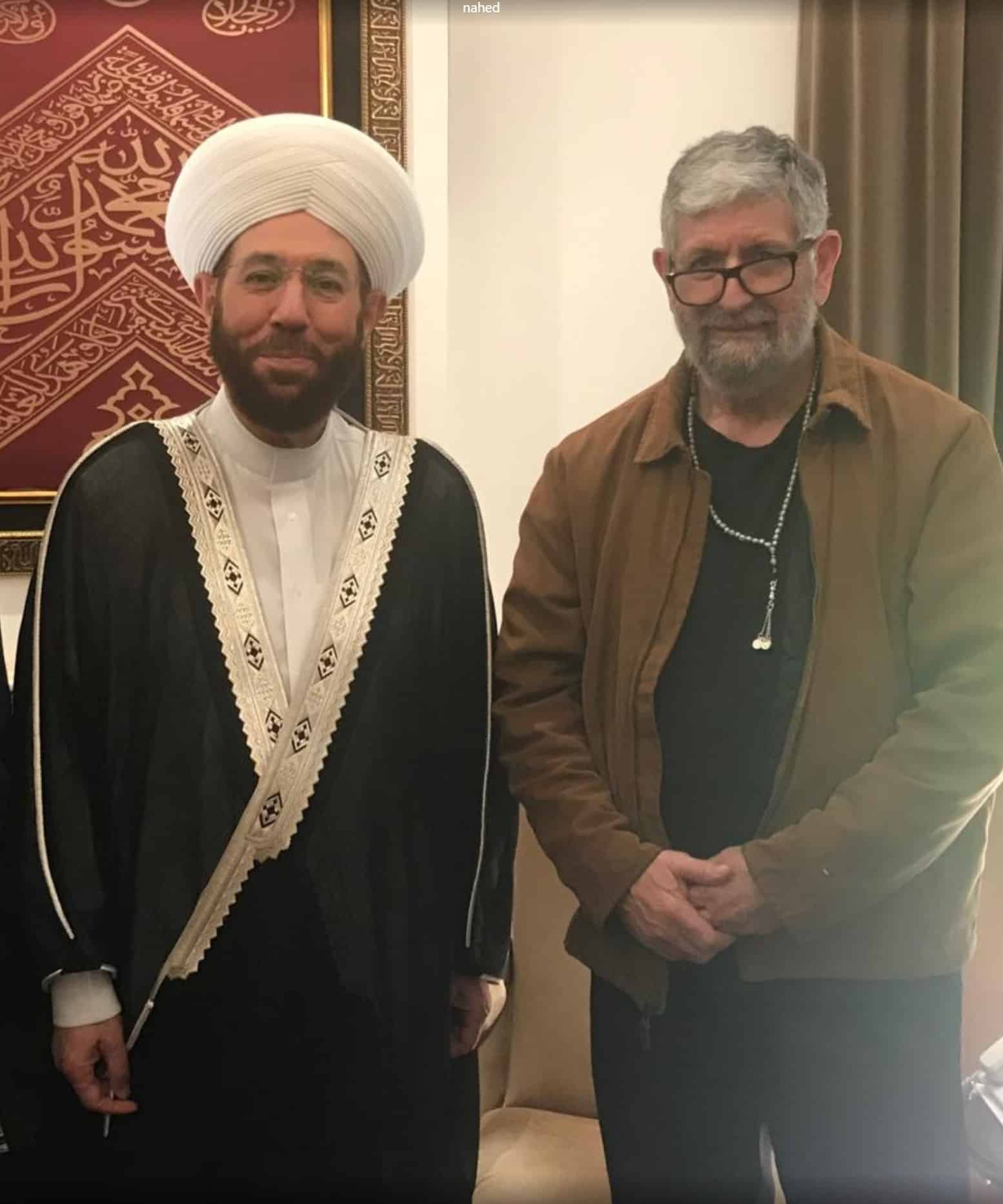 The hotel that we were booked into was the hotel that is used by the elite sports people of Syria for training camp purposes; and it would have probably been a 2-star rated hotel when compared to Australia standards, but the rooms were clean and comfortable and breakfast, lunch and dinner was supplied to us for free.
As far as we were concerned, this was an incredibly generous offering from a poor sports Federation; and we were very appreciative of the fact that the Syrian sports Federation did this for us. After all, we really only used the room to sleep, as the rest of the day was spent doing what we came to do; mainly doing some training with the boxing team and meeting various officials of government, religious leaders and ordinary people in the streets of Damascus and surrounding areas.
Even though we were only a small sporting troupe, we wanted to spend as much time out in the streets meeting the kids and ordinary Syrians and seeing how we could make a small change for the better, and also get to know a bit about how Syrians were coping with rebuilding their cities, despite massive sanctions from overseas countries. (My personal goal was to do humanitarian deeds by showing the people of Syria that not everyone in the world was against them and that there were people in the world who genuinely cared for their plight; and I truly believe that I have achieved this goal.)
Meeting the Syrian Boxing Team
After a good night's sleep, we had breakfast in the hotel at 7:30 AM and met with the Syrian boxing team, which was training in a gym next to our hotel at 9 AM. After the appropriate introductions, we started training with them at 9:30 AM.
Syrian TV came along and did some filming of us sparring; and we also did interviews with the media and, as a result, a lot of people in Damascus knew that we had arrived!
After training we had a bit of a nap, and then went for a drive to downtown Damascus; and among many ruined homes and businesses, people were getting ready for their day's work, as some parts of Damascus were relatively untouched by the war. There were many shops, markets and restaurants doing a thriving trade; and the first thing I noticed whilst we were driving was how the streets were full of people in Western clothes and traditional Arab clothing all walking and talking with each other.
I even noticed Orthodox churches next to Mosques and, believe me, this was not what I expected! We had lunch in a restaurant that was frequented by Christians and Muslims; and all were getting on with each other, and when we spoke to them, they told us they were Syrians who lived in harmony with each other for many many years, and it was the foreign terrorist groups that tried to divide the country ( and had failed).
This sentiment was expressed by everyone we met, from members of parliament, religious leaders and people in the markets and coffee shops and restaurants. By now, having got rid of our jet-lag, the next day, 26/6/19, our goodwill tour got truly underway.
The first 'official' person we met was the General in charge of the Sports Federation, and then the General in charge of the Boxing Federation; and both these people were very respectful towards not just us, but to all the sportsmen training in the sports centre. The General in charge of the Sports Federation was not only a politician, but he was also a medical doctor and spoke perfect English; and he organised for us to meet other members of the Syrian parliament, including the deputy Foreign Affairs Minister.
We also caught up with a few foreign war-correspondents, with whom we developed a great friendship, and who accompanied us on many of our goodwill trips to various parts of Damascus.
One of the journalists, Tom, was a former SAS soldier and he wanted to have a fight with father Dave, and this was organised for the next day. I was the referee, the Syrian coach was the timekeeper and some of the assistant coaches were to be the judges.
However they were not needed, as Father Dave gave Tom a lesson in boxing, and I stopped the fight in the second round. It was all in good fun; but my 'punishment' for stopping the fight in the second round is that I have to box Tom when I return next year!
Meeting the Grand Mufti and other religious leaders
The next few days were spent meeting with religious leaders such as the Grand Mufti of Syria, and the second in charge ( the leader was in Germany that week) of the Greek Orthodox community, as well as leaders of other smaller Christian groups. The incredible aspect of all this was that these leaders were truly leaders of the people and cared for the people regardless of their religion.
They were compassionate people who preached love and unity instead of division and hatred; and I realised that with such compassionate leaders, the future of Syria and its people was in good hands. Once again we were told how welcome we were by them and the people of Syria; so much so that I actually felt privileged to be in the presence of such great religious leaders; and I am not a churchgoing person.
On Saturday the 29th June 2019, we went to the ancient Orthodox Monastery of Saint Thecla in Maaloula, a Syrian town some 56 km north of Damascus which has been freed from terrorists and is now being slowly rebuilt.
What impressed me the most was seeing Christians and Muslims working together rebuilding their houses; and the head of the Greek Orthodox church in Maaloula telling us that even though the monastery was quite damaged during the terrible ISIS occupation until 2017, he wanted to devote all the churches' resources to rebuilding people's houses first, and then to restore the monastery.
After a few more days of travelling in and around Damascus, one of Father Dave's friends, a Lebanese-Syrian of Christian background ( surprisingly named Chris) took us to one of Damascus' leading hotels that had a giant swimming pool. What stunned me was that the pool was full of people from all walks of life, including girls in bikinis and girls in full Muslim garb, all sitting around and talking to each other just like we used to do over here in Australia. There was no discrimination, they were just friends who respected each other and the way that they dress.
Once again we were asked by the people to tell our countrymen in Australia that Syria is a truly secular and non-discriminatory country; and everyone is welcome as long as they come in peace and not try to divide the community with radicalism that has nothing to do with religion.
I realise that there is a lot of bias in our media's reporting of what Syria is about; and I feel that in the two weeks that I was there, I must concur with that view.
Incidentally, a few nights before we were to leave, there was an aerial attack by a foreign country on what was supposedly an Iranian weapons storage facility. All it managed to do was kill a family of 4, and wound 40 others. Honestly, military intelligence is an oxymoron!
Unfortunately, because of this incident, the sports Federation officials thought it may be a bit risky for us to go to the ancient city of Aleppo and other further outlying places, in case further attacks occurred and put our safety in jeopardy.
As a result we spent the last few days of our trip going to different places and orphanages in and around Damascus, putting on a few impromptu boxing matches, having lots of kids trying on the gloves and having a good time. We did not discriminate whether they were boys or girls, as long as they had fun!
Finally, I met (and have continued to correspond with) a fascinating Syrian war correspondent/journalist who is a Muslim, but dresses in Western-style clothing and speaks her mind!
Her name is Nana, and she is well known and respected by all the religious leaders, as well as members of Parliament; and she tells it like it is! When we met some local government officials, Nana sat where she wanted to, yet was incredibly respectful and well-received by these government officials.
Until I met people like Nana and Tom ( frontline war correspondents), I thought that propaganda was something that was spread by non-democratic governments, but I realise that we have been fed a lot of propaganda about the Syrian people by our own so-called free press.
Finally, I had to depart a day earlier than the rest of my small troupe, and I got a cab from Damascus to Beirut, went through all the checkpoints and immigration; and even though my driver could not speak a word of English, he was a happy-go-lucky person, and we had no problems going through immigration et cetera. He even took me to the airport gate that I had to board in a Beirut airport.
For a five-hour taxi journey, it cost the equivalent of US$86! I offered him a tip but, to my pleasant surprise, he said it was a pleasure to drive an Australian with such a good heart! How he knew that, I will never really know, unless he read about the goodwill tour that the "Boxers for Peace" did in Syria.
When you think about it, a small troupe that consisted of an old fighting doctor, a middle-aged fighting priest, 2 twenty-something active amateur male boxers, and a beauty queen all going to Syria sounds like the beginning of an old Bishop joke. In reality, we all came back to Sydney feeling truly humbled that we were so well received, and have seen the true spirit of the people of Syria.
Regards
Dr Lou Lewis
Nahed is VT Damascus Bureau Chief. She is a member of the American Institute for Middle East Strategic Studies (USA) and serves as Assistant Director of the Arab-American and Muslim Congress (Detroit, USA). She has a Diploma in English Literature from Damascus University (1987).
She's also been a reporter for Turkish newspaper Aydinlik, Special Coordinator for Arab-Armenian International Law Assembly, Correspondent for Qatari News Agency, Al Ayam news Paper in Bahrain, Al Liwaa in Lebanon, Correspondent for Petra News Agency in Jordan, correspondent for the Associated Press in USA, and worked as a freelance journalist for CBS, ABS and CNN in Syria. She is fluent in both English and Arabic.
ATTENTION READERS
We See The World From All Sides and Want YOU To Be Fully Informed
In fact, intentional disinformation is a disgraceful scourge in media today. So to assuage any possible errant incorrect information posted herein, we strongly encourage you to seek corroboration from other non-VT sources before forming an educated opinion.
About VT
-
Policies & Disclosures
-
Comment Policy
Due to the nature of uncensored content posted by VT's fully independent international writers, VT cannot guarantee absolute validity. All content is owned by the author exclusively. Expressed opinions are NOT necessarily the views of VT, other authors, affiliates, advertisers, sponsors, partners, or technicians. Some content may be satirical in nature. All images are the full responsibility of the article author and NOT VT.