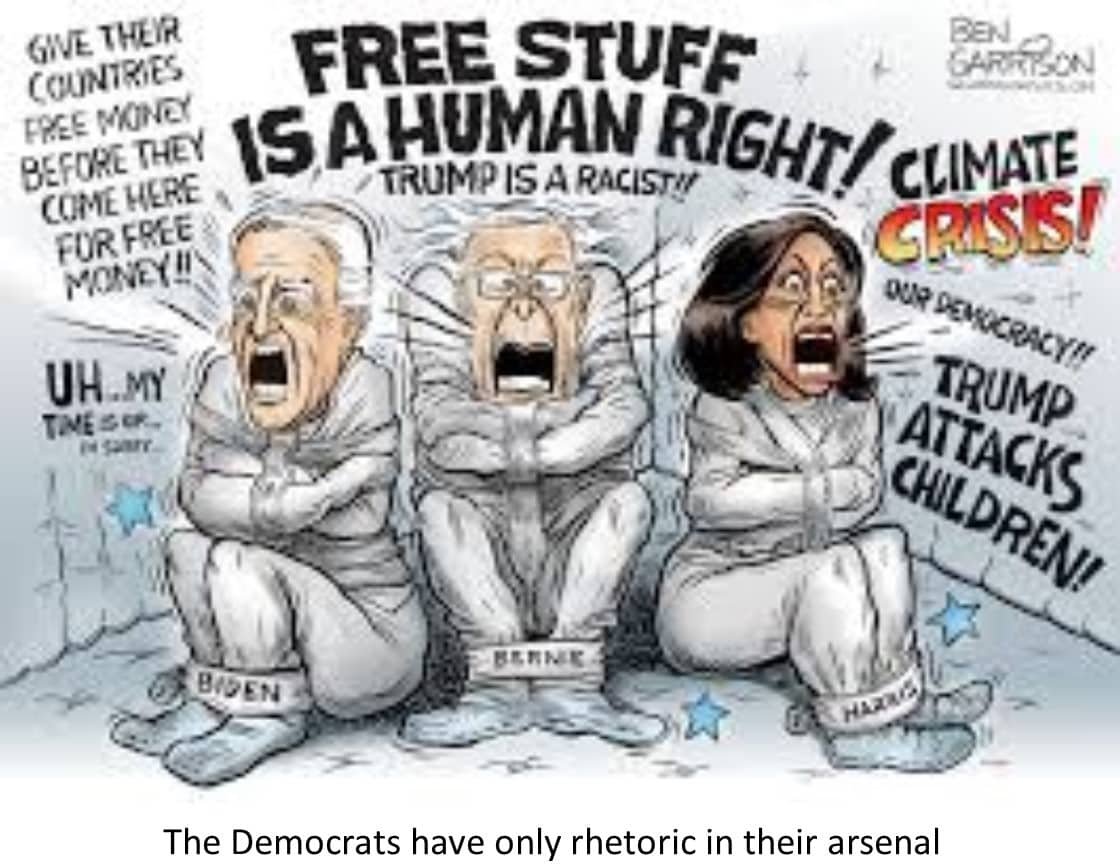 The election season is upon us once again, though I doubt that it ever left center stage for many Americans. With the election of Donald Trump in 2016, much to the dismay of the Democrat Party, the biased media on all fronts, and what has become known as the "Deep State" fanatics that refused to accept the fact that heir-apparent to the Obama throne, her majesty Hillary Clinton, America woke to the dawn of a new era.
American had finally decided enough was enough of the leftist progressive's destruction of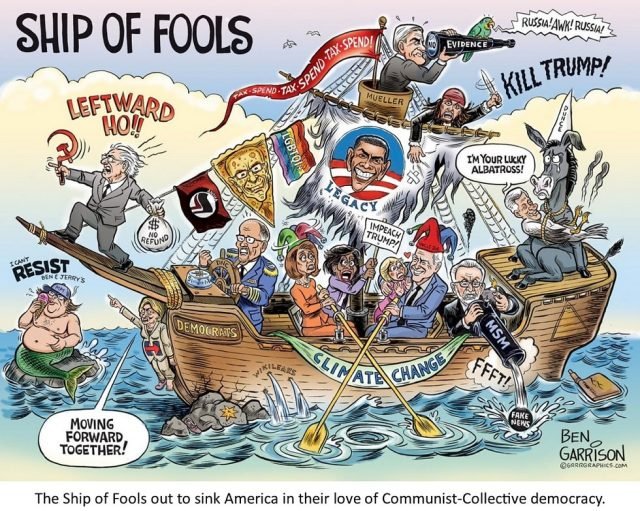 the greatest country in the history of mankind. The sad part of the rise of the left was that they had almost succeeded in the complete ruination of everything that has made America the most economically successful political system the world has ever known
Their efforts to destroy our great country began with the takeover of the education system where they would have the ability to corrupt the minds of our youth into believing the Marxist-Socialist lies that all good things come from government and that government should control every aspect of daily life for the "good of the people". From the means of production to the control of the economy, and from health and welfare of the population to the redistribution of private property, government should be the last arbiter and we the people viewed as subjects of the government.
They polluted the minds of our youth into believing such nonsense as "white privilege", that everyone other than people of color were steeped in racism, prejudice, and have created prosperity as the exclusive domain of the elite white class on the backs of slaves, and by "taking our wealth" by forcing our will on weaker countries. Blacks, Hispanics, and other minority populations, were used as the door mat for white dominance and wealth creation depriving people of color from participating in the American Dream.
Aided by a media with a warped sense of self-worth and a complete abrogation of duty, the Democrat Party, over a period in American history dating back to the Emancipation Proclamation, completely rewrote the pages of history regarding the enslavement of the African-American by the brutal abomination of slavery. History books dropped the facts that it was the Democrat Party and their retarded cadre of followers infamously known as the Ku Klux Klan, that, following the Civil War, made it their goal to terrorize Black Americans using lynchings, bombings, rape and killings to intimidate every person of color in America depriving them of their rights to life, liberty, and the pursuit of happiness.
618,222 America soldiers perished, both on the North and on the South, to resolve the issue of slavery in America. We are the only country in history to have left so much blood on the battlefield to preserve the dignity of man to insure liberty and freedom of all without regard to the color of one's skin. Yet today one can find still slavery practiced all over the world.
According to the Global Slavery Index (GSI), there are an estimated 40.3 million people living as slaves in the world today. This modern day slavery is in many instances not all too different from that in medieval times, as people are still being owned as property by others in some countries around the world. However, unlike ancient forms where slaves were not paid at all, in modern day slavery payment may be there for those being exploited yet they are being kept in bondage. Those who are paid meager earnings are not enough for basic support. The International Labour Organization estimates that 26% of modern slaves are children.  Iran, Cambodia, Pakistan, South Sudan, Mauritania, Afghanistan, Central African Republic, Burundi, Eritrea, and North Korean are among the leading slave countries.
But, not to get hung up in the blatant lies the Democrat Party and their lying and conniving leftist progressive members of their party which now account for close to 80% of its members, I felt it was time to call the out as liars and pin the truth on the tail of these jackasses. Yes, the old symbol of the Democrat Party used to be the donkey, but that has changed today to be represented by the jackass!
Let me start by pointing out that the media, for being as crooked as they are today have been shown to be the whores they are by jumping into bed with The Deep State seditionists who for the last two and a half years have tried to frame President Donald Trump as a puppet of the Russian government. That failing they then claimed the Russians played a key role in getting Trump elected president; and then that President Trump was unstable and would destroy America; that President Trump was a liar at best and a traitor to boot; and that he should be impeached, assassinated, or removed from office by a so-called bogus "25th Amendment". The fact is that none of that crap was true, but even today, the media, though proven wrong on all counts, still perpetuates the myths.
It is the same media who, with no shame on their faces, can boldly step up to the microphones and conduct interviews with the 20 plus limp-wristed bozos the Democrat Party has assembled for presidential candidates, and try to figure out whether they "lean left of right on the issues". Such idiocy should tell the voter any candidate that would "lean one way or another", has no right to even be in the presidential race. Any fool can see these irrelevant and inconsequential fools might lean "left" or "right" to tell whatever lie the audience wants to hear at that given moment.
In short, by that very unintentional slip of their ignorant journalistic prowess, they are admitting that none of these candidates have a FOUNDATION, and that they will say anything and do anything, just to get elected. Well, sport fans . . . the conservatives in this great country have caught up with them. Yet there are still the brainwashed and unkempt graduates of America's educational system who will believe anything those political fools tell them. Liberals cannot be educated with the truth and facts. They can only be influenced with hearsay and innuendo. The Dems and the media are proving Joseph Goebbles correct when he said, "if you tell a lie enough times people would believe it".
Donald Trump has been one of the most successful presidents in U.S. history in spite of the most vicious effort in American politics to overthrow our government. Though I believe participants in the Deep State should all be tried and sent to the gallows, a fate that awaited those who conspired to overthrow President Abraham Lincoln, but the media simply won't allow that to happen.
There are a lot of mindless twits who are running for office on the Democrat presidential roster. The list is long but is made up of UNDER-ACHEIVERS when viewed by anyone with a brain. There isn't a single one of them who could carry Donald Trump's briefcase!
You see every one of the Democrat candidates are following the proven path in the rise to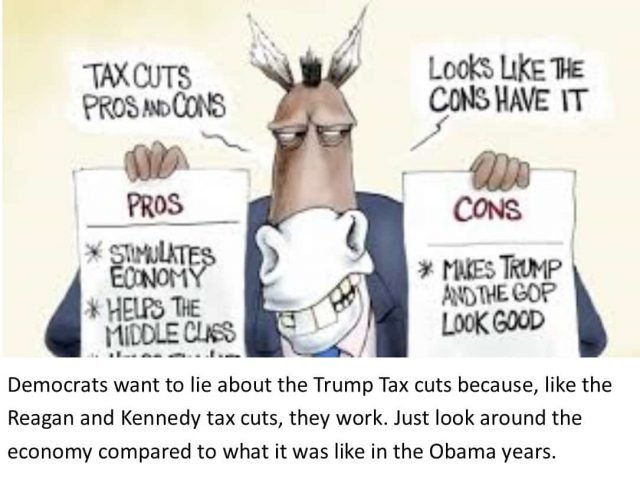 political office which the non-thinking voter just doesn't recognize. They graduate from school, try their hand at a real job like the rest of us for at least a few nano-seconds, and then decide the real money to be made is in the world of politics. There isn't a single one of them who have any real-life experience like the rest of us, living and competing for the success of the American Dream.
None of them have a resume of any accomplishment other than winning a political office and raising money, then staying in office by making promise after promise to the voters.
Let me ask one question the media never has the guts to ask . . . Can these fools name anyone of their constituents who have ever benefited from the many promises that were made to them? Or were they just empty promises to gain a few votes. I can assure you I have spoken to thousands of voters who can't tell me one political promise that was every made to them that was kept.
Here we have a president in Donald Trump who has made countless electioneering promises and according to the Chicago Tribune (not exactly a bastion of conservative journalism), "But when it comes to the real barometer of presidential truthfulness — keeping his promises — Trump is a paragon of honesty. For better or worse, since taking office, Trump has done exactly what he promised he would do.
The economy is as good as it has ever been and in many cases even better than that; Black unemployment is at an all-time record low; we have more than 6 million jobs needing skilled workers; people have more spendable income than at any time in history; the economy is booming; our national defense has been restored; companies have returned to America; and we have economic growth 300% greater than at any time during the malaise of the Obama and Democrat regime.
Yet the media keeps telling the public that only the rich benefited from the TAX CUTS. That's pure BS propaganda. People may not have gotten a large tax refund check as they have in the past, but people are making more money and with the number of jobs needing to be filled, there is far more opportunity in the labor market.
On August 16, 2019, the Bureau of Labor Statistics stated "average hourly earnings for all employees on private nonfarm payrolls increased 3.2 percent from July 2018 to July 2019. This increase, combined with a −0.6-percent change in the average workweek and a 1.8-percent increase in the Consumer Price Index for all Urban Consumers (CPI-U), resulted in a 0.8-percent increase in real average weekly earnings over the year.
From an April 19, 2019 article in the ultra-liberal New York Times:
"If you're an American taxpayer, you probably got a tax cut last year. And there's a good chance you don't believe it."
The article went on to stress that ever since President Trump signed the Republican-sponsored tax bill in December 2017, independent analyses have consistently found that a large majority of Americans would owe less because of the law. Preliminary data based on tax filings have shown the same. With the first tax filing season behind us taxpayers don't believe their paychecks!  A survey conducted in early April for The New York Times
"They found that just 40 percent of Americans believed they had received a tax cut under the law. Yet most Americans felt they hadn't gotten a tax cut, and that a large minority thought their taxes had risen — though not even one in 10 households actually got a tax increase".
Yesiree–bob . . . old Joseph Goebbels was right . . . Mis-information and lies are as good as the truth from the liberal media if the public believes them.
To a large degree, the gap between perception and reality on the tax cuts appears to flow from a sustained — and misleading — effort by liberal opponents of the law to brand it as a broad middle-class tax increase. However, The Tax Policy Center estimates that 65 percent of people paid less under the law and that just 6 percent paid more. (The rest saw little change to their taxes.)
The New York Times article concluded:
"The Joint Committee on Taxation — Congress's nonpartisan team of tax analysts — found that every income group would see a tax cut on average. So did the Institute on Taxation and Economic Policy, a left-leaning think tank that was sharply critical of the law. In fact, that group went even further: In a December 2017 analysis, it found that every income group in every state would pay less on average under the law in 2019".
America's economy is stronger than any Western or Eastern European country which are mired in their antiquated socialistic government programs. They are dying on the vine. Imagine where would be today if the Democrats had gotten out of the way with their childish games of the Deep State, and let the full force of capitalism work its wonders.
In closing let me just give the naysayers a parting thought regarding the pack of lies from the Democrats running for office with promises of every giveaway program they can come up with. The next time one of those clowns talks about JOB CREATION, which they all do, ask them how they plan do that. Here's a checklist we should all ask of a politician about job creation. I assume to create jobs one would need to know a modicum of what goes on in running a business:
Have you ever had to make a payroll?
Have you ever had to negotiate a union contract?
Have you ever had to negotiate a company health and benefit package?
Have you ever had to negotiate an accounts receivable line of credit with a bank?
Have you ever had to deal with government regulations that burden business?
Have you ever had to deal with public health inspections?
Have you ever had to deal with OSHA requirements?
Have you ever had to face a product liability lawsuit?
Have you ever had to negotiate a business insurance plan to protect your business and employees?
Additionally, how well versed would a political candidate be in the following aspects of business; understanding creating a "business environment" businesses must deal with:
Financial management. Being able to effectively manage your finances is critical.
Marketing, sales and customer service.
Communication and negotiation.
Leadership.
Project management and planning.
Delegation and time management.
Problem solving.
Networking.
Team building.
Cash flow and financial management.
Following his service in the Marine Corps, Ed built a diverse career in business in both sales/marketing and management. He is a medical research specialist (biological response modifiers) and has published numerous books. His latest books are Concept of America and soon-to-be released, Blessed are the Heroes. Ed is past Development Director of the National Guard Bureau of International Affairs-State Partnership Program, and Fundraising Coordinator for the Warrior2Citizen Project. Mr. Mattson is a noted speaker and has addressed more than 3000 audiences in 42 states and 5 foreign countries. He has been awarded the Order of the Sword by American Cancer Society, is a Rotarian Paul Harris Fellow and appeared on more than 15 radio and television talk-shows. His non-fiction books range from what it means to be an American, to his best selling book on cancer research, Say NO to the Undertaker, published by Author House.
ATTENTION READERS
We See The World From All Sides and Want YOU To Be Fully Informed
In fact, intentional disinformation is a disgraceful scourge in media today. So to assuage any possible errant incorrect information posted herein, we strongly encourage you to seek corroboration from other non-VT sources before forming an educated opinion.
About VT
-
Policies & Disclosures
-
Comment Policy
Due to the nature of uncensored content posted by VT's fully independent international writers, VT cannot guarantee absolute validity. All content is owned by the author exclusively. Expressed opinions are NOT necessarily the views of VT, other authors, affiliates, advertisers, sponsors, partners, or technicians. Some content may be satirical in nature. All images are the full responsibility of the article author and NOT VT.