By Claudio Resta for VT
There is always the Popular Republic of China hidden behind North Korean defiances
All warfare is based on deception.
(The Art of War, Sun Tzu)
I know this may sound like a little bit smelling of paranoia, but we don t have to forget that the immortal ancient Chinese military treatise, The Art of War, remains the most influential strategy text in East Asia and it has also had an influence on Eastern and Western military thinking, business tactics, legal strategy and beyond. And still has.
And the statement I have quoted is not a single, casual and detached one but is the center, the fulcrum and the essence of its philosophy.
So in consideration of various other following reasons, we must assume that a nation like  North Korea, in some way a sort of puppet nation of the PRC may play the role of a political-military defiance actor to answer the economical challenge launched by the USA's rise of tariffs against PRC.
My opinion grew up on the hypothesis that, despite all appearances and cliché, I didn't think that a leader, even if so controversial, as Kim Jong Un, possibly could not be so self-destructive to challenge the most armed superpower in the world, if he wouldn't have covered shoulders, as, for instance,  a secret pact with China giving North Korea military support, protection and intelligence.
Then, the first of these reasons above mentioned is a quote by Putin, who sometimes speaks in a very oracular and hermetic way, disclosing little pieces of a truth that in the West is no anymore available, in spite of its sacred cow and postulation of liberal democracy.
With no transparency at all, neither political neutrality nor objectivity of information, let me add.
I may be a fool but I believe in Putin's occasional statements, in which he talks about the earliest ancient Popes when they were speaking "ex-cathedra" and therefore being infallible.  A long before the last Second Vatican Council.
I excuse myself for such a long preamble and finally, I can quote the statement of Putin that indirectly interest us that is: "There are not so many countries in the world that enjoy the privilege of sovereignty." and probably North Korea is not one of them, I can add.
So we know that in the world many countries are still colonies, protectorates, and ice kingdoms or as Putin says in a more contemporary (and diplomatic way), such countries share limited sovereignty. As an Italian, I would have never had a doubt of it. We colony of the US since the end of WWII, and recently of the EU, too. I beg your pardon, this is a "voluntary" union.
Then everybody knows there are often many complex links and relationships between two different nations that both share the privilege of sovereignty or not, we may argue, of very different sizes and even on different continents even besides their alliance, like the United States of America and Israel.
Then why North Korea couldn't be a sort of special allied country of the Popular Republic of China?
In some way, there is an analogy with the special alliance linking USA and Israel, probably much stronger.
And who knows, maybe perhaps in some way a wider secret alliance with Russia, too.
I don't pretend this analogy to be perfect but at least allusive of a particular reality.
While the relationship between USA and Israel is two ways, the relationship between the PRC and North Korea could be just a one-way one, hierarchically defined in the sense that NK is just a puppet nation of PRC as it plays just the role of a political-military defiance actor to answer anytime to the serious economical challenge launched by the USA against PRC, in this case, the US rise of tariffs against PRC in the hidden and sneaky interest of China.
Then but why you may ask? The purpose of this conspiracy would be in the case of any serious economical offense to PRC interests to possibly engage the United States in an eventual Vietnam-like war that cannot be won by the USA at least in a conventional way.
Here the analogy of the two Korean countries of today with the two Vietnamese countries of the sixties is perfect. In both cases, there is a North communist and a South capitalistic.
In both cases there was/is a strong link/alliance of the North communist of the two split Asian little countries with China superpower big ally.
In both cases the people and the soldiers of the Northern country, in a very different way from those of the richer Southern country but especially from the American soldiers, North Koreans are forged by a poor life of privations and sacrifices,  that raised their moral strength and spirit of self-sacrifice to a Spartan much higher level than its enemies (SK and USA).
I mean that South Korean soldiers and people are a little spoiled by their wealthier lives even if they are not so spoiled as the US soldiers by a much easier domestic life and so they all cannot have the capabilities of handling the suffering of soldiers and people of North Korea (and eventually US military).
Not just this but even the strong totalitarian communist ideology of North Korean soldiers and people as a sort of religious fundamentalism raised their moral strength and spirit of self-sacrifice to a much higher level than its enemies (SK and USA). I believe.
So a war of the USA and eventually SK against NK would soon turn into a Vietnam- like guerrilla that cannot be won even by the much more rich arsenal of the USA in terms of weapons,
But the such war would turn into a useless huge loss of life, weapons, ammo, assets, and money on both sides.
With the total destruction of South Korean capital assets could not be defended in a valid way as being so close to the front of the 38th parallel.
Another reason for PRC to pull the USA into an eventual war on Korean theater would be to make NK a test bench of Chinese and Russian intelligence and weapon systems, machines, and strategies against American ones.
That could be useful for the development of such systems and strategies in light of future wars between America and Eurasia. If a future like this still will have a chance!
Now I want to report two arguments that may possibly turn the expected chances for the USA to win such a war in a likely defeat.
The possible sharing of satellite systems intelligence of countries that detain such resources like PRC and/or Russia with North Korea will play a key role in this war.
Then if such a war should be fought, because of the advanced state of art of technology of North Korea, its alliances or affinities with China and Russia, its proximity to PRC and to its "Lebensraum", and also because of its Eastern culture and philosophy very different from ours (never forget The Art of War, Sun Tzu) I think it could lead to an unforeseeable outcome.
It would be a very new and risky war.
Think just if North Korea under an eventual attack should use its nuclear weapons not against a useless conventional target but to cause a HANE (High altitude nuclear explosion) with its radiological effects on the electronics of complex weapon systems such as new generation contemporary attacking fighters and bombers for instance.
A test of a new type of war, nobody can predict the effects of such weapons in the change of a tactics war doctrine in a new one.
Such a chance new possible Vietnam-like war would weaken the political, economic, and financially the USA and, in this particular historic juncture, it could lead even to a change of paradigm and who knows even shorten the time to the passing of the torch of the Global Empire or at least of the economical and technological hegemony from the United States of America to the Popular Republic of China.
A big shift that, like it or not, I think it will near certainly unavoidably happen one day or another.
And this I think is a big problem in itself, because it is very difficult if not absolutely possible, to guess and anticipate how this big shift can happen in effect in a peaceful, orderly way, with no violence and the respect of the law and of constitutional guarantees.
And in the market stability, mainly of the store of values.
I hope to be wrong in this case, but in my personal prophecy, I am afraid the respect of all these conditions that should necessarily occur is not possible at all.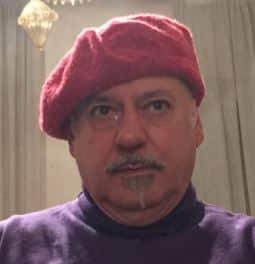 Claudio Resta was born in Genoa, Italy in 1958, he is a citizen of the world (Spinoza), a maverick philosopher, an interdisciplinary expert, oh, and an artist, too.
Grew up in a family of scientists where many sciences were represented by philosophy to psychoanalysis, from economics to history, from mathematics to physics, and where these sciences were subject to public display by their subject experts family members, and all those who they were part of could participate in a public family dialogue/debate on these subjects if they so wished.  Read Full Bio
ATTENTION READERS
We See The World From All Sides and Want YOU To Be Fully Informed
In fact, intentional disinformation is a disgraceful scourge in media today. So to assuage any possible errant incorrect information posted herein, we strongly encourage you to seek corroboration from other non-VT sources before forming an educated opinion.
About VT
-
Policies & Disclosures
-
Comment Policy
Due to the nature of uncensored content posted by VT's fully independent international writers, VT cannot guarantee absolute validity. All content is owned by the author exclusively. Expressed opinions are NOT necessarily the views of VT, other authors, affiliates, advertisers, sponsors, partners, or technicians. Some content may be satirical in nature. All images are the full responsibility of the article author and NOT VT.