By Kadir Mohmand for VT
Why did the United States waste so many tax dollars on a fraudulent Afghan election (U.S. selection) when so many Afghans especially women did not participate? It is just a waste of US tax dollars that the United States does not have. This waste of tax dollars needs to be investigated.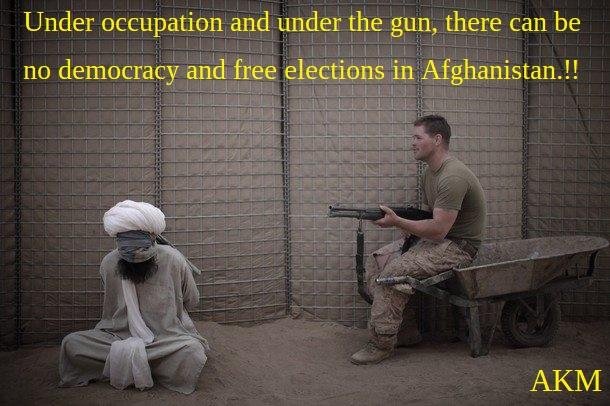 Under occupation and under the gun, there can be no democracy and free elections in Afghanistan. It is a waste of U.S. and world donors' dollars. That should be evident to everyone after the United States' longest war-18 years in Afghanistan this October.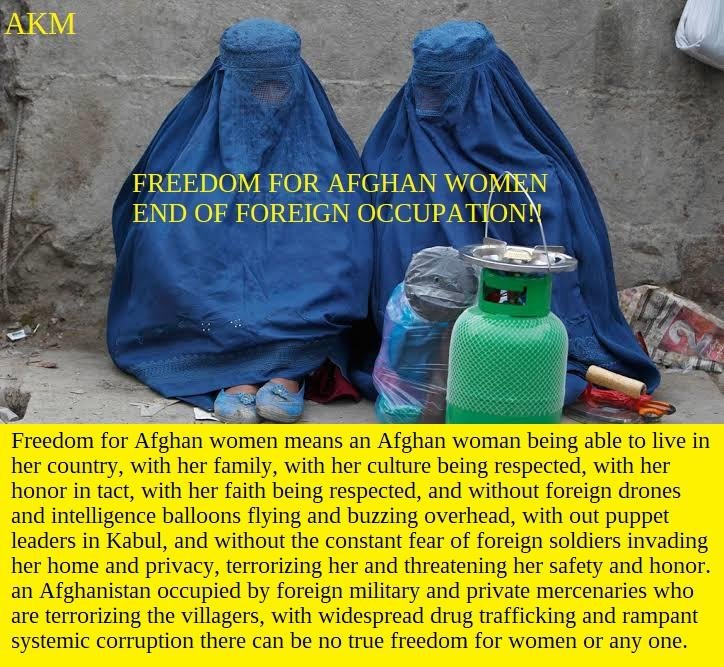 The Afghan villagers want justice these past 18. years. They want justice for the crimes committed these past 4 decades. Yet they have not received any justice during these past four decades for the war crimes they suffered due to the invasions and wars by the former Soviet Union and the United States and their agents, puppets and mercenaries. There can be no peace without justice. There have never been any international or national war crimes tribunals. Justice needs to come first. To bring justice, prosecute the Afghan war criminal, First Afghan VP Rashid Dostum, prosecute the Butcher of Kabul, Gulbideen Hekmatry, prosecute all war criminals from 1979 through the present. Stop the collective punishment and the scapegoating of the Afghan villagers for the tragedy of 9/1. End the U.S. occupation and war with the removal of U.S. troops and foreign forces. Stop exploiting the Afghan villagers' Rare Earth Elements (REEs) and other natural resources, while contaminating their environment with radioactive byproducts. If the United States really wants peace then it will start actions of justice and lead other perpetrators to take the above mentioned actions down this path of justice towards peace.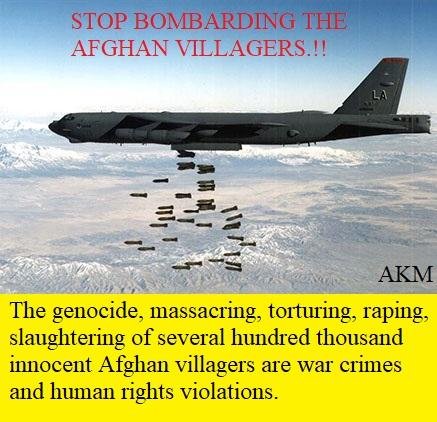 The U.S. selection of Afghan puppet governments, the dropping of "mother of all bombs" and bombs from drones onto Afghan villagers, the use of private contractors/U.S. mercenaries and the CIA paramilitary to attack Afghan villagers, the bull dozing and burning of the villages around the REE deposits in Helmand, ethnic cleansing of the Afghan villagers, who are the only ones defending their land and families, and the rape, torture, killing and imprisonment of Afghan villagers, are not just acts that will lead to peace.
It is time foreign forces including the CIA paramilitary and contractors/mercenaries leave Afghanistan. It is time the Afghan people unite and determine their own destination. It is time Afghans seek peace and not let outsiders/foreigners divide them Peace and unity are the backbone of a straight and just path for the Afghan people.
Sincerely,
Kadir A. Mohmand
Abdul Kadir Mohmand was born in Kabul, Afghanistan. He currently resides at Kalamazoo, Michigan. He graduated from Kabul High School. On an UNESCO scholarship, Mr. Mohmand studied at Sofia University, Bulgaria from 1976 until 1978 when his studies were interrupted by the Communist seizure of power in Afghanistan. The new Afghan Communist government ordered the Bulgarian government to return him to Afghanistan because he was anti-communist. Mr. Mohmand requested political asylum. With the help of the United Nations and the U.S. Embassy, he arrived to Italy and then the United States in 1979.
Mr. Mohmand returned to his studies and earned his B.S. in 1983 from Western Michigan University. He found employment in various positions in the engineering business. For many years, he worked for BFI and was country operations manager for BFI Italia. Currently, Mr. Mohmand owns a shopping center and develops commercial properties.
During the 1980s, Mr. Mohmand was the Representative of the Afghan Mujahideen for North America. During the 1980s, Mr. Mohmand returned to Afghanistan to fight as a freedom fighter against the Soviets and Afghan communists. Through an arrangement with Borgess Hospital in Kalamazoo, Michigan, Mr. Mohmand would bring back wounded Afghan children and Mujahideen for medical treatment at Borgess and recuperation in his home in Kalamazoo. He formed and was president of a nonprofit, Aid for Afghanistan.
In the 1980s, Mr. Mohmand also worked with the Committee for a Free Afghanistan in Washington D.C to bring wounded Afghans to the United States for medical treatment.
For the past four decades Mr. Mohmand has dedicated his life to working to achieve true peace and stability in Afghanistan.
A few years ago, Mr. Mohmand organized educated Afghans intellectuals across the world who drafted a comprehensive plan for peace. Presently, he has united many different Afghan peace organizations under one umbrella. The goal of this network is to unite Afghans to bring true peace in and the independence of Afghanistan. This network wants to be the bridge between the Afghan freedom fighters and the silent Afghan majority, and the Western World in any peace negotiations.
Mr. Mohmand wants true peace and stability in Afghanistan. As a veteran of war, Mr. Mohmand hates war.
ATTENTION READERS
We See The World From All Sides and Want YOU To Be Fully Informed
In fact, intentional disinformation is a disgraceful scourge in media today. So to assuage any possible errant incorrect information posted herein, we strongly encourage you to seek corroboration from other non-VT sources before forming an educated opinion.
About VT
-
Policies & Disclosures
-
Comment Policy
Due to the nature of uncensored content posted by VT's fully independent international writers, VT cannot guarantee absolute validity. All content is owned by the author exclusively. Expressed opinions are NOT necessarily the views of VT, other authors, affiliates, advertisers, sponsors, partners, or technicians. Some content may be satirical in nature. All images are the full responsibility of the article author and NOT VT.