Editor's note:  Trump, according to recent Federal court opinions, confirmed by appeals court, is subject to arrest for these issues in New York.  These are, in fact, his biggest vulnerabilities which involve dozens of cases of easily proven lender and tax fraud.
"Newly unearthed tax documents show stark differences in how Donald Trump's real-estate businesses reported losses and profits at two Manhattan buildings, depending on who the intended audience was. ProPublica reports it obtained documents showing Trump's business gave a lender very different figures than ones provided to New York City tax authorities. The numbers made buildings appear more profitable to the lender, and less profitable to the officials who determined its property tax.
The figures show "versions of fraud," said Nancy Wallace, a finance professor at the University of California at Berkeley, adding: "This kind of stuff is not OK." Trump reportedly informed the lender that he took in double the amount of rent from one building as he reported to the tax office in the same year, and gave out two different occupancy figures. New York City's tax forms state that 'false filings are subject to all applicable civil and criminal penalties.'"
https://www.thedailybeast.com/trump-tax-documents-show-wild-inconsistencies-says-report?ref=home
from ProPublica:
"Taxes have long been a third rail for Trump. Long before he famously declined to make his personal returns public, a New York Times investigation concluded, Trump participated in tax schemes that involved "outright fraud," and that he had formulated "a strategy to undervalue his parents' real estate holdings by hundreds of millions of dollars on tax returns." Trump's former partners in Panama claimed in a lawsuit, which is ongoing, that Trump's hotel management company failed to pay taxes on millions in fees it received. Spokespeople for Trump and his company have denied any tax improprieties in the past.
In February, Cohen told Congress that Trump had adjusted figures up or down, as necessary, to obtain loans and avoid taxes. "It was my experience that Mr. Trump inflated his total assets when it served his purposes," Cohen testified, "and deflated his assets to reduce his real estate taxes."
The two Trump buildings with the most notable discrepancies shared a financial trait: Both were refinanced in 2015 and 2016 while Trump was campaigning for president. The loan for 40 Wall Street — $160 million — was then the Trump Organization's biggest debt.
The fortunes of 40 Wall Street have risen and fallen repeatedly since it was constructed in 1930. Once briefly in the running to become the world's tallest skyscraper (before being eclipsed by the Chrysler Building and then others), the 71-story landmark had an illustrious history before falling into disrepair as it changed hands multiple times.
Trump says in his book "Never Give Up" that he took over 40 Wall Street for $1 million during a down market in 1995. Others have reported the price as $10 million. Trump gave the property his signature treatment, decking out the lobby in Italian marble and bronze and christening it "The Trump Building." Tenants such as American Express moved in.
But the rent rolls suffered when big-name tenants fled to Midtown in the years after the Sept. 11 attacks. Less blue-chip operations replaced them. In recent years, there were more setbacks. About two years ago, for example, high-end food purveyor Dean & Deluca canceled plans to locate an 18,500-square-foot emporium on the higher-priced first floor. The space remains empty."
From VT:
Last week a Federal Court in New York affirmed that Trump's tax returns had to be turned over.  The decision (below) went much further, citing that Trump has only very limited protections against indictment and even incarceration and that Trump's financial dealings in New York were not in any way protected from indictment by a former opinion that Trump believed (and the fake news supported) that asserted otherwise.
The court, and now the Federal Appeals Court as well, said the whole thing is "bullshit" and that Trump can be indicted any day and that process, in New York, is ongoing, waiting for what just happened.
"An appeals court on Friday rejected President Trump's plea to halt a subpoena for his financial records by the House Oversight Committee, Politico reported. The subpoena was initially issued earlier this year to the president's accountants at Mazars USA. The 2-1 decision, with Trump-appointed D.C. Circuit Judge Neomi Rao dissenting, upholds a lower court decision that found the subpoena to be valid. The president's income-tax returns will likely be handed over to House Democrats soon, but it's unclear if the case will first see another appeal."(Daily Beast)
VT: The court decision below overturns the Nixon era justice department opinion, never confirmed by the Supreme Court, that a sitting president could not be indicted.
The short introduction, including the link to the full decision, bases the claim on a number of obvious issues.
A president could be involved in crimes with others and cover for them.
Presidents are not Kings, they are both president and a private person, and this is from the founding fathers.
There are restrictions to arresting a president but not prohibitions and of the cases involved, many before Trump took office, no immunity is possible and arrest could happen at any time.
On others…issues arise here as to procedures and possible protections.  Best read it yourself rather than depend on pundits.
Trump court finding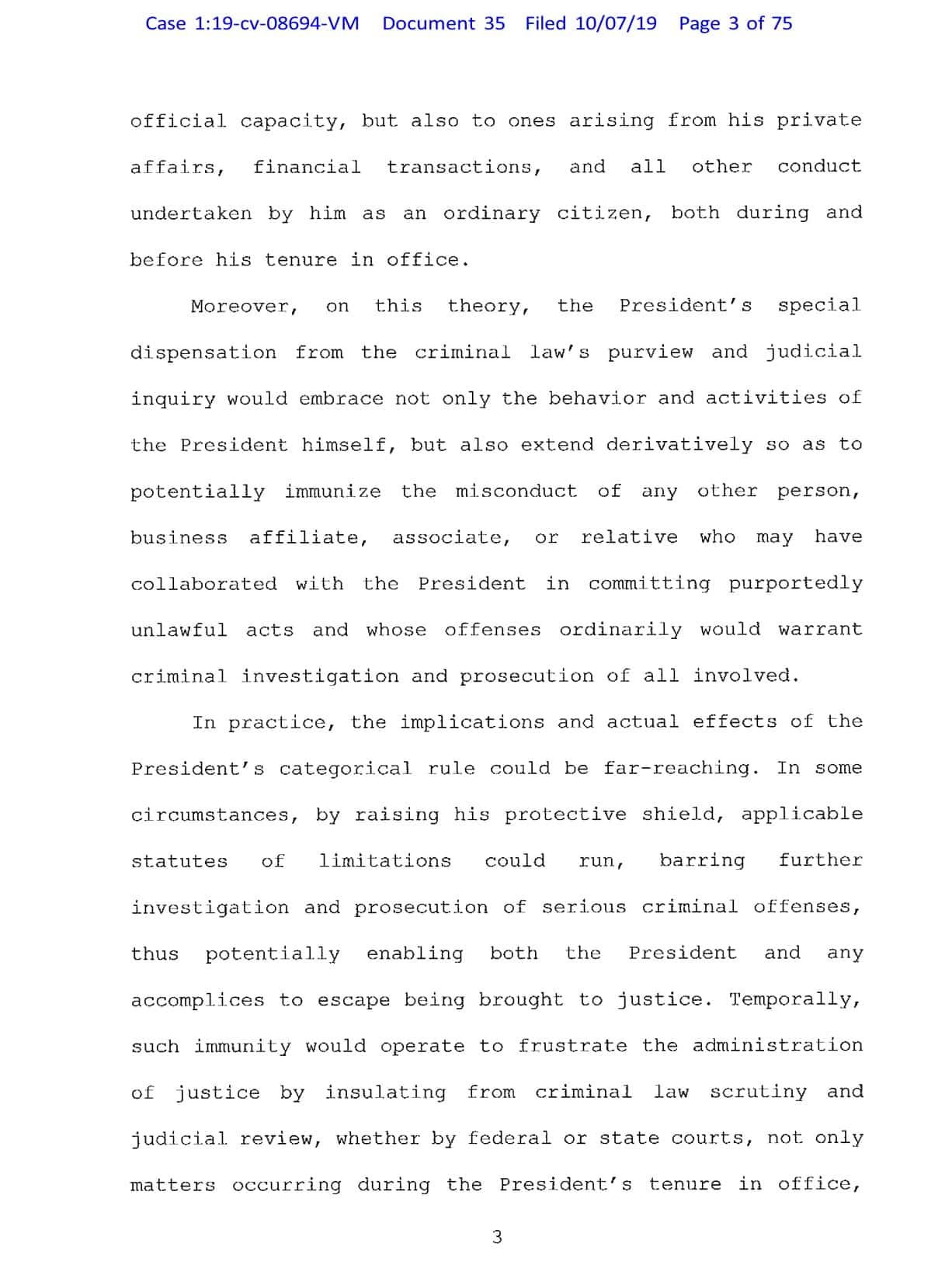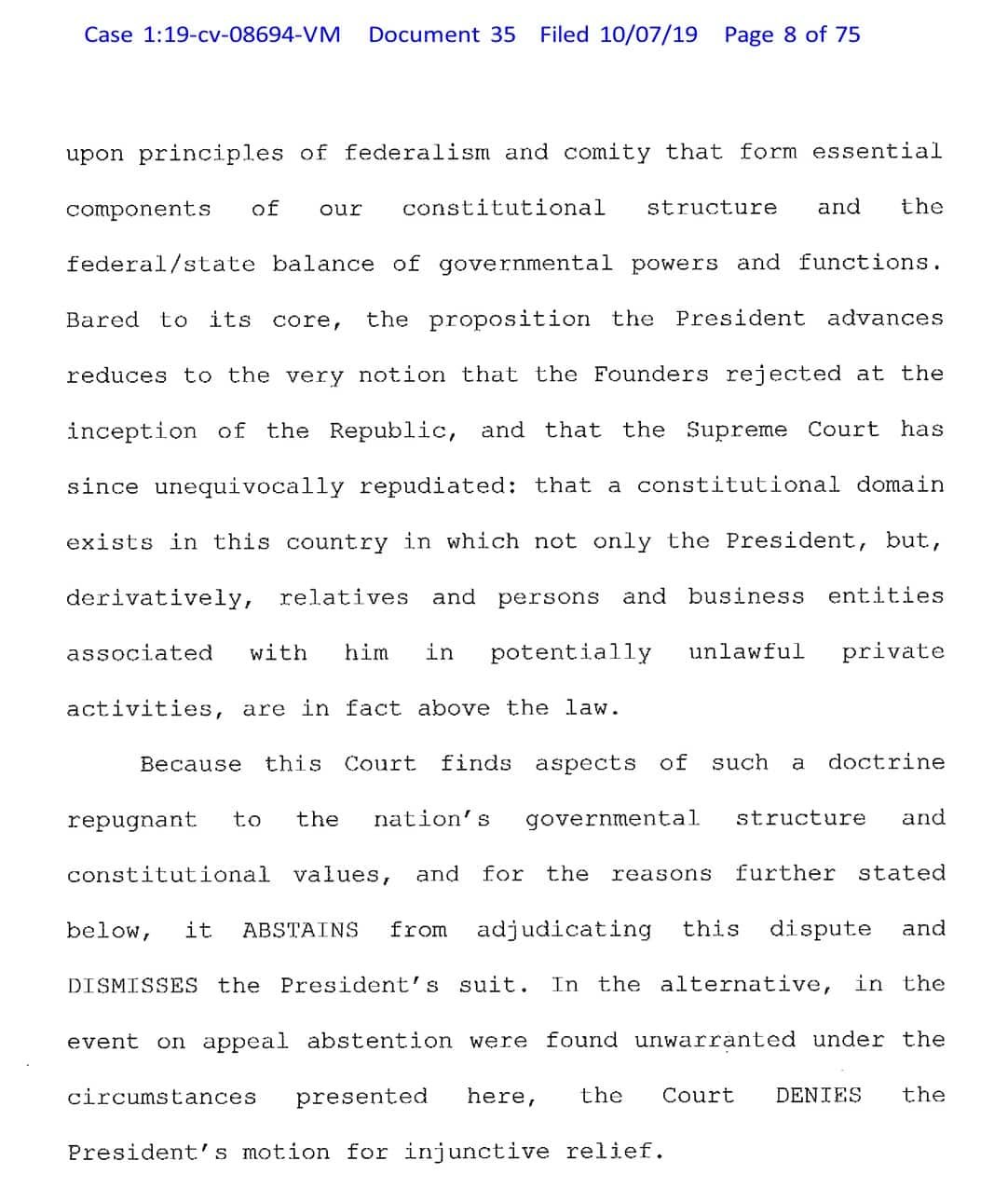 ---
ATTENTION READERS
We See The World From All Sides and Want YOU To Be Fully Informed
In fact, intentional disinformation is a disgraceful scourge in media today. So to assuage any possible errant incorrect information posted herein, we strongly encourage you to seek corroboration from other non-VT sources before forming an educated opinion.
About VT
-
Policies & Disclosures
-
Comment Policy
Due to the nature of uncensored content posted by VT's fully independent international writers, VT cannot guarantee absolute validity. All content is owned by the author exclusively. Expressed opinions are NOT necessarily the views of VT, other authors, affiliates, advertisers, sponsors, partners, or technicians. Some content may be satirical in nature. All images are the full responsibility of the article author and NOT VT.