Sputnik/Moscow – Ivanka rarely comments on the ongoing congressional proceedings targeting her father, once commenting that the inquiry disrupts the government's work, something that is meant to serve the interests of American citizens. This time, she has opted for a historic, but awkwardly attributed the quote to better illustrate the way she sees the whole thing.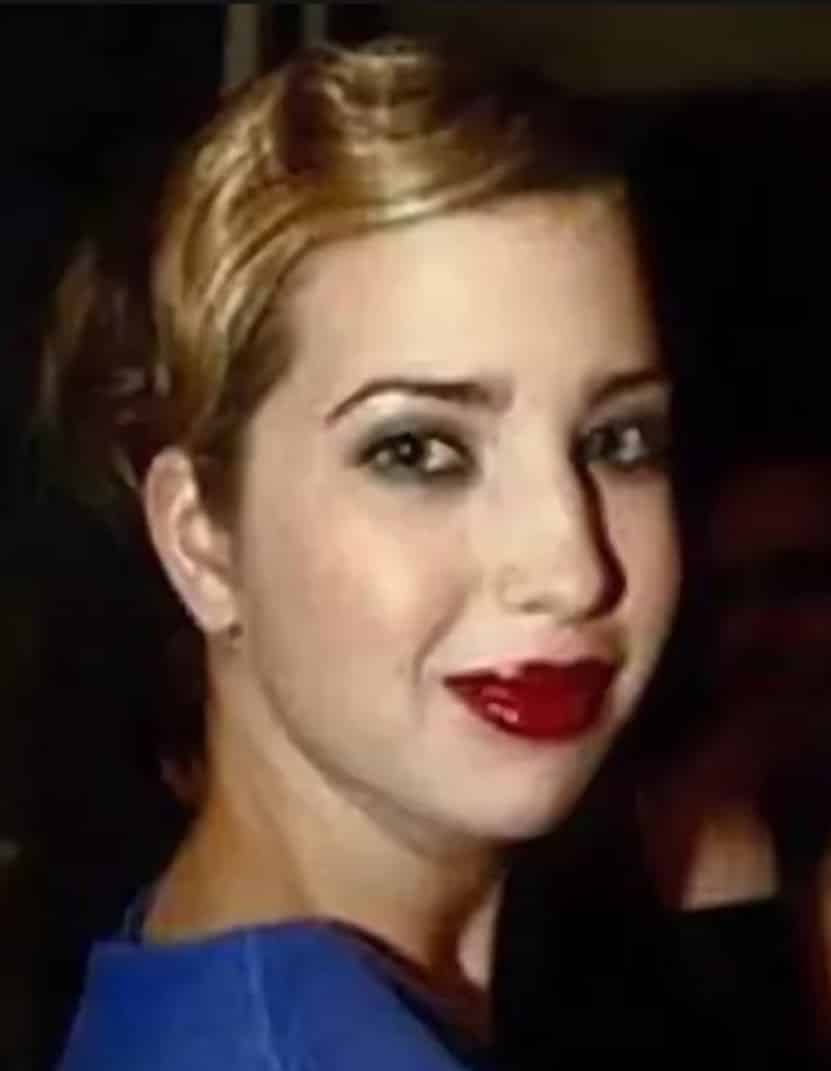 Addressing the now nearly two-month-long impeachment inquiry against her father Donald Trump, Ivanka has weighed in with a quote, albeit a falsely attributed one as some attentive netizens noticed, to Alexis de Tocqueville, a French diplomat that is best-known for his work "Democracy in America":
"A decline of public morals in the United States will probably be marked by the abuse of the power of impeachment as a means of crushing political adversaries or ejecting them from office", the first daughter and senior White House aide tweeted.
In fact, the quote comes from an 1889 book, American Constitutional Law, Volume 1, by a judge named John Innes Clark Hare. He was describing, quite the opposite, the necessity of impeachment, although he argued it had been abused on President Andrew Johnson.
The quote drew a plethora of responses online, with one unable to resist the temptation to bring up Ivanka's "role as breathy-voiced sexybait".
"The mask is falling as the Trumps become increasingly desperate", one user noted.
The lecturing apparently hit a raw nerve with many: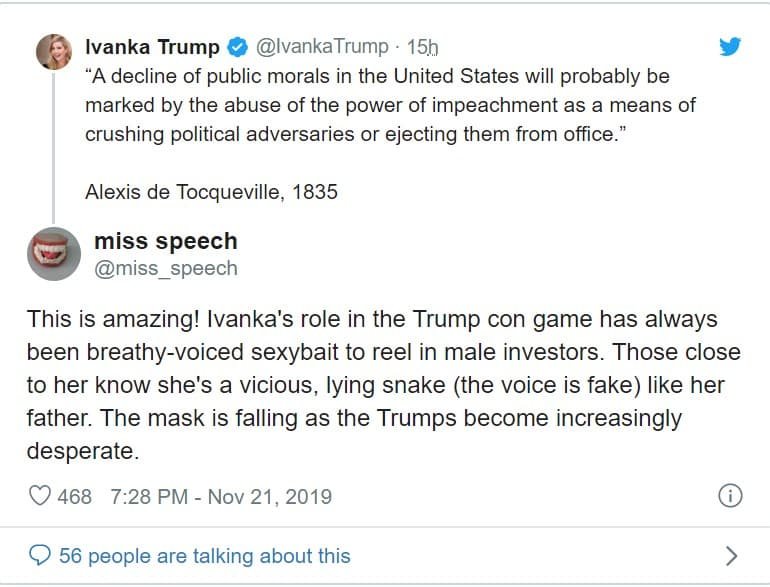 One even opted to edit Ivanka's words so that they better reflect reality, the way the user sees it:
"Failing to indict a criminal sitting president sends the message that those in power are above the law", another hit back at Ivanka's comment.
Memes were also eagerly shared, with someone, playing upon the word "irony" argued the Trumps are good at quoting "dead white men who make the very opposite point that they think they're trying to make":
…while another speculated on the "moral compass from her dad", posting a picture of Abraham Lincoln with an image of Ivanka photoshopped next to him.
"Look Daddy" and nepotism rhetoric is also recurrent in memes: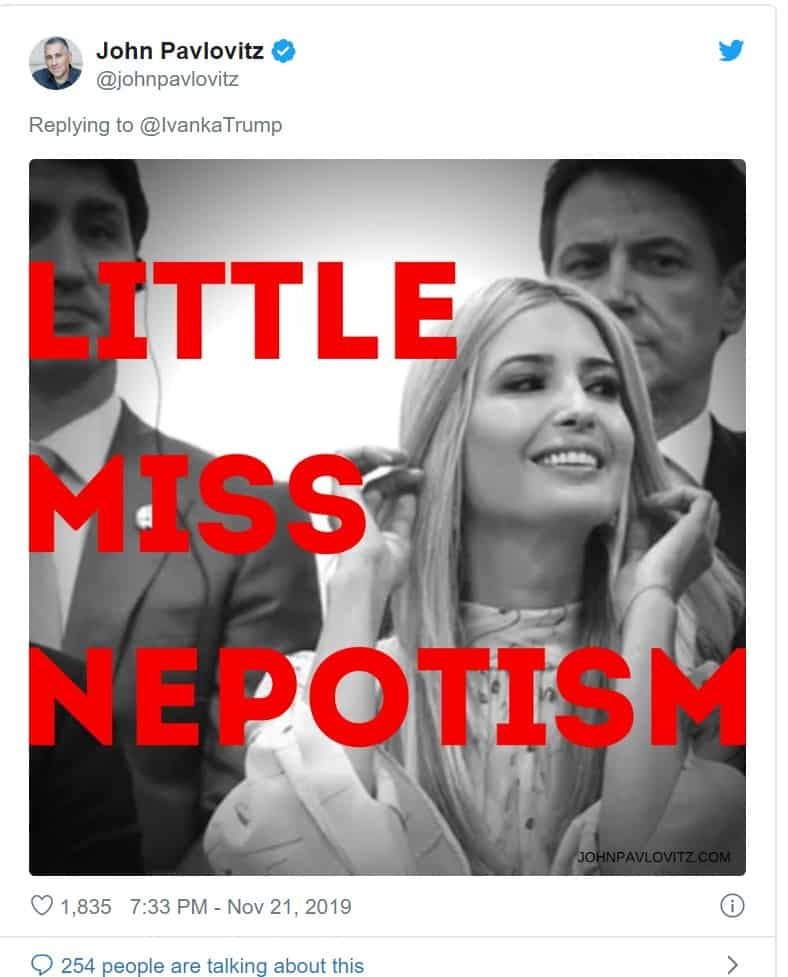 Last month, Ivanka had her say on the impeachment proceedings for the first time, weeks after they were launched. In an interview with FOX Business, she shared that the Democrats diehard attempts to persist with a partisan investigation cripples what has long been a top priority for the White House: working in the interests of the American people.
Thursday marked the fifth day of public hearings in the House Democrats' partisan impeachment inquiry into POTUS Trump, featuring the second testimony by Fiona Hill, a former top Russia expert for the White House, and David Holmes, a senior diplomat at the US Embassy in Ukraine. According to Hill, she approached US Ambassador to the European Union Gordon Sondland about his failure to coordinate the Ukraine issues, but further realized that he was "being involved in a domestic political errand".
"Two more witnesses and two more whiffs by Democrats in their sham impeachment circus", Tim Murtaugh, Trump 2020's communications manager, said. "Let's remember that Nancy Pelosi promised she would not proceed with impeachment unless it was a bipartisan endeavor, which it clearly is not".
The impeachment inquiry, deemed by Republicans as a political measure ahead of the 2020 presidential race, centers on allegations that Trump withheld a White House visit for his Ukrainian counterpart and security aid for the country as leverage to push the government to kickstart investigations into the Biden family's purportedly corrupt dealings in Ukraine.
House Democrats saw the alleged quid pro quo in a July phone call between Trump and Zelensky – an exchange that POTUS referred to as totally benign and regular, with Zelensky reiterating that no pressure whatsoever had been exerted on him personally or his country.
---
You think you're so right
Yeah ya think you're so left
And you think you're so smart
But you act like all the rest
You cannot see
What they do to you and me
Blinded by the lights
camera action you've lost the fight
cause you….
You've been violated
oh so so violated
Headquartered in Moscow Russia, Sputnik is a news agency with offices around the world. Sputnik covers global political and economic news for an international audience. Launched in November 2014 by the Russian media group Rossiya Segodnya, Sputnik works in more than 30 languages including English, Spanish, French, German, Arabic, Chinese, and more.
*All posts on behalf of Sputnik News are made by Gordon Duff and Jim W. Dean
ATTENTION READERS
We See The World From All Sides and Want YOU To Be Fully Informed
In fact, intentional disinformation is a disgraceful scourge in media today. So to assuage any possible errant incorrect information posted herein, we strongly encourage you to seek corroboration from other non-VT sources before forming an educated opinion.
About VT
-
Policies & Disclosures
-
Comment Policy
Due to the nature of uncensored content posted by VT's fully independent international writers, VT cannot guarantee absolute validity. All content is owned by the author exclusively. Expressed opinions are NOT necessarily the views of VT, other authors, affiliates, advertisers, sponsors, partners, or technicians. Some content may be satirical in nature. All images are the full responsibility of the article author and NOT VT.