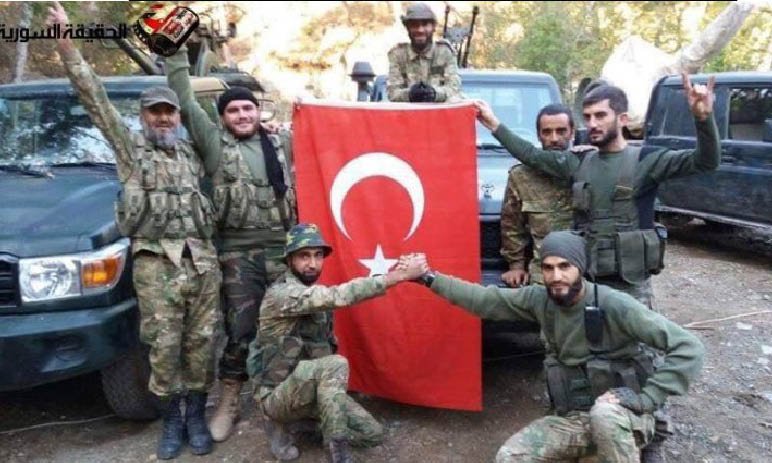 by Fabio Giuseppe Carlo Carisio for VT Italy
The Turkish regime has found a new way to invest in terrorism to serve its Ottoman expansionist illusions in the region through transferring its mercenaries and terrorists from Syria to Libya to exacerbate the security situation in it and to usurp its resources. U.S. Bloomberg News Agency mentioned that an official at the Turkish regime and another one from the Government of National Accord (GNA) in Libya revealed that a number of Erdogan's mercenaries in Syria will be transported to Libya».
The alarm was launched by the Syrian agency Sana, confirming that the operation has already started on the SOHR, Syrian Observatory for Human Rights. After invading Rojava in north-east Syria, the ruthless Turkish aggressor Recep Tayyip Erdogan kept his promises of help to the president of the Gna, Fayez al-Sarraj.
This fragile ruler recognized by the international community including the European Union and Italy is threatened by the continuous attacks on Tripoli by the troops of the Libyan National Army (LNA) of General Khalifa Belqasim Haftar who, supported by Russia, controls Cyrenaica, in the eastern Libyan territories, but now also part of the coast near the capital.
read more EUROPOL DOSSIER: JIHADISTS' NIGHTMARE
Just as the first Libyan nationals arrived yesterday in Italy thanks to the NGO ship Alan Kurdi, highlighting the increasingly red-hot phases of the civil war resumed vigorously on 4 April with the advance of the Haftar militias in Tripolitania, the news arrives from Syria the deployment of Turkey's first troops.
As was easy to predict, however, these are not battalions of the regular army of Ankara but of the jihadist militiamen that Erdogan uses as contractors.
This, in addition to accentuating the risk of a mass flight from Libya due to the escalation of the conflict, could also imply the danger of infiltrations by Islamic terrorists from Al Qaeda or Isis in Italy…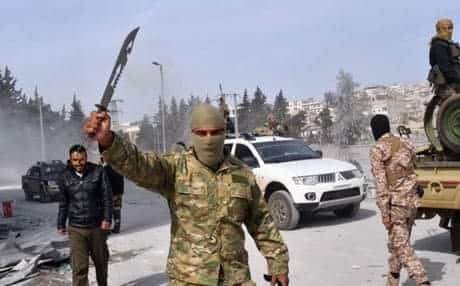 Fierce Sunni Islamic mercenaries, such as those Al Sarqyya who brutally killed the Kurdish pacifist Hevrin Khalaf in an ambush in Rojava last October, will therefore find themselves right on the North African coast of the Mediterranean from where migrant boats leave for Italy. From Zuwara and Sabratha to Pozzallo, Sicily, there are only 260 nautical miles.
«The number of fighters who arrived in the Libyan capital Tripoli, has reached 300. Meanwhile, the number of conscripts who arrived in Turkish camps in order to receive training courses ranges between 900 to 1000» SOHR writes referring to "reliable sources" in a note taken up by the Kurdish agency ANHA.
Autopsy: the Kurdish activist Hevrin Khalaf shoted up at head by a barrage of bullets
«Turkey offers salaries range between 2000 and 2500 USD for every single fighter over a three-months contract or a six-months contract, in return for heading to Tripoli. The more the duration of contract was longer, the more the fighter got larger salary. A number of fighters who have been sent to Libya are former members in "Hazm Movement" before it disbanded years ago, then they joined Suleiman Shah, Sultan Murad and other factions located within Turkish-held areas in Syria» the sources added according to Syrian Observatory for Human Rights.
SOHR would also have obtained some recordings on the jihadists' conversations occupying Afrin, in the Olive Branch operation launched by Turkey, ready to leave immediately for Libya for the need of money. The Turkish regime has in fact left the city with a Kurdish majority in the hands of armed mercenaries but without great financial funding: these people make threats and extortions on the population to earn money and in recent months there have been no problems killing a 10-year-old boy with the Syndrome of Down because the family had not been able to pay the ransom.
read more KILLED AFTER KIDNAPPING A CHILD WITH DOWN SINDROME
Libyan sources said "if we collated images of Google Maps, we will found out that these fighters are gathering in Salah Al-Din area which is considered the southern entrance of the Libyan capital, it is suggested to be a high-class area as some palaces are watched there. According to video clips we obtained; it turned out that these members are gathering in "Takabali" camp which was affiliated previously to the Libyan Army, and came recently under control of the Turkish-backed fighters.
Via Google Maps, it is revealed that a number of installations have been under construction in this camp for a month, which means that Turkey has been working on preparing it for the members of its loyal factions» adds SOHR which highlights another significant military maneuver.
Turkish soldiers have been taken to all checkpoints and on the front lines in the Tal Tamr, Ras Al-Ain and Abu Rasin countryside after armed men supported by Turkey have been evacuated» it is assumed that this was done to prevent mercenaries from looking for negotiations with SDF at a time of conflict, but above all for needing to have experienced fighters in Libya.
Turkish papers: 21 Erdogan's jihadist militias supported by Cia, Pentagon and armed with TOW missiles
Four training centers were opened in Afrin, north of Aleppo, within the headquarters of the factions supported by Turkey: in Asayish, under the supervision of Al-Hamzat Division and another controlled by Al-Jabha al-Shamiyyah, in Qibariyah village by Al-Mu'tasim Brigade and in the Al-Mahmoudiyah neighborhood under the supervision of Al-Shamel Brigade.
As highlighted by the Syrian agency SANA, the Turkish operation is however of a larger scale: «Zaman Turkish newspaper indicated that Erdogan seeks to impose control over the region whether through establishing military bases in Qatar and Somalia or through the direct interventions in Syria, Libya and Sudan, adding that Erdogan is using his mercenaries again to transfer them to Libya.
The Turkish newspaper and media reports stated that there are messages on the social media websites among a number of terrorist groups in Syria which are backed by Turkey in which they urge for fighting in Libya in exchange for money paid by the Turkish regime».
Syria: 76 leaders ISIS among Turkish mercenaries, also killers of Us ranger Kassig and activist Hevrin. Priest murdered
And Sana herself confirms the military movements reported by SOHR: «Recently, local sources in Hasaka said that the Turkish occupation forces are continuing to pull out groups of their mercenaries from Ras al-Ayn City and its surroundings, adding that those terrorists are likely to be sent to Libya through the Turkish territories to plunge them into the battles taking place there. Spokesman of the Libyan National Army (LNA) Major General Ahmed al-Mismari revealed that over the past days, the Turkish regime has transferred terrorists from Jabhat al-Nusra terrorist organization to Libya».
Al Shamiyahh is the faction of fierce extremist militiamen who killed Hevrin. Al Nusra is the Syrian rib of Al Qaeda which later merged into the new Hay'at Tahrir al-Sham group that is defending the latest jihadist stronghold in Idlib province thanks to the weapons provided by Turkey and the use of human shields from the civilian population.
ISIS FIGHTERS IN LIBYA FROM TUNISIA
«Turkey smuggles Syria-based militants from Hayat Tahrir al-Sham (formerly known as Al-Nusra Front), and Daesh* to Libya via Tunisia, the Libyan National Army (LNA) spokesman told Egypt's El-Watan newspaper on Wednesday» reported a few days ago Al Masdar New.
In this week's interview, Aref Ali Nayed, an envoy for the eastern Libyan government, said that he possessed "credible" information that militants from the aforementioned terrorist groups were being shipped to Libya via the port city of Misrata to fight the LNA.
Top secret files: "ISIS sends terrorists to Europe with the help of Turkish intelligence". Under Nato's nose
This movement of Isis terrorists is in all similar to that towards Europe revealed by some compromising documents that would call into question the MIT (Millî İstihbarat Teşkilatı), the intelligence of Ankara.
"Certainly, militants of Daesh and Al-Nusra Front were smuggled from Syria with the mediation of Turkish intelligence. A large number of militants. This is a very serious issue because one of Tunisian airports is used – the airport [on the island of] Djerba, where the landing of terrorist groups in Tunisia takes place. They are shipped to Libya via Jabal al Gharbi [the mountainous districts in northwestern Libya]", Ahmed Mismari said.
According to the LNA spokesman, the Libyan airports of Misrata, Zuwara, and Mitiga have received a large number of Daesh and Al-Nusra Front terrorists.
ITALIAN BERSAGLIERI HOSPITAL AT RISK
Bersaglieri (rifleman) of the 7th regiment stationed in Altamura, deployed in defense of the Italian military hospital in Misrata, risk finding themselves face to face with the ruthless jihadists of Erdogan. The property is located less than a kilometer from Misurata airport, from the base where the GNA jets leave for the raids against the Haftar militias.
In case of need, the hospital – a Role 2, that is, a health facility already used in Afghanistan and Iraq, designed for high-capacity surgery on war wounds – can be evacuated in a reasonably short time. In support of the contingent, there is a C-27J tactical transport aircraft of the 46th Pisa Air Brigade and the Bersaglieri have Lynx armored vehicles.
SEIZURE OF WEAPONS AND DRUGS IN LIBYA AND SYRIA
Syrian Arab News Agency also highlights that the operation has been organized for some time:: «Libyan Customs Authority earlier this year announced that about 20 thousand pistols were seized inside a cargo container which includes some household items and children's games for camouflage coming from Turkey at Misrata port, east of the capital, Tripoli».
Further: «In May 2019, Colonel Abu Bakr al-Badri, a Libyan naval operations officer, also revealed that the Turkish ship Amazon, which docked in the capital city of Tripoli, was carrying a large number of terrorists, including mercenaries from Daesh (ISIS) terrorist organization».
It is evident that Ankara is strong in the fact that Turkey is not only the bulwark of the Muslim Brotherhood in the Middle East but also the NATO "spur" to create those war scenarios necessary for the US to continue stealing oil in the various countries and contain international agreements on Russia's energy resources.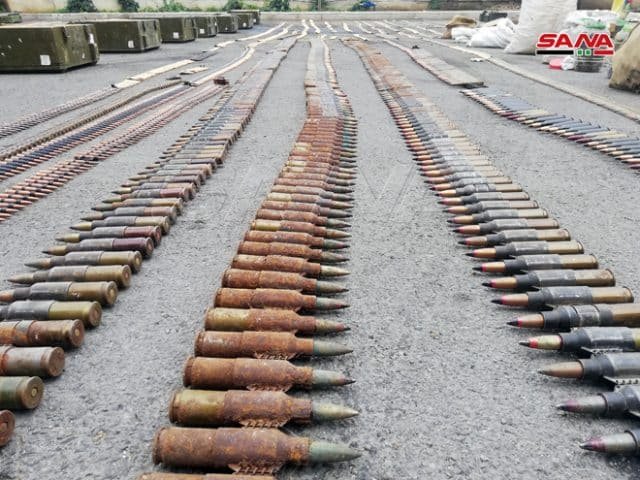 Erdogan will confront Russian President Vladimir Putin on 8 January in Turkey. But before that date, the unscrupulous Turkish statesman will have already consolidated his positions in Libya by putting Moscow in front of a different scenario.
Meanwhile, the reclamation operations of the Syrian Arab Army (SAA) in the southern area abandoned by the jihadists, after the victory of the Kurdish SDF militias, led to the discovery of a large quantity of weapons and ammunition, some of which were manufactured in the United States and Israel: 300,000 ammunition of automatic rifles, automatic and sniper rifles, 12.7mm and 23mm machine guns, Doshka machine guns, tank bullets, 60mm, 80mm and 120mm bullets, and a quantity of explosive materials.
But also anti-tank missiles, communication devices, binoculars for night vision, and finally 100 kg of drugs. The discovery of the drug brings to memory the legendary Hashashin, the medieval sect of the Emir Isma'il ibu Gia 'far, widespread in Persia and Syria between the tenth and twelfth centuries and became known for its ferocity determined also by the circumstance of fighting under the influence of drugs. Hashashin in fact means Hashish drinker. And it is the etymology of the Latin word "assassino (killer"…
Grazie ai bombardamenti sulla Libia imposti dall'ex Capo di Stato Giorgio Napolitano in accordo con i paesi Nato interessati a rubare gas e petrolio anziché estrarlo pagando le dovute concessioni come ha sempre fatto l'ENI (Ente Nazionale Idrocarburi) che ha una piattaforma strategica a pochi chilometri da Tripoli.
KILLED IN LYBIA THE MILITIAN ISIS FRIEND FUNDED BY ITALY WITH $ 5MILIONS
Thanks to the bombings on Libya imposed by the former Italian president Giorgio Napolitano in agreement with the NATO countries interested in stealing gas and oil instead of extracting it by paying the due concessions as has always done the ENI (National Hydrocarbons Authority) which has a strategic platform to few kilometers from Tripoli.
Thanks to the elemination of Colonel Muhammar Gaddafi with whom Italy had excellent relations through the ex-premier Silvio Berlusconi, now to the teeth, armed killers jihadists arrived 260 miles from the Italian and European coasts …
Fabio Giuseppe Carlo Carisio
no reproduction without authorization

GOSPA NEWS – ALL JIHADISTS REPORTS
SOHR – JIHADISTS IN TRIPOLI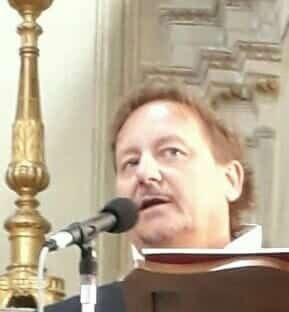 Fabio is Director and Editor of Gospa News; a Christian Information Journal.
Fabio Giuseppe Carlo Carisio, born on 24/2/1967 in Borgosesia, started working as a reporter when he was only 19 years old in the alpine area of Valsesia, Piedmont, his birth region in Italy. After studying literature and history at the Catholic University of the Sacred Heart in Milan, he became director of the local newspaper Notizia Oggi Vercelli and specialized in judicial reporting.
For about 15 years he is a correspondent from Northern Italy for the Italian newspapers Libero and Il Giornale, also writing important revelations on the Ustica massacre, a report on Freemasonry and organized crime.
With independent investigations, he collaborates with Carabinieri and Guardia di Finanza in important investigations that conclude with the arrest of Camorra entrepreneurs or corrupt politicians.
In July 2018 he found the counter-information web media Gospa News focused on geopolitics, terrorism, Middle East, and military intelligence.
His articles were published on many international media and website as SouthFront, Reseau International, Sputnik Italia, United Nation Association Westminster, Global Research, Kolozeg and more…
His investigations was quoted also by The Gateway Pundit, Tasnim and others
He worked for many years for the magazine Art & Wine as an art critic and curator.
ATTENTION READERS
We See The World From All Sides and Want YOU To Be Fully Informed
In fact, intentional disinformation is a disgraceful scourge in media today. So to assuage any possible errant incorrect information posted herein, we strongly encourage you to seek corroboration from other non-VT sources before forming an educated opinion.
About VT
-
Policies & Disclosures
-
Comment Policy
Due to the nature of uncensored content posted by VT's fully independent international writers, VT cannot guarantee absolute validity. All content is owned by the author exclusively. Expressed opinions are NOT necessarily the views of VT, other authors, affiliates, advertisers, sponsors, partners, or technicians. Some content may be satirical in nature. All images are the full responsibility of the article author and NOT VT.