Americans are beginning to rise up against the Zionist occupation of their country. The red-white-and-blue intifada has broken out in Ann Arbor, where Henry Herskovitz has been protesting a pro-Israel synagogue for sixteen years (and is now getting sued); and in Key West, where "daubing Israelis" (no relation to the notorious dancing Israelis) are getting protested for pushily shoving their lousy cosmetics in people's faces.
From Miami New Times:
"Bruce Mitchell, one of the founders, says it started when a mentally ill woman was coerced into spending $40,000 at another Duval Street shop that sells age-reversing products…
"Anyone who's ever been to a vacation spot has encountered a shop or kiosk-like Orogold, where attractive young salespeople — most of them from Israel — aggressively push skin-care products with price tags in the hundreds or even thousands of dollars. They sometimes promise age-reversal effects comparable to plastic surgery and insist the buyer is getting an incredible deal.
"An investigation by the Times of Israel revealed that such cosmetic companies advertise online and in newspapers in Israel, promising lucrative salaries. They teach participants how to lie on their tourist visa applications, pack them into houses with other salespeople, and force them to work long hours with an only commission for payment. The report said the industry had caught the attention of the FBI and Homeland Security in the United States."
Below is a two-part report from Key West.
Kevin Barrett, VT Editor
---

IMAGINE HOW THE ISRAELIS TREAT PALESTINIANS IN THE HOMELAND
(upload provided by a justice-loving, heart-stricken American)
Viewer caution:  The language you will hear in this five-minute video is appalling and offensive to anyone. But it oh so eloquently 'speaks for itself.'
There are interesting talking points to mull as you endure this all-too-real drama taking place daily in Key West, Florida.
1) Note how the Israeli shopkeepers play the victim, calling the protesters 'Nazis' and 'racists.'
2) The "Shiksha" treatment, ie. utterly condescending treatment, dished out to the protesting women.  Utterly unacceptable, except possibly to the likes of Harvey Weinstein, Alan Dershowitz, Jeffrey Epstein, y Los Otros.
3) Two humorous corollaries to 1) above are a) Does Jewry, then, denote a race?! and b) since when are Israeli Jews to be lumped together in any way with American Blacks.  Or American Jews with American Blacks– an equally absurd analogy.
Would that the whole world was watching/ Thank you for watching!
---
German TV Crew Exposes Cosmetic Shop Rip-Offs
A five-member team of journalists from the prime time German TV show Achtung Abzocke (Attention Rip Off) spent three days in Key West investigating the cosmetic shops on Duval Street.
Using hidden cameras and secret microphones the crew went undercover to learn about the deceptive and high-pressure sales tactics of the notorious Key West cosmetics shops. They filmed and recorded employee's sales pitches and allowed them to apply cosmetics to their face which they then purchased.
The host of the show, major German television personality Peter Giesel then confronted the store owners and tried unsuccessfully to return products purchased by their undercover journalist Thursday.
The German team of journalists included two expert camera and sound men, producer Henning Schuett, undercover shopper Simonia Weiss and host Peter Giesel. The show Achtung Abzocke sends teams of journalists around the world reporting on consumer fraud and exposing scams.
Their undercover shopper Weiss filed two consumer complaints with City Code Compliance office against Oro Gold, 518 Duval St for violating city code after visiting the business both Tuesday and Wednesday.
The team interviewed members of The Rip-Off Rapid Response Team, store owners and Key West citizens. A great shot in the arm for all of us. I'm pretty sure this will get some news coverage here in Key West.
The two complaints the news crew filed should be good ones as they have it on video and audio.
The undercover women live in Miami so she should be able to come to a court hearing.
In other news; I got played by a pre-teen!!
Yesterday I was approached by a young boy about 12 or 13 on a bike that rolled up to 518.
He seemed friendly and ask if he could hold the sign "for just a second".
Not thinking I gave him the sign and suddenly he tried to ride off with it!!
I grabbed the bike and while trying to get the sign back touched him with an arm under his chin while he started yelling "Rape, Rape"
Of course, it was a clever setup and Zohar got it on tape.
Claiming child abuse the shop called the police and the officer viewed the now edited tape. The officer who is already fed up with everyone connected was very angry with me.
After a long lecture and warning, I wasn't charged.
The edited tape does not look good and I'm embarrassed about the whole thing.
The lesson to watch out for a chubby boy on a bike and if someone wants to steal a sign let them have it!.
I benched myself from picketing for a few days and now need a few more people to sign up for shifts.
Please call me if I can help you find a time that works for you!
We can win this thing and now is the time to pile on the pressure.
If you aren't already signed up for a picketing time please call me.
-B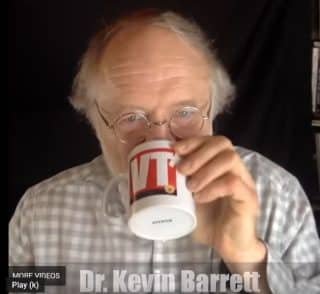 Dr. Kevin Barrett, a Ph.D. Arabist-Islamologist is one of America's best-known critics of the War on Terror.
He is the host of TRUTH JIHAD RADIO; a hard-driving weekly radio show funded by listener subscriptions at Substack and the weekly news roundup FALSE FLAG WEEKLY NEWS (FFWN).
He also has appeared many times on Fox, CNN, PBS, and other broadcast outlets, and has inspired feature stories and op-eds in the New York Times, the Christian Science Monitor, the Chicago Tribune, and other leading publications.
Dr. Barrett has taught at colleges and universities in San Francisco, Paris, and Wisconsin; where he ran for Congress in 2008. He currently works as a nonprofit organizer, author, and talk radio host.
ATTENTION READERS
We See The World From All Sides and Want YOU To Be Fully Informed
In fact, intentional disinformation is a disgraceful scourge in media today. So to assuage any possible errant incorrect information posted herein, we strongly encourage you to seek corroboration from other non-VT sources before forming an educated opinion.
About VT
-
Policies & Disclosures
-
Comment Policy
Due to the nature of uncensored content posted by VT's fully independent international writers, VT cannot guarantee absolute validity. All content is owned by the author exclusively. Expressed opinions are NOT necessarily the views of VT, other authors, affiliates, advertisers, sponsors, partners, or technicians. Some content may be satirical in nature. All images are the full responsibility of the article author and NOT VT.