Are we brainwashed lemmings?
I mean I hear so many saying Bernie Sanders is a "socialist"; using it as a derogatory term. Why? Even those in his own party are doing it. WTF?
Bad News folks!  Turns out, we're all "socialists".  In fact, there is NO SUCH thing in our world as a country without "socialism". There is NO SUCH thing as a country of pure "capitalism". This is all non-cents! The truth is there are "levels of socialism" or "levels of social programs".  But here we are engaged in a public "He's a socialist" and "I am not a socialist".  It's complete B.S.
Truth is, Bernie Sanders and his movement want more social programs for the working classes. The Trump Party wants less for them and more for the corporatocracy. Yes, there is corporate socialism folks! It's called subsidies.
Please tell me you are aware that Boeing gets $ 13 billion per year in corporate welfare. In fact, we the taxpayers' fund almost $ 100 Billion per year in corporate welfare? Alcoa $6B, Intel $ 4B, GM $4B, Ford $3B, Shell $2B etc.. Why? Are these corporations "lazy" like the lower classes the GOP Fox News talking heads love to bash and their lemmings love to parrot?
So why do we get this non-sense phony public debate? Why?
I mean the correct appropriate public discourse should be;
How many social programs do we want from our government?
How much for "We The People?
How much for the corporatocracy?
Well, in my independent voter analysis, I believe the corrosive Machiavellian King Donald of Orange is very effective in labeling. He is a pure predator; a pure sociopath with an amazing focus on the prize.  He is extremely effective in labeling.
Of course, his cues come from his willing GOP Fox News Corporate Propaganda Machine that some call The Trump Party TV Channel.  They label all the time knowing their viewers will parrot.  Heck, they even label themselves as "News" and the lemmings swear by it.  Yeah, really… they believe that non-cents is News.  Now that is some effective stuff that would make the Nazi's proud…
"Paging Mister Paul Joseph Goebbels, Mister Paul Joseph Goebbels, please!".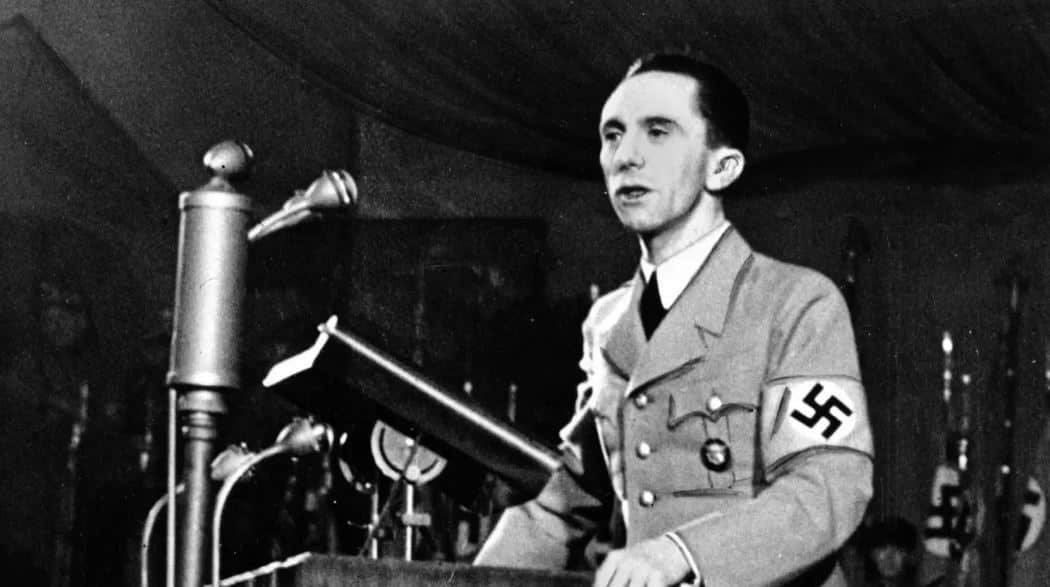 We've been violated!  Yes, you… you've been violated!
Now don't get me wrong here… Democrats use propaganda as well.  Most of us here already know the media has been completely corrupted by the corporatocracy. I don't think most VT readers are delusional. It's just, at this moment in time, the Trump Party players and their media wing are just doing it better.
So yeah, let's keep having this ridiculous "He is a socialist and I'm not" debate cause the Idiocracy loves you! And don't forget to collect your Social Security check tomorrow.  And just as you're depositing it into the bank, just remember to scream "I'm NOT a socialist!". We can all use a good laugh at the Idiocracy table!
"Anyone have any Brawndo?  It's what plants crave!"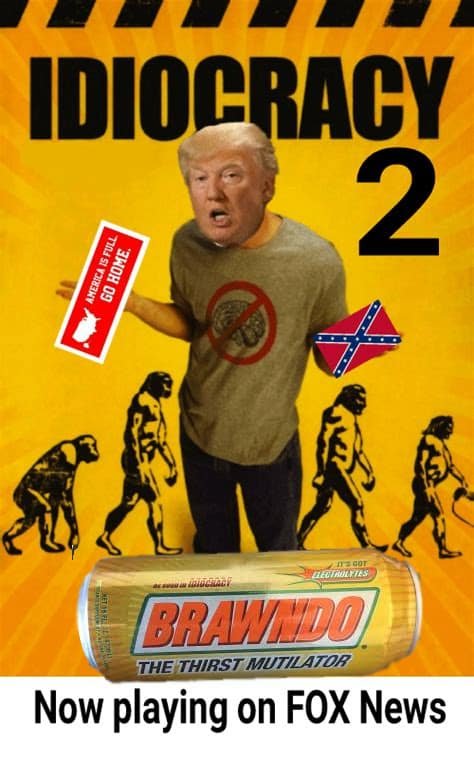 Oh, and one more note…
Before anyone tries to label me a "lefty" to justify their fealty to the Brainwash Machine, be advised, I am and always will be an independent voter. I am NOT loyal to any party or person. Sycophancy is just NOT my bag baby! I just prefer to live in reality and not engage in non-cents. So deal with it!
In fact, I will leave you with my song "The Violation" (Free Download).  I think it says it all to the brain washed on all sides…in a rockin' way.  Follow the lyrics then after you're done… let me know what you think?
You think you're so right
Yeah ya think you're so left
And you think you're so smart
But you act like all the rest
You cannot see
What they do to you and me
Blinded by the lights
camera action you've lost the fight
cause you….
You've been violated
oh so so violated
It was a….
Subjugation
Humiliation
Laceration
Pixellation
Annihilation
Invalidation
ah weeeeeeeeeeeeeee
You think you're so right
And you think you're so left
Yeah ya think you're so smart
But you're such a freakin' mess
They got you to watch one side
You quote them all the time
Like a puppet on their string
It's the chorus you shall sing
cause
You've been violated
oh so so violated
It was a…
Subjugation
Humiliation
Laceration
Pixellation
Intimidation
Annihilation
ah weeeeeeeeeeeeeee
Don't stick your tongue at me
I'm not your enemy
I will not piss on your back and tell you it's raining
Subjugated
Violated
oh oh so violated
you were…
Subjugated
Humiliated
Lacerated
Pixelated
Intimidated
Annihilated
ah weeeeeeeeeeeeeee
Now go eat your sliver of bread and enjoy the show
========================================
Written, Performed and Produced by Johnny Punish
* Special Guest Musician: Lead guitar by Stefano Andrigo of Milan, Italy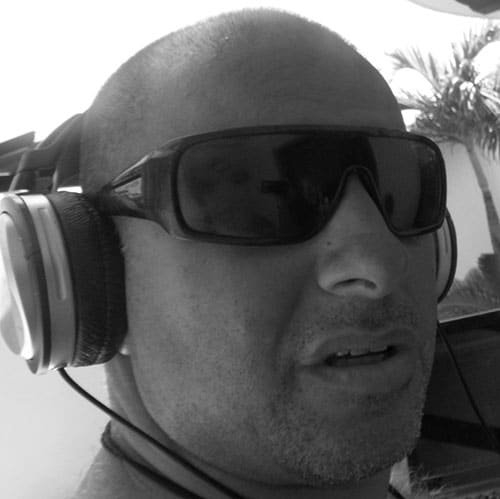 Johnny Punish founded VT in 2004.  After 20 years at the helm, he "retired" from the daily operations in late 2023 passing the ball over to the new owner of VT, Chief Justin Time.   He now writes for VT as "Writer Emeritus".  He is also a global citizen eco-activist, visionary, musician, artist, entertainer, businessman, investor, life coach, podcast host, and syndicated columnist.  
Punish is an ethnically cleansed Palestinian-American whose maternal family was evicted from their home in Haifa, Palestine in 1948 by Irgun; a Euro-Zionist Settler Terrorist Group.  The family became part of the over 1,000,000 Palestinians who are Al-Nakba refugees (The Catastrophe).  The family fled to Beirut Lebanon for 13 years eventually emigrating to the USA in 1961 via a Brasilian passport obtained by his Palestinian Brasilian-born grandmother (In the early 1900s, the family was sent to Sao Paolo Brasil as guest workers in the mining industry.  Punish's father is Italian-American from New York City.  Punish's paternal great-grandparents emigrated to the USA from Naples Italy and Marineo in Sicily in the 1890s.  Punish was born in the Bronx, New York in 1963.
Punish was educated at the University of Nevada Las Vegas (1980-81) and California State University Fullerton (1981-1984) with studies in accounting and business. Before the "internets" had been invented, he owned and ran (5) national newspapers in the United States of America from 1987-1998.  From 2004 to 2023, he owned and managed VT Foreign Policy retiring at the end of 2023.
Punish is also a recording artist.  He has over 100 original songs written. He records and produces music. A member of ASCAP, Punish has several songs placed in feature films. His music is promoted worldwide and played on all digital networks and net radio.
He is also the founder and owner of  Global Thinkers, a freedom media that helps free thinkers create real wealth.
Resources: Facebook –  YouTube – Apple Music – SoundCloud – Spotify –  X (Twitter)
Read Johnny's Full Bio at JohnnyPunish.com >>>
ATTENTION READERS
We See The World From All Sides and Want YOU To Be Fully Informed
In fact, intentional disinformation is a disgraceful scourge in media today. So to assuage any possible errant incorrect information posted herein, we strongly encourage you to seek corroboration from other non-VT sources before forming an educated opinion.
About VT
-
Policies & Disclosures
-
Comment Policy
Due to the nature of uncensored content posted by VT's fully independent international writers, VT cannot guarantee absolute validity. All content is owned by the author exclusively. Expressed opinions are NOT necessarily the views of VT, other authors, affiliates, advertisers, sponsors, partners, or technicians. Some content may be satirical in nature. All images are the full responsibility of the article author and NOT VT.