By the Senior Editor
For those out there who think these were all 90 year old terminal cancer patients in hospice that died today, you aren't paying attention.  Think of it this way, yesterday and today were equal to 9/11.
In the last two days we lost as many Americans to Trump's Hoax as we did in 19 years of war in Afghanistan.  By tomorrow, we are likely to be losing the entire Global War on Terror and 9/11 every 4 days.  We are on track to be much higher unless someone gets that dumbfuck out of the White House.
Today, we had 8 airliners auger into the ground with every seat full, all dead.
Today, a Boeing 747 400 crashed into a high school football game.
Tomorrow it will be the Rose Bowl.
Buying guns will not help.  Guns in the hands of the frightened we have had all along, we call them "police."  How has that worked out for us?
My thanks to those who have kept their sanity.  For me it was seeing if I could raise a front wheel on a Ninja14 on a 2-3 shift at 105mph.  (yes)
For everyone out there doing their jobs, first of all doctors and nurses or perhaps the other way around, nothing we can do is enough.  For the men and women of the USS Theodore Roosevelt, "way to go."
We are a week away from having to take care of each other, playing the odds but, in the process, being the people we were always meant to be.
You see, the 'death panels' are in place, if you knew the real emergency protocols in place the lockdown orders would be a joke.
Where I am, 3rd Coast Michigan, other than the toilet paper goons, most are holding on just fine.  Americans are like that, not quite the courage and heart of the Syrian people, but we can hold our own.
A test is coming.
It isn't just ventilators and protective gear, we are years behind.  Trump is to blame, he took apart what we had in his "I hate science" act for the nutsofuggity "right," denialists and flat-earthers.
We are on our own, there is no federal government, it died several years ago.
On my own part, anyone who continues to deal with Hannity, Limbaugh (smarter than Hannity) or Trump is part of the problem.  It isn't for me to exact punishment and there is no god to pick up the slack here, if there were, every megachurch in the US would be ash with the smell of sulfur.
The people keeping us alive and those hated scientists, those foolish ignorant medical professionals who pushed for vaccines and warned over and over that it was coming.  You know the ones, the people you (and you know who I am talking to here) accuse of trying to give your children "autism" because you don't believe in genetics.
These are the thankless many now giving their lives for you.
For those who are doing what they can, do more.  This one is on Donald Trump but the idea of building a capability to create CV19 comes from George W. Bush, Dick Cheney and Donald Rumsfeld, who embarked on a secret plan to spend billions on secret biowarfare facilities around the world, hidden in places like Tbilisi.
We know the who and how, we know everything.  Thousands are involved, big pharma every step of the way and that very very special company located in Columbus, Ohio as well, we have your number as well, the people we now know who put CV19 together and deployed it.
Watch Trump funnel $200 billion into pharma and biowarfare companies as payback.  He has begun.
His hand is on all of it.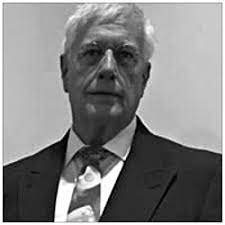 Gordon Duff posted articles on VT from 2008 to 2022. He is a Marine combat veteran of the Vietnam War. A disabled veteran, he worked on veterans and POW issues for decades.
Gordon is an accredited diplomat and is generally accepted as one of the top global intelligence specialists. He manages the world's largest private intelligence organization and regularly consults with governments challenged by security issues.
Duff has traveled extensively, is published around the world, and is a regular guest on TV and radio in more than "several" countries. He is also a trained chef, wine enthusiast, avid motorcyclist, and gunsmith specializing in historical weapons and restoration. Business experience and interests are in energy and defense technology.
ATTENTION READERS
We See The World From All Sides and Want YOU To Be Fully Informed
In fact, intentional disinformation is a disgraceful scourge in media today. So to assuage any possible errant incorrect information posted herein, we strongly encourage you to seek corroboration from other non-VT sources before forming an educated opinion.
About VT
-
Policies & Disclosures
-
Comment Policy
Due to the nature of uncensored content posted by VT's fully independent international writers, VT cannot guarantee absolute validity. All content is owned by the author exclusively. Expressed opinions are NOT necessarily the views of VT, other authors, affiliates, advertisers, sponsors, partners, or technicians. Some content may be satirical in nature. All images are the full responsibility of the article author and NOT VT.