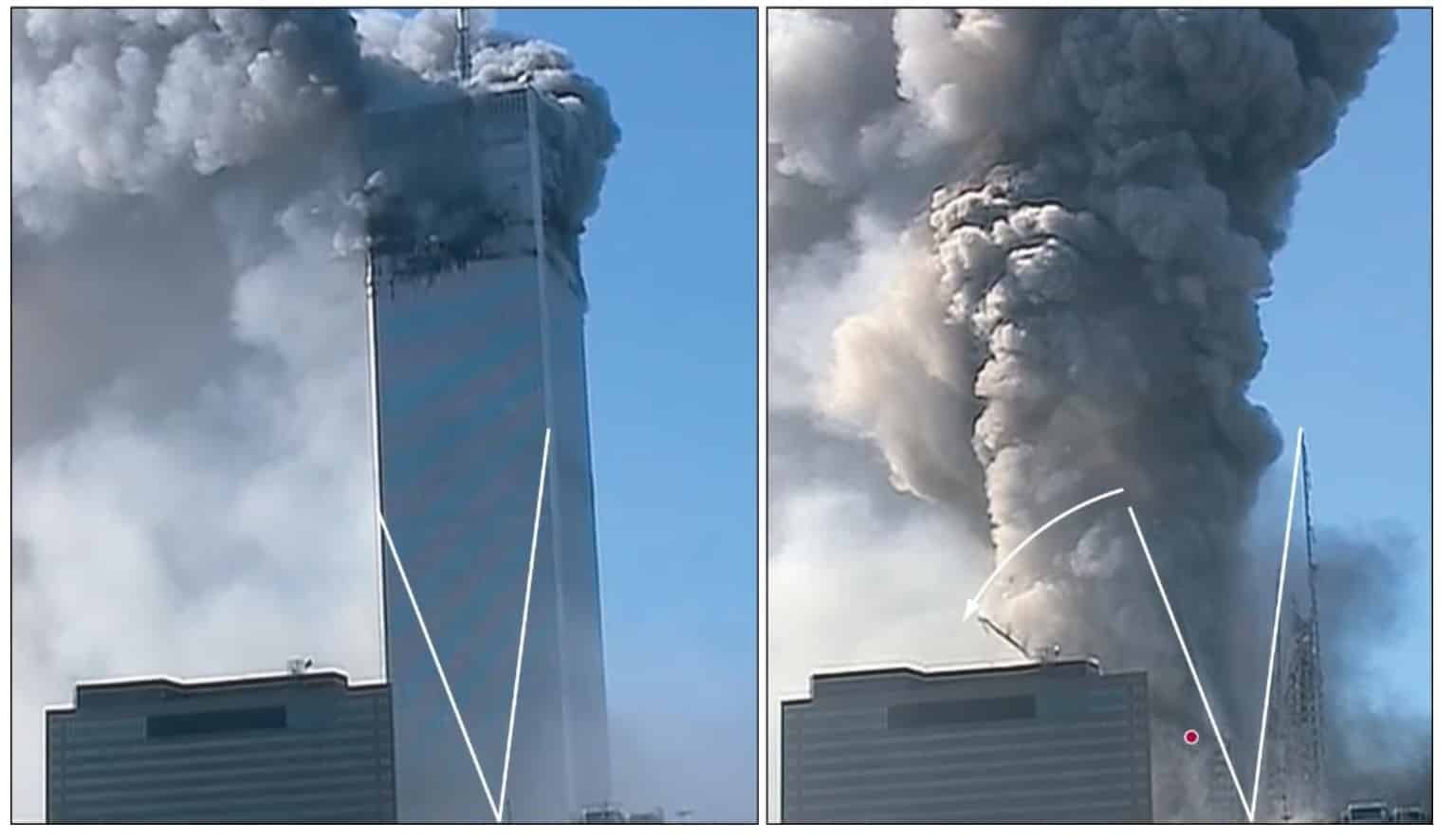 By Jeff Prager for VT
We've all seen the picture 100 times or more yet none of us have ever noticed the v-shaped cut. Never. Not even me.
During the 108 days it took to create our new book, The Ground Zero Model,  I received 2 pages from author and physicist Heinz Pommer that blew me away. I had to sit down. I had to read those pages several times. And I sat there stunned.
WHY didn't I see the v-shaped cut and what it means?
WHY didn't ANYONE EVER see the v-shaped cut?
No one has ever written about the v-shaped cut because it requires a nuclear physicist to notice it and after writing to over 100 US nuclear physicists I realized none of them would discuss Ground Zero—it's career suicide here in the USA to do so.
I sought out European nuclear physicists.
Physicist Mr. Heinz Pommer entered my life and not only did he immediately see the v-shaped cut, he knew what it meant and explained it to me clearly. His friends, Dr. François Roby, Dr. David Madlener and Andreas Pieper, all physicists as well, reinforced my research but there was more. They provided the intimate details describing exactly how the Twin Towers and Building 7 were destroyed.
They also show us the "Nuclear Fingerprint" left behind by the perpetrators, certainly now to their horror.
The v-shaped cut, a picture we've ALL seen 100 times, shows the "shot out of the ground" of the nuclear device detonated below Tower 2. These weren't nuclear bombs, they were nuclear devices. We prove (I was asked to write chapter 2), beyond a shadow of a doubt that the buildings were prewired for demolition. Not only do we reveal the nuclear fingerprint, we describe nuclear fingerprints still in NYC today.
You can see the v-shaped cut with two lines drawn by Mr. Pommer and the v-shaped cut becomes obvious and what it represents becomes even more obvious. The Spire and the left portion of the building seen falling away represent the underground nuclear device as it ejected it's material upwards.
The Spire was the right-hand side of the v-shaped cut. And no one ever noticed it. Never, ever, until now.
The FREE PDF is filled with references and video clips you've never seen, testimony and more.
Gordon writes: Here we have 4 qualified nuclear physicists whose exhaustive and technically indisputable work presents the conclusion the 9/11 Commission should have reached a decade and a half ago, a conclusion that might have unwound the series of illegal wars the Bush administration waged against peoples who are most clearly recognized as victims.
These rumblings have been around for a very long time with a number of real whistleblowers speaking out only to see themselves banned in the US much as Mordechai Vanunu was by Israel, reports of a second, earlier 9/11 investigation by the US Department of Energy, one suppressed, whose authors were threatened and silenced.
Accepting the unacceptable but true, that the events of 9/11 were likely 'state actors' hijacking American foreign policy by slaughtering thousands of Americans using nuclear weapons inside a great city, even when proof is overwhelming, will be daunting for most.  For others, it may open new possibilities for individual freedom.  Belief in the 9/11 lie is a prison in itself.
The Ground Zero Model, by Heinz Pommer, Dr. François Roby, Dr. David Madlener, Andreas Pieper and Jeff Prager: PDF is and always will be FREE, linked below. Hard cover, $49.99, soft cover $39.99, Kindle version $0.99 and Mobi for iPad and other readers will be $0.99. Available June 10, 2020.
ALL profits go directly to the FealGood Foundation in NYC, helping First Responders that are sick from working the pile. Profit, for the authors, would spoil this book. We have all been richly rewarded by speaking truth to power.
The Ground Zero Model FREE at the link below:
ATTENTION READERS
We See The World From All Sides and Want YOU To Be Fully Informed
In fact, intentional disinformation is a disgraceful scourge in media today. So to assuage any possible errant incorrect information posted herein, we strongly encourage you to seek corroboration from other non-VT sources before forming an educated opinion.
About VT
-
Policies & Disclosures
-
Comment Policy
Due to the nature of uncensored content posted by VT's fully independent international writers, VT cannot guarantee absolute validity. All content is owned by the author exclusively. Expressed opinions are NOT necessarily the views of VT, other authors, affiliates, advertisers, sponsors, partners, or technicians. Some content may be satirical in nature. All images are the full responsibility of the article author and NOT VT.