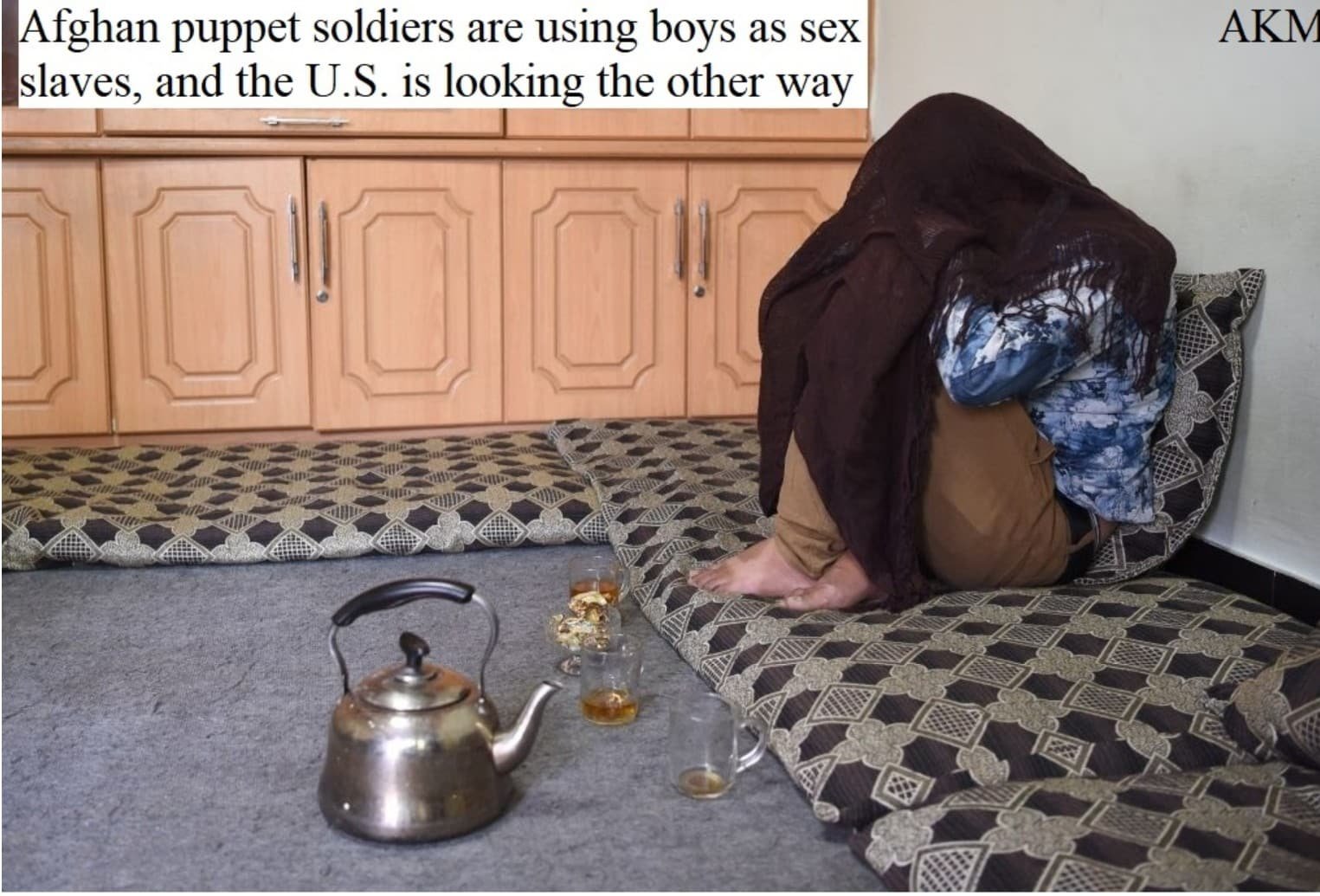 By Kadir Mohmand for VT
Dear Ms. Deyoung:
Please do not sabotage the peace agreement signed on February 29, 2020. I believe the report was extremely bias, supporting the misguided views of war profiteers, both Afghan and American, who want to sabotage this agreement and the troop withdrawal to the detriment of U.S. taxpayers and Afghan civilians.
I invite you to hear and present both sides in your newspaper. During these past two decades, The Washington Post has transitioned into a mouthpiece for those whom solely profit off the almost two decades of war in Afghanistan, most under false presumptions. Stop misleading the American people.
I read your June 1, 2020 article regarding the Taliban's alleged present contacts with al-Qaeda. You have used allegations in the United Nations Security Councils report which are old and do not reflect the reality after the signing of the peace agreement. The Washington Post is an important newspaper in the United States and the world. Your article is misleading the readers into believing that presently the Taliban and Al-Qaeda have ties in Afghanistan. It appears that you are working for the CIA and war profiteers to sabotage the peace agreement.
The article was based on the United Nations Security Council's Eleventh Report of the Analytical Support and Sanctions Monitoring Team submitted pursuant to resolution 2501 (2019) (the "Report") which are based on "old" alleged incidents of contact between the Taliban and al-Qaeda, which allegedly occurred in 2019 and early 2020 (Report, II, D, (33) on page 11 of the 28 pages). Even Zalmay Khalizad admitted that. Yet your headline and opening paragraph lead readers to believe it is based on reports of present contact.
Furthermore, reports of Al-Qaeda's presence in Afghanistan during the past 19 years and present are completely propaganda without any factual support. The war profiteers and the Ghani administration are lobbying and paying the Congress to stop the implementation of the peace agreement. With the implementation of the peace agreement, they see the end of their greedy war profiting. They will resort to any means to sabotage this peace agreement. This war is all about significant profits to the detriment of the average American and Afghan. Do not play a part in this sabotage.
In addition, Afghan children are especially the victims of this ugly U.S. war and occupation. Afghan puppet administration officials, funded and supported by the United States, are bringing poor Afghan children to U.S. Embassy and guest houses "brothels" where they are sexually molested. It is common knowledge that many of these houses are paid for with U.S. monies. When I traveled to Afghanistan in 2012, a few medical doctors and other influential Afghans informed me of this problem. These crimes and corruption must be the number one focus of investigations. Afghan medical doctors in hospitals such as Gandhi Children's Hospital in Kabul, who have treated these children, have told me about these crimes. These medical doctors are afraid to report these crimes to the government officials for fear of retaliation. How shameful! These doctors need to be brought to the United States to testify before an investigative committee. I would like to see testimony regarding this issue at the Senate's Armed Services Committee hearing or before other relevant congressional committees. There have been allegations by Afghans on the ground that a few U.S. senators, who have served in Afghanistan have been involved in crimes that exploit Afghan children. These allegations need to be investigated.
In addition, Afghans do not want foreigners to interfere in the upcoming Intra-Afghan peace talks. Let Afghans determine their own destiny without any interference of foreigners and war profiteers.
Sincerely,
Kadir A. Mohmand
6147 Old Log Trail
Kalamazoo, MI 49009
Contents of report in the name of UN concerning the Islamic Emirate are baseless
A recent report published under the name of United Nations contains baseless, intelligence-based and bigoted remarks about the Islamic Emirate.
The Islamic Emirate strongly rejects the contents of this report. We are fully committed to observing and implementing the terms of the agreement signed with the United States of America and endorsed by the United Nations Security Council.
The ranks of the Islamic Emirate are one and united, are free of all discord and fictionalism and all its Mujahideen comply with the decisions of its leadership as the previous ceasefires have practically showcased.
The Islamic Emirate, in accordance with the Doha agreement, will not allow anyone to use the soil of Afghanistan against anyone else or maintain training camps or use our soil to fundraise against others.
All in all this report is constructed with the aim of harming and derailing the US-IEA agreement an important tool for ending the war and establishing enduring peace and security in Afghanistan to keep the fire of war raging in our homeland and to safeguard the illicit interests of enemy and intelligence circles that are intertwined with the continuation of war.
The Islamic Emirate calls upon the UN general-secretary, members of the Security Council and all other sides to not allow malicious individuals and circles to publish such unverifiable reports based on false information by misusing their name and harming their prestige and impartial status.
Islamic Emirate of Afghanistan
10/10/1441 Hijri Lunar
13/03/1399 Hijri Solar 02/06/2020 Gregorian
https://www.washingtonpost.com/national-security/taliban-continues-to-back-al-qaeda-in-afghanistan-despite-deal-with-trump-administration-report-says/2020/06/01/096b159c-a41c-11ea-8681-7d471bf20207_story.html
https://www.veteranstodayarchives.com/2015/07/09/isil-fighters-in-afghanistan-are-really-cia-and-mi6-thugs/
https://www.washingtonpost.com/news/global-opinions/wp/2017/07/18/afghan-soldiers-are-using-boys-as-sex-slaves-and-the-u-s-is-looking-the-other-way/
Abdul Kadir Mohmand was born in Kabul, Afghanistan. He currently resides at Kalamazoo, Michigan. He graduated from Kabul High School. On an UNESCO scholarship, Mr. Mohmand studied at Sofia University, Bulgaria from 1976 until 1978 when his studies were interrupted by the Communist seizure of power in Afghanistan. The new Afghan Communist government ordered the Bulgarian government to return him to Afghanistan because he was anti-communist. Mr. Mohmand requested political asylum. With the help of the United Nations and the U.S. Embassy, he arrived to Italy and then the United States in 1979.
Mr. Mohmand returned to his studies and earned his B.S. in 1983 from Western Michigan University. He found employment in various positions in the engineering business. For many years, he worked for BFI and was country operations manager for BFI Italia. Currently, Mr. Mohmand owns a shopping center and develops commercial properties.
During the 1980s, Mr. Mohmand was the Representative of the Afghan Mujahideen for North America. During the 1980s, Mr. Mohmand returned to Afghanistan to fight as a freedom fighter against the Soviets and Afghan communists. Through an arrangement with Borgess Hospital in Kalamazoo, Michigan, Mr. Mohmand would bring back wounded Afghan children and Mujahideen for medical treatment at Borgess and recuperation in his home in Kalamazoo. He formed and was president of a nonprofit, Aid for Afghanistan.
In the 1980s, Mr. Mohmand also worked with the Committee for a Free Afghanistan in Washington D.C to bring wounded Afghans to the United States for medical treatment.
For the past four decades Mr. Mohmand has dedicated his life to working to achieve true peace and stability in Afghanistan.
A few years ago, Mr. Mohmand organized educated Afghans intellectuals across the world who drafted a comprehensive plan for peace. Presently, he has united many different Afghan peace organizations under one umbrella. The goal of this network is to unite Afghans to bring true peace in and the independence of Afghanistan. This network wants to be the bridge between the Afghan freedom fighters and the silent Afghan majority, and the Western World in any peace negotiations.
Mr. Mohmand wants true peace and stability in Afghanistan. As a veteran of war, Mr. Mohmand hates war.
ATTENTION READERS
We See The World From All Sides and Want YOU To Be Fully Informed
In fact, intentional disinformation is a disgraceful scourge in media today. So to assuage any possible errant incorrect information posted herein, we strongly encourage you to seek corroboration from other non-VT sources before forming an educated opinion.
About VT
-
Policies & Disclosures
-
Comment Policy
Due to the nature of uncensored content posted by VT's fully independent international writers, VT cannot guarantee absolute validity. All content is owned by the author exclusively. Expressed opinions are NOT necessarily the views of VT, other authors, affiliates, advertisers, sponsors, partners, or technicians. Some content may be satirical in nature. All images are the full responsibility of the article author and NOT VT.