VT has an initial diagnosis, after conferring with real medical specialists. Trump has had either a stroke, most likely, Parkinson's Disease or has a brain tumor.
Insider access has given us a real look at the Trump White House, now a carnival act with Trump the dancing bear
His West Point speech had inexorable signs, the shuffle down the ramp and the incident where he uses a second hand to steady a drinking glass.  From the Guardian:
"Donald Trump attempted to solidify his bond with the US army on Saturday, delivering the graduation speech to cadets at the United States Military Academy and boasting of a "colossal" $2tn rebuilding of American martial might.
Trump's West Point speech was studiously vapid, with only a modicum of partisan boasting. But the political setting crackled with civil-military tension.
When all else fails – and that has happened a lot – the president has embraced the flag and hugged the military. But these days the military is not hugging back. It stands to attention as duty demands, but as inertly as Old Glory, the banner which Trump has taken to fondling at public events.
The president likes to refer to the soldiers around him as "my generals" and "my military". The possessive pronoun always jarred with the spirit of civ-mil rectitude, even before it became evident how literally Trump interpreted it.
Saturday's ceremony at West Point was the embodiment of the president's approach. More than a thousand cadets from the class of 2020 were called back from their homes to the campus, 50 miles north of New York City, despite the coronavirus pandemic, so Trump could give a televised speech.
Fifteen cadets tested positive. The rest had to quarantine for two weeks. The whole show was widely disparaged as stage dressing for Trump's re-election campaign, days after the president crossed a line in the exploitation of military leaders as props."
VT has strong evidence (proof) Trump has been pushed aside and others are running the country, others we didn't elect and whose capabilities, even while supposedly "fully functional," aren't up to this task or any other.  Imagine Barr and Mueller running the country? Hell, it would be up in flames.
Wait a minute, it is.
The neurological issues alone don't preclude the presidency but with the other symptoms, processing deterioration in what was never the "brightest bulb in the pack," and extreme emotional instability, meaning not only is Trump calling for military to overthrow the constitution, he is going further, way further.
48 hours ago, I took a call from a Trump advisor (top advisor) who didn't want to make the call but was forced to for reasons best left unstated. Not a nice call. "They" (which includes Barr and Pompeo, Esper as well) think he is nuts and have walled off Trump from his religious nutso friends like the one that buzzed him up into doing the bleach thing. From the Guardian:
"The leader of the most prominent group in the US peddling potentially lethal industrial bleach as a "miracle cure" for coronavirus wrote to Donald Trump at the White House this week.
Hysterical Sarah Cooper miming Trump's bleach cure for Covid-19. https://t.co/uWflQS9XaK

— Candace (@nativelah) June 7, 2020
In his letter, Mark Grenon told Trump that chlorine dioxide – a powerful bleach used in industrial processes such as textile manufacturing that can have fatal side-effects when drunk – is "a wonderful detox that can kill 99% of the pathogens in the body". He added that it 'can rid the body of Covid-19'.
A few days after Grenon dispatched his letter, Trump went on national TV at his daily coronavirus briefing at the White House on Thursday and promoted the idea that disinfectant could be used as a treatment for the virus. To the astonishment of medical experts, the US president said that disinfectant 'knocks it out in a minute. One minute!'"
Trump was spoken of as addled, then the call abruptly ended.
Is this good news or bad news?  From what we are told, the military is "holding the fort" at the Pentagon but who they hell are they?  Anyone know any of them anymore?
Anyway, back to Trump and the current Twitter frenzy.
The pattern of accusations Trump has orchestrated against Biden quite probably means he fears dementia and is very aware of his deterioration.  The problem is, by our estimation, that Trump actually doesn't notice he has been pushed aside.
Trump can still fire everyone around him but Trump is terrified of Barr.  Why?
You know, Trump was, and had been for some time, the consummate "fastest mouth in the West." No more. He is confused, bumbling, has no filter, continually misspeaks and has lost the confidence of the American military.
We put this down to the White House gossip machine, which the military has a strong tie to, as does VT and other media. The reports are that Trump is falling apart physically for sure, and is half the foul mouthed idiot he was in 2016. Catch this from Twitter:
Obvious cognitive decline, clear loss of motor skills.

If you didn't watch his West Point address today, it was a compilation of mush-mouthed clusterfuckery.

He butchered Gen. MacArthur's name several times. https://t.co/giOoIXLa1r

— Angry Staffer (@AngrierWHStaff) June 13, 2020
Look Donald, this is how someone who is normal walks.

What happened at Walter Reed? Trump has both neurological and balance and motor skills problems

They probably carried him down to his bunker

#trumpisnotwell #rampgate #BunkerBoyhttps://t.co/Ig4vRpXDx9

— Orrite Then (@OrRite_Then) June 14, 2020
Symptoms of a chronic neurological problem or brain damage from a pinprick stroke, or both.

Trump shouldn't be around inanimate objects that can't defend themselves.

Get Trump out of the WH now.#TrumpIsNotWell pic.twitter.com/njoQ4iyjEh

— 99ermikeb 🍑 (@99ermikeb) June 14, 2020
2 Trump's panic denial of balance loss:

-Geometry 101- the ramp can't be steep if it's "very long"
-He needs a railing
-He's falling in private
-When he says the ramp is very slippery it means the ramp wasn't very slippery

Down ramps don't work w his impaired forward lean gait pic.twitter.com/ahVvuA8DQA

— Tom Joseph (@TomJChicago) June 14, 2020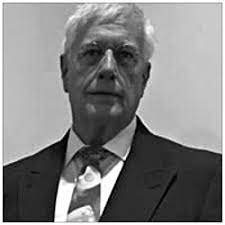 Gordon Duff posted articles on VT from 2008 to 2022. He is a Marine combat veteran of the Vietnam War. A disabled veteran, he worked on veterans and POW issues for decades.
Gordon is an accredited diplomat and is generally accepted as one of the top global intelligence specialists. He manages the world's largest private intelligence organization and regularly consults with governments challenged by security issues.
Duff has traveled extensively, is published around the world, and is a regular guest on TV and radio in more than "several" countries. He is also a trained chef, wine enthusiast, avid motorcyclist, and gunsmith specializing in historical weapons and restoration. Business experience and interests are in energy and defense technology.
ATTENTION READERS
We See The World From All Sides and Want YOU To Be Fully Informed
In fact, intentional disinformation is a disgraceful scourge in media today. So to assuage any possible errant incorrect information posted herein, we strongly encourage you to seek corroboration from other non-VT sources before forming an educated opinion.
About VT
-
Policies & Disclosures
-
Comment Policy
Due to the nature of uncensored content posted by VT's fully independent international writers, VT cannot guarantee absolute validity. All content is owned by the author exclusively. Expressed opinions are NOT necessarily the views of VT, other authors, affiliates, advertisers, sponsors, partners, or technicians. Some content may be satirical in nature. All images are the full responsibility of the article author and NOT VT.