Press TV interview with Kevin Barrett, VT Editor
By Kevin Barrett
Jared Kushner, Trump's Kosher Nostre handler and son-in-law, has been barking from occupied Jerusalem (al-Quds), alongside National Security Adviser O'Brien that Arab and Muslim countries will follow the lead of the United Arab Emirates, in "normalizing relations" with the genocidal Zionist entity.
Kushner has been loudly thumping his chest and invoking the Holocaust as he does this. He said: "As the grandson of two Holocaust survivors, it means more to me and to my family than I can ever express." Well, Kushner is crying crocodile tears. He is a gangster. He made his fortune by being a slumlord, and he's the nastiest gangster slumlord on the eastern seaboard of the United States. He doesn't care about anybody, least of all his Holocausted grandparents, and that's why he is doing everything he can to further the continuation of the Palestinian Holocaust.
So, there he is over in occupied al-Quds, acting as the representative of the Kosher Nostra which has taken over the United States—this ethnically Jewish Zionist loyal organized crime syndicate that murdered the Kennedys (check out the film Israel and the Dual Assassination of the Kennedy Brothers), that orchestrated the September 11 neoconservative Zionist coup d'etat in America—this gang, the world's worst criminals, is over there calling their efforts to force the Arab and Muslim worlds to surrender to genocide, they're calling that "normalization."
Well, that brings to mind Hypernormalization, the wonderful Adam Curtis BBC film that talks about just what is this normalization that's come over the planet? The normalization of the Palestinian Holocaust is a really abnormal situation, to say the least.
So, is Kushner right when he says that he and Netanyahu and the global Zionist organized crime syndicate and Netanyahu and his legion of killers, the targeted assassination specialists that we learned about in Ronen Bergman's book Rise and Kill First, the world's worst killers who roam the globe murdering anybody who speaks out against the Palestinian Holocaust or tries to stop it: Will those people be able to threaten and terrorize the leaders of more Arab and Muslim nations into surrendering to Zionist genocide? Kushner thinks so.
And the Zionists have been proffering the names of some countries, Oman, Bahrain, and even what's left of Sudan, after the Zionists destroyed it and broke it into two pieces, stealing all of its resources which are in the southern part of the country, which the Zionists broke off and Israel moved in and grabbed all those resources in South Sudan. There's really not much Sudan left anymore because it was one of the seven countries in five years that 9/11 was designed to destroy. But whatever is left of Sudan, which has been subjected to a Zionist color revolution, maybe Kushner hopes that it will go along with this treason and genocide plan.
We'll see whether that happens. But I can guarantee Kushner that there will not be one single Arab or Muslim nation that will ever go along with the Zionist genocide plan, and any leader or self-styled leader of a nation that goes along with this is not representing the Arab and Muslim people, therefore, there is no Arab and Muslim nation that will ever do this. The people of every Arab and Muslim country will not surrender to Zionist genocide. It will never happen, not this year, not next year, not 100 years from now.
It's time for the Zionists to give up their racist supremacist genocidal project, and those who can live in peace and equality with their Palestinian neighbors will be allowed to stay; the rest need to go somewhere else. They haven't had a very good record of getting along with their neighbors anywhere else in the world, but maybe they can find someplace where they can. That's the real peace plan, and it will be coming a lot sooner than these people think.
The Israeli premier says Tel Aviv is holding secret talks with many more Arab leaders days after a much-condemned normalization deal between Israel and the UAE.
Kevin Barrett is an American author, journalist and radio host with a Ph.D. in Islamic and Arabic Studies. He has been studying the events of 9/11 since late 2003. He recorded this article for Press TV website.
---
Press TV's website can also be accessed at the following alternate addresses:
www.presstv.ir
www.presstv.co.uk
www.presstv.tv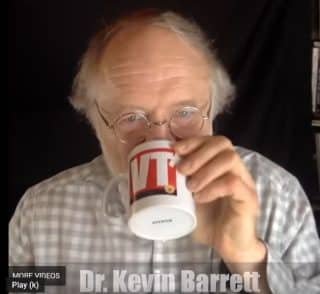 Dr. Kevin Barrett, a Ph.D. Arabist-Islamologist is one of America's best-known critics of the War on Terror.
He is the host of TRUTH JIHAD RADIO; a hard-driving weekly radio show funded by listener subscriptions at Substack and the weekly news roundup FALSE FLAG WEEKLY NEWS (FFWN).
He also has appeared many times on Fox, CNN, PBS, and other broadcast outlets, and has inspired feature stories and op-eds in the New York Times, the Christian Science Monitor, the Chicago Tribune, and other leading publications.
Dr. Barrett has taught at colleges and universities in San Francisco, Paris, and Wisconsin; where he ran for Congress in 2008. He currently works as a nonprofit organizer, author, and talk radio host.
ATTENTION READERS
We See The World From All Sides and Want YOU To Be Fully Informed
In fact, intentional disinformation is a disgraceful scourge in media today. So to assuage any possible errant incorrect information posted herein, we strongly encourage you to seek corroboration from other non-VT sources before forming an educated opinion.
About VT
-
Policies & Disclosures
-
Comment Policy
Due to the nature of uncensored content posted by VT's fully independent international writers, VT cannot guarantee absolute validity. All content is owned by the author exclusively. Expressed opinions are NOT necessarily the views of VT, other authors, affiliates, advertisers, sponsors, partners, or technicians. Some content may be satirical in nature. All images are the full responsibility of the article author and NOT VT.