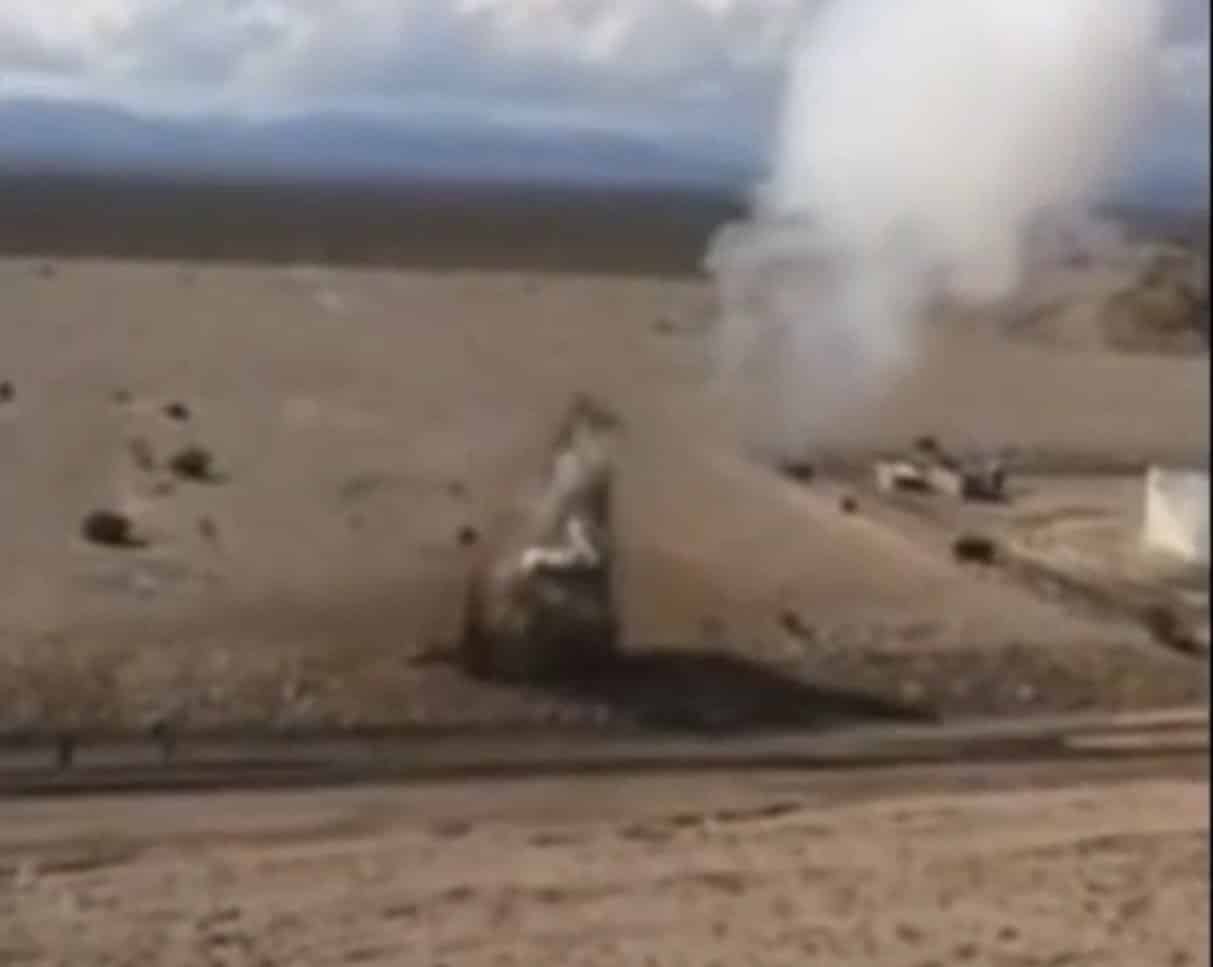 October 26, 2015
YouTube frame capture (all photos suppressed)
By Jeff Smith, Science Editor, Nuclear physicist and IAEA inspector
The recent fires at nuclear waste facilities have been the subject of little speculation, as extreme efforts have been made by the equivalent of "Men in Black" analogs, threatening even bloggers who have gotten too close.
VT has chosen to publish the truth about these fires and the very real danger
All enriched uranium and or enriched plutonium will react with water (H2O), when it comes into contact with it. Some worse than others. It triggers hydrogen uranium or a hydrogen plutonium thermal reaction that makes the fuel burn. This is why all PU pits are metal-plated, to prevent this from happening. However, during production or reprocessing, the metal shavings are not protected.
These underground waste dumps are full of radioactive milling flakes left over from nuclear pit production and or reactor fuel rod production. They used to use sawdust, sand, and even cat litter to mop up the oily mess leftover from machining the nuclear fuel elements and pits.
This is what started the fires in New Mexico last year. It is all a sitting EPA time bomb waiting to go off. The fires in St. Louis are also related to this. It's another cold war legacy left over from the nuclear industry that has been overlooked and hidden until now.
Like Fukushima, the only thing you can do is let it burn out over time. You can't stop it. This is why they put it all in underground salt mines. They knew eventually down the road that this would happen sooner or later, and as long as it didn't happen on your shift, then there was no problem. This is how they think. Really stupidly.
You can't put bureaucrats in charge of stuff like this, due to the consequences of what will happen down the road.
Within another 32 years or less, due to PU-240/242 build-up, corrosion, and helium gas build-up within the pits' walls causing them to undergo low-level nuclear fission, fusion process, all of the older plutonium pits will start popping off too. Over 6,000 of them will eventually break down and spontaneously catch fire and burn with zero advance warning!!!!!!!!
Once they reach a certain internal nuclear threshold, they just spontaneously form a critical mass on their own and go bang. You can't stop it. It just suddenly will happen.
Japan's slag plutonium storage facility is even in worse shape than ours due to their PU being mainly stored in a liquid form. Once it reacts with any hydrogen source… Bang. It's the original "Cold Fusion" process, just using fissile material to make it work on its own. No external electric current is needed to start the process due to the effect of the dissimilar metal creating an internal galvanic electric battery condition that starts the Townsend electron avalanche process. This then triggers the cold fusion process in the voids created by helium bubbles in the aging PU.
All you can do is melt it down now and grind it up into tiny bits and mix it with glass. You then put the material into numbered stainless steel containers and put it all into Yucca Mountain, where it can be monitored and controlled for the next 10,000 years….
Thank you General Groves, Oppenheimer, and Teller for the mess that you left us with.
Whether or not congress likes it, they are stuck with the bill for the next 10,000 years. I see very long term job security with this one…
So now we can have a Ph.D.'s in nuclear waste disposal instead of nuclear weapons design…..
---
9-11 Syllabus and VT Nuclear Education Series – 2015
How Israel Was Busted Nuking Yemen
---
9-11 Syllabus and VT Nuclear Education Series – 2014
VT Supporting Material on 9/11, Nuclear Physics and Disclosure Issues
ATTENTION READERS
We See The World From All Sides and Want YOU To Be Fully Informed
In fact, intentional disinformation is a disgraceful scourge in media today. So to assuage any possible errant incorrect information posted herein, we strongly encourage you to seek corroboration from other non-VT sources before forming an educated opinion.
About VT
-
Policies & Disclosures
-
Comment Policy
Due to the nature of uncensored content posted by VT's fully independent international writers, VT cannot guarantee absolute validity. All content is owned by the author exclusively. Expressed opinions are NOT necessarily the views of VT, other authors, affiliates, advertisers, sponsors, partners, or technicians. Some content may be satirical in nature. All images are the full responsibility of the article author and NOT VT.