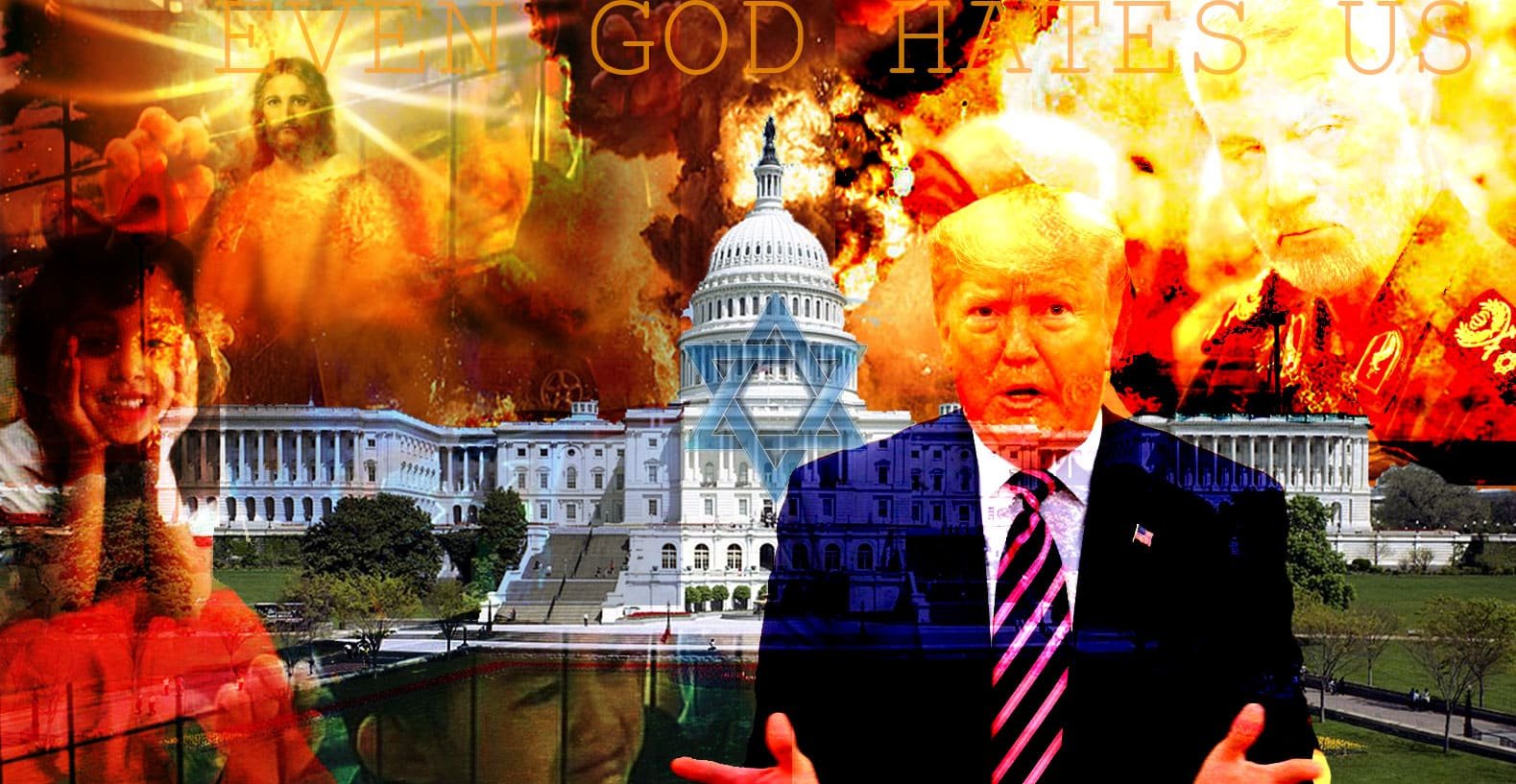 VT Editors
Biden got over three quarters of mail ballots but machine votes were only forty percent.  There is, in fact, no explanation for this other than massive vote fraud by the GOP, as with 2016 and other years, the Karl Rove, Mike Connell, Dibold, Federalist Society and Mossad well proven and totally exposed many times…effort.
It was proven in the limited recount in 2016 but nobody says a word.
This time, the game was to run up fake votes on computer then stop the count.
Not one GOP elected official, out of thousands, has approached shitstain about conceding.  Not only are vote margins piling up putting him officially 5 million votes behind and the EC not close…vote fraud by the GOP, not imaginary…is coming in.
What if the polls were right?  We think they were here as with Hillary.  We will find as we did in 2016, in Ohio and other states, that GOP precinct voting levels will average over 100% as they did in Wisconsin in 2016.
No election has had so many votes but of 215 million registered voters, only 150 million voted.
Only 69 percent of eligible voters are said to have voted in this election.  Where mail ballots come in, like Pennsylvania, Biden is averaging 78% of the vote yet in machine voting, Biden got well under 40%.
VT traced the software used to murdered programmer Mike Connell:
CHENEY ASSASSINATION SQUADS: WERE THEY DOMESTIC?
WAS OHIO VOTE RIGGING GURU, MIKE CONNELL KILLED AS A TERRORIST?
"ENEMIES OF THE STATE" – OR PERSONAL GRUDGES?
By Gordon Duff STAFF WRITER
Discovery of illegal death squads supposedly meant to target terrorists overseas unwraps only one level of Cheney lies.  Nearly a dozen Congressionally authorized covert forces hunted Al Quaeda leaders with full "kill" authority and considerable success.  Cheney's death squad may have had successes, ones we will never admit.
Mike Connell worked for Karl Rove as a "consultant" on electronic voting.  He was being forced to testify in a lawsuit against former Ohio Sec. of State Ken Blackwell on electronic vote rigging in the 2004 Ohio election.  Connell had cancelled two flights in his private plane because of sabatoge fears and asked for police protection.  He claimed Karl Rove had planned his murder.  He was capable of, not only invalidating one, perhaps two presidential elections but jailing a dozen top officials with his testimony.
Connell was a CIA contractor on "foreign elections" and worked, at the behest of the Republican Party, for Congress.  The lawsuit he was being forced to testify in claimed the 2004 election was rigged through by "vote flipping" done thru hacking machines poorly protected or sold to states by CIA contractor Diebold and others.  Both Florida and Ohio were under active investigation for these violations.
Asking USAF Lt. Col. Stephen Avery (ret), long time "black ops" pilot if Connell's crash could have been murder, Avery described a method of using a van to override IFR glide path signals.  "They park the van, crank up a more powerful signal, run the plane into the ground and drive away."  The number of people who have died this way and have been political opponents of Cheney and Rove is considerable.
COVER STORY A CHILDISH LIE
The US spends billions each year on elite military units backed up by Predator aircraft.  These units can spot and kill any individual anywhere in the world.  Army Special Forces, Rangers, Navy Seals, Marine Force Recon and other less well known but equally deadly groups are currently deployed around the world and have been for decades.  Typical operations of these units are featured in the TV show, The Unit.
CIA units, more often, work with local forces and are not properly trained or coordinated for the types of operations claimed in the Cheney cover story.
The CIA, however, is extremely well trained at crashing planes, trains, cars and causing falls on stairs, mysterious heart attacks, cancer or other forms of death, many of which are utterly undetectable.  Many millions of dollars have been spent creating these capabilities.
If the CIA were to kill a major terrorist leader, it would be an embarassment to our armed forces.  The best trained elite military in the world doesn't need support from kids recruited on college campuses.
WHY LIE TO CONGRESS OVER TOTALLY LEGAL ACTS?
With no reason to use the CIA or a "CIA analog" as with the Ollie North's "guns for cocaine" operation that led to his overturned, on technicality, conviction, none of this makes any sense.
Let's say this, "There is the CIA and there is the CIA."  With the majority of CIA operations performed by NOC (non-official cover) individuals or contractors, CIA operations can, not only be unsanctioned and unsupervised but freely operate inside the US with impunity, only if kept secret from Congress.
Cheney had no other reason to break the law.  Only domestic killings are prohibited under our current terror guidelines.  If we can invade countries and have their leaders hanged, we can certainly legally justify attacking top terrorist leader without needing to subvert our Constitution.
The "real" CIA could have figured out a better lie.  Cheney should have called them.
CAN POLITICAL EXTREMISM TURN TO INSANITY AND MURDER?
An editorial in today's New York Times describes the panic that led Bush and Cheney to break dozens of laws, at times with disastrous consequences, in an illegal 'power grab.'  Phony "threat memos" were produced by Alberto Gonzales that led to illegal and incompetent security operations that wasted resources and produced useless results.
Assuming the obvious, staying in office is the primary goal of any politician.  It is most of what they work at instead of what they are supposed to do.  Does anyone doubt that?  Given the panic, utter lack of ability and mental instability of Dick Cheney, Karl Rove and George "W" Bush, using, not the CIA but "CIA assets" such as Mike Connell's company and others to rig elections is now a fact accepted by many, maybe most.
Now that we do know, as an established fact, that the highly unstable and totally immoral former Vice President, facing potential indictment for, not only war crimes, but an endless series of illegal acts within the US, had private killers working for him is not surprising.
The idea that, in 7 years of running such an operation, the "Cheney hit squad" never killed a single overseas terrorist is easy to believe.  What is hard to believe, given the facts, is that they never killed anyone or operated overseas at all.
HOW DO WE START?
We have another TV situation here.  We are looking for the trail of a serial killer, in this case, a crazed madman who was empowered to use others to murder in his name.  We look for patterns.
Unlike other serial killers, the one we are looking for would have killed potential blackmailers, potential witnesses, political enemies or for financial gain.
The killings would have been done by the highest trained individuals in the world, outside of Israel and Russia.  They may have had limited cooperation from law enforcement agencies and could operate with no risk of prosecution or detection, protected by the highest authorities in the country.
HOW MANY COULD HAVE DIED?
The number could be 10 or it could be a thousand.  It could include Islamic leaders or simple CIA computer geeks who got involved in rigging US elections.  It could be famous people or people we know nothing about.  The "secret world" is like that.  Criminals that rig elections or handle million dollar payoffs for crooked contractors in Iraq are not always public names.
Would someone that ordered torture order murder?  Would someone who calls rape and murder "waterboarding" have people killed on American soil?
Why wouldn't they?  Have we ever caught a serial killer in this country more pathologically insane than some of our political leaders?  Not hardly.
ATTENTION READERS
We See The World From All Sides and Want YOU To Be Fully Informed
In fact, intentional disinformation is a disgraceful scourge in media today. So to assuage any possible errant incorrect information posted herein, we strongly encourage you to seek corroboration from other non-VT sources before forming an educated opinion.
About VT
-
Policies & Disclosures
-
Comment Policy
Due to the nature of uncensored content posted by VT's fully independent international writers, VT cannot guarantee absolute validity. All content is owned by the author exclusively. Expressed opinions are NOT necessarily the views of VT, other authors, affiliates, advertisers, sponsors, partners, or technicians. Some content may be satirical in nature. All images are the full responsibility of the article author and NOT VT.