Health Editor's Note: While reading this article I find that I must point out some important facts….First of all, a test for COVID-19 is just that…..a test for the exposure to COVID-19 (SARS-CoV-2) not any old virus, such as the yearly influenza. There are two types of tests for COVID-19 and those are viral tests and antibody tests. A viral test tells you if you have a current infection. An antibody test might tell you if you had a past infection. The tests being used now do distinguish between the COVID-19 virus and the common influenza virus. The test are looking for COVID-19.
The point that this article makes about seeing fewer influenza infections is a great bid DUH! A big duh, especially for someone who has a medical background.  Of course we are seeing less flu cases because people are wearing masks, physically distancing, staying away from groups, staying home if they are ill, stay away from others who are ill, begin very careful about hygiene such as frequently washing hands and trying to resist the urge to touch their faces, noses, mouths, and eyes.  The regular, yearly flu is passed the same way COVID-19 is passed, in viral laden droplets the come out of someone's mouth or nose when he or she coughs, sneezes, yells, spits, etc. Stopping the ability of COVID-19 viral droplets will also stop the spread of any other virus or bacteria that can travel in the air.  
This is not rocket science here.  Tests used to test for COVID-19 test for COVID-19 and not for all viruses. Practicing protocols to stop the transmission of COVID-19 will also stop any other infection that is spread by droplets/aerosol transmission.…..Carol 
---
by Fabio Giuseppe Carlo Carisio for VT Italy
Versione originale in Italiano
Once again Gospa News has hit the mark. In recent days, in fact, we have published the opinion of an Irish science journalist who raised a disturbing doubt: the cases of seasonal flu have disappeared so it may be that the data are confused with those of those infected with the SARS-Cov-2 coronavirus.
In support of his statements we have published the World Health Organization table which highlighted the disappearance of people infected with the flu since last spring.
Now from the National Institute of Infectious Diseases Lazzaro Spallanzani in Rome, the first involved in the fight against the pandemic in Italy since last February which is also a partner for vaccine research with the Reithera company (of the GlaxoSmithKline group), a sensational revelation arrives.
"These tests will probably arrive next week" which will allow us to distinguish Covid from the flu, wrote the Adnkronos Italian agency on November 8, taking up the statements made by Professor Francesco Vaia, health director of the Spallanzani Institute in Rome during the broadcast. of national Tv Rai 1 'Good morning Wellness', hosted by Vira Carbone.
"These tests, which are antigenic tests, allow us in a very short time, between 15 and 30 minutes, to know if the subject who undergoes the test has a viral activity from coronavirus or flu type. It is useless to underline the great importance of this test at a time when, unfortunately, the epidemic curve is still in progress and which overlaps the flu curve. It will be very relevant from the point of view of public health ". The costs of the test "will be very low from 4 to 10 euros", he adds, communicating that "we will do the experiments".
Italy-US Academic Virologist: "Stop to Pandemic's Terrorism. Covid-19 less Lethal. Lockdowns may destroy Economy"
It is therefore self-evident that if the tests to distinguish Covid-19 from seasonal flu are arriving only now, it means that so far they have not been used and that, therefore, as highlighted by Gospa News, the possibility of taking fireflies for lanterns is very high.
This may also have happened in consideration of the risks of "false positives" connected to the method of gene amplification of the rhino-pharyngeal swabs used to identify those infected by the new coronavirus strain but, if incorrectly calibrated, able to reveal the positivity to any microbe, such as explained in a previous reportage by Professor Giorgio Palù, academic of Padua and Philadeplhia, for seven years president of the European Society of Virology and founder of the Italian one.
COVID-19 Increased. Seasonal Flu Disappeared. The science journalist: "Cases confused with SARS-2"
The same concept was reiterated by Dr. Maria Grazia Dondini, general practitioner of Monterenzio, in the province of Bologna (Emilia Romagna), in an interview with webmedia "Nuova Bussola Quotidiana". "WHO provides the possibility to consult information relating to influenza since April of this year, the flu seems to have practically no longer existed" wrote the journalist, reporting what was anticipated in our previous article.
«Sure. But not only – replies Dr. Dondini – We annually receive the report of the influence of the previous autumn-winter. They delivered it to us in the following autumn, on the occasion of the opening of the flu vaccination campaign.
This year, strangely, this report arrived towards the end of February: this means that it had already been decided that all forms of influenza / flu-like should be baptized as COVID-19.
The flu has disappeared, along with much more. I am convinced that we are faced with numerous overdiagnoses of COVID-19. We should investigate how these swabs are prepared and remember that the creator of the gene amplification test himself, Dr. Mullis, has always maintained that it should not be used for diagnostic purposes!». (read more…)

Fabio Giuseppe Carlo Carisio
© COPYRIGHT GOSPA NEWS for VETERANS TODAY only
no reproduction without authorization – Versione originale in Italiano
---
MAIN SOURCES
GOSPA NEWS – WUHAN.GATES REPORTS
GOSPA NEWS – CORONA VIRUS DOSSIER
WUHAN-GATES – 22. Former CIA Pandemic's Prophet in Biden's Team. To manage for NWO Military Intel, AI, Big Tech and Trading in EU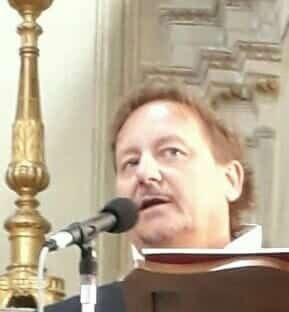 Fabio is Director and Editor of Gospa News; a Christian Information Journal.
Fabio Giuseppe Carlo Carisio, born on 24/2/1967 in Borgosesia, started working as a reporter when he was only 19 years old in the alpine area of Valsesia, Piedmont, his birth region in Italy. After studying literature and history at the Catholic University of the Sacred Heart in Milan, he became director of the local newspaper Notizia Oggi Vercelli and specialized in judicial reporting.
For about 15 years he is a correspondent from Northern Italy for the Italian newspapers Libero and Il Giornale, also writing important revelations on the Ustica massacre, a report on Freemasonry and organized crime.
With independent investigations, he collaborates with Carabinieri and Guardia di Finanza in important investigations that conclude with the arrest of Camorra entrepreneurs or corrupt politicians.
In July 2018 he found the counter-information web media Gospa News focused on geopolitics, terrorism, Middle East, and military intelligence.
His articles were published on many international media and website as SouthFront, Reseau International, Sputnik Italia, United Nation Association Westminster, Global Research, Kolozeg and more…
His investigations was quoted also by The Gateway Pundit, Tasnim and others
He worked for many years for the magazine Art & Wine as an art critic and curator.
ATTENTION READERS
We See The World From All Sides and Want YOU To Be Fully Informed
In fact, intentional disinformation is a disgraceful scourge in media today. So to assuage any possible errant incorrect information posted herein, we strongly encourage you to seek corroboration from other non-VT sources before forming an educated opinion.
About VT
-
Policies & Disclosures
-
Comment Policy
Due to the nature of uncensored content posted by VT's fully independent international writers, VT cannot guarantee absolute validity. All content is owned by the author exclusively. Expressed opinions are NOT necessarily the views of VT, other authors, affiliates, advertisers, sponsors, partners, or technicians. Some content may be satirical in nature. All images are the full responsibility of the article author and NOT VT.