Editor's note: Professor Anthony Hall edits the American Herald Tribune, recently seized by Trump-n-Yahu's Justice Department, then restored using a new server. 
By Kevin Barrett, VT Editor
In December, 2015, Tony Hall took over from Jim Fetzer as False Flag Weekly News co-host. The reason: Jim got drunk on Trump Kool Aid and never sobered up. Jim also had a bad habit of believing every goofy unsubstantiated "conspiracy theory" he read on the internet, from "Jade Helm Will Lock Us All Up in Wal-Mart by Next Week at the Latest" to "George Harrison Confirms Paul McCartney Died and Was Replaced in 1967" to "DC Pizza Parlor Has Dungeon Full of Tortured Children in Basement." (Disclaimer: The US government has indeed contingency-planned mass internment of dissidents, the CIA and Mossad do use pedophilia and satanic child abuse to blackmail powerful people, and there are probably even elements of truth in the Pizzagate theory…but the bogus theories discredit the true ones.)
Is Tony Hall becoming the new Jim Fetzer? In this week's FFWN (watch it above) he supports Trump's "Biden stole the election" line, suffers occasional outbursts of Fetzerian bellicosity, and even supports Jon Rappaport's nonsensical rantings that "COVID has never been isolated, therefore it doesn't exist!"
COVID skeptic Meryl Nass explains that COVID-19 has been isolated thousands of times in many different countries, and provides links to back it up:
https://www.patreon.com/posts/42882936
COVID denialism, like flat-earthism, extreme Sandy Hook denialism ("there was no such school"), and other stupid theories, appeals to sloppy thinkers who always want to be the most radical "conspiracy theorist" in the room. These bogus theories are undoubtedly promoted by the Cass Sunsteins of the world as a form of "cognitive infiltration of conspiracy movements" designed to "disable the purveyors of conspiracy theories" by promoting "beneficial cognitive diversity." It is certainly beneficial to Cass Sunstein and his friends when every conspiracy movement is full of cognitive diversity in the form of flat earthers, obscurantists, denialists, Paul McCartney replacement fanatics, and Jade Helm paranoids.
The COVID denialists, and the Sunsteins behind them, are doing a terrific job making sure that there is no mass movement demanding that the people who created COVID in a bioweapons laboratory, almost certainly right here in the USA, are tracked down and punished. Sunstein & Co. have succeeded in convincing the people who matter that COVID skeptics are a bunch of unhinged idiots. The fools who say "there is no COVID, it has never been isolated" are identified in the public mind with the sane people who never stop screaming from the rooftops, "COVID was made in a lab, let's track down the perps and remove them from the game so they can't hit us with Pandemic 2!" They're all just "COVID conspiracy theorists" now. All equally crazy. All needing to be censored.
Trump, for his part, is a walking, talking advertisement for the proposition that "conspiracy theorists" are crazy, narcissistic, obnoxious, and stupid as all get-out. If the Trump movement wasn't created by Netanyahu & Co. as a hostile takeover of 9/11 truth and allied conspiracy movements, it might as well have been. (The Mossad just pretty much admitted in their US house organ Newsweek that yes, Trump is our man, and his defeat is "terrible for the Jews.")
Was there significant presidential election fraud this year? Quite likely, yes. The huge gap between the polls (which had already been massively tweaked to favor Republicans) and the "results" suggests that the Republicans, Netanyahu's party, may have stolen more than ten million votes with their black box voting machines:
Jonathan Simon: 2020 Election Most Fraudulent Ever? Blue Tsunami Crushed by Red Shift, 10+ Million Votes Stolen?
Have Tony Hall and Jim Fetzer, both important figures in the 9/11 truth movement, gone over to the party of the 9/11 perps—the Party of Netanyahu? Stay tuned for further developments—and arguments—at False Flag Weekly News!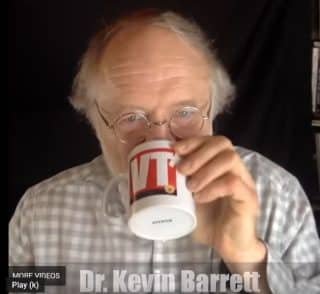 Dr. Kevin Barrett, a Ph.D. Arabist-Islamologist is one of America's best-known critics of the War on Terror.
He is the host of TRUTH JIHAD RADIO; a hard-driving weekly radio show funded by listener subscriptions at Substack and the weekly news roundup FALSE FLAG WEEKLY NEWS (FFWN).
He also has appeared many times on Fox, CNN, PBS, and other broadcast outlets, and has inspired feature stories and op-eds in the New York Times, the Christian Science Monitor, the Chicago Tribune, and other leading publications.
Dr. Barrett has taught at colleges and universities in San Francisco, Paris, and Wisconsin; where he ran for Congress in 2008. He currently works as a nonprofit organizer, author, and talk radio host.
ATTENTION READERS
We See The World From All Sides and Want YOU To Be Fully Informed
In fact, intentional disinformation is a disgraceful scourge in media today. So to assuage any possible errant incorrect information posted herein, we strongly encourage you to seek corroboration from other non-VT sources before forming an educated opinion.
About VT
-
Policies & Disclosures
-
Comment Policy
Due to the nature of uncensored content posted by VT's fully independent international writers, VT cannot guarantee absolute validity. All content is owned by the author exclusively. Expressed opinions are NOT necessarily the views of VT, other authors, affiliates, advertisers, sponsors, partners, or technicians. Some content may be satirical in nature. All images are the full responsibility of the article author and NOT VT.