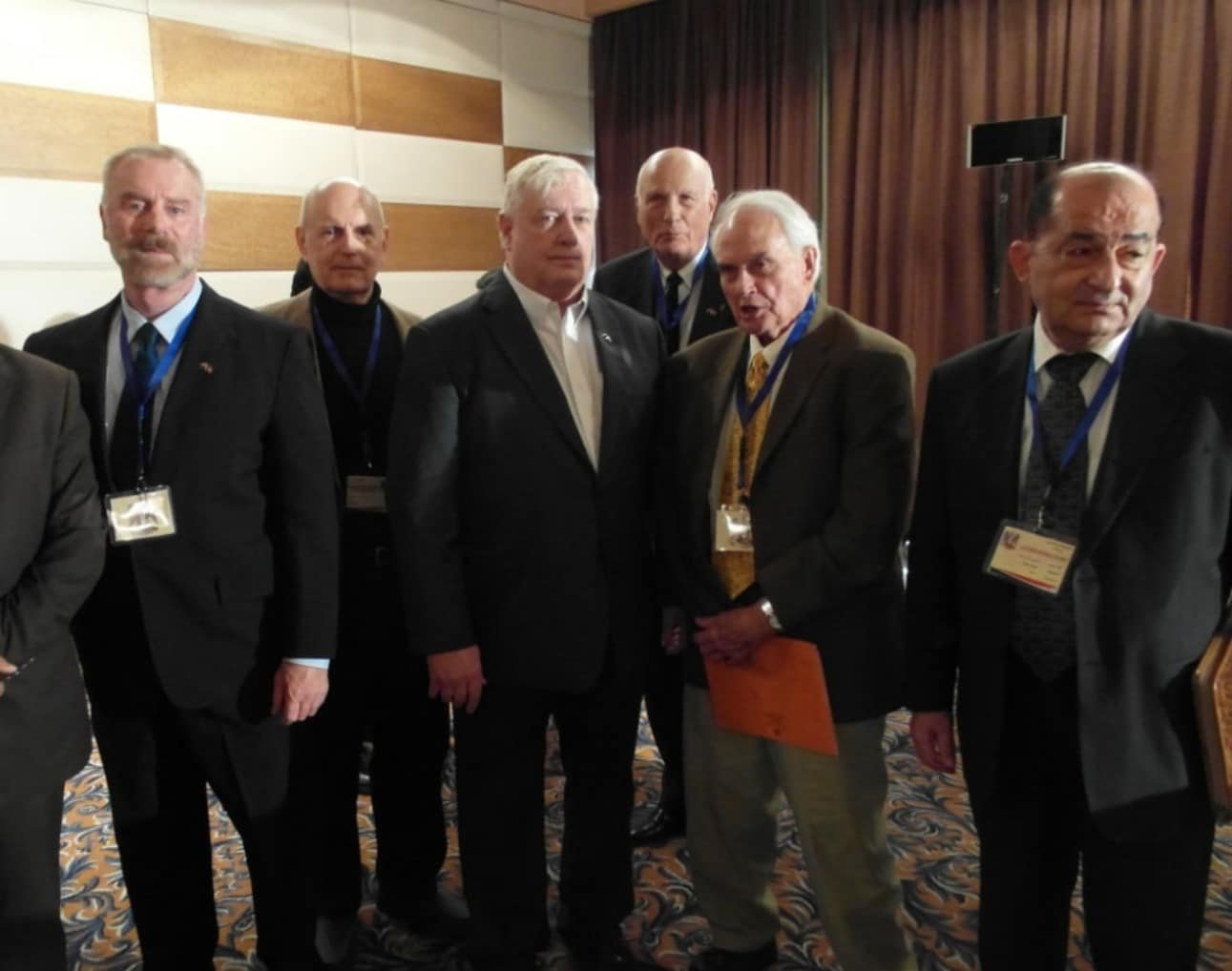 Last week Gordon Duff, Senior Editor of VT delivered an Historic Keynote Address at the International Conference on Combating Terrorism and Religious Extremism held in Damascus, Syria. This speech is sending shock waves around the World.
Gordon Duff was part of a VT Senior Staff Delegation that traveled to Damascus and was in consultation with the VT Board and other like-minded individuals within the American Military and Intelligence community and other such individuals from sixty-eight different nations around the World who were at the Conference.
This Delegation included VT Senior Editor *Gordon Duff, VT Managing Editor **Jim Dean, VT Director ***Colonel James Hanke, and VT Financial Editor ****Mike Harris.
Gordon Duff's speech quickly changed the focus of the whole conference and is now sending shock-waves around the World in the various Diplomatic, Military and Intelligence corps around the World.
Why is his speech Historic? For a number of vitally important reasons. This speech is the first time in history an American Intelligence Team of "non-activists" gave a military briefing to an audience of this type, including key Military Leaders of diverse Tribal Forces throughout Lebanon, Syria and Iraq, along with a Russian delegation and many others from around the world.
Before this historic speech by Duff, no one has ever dared to speak the simple truth about the true problem, that it is not Terrorism in the Mideast, but it is the effects of large-scale international Organized Crime.
But even more important, Duff, a noted international Intel and Security Consultant, identified the root cause of the United States of America's dysfunctional involvement in Iraq and Syria and the true cause of ISIS/Daish.
Duff's speech immediately changed the whole tone of the Conference and turned it to a very practical focus on the true causes of ISIS/Daish.
His speech immediately shifted the focus of the Conference from theoretical discussions of Terrorism and Extremism, to what is actually going on at the ground level at a practical level, who is responsible and why they are doing it, that is stealing factories and torturing and killing civilians, folks that are their people.
---
Gordon Duff laid out the true cause of ISIS/Daish in simple terms for the very first time anyone has ever done so publicly and this disclosure from such a highly credentialed and credible Intel Professional is now sending shock-waves around the World.
Duff declared that there are far too many that have died to continue speaking in unclear terms and that it was time to share a key hypothesis based on signals intelligence. Then Duff proceeded to explain the True Causes of ISIS/Daish in simple understandable terms which provide the clarity needed to form a sustainable solution.
Duff explained that what is going on in Iraq and Syria with ISIS is not Terrorism, it is simply CRIME. That is, it is the works of an international Crime Cabal which has gotten control of the American Congress. Yes, this is a large Organized Crime problem that must be understood as its simple root cause.

Duff identified this Crime Cabal as Israeli and pointed out that this is Worldwide Crime on a scale never experienced before.
Duff explained how the illegal Supreme Court Decision of Citizens United made it possible for an Israeli-American Organized crime magnate now operating out of Macao, Sheldon Adelson to essentially buy control of both Houses of Congress in the last election and being able to bring Congress under control of this International Crime Syndicate which specializes in human trafficking and narcotics.
Duff also identified American Generals McInerney and Vallely as being involved in organizing Daisch along with Senator John McCain.
He also pointed out that Secretary of Defense Chuck Hagel [who has just resigned] was the one that prevented the American bombing of Syria in response to the False-Flag gas attack at Aleppo, Syria.
This keynote address delivered by Gordon Duff was historic because for the very first time ever a Top Intel and Security Consultant publicly explained how the problem with ISIS/Daish is not terrorism but is Crime. He clarified that ISIS/Daish is a result of the Criminal Behavior of an Israeli-based International Crime Syndicate which essentially bought control over the US Congress during the last election.
Here is Gordon Duff's keynote speech which was historical and is now sending shock-waves around the World.
It should now be clear to everyone that the creation of ISIS/Daish occurred not because of Terrorism, but because of the undue influence exercised on the American Political system by this Israeli based Crime Syndicate in which a faction inside the American Congress, Military, and Intel has been manipulated into supporting the creation of ISIS/Daish.
It is easy to imagine why Duff's frank disclosure in his keynote address that the real problem on the ground in Iraq and Syria is Crime and the handy-work of an international Israeli Crime Cabal immediately changed the tone of the conference and is now sending shock-waves around the World.
This is the first time ever that these issues have been clarified for the Syrian Security Services and Military as well as to Intel, Military and Diplomatic representatives from all over the World.
In days and weeks to follow it is expected that such an Historic disclosure based on hard Intel will change the scope and tone of the discussion about what is really going on in Iraq and Syria on the ground and how a worldwide criminal enterprise is behind it.
There were several sophisticated attempts to sidetrack and derail the VT Delegation and keep Gordon Duff from delivering his Historic Speech. Despite all these attempted interceptions, one of which was directly thwarted by VT Financial Editor Mike Harris, Gordon Duff was able to deliver his keynote address and make history by putting the actual facts behind ISIS/Daish on the public record for the very first time. Colonel Jim Hanke spoke at the Conference also and his talk was very well received.
Jim Dean took numerous films which should prove to be quite important when some are published on VT.
Mike Harris gave numerous interviews to the Syrian Press and met with Syrian Security Officials and the Grand Mufti, the World's top Islamic legal and theological scholar. These discussions were very productive and did a great deal to further an understanding of what is actually behind the ISIS/Daish crime problem in Iraq and Syria which is nothing more than sophisticated international Organized Crime and must be dealt with as such.
Conclusion:
Obviously, Gordon Duff and his team displayed great courage in attending this Conference in Damascus and deserve the highest commendations possible for this fine work representing the true interests of peace for folks with no voice.
When the dust settles time will show this speech will be a major turning point in the Criminal Cabal's blatant abuse of the American People from their buying and hijacking of the US Congress and some American Generals with deep Intel connections and their abuse of millions around the World in many different nations, especially the Mideast.
No criminal Cabal or conspiracy this large can exist without utmost secrecy, which no longer exists thanks to Duff's keynote address and complete disclosure. Their crimes are now no longer secret and the "Jig is now up".

Thanks to Duff the Jig is about up for this International Israeli linked Crime Cabal, some have identified as the International Zionist Crime Cabal (IZCS) which has formed an alliance with the Bush Crime Cabal (BCC) which is now being completely identified all over the Worldwide Internet. It is now realized by many that the BCC was formed when Bush1 ran the Assassination of JFK and rose to power, able to deeply embed his operatives in the CIA, the Military, Congress, the Department of Justice and the Judiciary.
Now if anyone doubts that ISIS/Daish was set up under the Money Power of the International Zionist Crime Cabal (IZCS) operating out of Israel which has now gained Control of the US Congress, consider this. All ISIS/Daish wounded are taken to Israel for medical treatment, all expenses paid and those that can be are returned to Iraq or Syria to attack, torture, murder and asset-strip innocent civilians, pretending to be Islamic Terrorists.
This is all done in order to create mass confusion and to empower those governments that exist off the spoils of pushing solutions to their synthetic terrorism which is really nothing more than a massive Organized crime operation to make money and accrue more power. How do we know that the Criminal cabal has truly gained control over the US Congress? We now have actual specific evidence which has uncovered the Crime Cabal's control over Congress through the use of large bribes and threats of assassination.
It is now beyond obvious that the only way to deal with such a large Criminal Cabal is to indict them, arrest them, fully prosecute them, and if convicted with clearly convincing evidence beyond any shadow of a doubt, then sentence them appropriately.
If they have committed Treason, Sedition, or other Capital offenses well, then upon conviction in a suitable court of law, US or International, they must be executed like the convicted Nazis from the Nuremberg War trials or the convicted Japanese from the International Military Tribunal for the Far East also known as the "Tokyo Trials" and in other courts in many different places in Asia and the Pacific. About 1,000 Japanese War criminals were executed after conviction and Twenty Nazi War criminals were executed after conviction.
However, it is known inside high-level Intel circles and by those who worked closely with OSS agents and operatives, that numerous American Army secret assassination teams were deployed in Europe to bring many uncharged Nazis to instant justice. Some teams operating under Presidential Orders were also deployed to Hawaii and Asia to bring "instant, extra-judicial justice" to many Japanese war criminals that avoided exposure and arrest.
This whole Nuremberg Trial and Tokyo Trial process needs to be repeated against the Criminal Cabal and all their kingpins, Top Policy-Makers, political and Judicial puppets as well as all their operative and mass-murderers deployed on the ground as mercenaries for fat paychecks. Those who attempt to flee prosecution can be hunted down to the ends of the Earth if necessary.
And the worst of all this is the ability of the Crime Cabal to use American Generals and a sitting US Senator to start up and run ISIS/ISIL/Daish. This is truly disgusting but there is actually even more to this story. Because the honest faction of the US Military is now targeting some ISIS positions, what we actually have now is a Secret American Civil War being fought in Iraq.
And now China has offered military help to the Iraqi government. Unless John McCain is stopped in his rise to become Chairman of the Armed Service Committee, he may be able to exert serious pressure and be able to push America into another War in Iraq (maybe Syria, Iran and Ukraine too) and his actions could trigger a nuclear WW3 with the Russian Federation and President Putin who has just about had enough.
Hat's off and Highest Commendations to Gordon Duff and his team of American Heroes who have now set the record straight and had the great courage necessary to publicly disclose, for the very first time anywhere, the true causes of ISIS/ISIL/Daish and have shown it to be a crime problem created by a large international Organized Crime Cabal.
Now most of the World's Security and Intel Units know the truth that has been hidden from them for many years by excess compartmentalizing and billions of dollars spent by the Crime Cabal to control and prevent their access to this information.
These Units now know with incredible clarity who it is that deploys synthetic terror, torture, mass murder and asset-stripping in the Mideast and why. They now know it is being done to further the Organized Crime Cabal's goals and power.
Within two weeks of this International Conference in Damascus, Gordon Duff appeared on a Talk show in England and delivered another incredibly dynamic presentation with a substantial amount of new information revealed for the very first time.
On December 16, 2014, Gordon Duff was a guest on the Richie Allen show in England. Richie Allen is a respected talk show host whose radio program has been broadcast for the last sixteen years. Some of the material discussed in this interview with Gordon Duff was stunning to say the least.
Duff connected many dots providing distinct clarity to some previously very confusing matters. This interview is probably the best, most revealing interview ever broadcast anytime anywhere so far on the subject of International Security and Intel matters. If you have time to listen to it, it will be well worth your time.
Right now you cannot get this depth of information on International Security and Intel matters anywhere else but VT. Yes, VT often provides the real story behind all the Controlled Major Mass Media (CMMM) dispensed narratives and propaganda for the USG. And for major breaking Mideast News, you will usually find it at VT presented realistically, often based on actual "on the ground" observational reports by VT Managing Editor Jim Dean as reported on VT News Reports and in his VT articles.
---
Gordon Duff is the Managing Director and Senior Editor of VT, a Marine combat veteran of the Vietnam War. He is a disabled veteran and has worked on veterans and POW issues for decades. He is an accredited diplomat and is generally accepted as one of the top global intelligence specialists. He manages the world's largest private intelligence organization and regularly consults with governments challenged by security issues.
Gordon Duff has traveled extensively, is published around the world, and is a regular guest on TV and radio in numerous countries. Gordon Duff is a trained chef, wine enthusiast, avid motorcyclist and gunsmith specializing in historical weapons and restoration. His business experience and interests are in energy and defense technology. He is the Managing Director of Adamus Defense Group of Switzerland.
 Jim Dean is the Chairman of VT and wears many hats, ranging from day-to-day operations to the development, writing, and editing of numerous articles. He also has an active schedule of international TV and radio interviews. He has numerous contacts on the ground in the Mideast and provides detailed reports in his articles and on VT News Reports Radio. Jim Dean is also a member of the Military Order of World Wars, Association for Intelligence Officers, and the Senior Vice President, of Adamus Defense Group, Switzerland.
Colonel James Hanke is a VT Director and US Army Special Forces (Ret.) Colonel Hanke is Former G2 Third Army, NATO Nuclear Weapons Commander, Attache to Israel, A-Team Leader Vietnam, and a Director of Operations, at Adamus Defense Group, Switzerland.
Mike Harris is the Financial Editor of VT,  a radio host, a former GOP Finance Chairman, a gubernatorial candidate for Arizona,  and a Senior Vice President of Adamus Defense Group, Switzerland. Mike is an expert in full-contact mixed martial arts. His long-term expertise in such has gained him a lot of respect and the nickname "Iron Mike".
---
Here is a transcript of this Historic Keynote Address by Gordon Duff at the International Conference on Combating Terrorism and Religious Extremist Conference held in Damascus, Syria first week of December 2014. Gaps are where his speech was translated to listeners.
Gordon Duff: Too many people have died for people to continue speaking in terms that are unclear and just not speaking the truth.
It's time we simply said what we know, whether it's classified information or not.
All of you have seen the results of what we're saying.
What we're saying will fit what has happened here and what facts you've been able to bring out…
Our hypothesis is based on solid information, solid research on the ground, using human signals intelligence from our extensive capabilities.
We don't guess.
We know what we're talking about here.
Their motivation is largely economic.
They're a criminal organization but they are part of a worldwide criminal organization.
And they're here in your territory, taking your things – your factories, your lives, your people – for the enrichment of a specific group of people who need to be held to account.
It's almost as though it's a police problem.
This is a crime.
This terrorism you're suffering is a worldwide crime on a scale we have never seen before.
There has never been anything like this.
Gordon Duff: I appreciate your statements and I recognize the truth and honesty of what you were saying but I do believe there are areas of misunderstanding how the United States works politically.
And this is a problem, a tremendous problem in the Middle East and one of the things that's driven us here is it's very difficult to understand what has happened as far as Israeli control of American politics and I will, as succinctly as possible, I will explain this to you.
Gordon Duff: In 2005, the Supreme Court of the United States had a decision on a case called Citizens United.
The decision of the Supreme Court legalized unlimited corporate bribery.
This turned control of the Congress of the United States over to human traffickers, narcotics traffickers and in particular, the most powerful individual in the United States today is a gambling boss named Sheldon Adelson, an Israeli citizen who fled the US living in Macau.
He spent over one billion dollars in the last election and bought control of both Houses of Congress.
Now Senator John McCain, the father of al Nusra, the father of ISIS, will be running US legislative and military foreign policy.
Gordon Duff: American generals like General McInerny and General Paul Vallely, specialists in psychological warfare, helped organize Daish.
They have traveled in and out of your country here, Syria, over and over, as had Senator John McCain.
Meeting with al Qaeda – an organization created by the American, Saudi and Israeli Defense Forces and Intelligence Services.
Gordon Duff: Only a week ago, the US Secretary of Defense Chuck Hagel, resigned.
Chuck Hagel was the individual that stopped the United States from bombing Syria over the false flag gas attacks near Aleppo.
Gordon Duff: It was our organization here that supplied the intelligence that stopped those attacks.
Gordon Duff: It's our goal here, while we are here, to try to establish a method of communication that will allow Syria and other nations within the area to understand Israel's control of the US, the control of the US by organized crime and how the US government is subservient to a worldwide criminal organization.
ATTENTION READERS
We See The World From All Sides and Want YOU To Be Fully Informed
In fact, intentional disinformation is a disgraceful scourge in media today. So to assuage any possible errant incorrect information posted herein, we strongly encourage you to seek corroboration from other non-VT sources before forming an educated opinion.
About VT
-
Policies & Disclosures
-
Comment Policy
Due to the nature of uncensored content posted by VT's fully independent international writers, VT cannot guarantee absolute validity. All content is owned by the author exclusively. Expressed opinions are NOT necessarily the views of VT, other authors, affiliates, advertisers, sponsors, partners, or technicians. Some content may be satirical in nature. All images are the full responsibility of the article author and NOT VT.