DISCLOSURE: VT condemns the horrific tragedy committed by the NAZI Party against Jewish Citizens of Europe during Word War II known as the "Holocaust". VT condemns all racism, bigotry, hate speech, and violence. However, we are an open source uncensored journal and support the right of independent writers and commentors to express their voices; even if those voices are not mainstream as long as they do NOT openly call for violence. Please report any violations of comment policy to us immediately. Strong reader discretion is advised.
---
VT: An investigation at VT has cited the Department of Homeland Security, beginning with its inception after 9/11 as the mechanism used for radicalizing police as white supremacist, anti-Semitic gangs.
The DHS was created on the advice of Rudy Giuliani and was intended by Giuliani to be turned over to his former driver who he made police commissioner, Bernie Kerik.  Kerik served 4 years in prison for tax fraud tied to payoffs from New York mobsters and was pardoned by Donald Trump after he lost the election.
Kerik is active in spreading election fraud and COVID 19 hoaxes.
The DHS was tasked with tying US police departments with Kosher Nostra gangs headquartered in Ukraine, Albania and Israel and arranging for thousands of US police officials to go "on the pad" with cash supplied by the Sinaloa and Gulf Cartels (FBI Source) who worked in partnership with Israeli intelligence.
The DHS laundered many of its "organizers" through Israel, the UAE and into Iraq and Afghanistan where billions of dollars were stolen and where partnerships were forged with drug lords and terror leaders.
ISIS and al Qaeda are simply another branch of DHS which is a branch of the Mossad which is a branch of the Kosher Nostra which is a branch of world Freemasonry.
Now the International Criminal Court at The Hague has cited, through the report of the Commission of Inquiry on Systematic Racist Police Violence in America  the following:
violating its international human rights obligations, both in terms of laws governing policing and in the practices of law enforcement officers, including traffic stops targeting Black people and race-based stop and frisk;
tolerating an "alarming national pattern of disproportionate use of deadly force not only by firearms but also by Tasers" against Black people;
operating a "culture of impunity" in which police officers are rarely held accountable while their homicidal actions are dismissed as those of just "a few bad apples".
Guardian: The systematic killing and maiming of unarmed African Americans by police amount to crimes against humanity that should be investigated and prosecuted under international law, an inquiry into US police brutality by leading human rights lawyers from around the globe has found.
In a devastating report running to 188 pages, human rights experts from 11 countries hold the US accountable for what they say is a long history of violations of international law that rise in some cases to the level of crimes against humanity.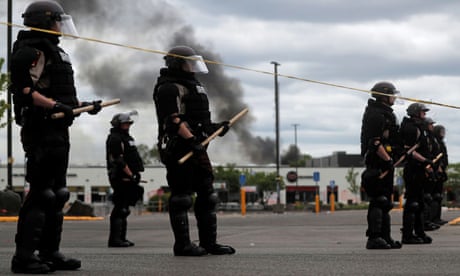 They point to what they call "police murders" as well as "severe deprivation of physical liberty, torture, persecution and other inhuman acts" as systematic attacks on the Black community that meet the definition of such crimes.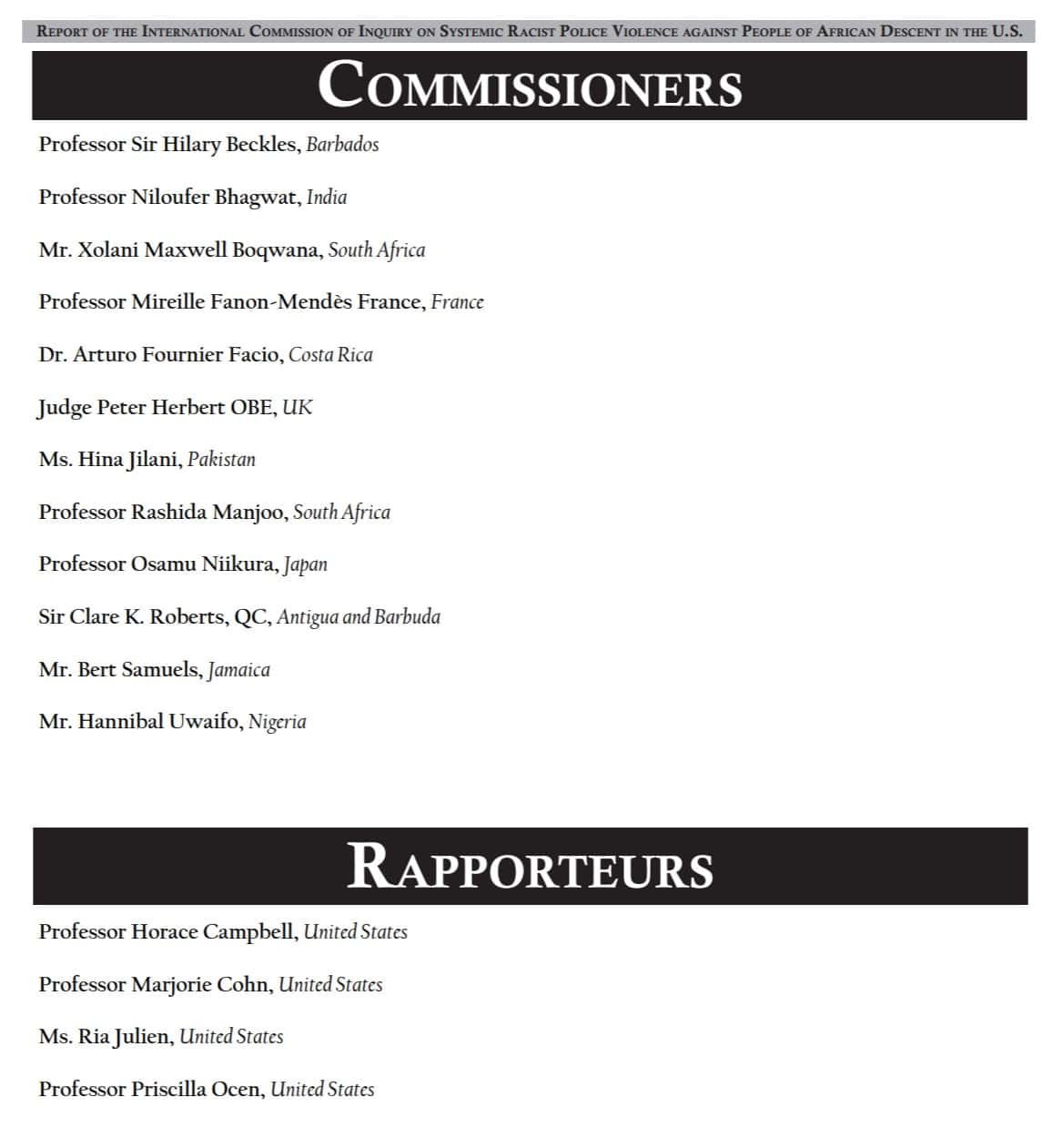 They also call on the prosecutor of the international criminal court (ICC) in The Hague to open an immediate investigation with a view to prosecutions.
"This finding of crimes against humanity was not given lightly, we included it with a very clear mind," Hina Jilani, one of the 12 commissioners who led the inquiry, told the Guardian. "We examined all the facts and concluded that that there are situations in the US that beg the urgent scrutiny of the ICC."  read more…
https://www.theguardian.com/us-news/2021/apr/26/us-police-killings-black-americans-crimes-against-humanity
---
–
ISRAEL SECURITY FORCES ARE TRAINING AMERICAN COPS DESPITE HISTORY OF RIGHTS ABUSES
Among the trainees in the latest trip is a Washington D.C. police commander, over the objections of a D.C. city councilmember.
IT'S NOT UNCOMMON for residents of America's most heavily policed neighborhoods to describe their local cops as "an occupying force." Judging by where many U.S. police forces get their training, the description seems apt.
Thousands of American law enforcement officers frequently travel for training to one of the few countries where policing and militarism are even more deeply intertwined than they are here: Israel.
In the aftermath of 9/11, Israel seized on its decades-long experience as an occupying force to brand itself as a world leader in counterterrorism. U.S. law enforcement agencies took the Jewish state up on its expertise by participating in exchange programs sponsored by an array of pro-Israel groups, like the American Israel Public Affairs Committee, the Jewish Institute for National Security Affairs, and the Anti-Defamation League. Over the past decade and a half, scores of top federal, state, and local police officers from dozens of departments from across the U.S. have gone to Israel to learn about its terrorism-focused policing.
Yet Israel's policing prowess is marred by its primary purpose: occupation. Israel has carried out a half-century of military rule in the Palestinian territories of the West Bank and Gaza, an occupation rife with abuses. The country's police and security forces also regularly violate the rights of Palestinians and immigrants inside of Israel's 1967 borders.
"A lot of the policing that folks are observing and being talked to about in these trips is policing that happens in a nondemocratic context," said Alex Vitale, a sociology professor at Brooklyn College and author of a forthcoming book on global policing. "It involves either military policing, border control policing, or policing of folks in the occupied territories who aren't full legal subjects in the Israeli legal system."
While attention on the militarization of American police forces has intensified in recent years, spurring some reforms that the Trump administration has already undone, U.S.-Israel police exchange programs have carried on without much public scrutiny.
This week, a delegation of top American law enforcement officers is in Israel for the ADL's National Counter-Terrorism Seminar,…read more…
https://theintercept.com/2017/09/15/police-israel-cops-training-adl-human-rights-abuses-dc-washington/
ATTENTION READERS
We See The World From All Sides and Want YOU To Be Fully Informed
In fact, intentional disinformation is a disgraceful scourge in media today. So to assuage any possible errant incorrect information posted herein, we strongly encourage you to seek corroboration from other non-VT sources before forming an educated opinion.
About VT
-
Policies & Disclosures
-
Comment Policy
Due to the nature of uncensored content posted by VT's fully independent international writers, VT cannot guarantee absolute validity. All content is owned by the author exclusively. Expressed opinions are NOT necessarily the views of VT, other authors, affiliates, advertisers, sponsors, partners, or technicians. Some content may be satirical in nature. All images are the full responsibility of the article author and NOT VT.