In the above video, "SPOTLIGHT interviews VT Editor Kevin Barrett author and Middle East expert out of Madison and Brecht Jonkers historian and journalist from Hasselt to look at retaliatory attacks by Yemeni army against Saudi Arabia''s vital installations." Below is an unusually good new piece on the Axis of Resistance drone & missile program. -KB
How Iran's Missile Strategy has Rewritten the Rules of Middle Eastern Wars
Iran has built an extraordinary military alliance stretching from Lebanon to Gaza to Yemen that missile by missile has changed the rules of war in the Middle East
By Arron Merat, Newlines 
On Nov. 12, 2011, an explosion was heard across Tehran.
Within hours, the Iranian press reported that 14 members of the Islamic Revolutionary Guard Corps (IRGC), including Hassan Tehrani Moghaddam, popularly known as "the father of the Iranian missile," had died in an accident at the Shahid Modarres base, 30 miles outside the city.
At the funeral, attended by the religious, civilian and military leaders of the Islamic Republic, the bereaved wept. An IRGC general attributed Iran's military deterrence and its "self-sufficiency" to Moghaddam, while Ali Khamenei, Iran's supreme leader, credited him with "filling Palestinian hands with missiles instead of stones to strike these arrogant terrorists." The mourners doubted Moghaddam and the other IRGC officers had died accidentally but had instead been killed in an Israeli attack, one of a string of recent political assassinations aimed at the heart of Iran's security state.
Days before his death, Moghaddam, who headed the IRGC's missile division, had ordered missile test results duplicated and stored in secret locations owing to a fivefold increase in explosions at key security sites in the previous year. While the epitaph on his gravestone in Tehran reads "Here Lies a Man Who Wanted to Destroy Israel," it is safe to assume Moghaddam knew his enemies would likely get to him first.
Although Tehran still struggles to deter so-called gray zone attacks by Israel such as assassinations and sabotage, its missile program, built from scratch by Moghaddam, has successfully deterred the airstrikes regularly threatened by Israel. It has also deterred the United States from carrying out airstrikes, particularly during the first term of then-President George W. Bush, with U.S. forces occupying neighboring Iraq.
In the decade before his death, Moghaddam was involved as much in strengthening Iran's missile defense and counterstrike system as he was in integrating Hezbollah's defense into Iran's own program, training a cadre of Lebanese engineers. "Knowledge cannot be bombed," he said, giving voice to Iran's policy not only of supplying missiles but also, crucially, sharing know-how to sustain the deterrence. Today, the balance of power is broadly equal; for the U.S. or Israel to launch a war against Iran or Lebanon is almost politically unthinkable.
"The Iranians and Lebanese Hezbollah now have a really deadly reconnaissance strike complex," explained Michael Knights of the Washington Institute. "They can absolutely wreck the infrastructure, lifestyle and economic functioning of their close enemies." Of course, the reverse is also true, but Iran's strategy is not suicide, despite Moghaddam's epitaph, but to stabilize the Resistance, an alliance of nations opposed to the U.S. security constellation of the Middle East: Iran, most of Shia Iraq, the Syrian state and Hezbollah.
This Resistance sees Israel, Saudi Arabia and the United Arab Emirates as part of an increasingly unstable American empire, whose power needs to be checked. Yet Tehran's goal goes further than merely maintaining a balance of power with its enemies or ending their influence in the region. Instead, Iran believes it is offering an alternative to the crumbling U.S. version of modernity, sustained, at least in theory, by multibillion-dollar defense industries. Iran's military-industrial complex is the tip of the iceberg of a wider political project.
The Tehran-Beirut alliance has brought Hamas in Gaza and Yemen's al-Houthi fighters into the Resistance, training their engineers and smuggling components to produce Moghaddam's designs.
Over the past decade, the Tehran-Beirut alliance has brought Hamas in Gaza and Yemen's al-Houthi fighters into the Resistance, training their engineers and smuggling components to produce Moghaddam's designs. This military cooperation supports allies but also bolsters Tehran's own deterrence against Israel and Saudi Arabia by having missiles placed on their more vulnerable southern borders. "With blood, sand and love, they are sent, built and launched," is how the rank-and-file IRGC refer to the emerging military-industrial complex of the Resistance…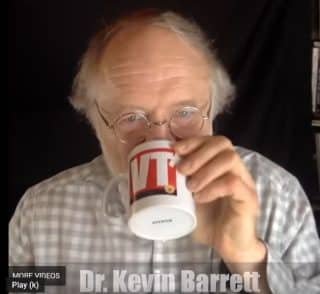 Dr. Kevin Barrett, a Ph.D. Arabist-Islamologist is one of America's best-known critics of the War on Terror.
He is the host of TRUTH JIHAD RADIO; a hard-driving weekly radio show funded by listener subscriptions at Substack and the weekly news roundup FALSE FLAG WEEKLY NEWS (FFWN).
He also has appeared many times on Fox, CNN, PBS, and other broadcast outlets, and has inspired feature stories and op-eds in the New York Times, the Christian Science Monitor, the Chicago Tribune, and other leading publications.
Dr. Barrett has taught at colleges and universities in San Francisco, Paris, and Wisconsin; where he ran for Congress in 2008. He currently works as a nonprofit organizer, author, and talk radio host.
ATTENTION READERS
We See The World From All Sides and Want YOU To Be Fully Informed
In fact, intentional disinformation is a disgraceful scourge in media today. So to assuage any possible errant incorrect information posted herein, we strongly encourage you to seek corroboration from other non-VT sources before forming an educated opinion.
About VT
-
Policies & Disclosures
-
Comment Policy
Due to the nature of uncensored content posted by VT's fully independent international writers, VT cannot guarantee absolute validity. All content is owned by the author exclusively. Expressed opinions are NOT necessarily the views of VT, other authors, affiliates, advertisers, sponsors, partners, or technicians. Some content may be satirical in nature. All images are the full responsibility of the article author and NOT VT.