Nice Tory MP Sir David Amess was assassinated by a 25-year-old Somali nutter on Friday. Known for his sound views on Europe and abortion Sir David had been a Tory MP since 1983. It's unclear at this time who ordered the hit and whether Cabinet Secretary Simon Case was in the loop. Counter-Terrorism Command, supported by MI5, has taken over the investigation from the local rozzers, who would be stretched finding a lost umbrella, no offense intended.
The murder took place at Sir David's weekly surgery in his constituency. Possibly unwisely, these were varied from one locale to another. The fatal surgery was being held at Belfairs Methodist Church in Leigh-on-Sea, in Sir David's constituency of Southend West. As usual, there was no police presence, at least not until someone dialed 999 and told the operator that a mad Moslem had just stabbed the local Tory MP to death.
Armed police officers outside the Belfairs Methodist Church in Eastwood Road North, Leigh-on-Sea, Essex, where Conservative MP Sir David Amess was reportedly stabbed several times at a constituency surgery. Essex Police have said a man has been arrested and officers are not looking for anyone else. Picture date: Friday, October 15, 2021. (Photo credit: Nick Ansell/PA Wire)
It seems to have been a frenzied attack. The rozzers are only admitting to 'multiple' stab wounds, but it sounds like it was a bit more than two or three. Sir David was widely liked at Westminster and the shockwave is going around Britain.
General Gordon
The Somali in question clearly had not read up on the Battle of Omdurman. In another political murder that shocked Britain, 136 years ago, General Chinese Gordon was put to death in Khartoum by another mad Moslem, the Mad Mahdi.
Although the Mahdi thankfully snuffed it a few months later his successor, the Khalifa was roundly defeated 13 years later in the great Battle of Omdurman.
The Dervish army was put to the slaughter and rightly so.
Major-General Sir Horatio Hubert Kitchener (later assassinated by the Imperial German Secret Service on the armored cruiser HMS Hampshire in 1916), who was an intelligence officer in the relief force which just failed to save Gordon, thanks to political interference from the German agent William Gladstone in London, didn't take many prisoners.
Mad Mahdi
Those who were taken swiftly found themselves minus their goolies. General, later Field Marshal, Kitchener, Sirdar of the Egyptian Army and Anglo-Egyptian commander at Omdurman, was intent on making a point.
The Dervishes didn't believe in taking prisoners in any event, that is to say, there was no reciprocity, hence no obligation to treat them in a namby-pamby manner.
It is never a good idea to upset us British. We are slow to anger but when we do our response is usually terrible to behold. Just ask the people of Dresden. Boris Johnson, no offense intended, is a pussy, but his successor is likely to be made of sterner stuff.
Field Marshal Horatio Herbert Kitchener (1850-1916), 1st Earl Kitchener; Cheltenham Art Gallery & Museum; http://www.artuk.org/artworks/field-marshal-horatio-herbert-kitchener-18501916-1st-earl-kitchener-61742
I wouldn't rule out a naval bombardment of the killer's village in Somalia. Just as we extracted a just blood sacrifice from the Dervish army at Omdurman so too may the Somalis have to pay. Clearly, hundreds of this young man's clan are going to have to die, no offense intended.
It's called communal punishment. It's a trifle old-fashioned but it works. We heard hardly a peep from the Dervishes after Omdurman.
The terrified death screams of their comrades as the 21st Lancers ran them through, or British and Egyptian artillery blew them to smithereens had a lasting and valuable adverse impact upon enemy morale.
You won't find many more Somalis murdering Tory MPs if we say bomb Mogadishu flat as a pancake as well as leveling the perp's village acts of just reprisal. If it comes to slicing Somalis open with splinters of red-hot British steel the great British public will cheer our brave Jack Tars along.
It's not a question of going back to gunboat diplomacy. Friday's outrage requires sending something a lot bigger than a gunboat. The UN can get stuffed, no offense intended. They are overdue for a smack anyway.
HMS Hampshire
Executing the assassin
Clearly, the assassin ought to be executed, in the nicest possible way of course. The easiest way to do this would be for the High Court of Parliament to treat the assassination of Sir David Amess as an assault upon democracy itself and try the assassin and his co-conspirators under a Bill of Attainder. They could then be decapitated by ax at the Tower in the usual way. Naturally, the ordinary courtesies would be observed – fresh straw in the dungeons, a slap-up breakfast on the morning of the executions, and an imam to accompany the condemned to the scaffold.
I have already urged Southend West Conservatives to call for a fair trial by Attainder. We cannot allow Sir David's brutal killer to live. That would not be justice. With respect, feeble ordinary courts cannot deliver justice. Only the High Court of Parliament, the most terrifying court in the Western world, can do that.
The investigation
Jo Cox MP
Clearly, we cannot have another Janet & John investigation like the one after the equally brutal assassination of Labour MP Jo Cox in 2016, in a desperate effort to swing the Brexit referendum Germany's way.
MPs' failure to uncover the truth and therewith respect facile acceptance of the absurd official narrative cleared the way for Sir David's assassination, sadly, since almost certainly the same agency (GO2) was involved.
There are remarkably few lone wolves. Assassins rarely work alone. That includes the Kennedy Assassination, in which Lee Harvey Oswald was not involved, indeed anybody who still thinks that he was is frankly just being naïve. The Oswald theory is for kooks, crackpots, and Chief Justices.
Just what the motive was is unclear at this time. No doubt it will emerge. As always it's the motive of those who set up the hit which matters. The killer was just following orders.
The Refugee Convention
Whilst they may be the small fry, assassinations still require killers. The route by which this particular killer came to be in the UK is going to need to be thoroughly investigated and then shut down.
Almost certainly his access to the UK will turn out to be asylum-related. This is going to refocus attention on the discredited and broken 1951 Geneva Refugee Convention. Utterly outdated and abused beyond recognition, we are going to have to ditch this absurd treaty. There were already calls for us to denounce it before Sir David's murder. There is now going to be a real clamor, trust me.
The political ramifications of this terrible murder are going to be huge. I doubt that the other major parties will even contest the Southend West by-election, which is going to be an emotional affair. No candidate opposing capital punishment or not wanting just reprisals against Somalia should even think of applying for the Tory nomination.
The Tories will be out for blood, as they were after that morally worthless political criminal Gladstone's betrayal of Chinese Gordon all those years ago. The great Lord Kitchener drenched the Sudan red with the blood of the Islamic enemy on that occasion. Don't bet against his splendid example being followed after this latest Salafist Moslem atrocity.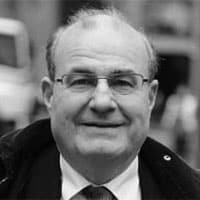 Michael Shrimpton was a barrister from his call to the Bar in London in 1983 until being disbarred in 2019 over a fraudulently obtained conviction. He is a specialist in National Security and Constitutional Law, Strategic Intelligence and Counter-terrorism. He is a former Adjunct Professor of Intelligence Studies at the American Military University.
Read Articles from Michael Shrimpton;
ATTENTION READERS
We See The World From All Sides and Want YOU To Be Fully Informed
In fact, intentional disinformation is a disgraceful scourge in media today. So to assuage any possible errant incorrect information posted herein, we strongly encourage you to seek corroboration from other non-VT sources before forming an educated opinion.
About VT
-
Policies & Disclosures
-
Comment Policy
Due to the nature of uncensored content posted by VT's fully independent international writers, VT cannot guarantee absolute validity. All content is owned by the author exclusively. Expressed opinions are NOT necessarily the views of VT, other authors, affiliates, advertisers, sponsors, partners, or technicians. Some content may be satirical in nature. All images are the full responsibility of the article author and NOT VT.