On the cover the president Joseph Biden and John Fitzgerald Kennedy in Dallas before assassination
Versione originale in Italiano
Once again a Western Democracy that should shine for transparency and completeness of information on the great crimes of history becomes an accomplice of the conspirators.
Just as in the case of Dag Hammarskjold, the UN secretary general who died in Africa in 1961 in a plane crash that many investigative sources believe was an attack, even for the famous JFK the truth remains hidden by some puppeteers of the Deep State.
UN SG Hammarskjold Killed Twice by DEEP STATE. UK Intel Hinders the International Inquiry
If in the case of the Swedish diplomat it was British Intelligence that opposed the total declassification of the MI6 counter-intelligence documents, in the case of the former American president it is the current tenant of the White House, Joseph Biden, to postpone the publication of some documents.
They treat citizens like stupid children who could hurt to know the plots of plots, especially at a time when the world is facing a pandemic by SARS-Cov-2 virus that distinguished scientists and intelligence experts believe was created in the laboratory.
Perhaps we will soon publish an important international investigation that correlates the assassination of Kennedy with the attacks of 11 September.
Note by Gospa News director
---
Published by Sputnik International,
The White House released a memorandum on Friday announcing that it would delay information in certain records related to the 1963 assassination of President John F. Kennedy — a publication that was scheduled to be released this Tuesday. The memo explains the continued postponement under statutory standard and the possibility of a longer postponement if the Biden administration deemed it necessary.
9/11 – The Avoidable Massacre Allowed by CIA. Helped Al Qaeda in Balkans, Obstructed FBI Investigations. Tribute to John O'Neill Killed in the Towers
"It's an outrage. It's an outrage against American democracy. We're not supposed to have secret governments within the government," Robert F. Kennedy Jr. reportedly told POLITICO. "How the hell is it 58 years later, and what in the world could justify not releasing these documents?"
Kennedy Jr.'s cousin, former US Representative from Rhode Island Patrick Kennedy, also criticized the decision, saying that the records should be released not because of his family, but because American citizens have a right to know about "something that left such a scar in this nation's soul that lost not only a president but a promise of a brighter future."
"I think for the good of the country, everything has to be put out there so there's a greater understanding of our history," he said.
9/11: FBI Declassified Memo on Saudi Complicity in the Plot. But doesn't Unveil Mysteries on Israel and CIA Covering
Biden's decision to hold back records that were set to be declassified in 2017, and postponed for four years by former President Donald Trump, creates a "tendency to distrust government in general," according to Patrick Kennedy.
"We're living in a time of a lot of conspiracy theories… there's a whole lot of bureaucratic obfuscation. Every agency needs to exercise their own right to redact certain portions [of the records], which you know is what fuels the whole conspiracy theory." Kennedy Jr. allegedly agreed with his late father's belief that his uncle was assassinated as part of a broader conspiracy.
British Medical Journal Contested FDA for "Political Decision" on Full Approval of Pfizer Vaccine without Public Discussion of Data
The Biden administration recounted the "significant impact" of the COVID-19 pandemic as a cause for slowing down the process of reviewing whether redactions continue to meet the "statutory standard" — triggering the Kennedy nephews to comment on the prolonged release of the records.
In a written statement as part of the memo, the White House promised that the "public will have access to a tranche of previously withheld records and redacted information withheld in previously released records," in a little over a year on December 15, 2022.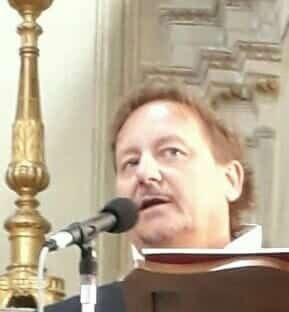 Fabio is Director and Editor of Gospa News; a Christian Information Journal.
Fabio Giuseppe Carlo Carisio, born on 24/2/1967 in Borgosesia, started working as a reporter when he was only 19 years old in the alpine area of Valsesia, Piedmont, his birth region in Italy. After studying literature and history at the Catholic University of the Sacred Heart in Milan, he became director of the local newspaper Notizia Oggi Vercelli and specialized in judicial reporting.
For about 15 years he is a correspondent from Northern Italy for the Italian newspapers Libero and Il Giornale, also writing important revelations on the Ustica massacre, a report on Freemasonry and organized crime.
With independent investigations, he collaborates with Carabinieri and Guardia di Finanza in important investigations that conclude with the arrest of Camorra entrepreneurs or corrupt politicians.
In July 2018 he found the counter-information web media Gospa News focused on geopolitics, terrorism, Middle East, and military intelligence.
His articles were published on many international media and website as SouthFront, Reseau International, Sputnik Italia, United Nation Association Westminster, Global Research, Kolozeg and more…
His investigations was quoted also by The Gateway Pundit, Tasnim and others
He worked for many years for the magazine Art & Wine as an art critic and curator.
ATTENTION READERS
We See The World From All Sides and Want YOU To Be Fully Informed
In fact, intentional disinformation is a disgraceful scourge in media today. So to assuage any possible errant incorrect information posted herein, we strongly encourage you to seek corroboration from other non-VT sources before forming an educated opinion.
About VT
-
Policies & Disclosures
-
Comment Policy
Due to the nature of uncensored content posted by VT's fully independent international writers, VT cannot guarantee absolute validity. All content is owned by the author exclusively. Expressed opinions are NOT necessarily the views of VT, other authors, affiliates, advertisers, sponsors, partners, or technicians. Some content may be satirical in nature. All images are the full responsibility of the article author and NOT VT.