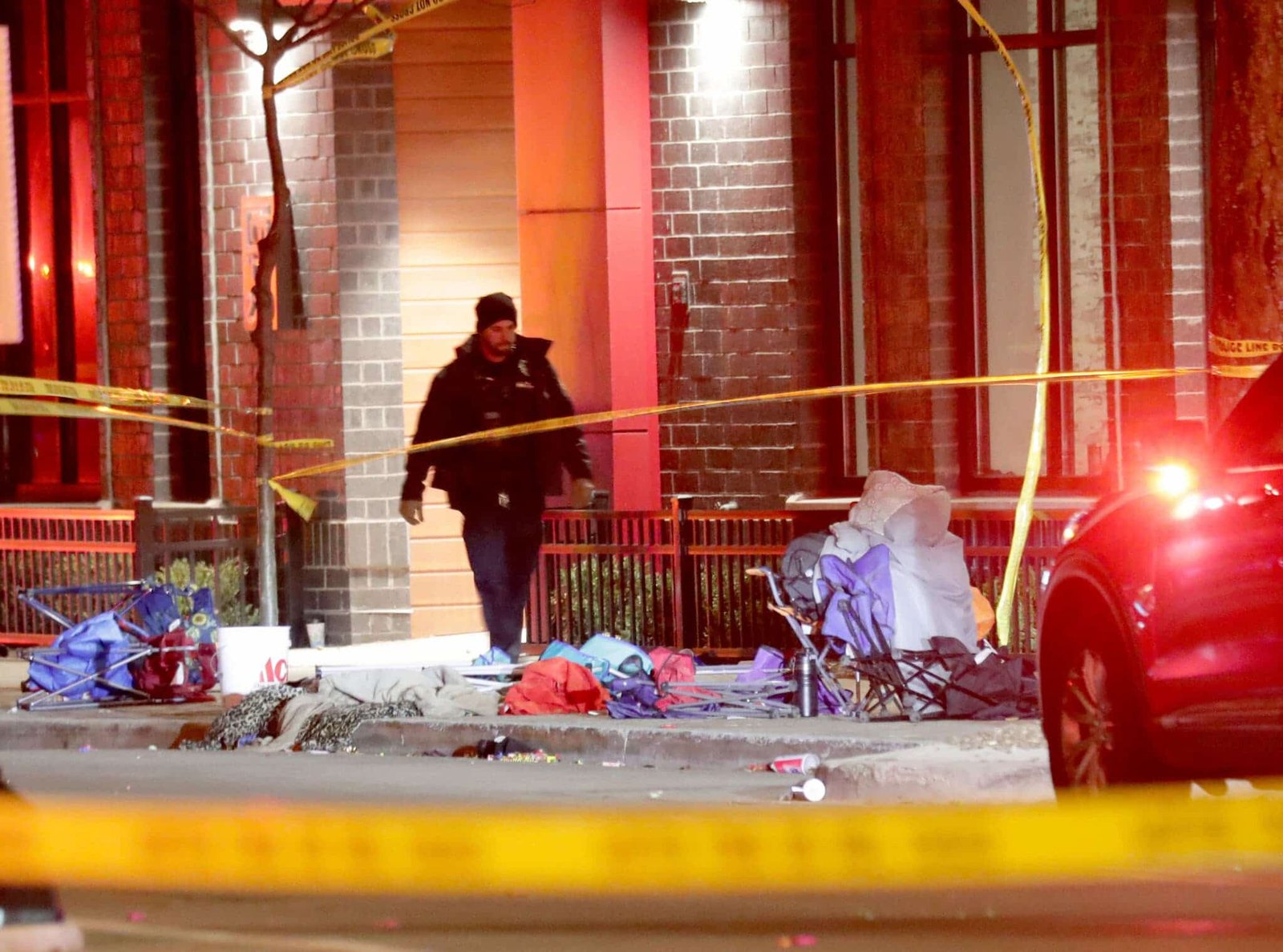 Driver of rampaging SUV that tore through Waukesha Christmas parade leaving at least FIVE dead and 40 injured was 'fleeing a knife crime': Cops hunt 'second suspect' after taking one person into custody and refuse to rule out terror
…from The Daily Mail
[ Editor's Note: Another senseless mass killing where we all know that, with the US having entire sewer of such people, copycat versions of this will be possible, and require a whole different attitude toward such events and the increased security they will require.
This guy has a long rap sheet, too much to cover here, but a couple of links below. Here is one of his tweets:
I will attempt a translation: "…we start back by knoking the white people THE FUCK out ???, I wanna hear it…(and) the old white people, too. KNOCK them TO FUCK OUT !! PERIOD.
So far we have not heard from his mother, siblings, children, co-workers, school mates, gang mates, etc… to fill us in a little more.
I am not being hysterical here, but talking about having town cops handling close in security and then more heavily armed highway patrol people on access roads for a wider buffer, with long guns that can really only be used when a car killer can be safely engaged, not after he has blown past you and the cops have to fire from behind.
Even if you had the ability to deploy spike strips, YouTube is full of chase scenes were spike stripped perps just continue on at a slower speed.
But this story has a second shocker. Maybe I have been in a semi-coma for a long time but I had no idea that there is a special Federal team that quickly moves in to handle all of the public 'messaging' for such event, the cross racial ones.
The local police top figures still handle the microphone work, but they are following a federal script. We will see if this subplot gets deeper coverage or is swept under the rug.
I remember Sandy Hook had an earlier version of this. I was watching a day after a short outside press conference, and then heard the astounding announcement that they were not planning any more updates on what had happened until the investigation had been completed.
I waited the next day to hear the news media howl about this, and that did not happen. Someone with some major juice had stepped in to lock the media down. Here is what I found on the media handling:
Local law enforcement will be "guided" by federal officers from the DOJ-CRS and FBI.  Due to the sensitivity of the issues, the messaging will come directly from the DOJ-CRS through the local officials and public information officers.  The Waukesha police chief is black, the CRS will make him the face of their words.
The CRS, also known as the "Federal Peacekeepers", will bring faith-based leaders to the forefront now; it's their pattern.  The next appearance by investigative officials will contain preachers, ministers, and members of the faith community to try and blunt the racial motive.   The media will demand healing and forgiveness for the attack.
Obviously the media and political hypocrisy will be thick. If the races were reversed, it would be a full frontal assault on white males.  However, in this instance the narrative will be a demand to understand the mental frustration of a black male who has been victimized by the system and had no choice except to let out his anger.
The DOJ-CRS will also shape the information presented to media stakeholders who are also exposed by the motive of the attack.   The DOJ, DOJ-CRS, FBI, special interest groups and Big Tech allies will all work together to protect the media and politicians who manufactured the crisis that led to the racial attack.
Here are some links that went up after the event, oneliners grabbing what they could find on the perp online before it disappear. Some was already 'archived', having been cleaned off the Net.
https://archive.ph/VVFtE
https://threadreaderapp.com/thread/1462633167890751497.html
… Jim W. Dean ]

Jim's Editor's Notes are solely crowdfunded via PayPal
Jim's work includes research, field trips, Heritage TV Legacy archiving & more. Thanks for helping. Click to donate >>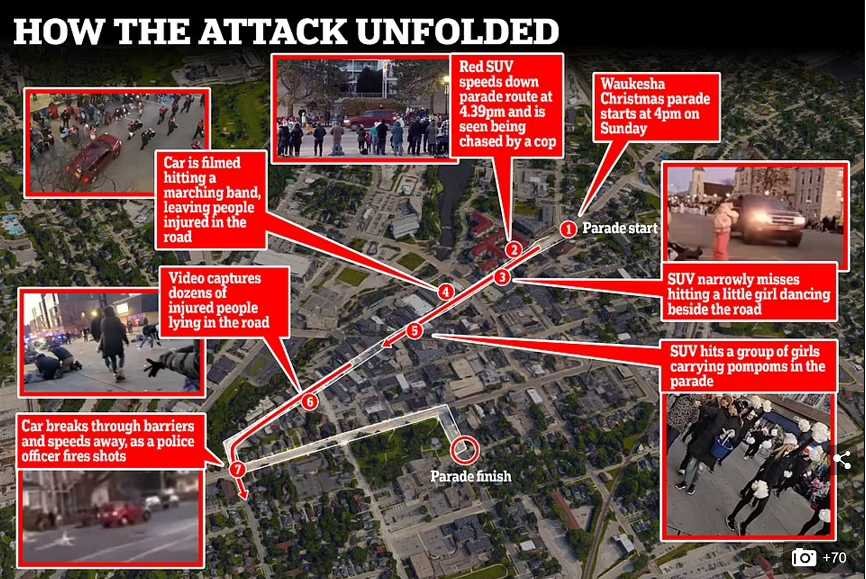 First published … November 22, 2021
Five people have been confirmed dead and 40 have been injured after SUV plowed into a Christmas parade 
Parade was underway in Waukesha, Wisconsin, when car broke through barriers at 4.40pm and hit crowds 
At least 12 children are among the injured, with elderly people and a priest also confirmed as being hurt
Police say a 'person of interest' is in custody but no arrests have been made and no motive has been disclosed
NBC reports that person has a long criminal history and was fleeing a knife fight at the time 
Officers say they have not discounted terrorism as a motive, but are also believed to be looking into the possibility the suspect was fleeing an earlier knife incident when he reached the parade route 
…Chief Thompson said one officer fired at the vehicle in an unsuccessful bid to stop it, with witnesses saying it sped along the parade route and did not slow down even as it hit a schoolgirls' dance troupe and elderly members of the Milwaukee Dancing Grannies, along with families sitting by the side of the road.
Dozens of pieces of footage – intended to capture joyous scenes from the annual event – ended up capturing the carnage instead, revealing the car traveled at least three blocks down the parade route before breaking through barriers and speeding away.
…Corey Montiho, a Waukesha school district board member, told the Milwaukee Journal Sentinel that his daughter's dance team – made up of girls aged between nine and 15 – was hit by the SUV.
'There were pom-poms and shoes and spilled hot chocolate everywhere. I had to go from one crumpled body to the other to find my daughter,' he said. 'My wife and two daughters were almost hit.
'I saw bodies flying. I ran down the parade route to find my girls. Addison, my daughter, heard someone yell 'car' and ran away. The girls right next to her were hit. 'I was there. It was little kids and families… evil is real, fight it every chance you get.'
Others described how a moment of silence as people stood in shock gave way to screams of terror and scenes of chaos as people ran to tend to the wounded.
…'What took place in Waukesha today is sickening, and I have every confidence that those responsible will be brought to justice,' tweeted the state's top law enforcement officer, Attorney General Josh Kaul.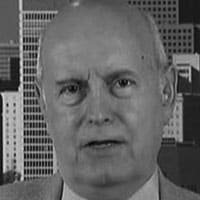 Jim W. Dean is VT Editor Emeritus.  He was an active editor on VT from 2010-2022.  He was involved in operations, development, and writing, plus an active schedule of TV and radio interviews.  He now writes and posts periodically for VT.
ATTENTION READERS
We See The World From All Sides and Want YOU To Be Fully Informed
In fact, intentional disinformation is a disgraceful scourge in media today. So to assuage any possible errant incorrect information posted herein, we strongly encourage you to seek corroboration from other non-VT sources before forming an educated opinion.
About VT
-
Policies & Disclosures
-
Comment Policy
Due to the nature of uncensored content posted by VT's fully independent international writers, VT cannot guarantee absolute validity. All content is owned by the author exclusively. Expressed opinions are NOT necessarily the views of VT, other authors, affiliates, advertisers, sponsors, partners, or technicians. Some content may be satirical in nature. All images are the full responsibility of the article author and NOT VT.