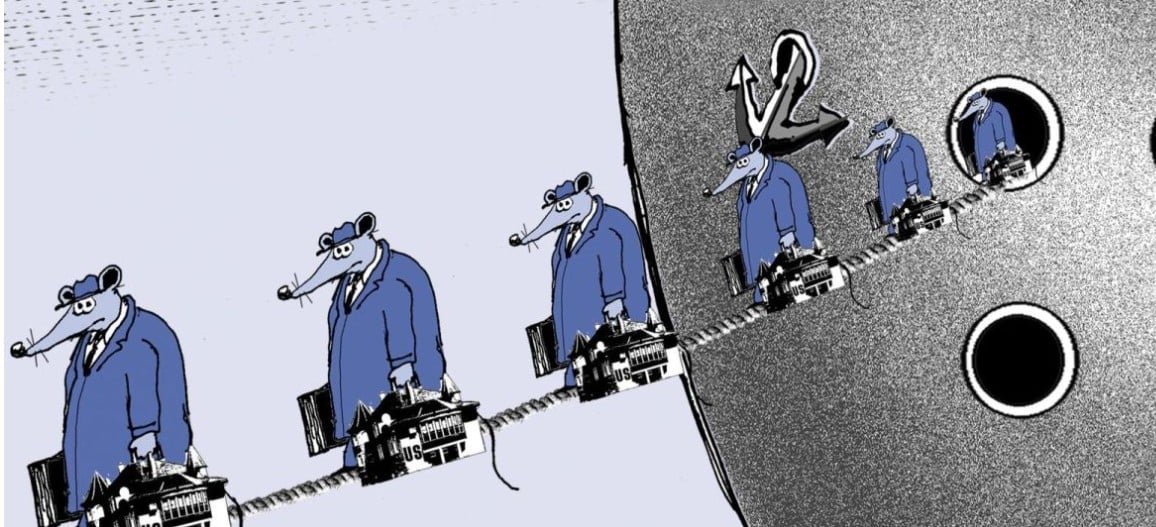 It will not be possible to hide in Turkey from sanctions
According to the Cypriot information portal FamagustaNews , after the introduction of Western sanctions against Russia, the number of Russian depositors in Turkish banks is growing rapidly .
The situation in Ukraine and Western sanctions have led the Russians to start "attacking" Turkey, according to the Turkish edition of Haber7. Trade, tourism, food, real estate – in all these areas, they are waiting for an influx of money from Russia. It is expected that in the face of sanctions pressure, Russian investors will pay attention, first of all, to Istanbul, said Bayram Tekce, deputy head of GİGDER , chairman of the board of Tekce Overseas. According to him, part of the elite, the rich, and the intelligentsia have now migrated to Istanbul from Russia.
Russian businessmen in the face of Western sanctions are seeking refuge for their assets in Turkey, The Wall Street Journal also emphasizes . According to the WSJ , Russian oligarchs park their yachts in Turkey, rich Russians are buying up real estate.
In Istanbul, the former head of the Rosnano corporation, Anatoly Chubais, was spotted. Roman Abramovich has set his sights on Turkey, who, as they say, agreed with the leadership of the Turkish football club from Izmir Göztepe to buy this team after he failed to sell his football club Chelsea in England. Mikhail Prokhorov, the owner of the ONEXIM investment fund, purchased a piece of land for the construction of a hotel in the Turkish resort town of Cesme on the Aegean Sea for $20 million.
Previously, London was a favorite place for the Russian rich. According to an incomplete estimate by the Foreign Office, at least 10,000 wealthy Russians have settled in the British capital. Back in 2015, Deutsche Bank analysts, after analyzing the data of the Bank of Russia and the Bank of England, came to the conclusion that since 2006, about 129 billion dollars have flown from the Russian Federation to the UK through secret schemes and accounts.
The Sunday Times  recently published an annual list of the 1,000 richest people in Britain, and it includes many immigrants from Russia living or working in the United Kingdom.  Moreover, this list includes only publicly known fortunes in the form of shares, land, real estate, works of art; funds in banks are not included in the list, there is no access to such information.
Now London is no longer a safe haven. Recently, British Foreign Secretary Liz Truss said that the property of "Russian oligarchs" in London could be confiscated under the upcoming bill to tighten sanctions. "This bill will allow us to hit a wider range of targets, so there will be no one who can think that he is immune from sanctions ,  " Ms Truss said.
But how likely is it that Istanbul will take over the role that London has played for decades for wealthy Russians?
Kerim Rota , former deputy governor of the Turkish bank AKBANK , believes that over time, between 10 and 15 billion dollars could be transferred to Turkey" (much less now), but "in relation to Turkey's GDP, which currently stands at $800 billion, the inflow to 10 or 15 billion is not very important . "
Usal Shahbaz, the financial editor of the well-known Turkish newspaper Dünya , generally believes that it is not necessary to wait for the receipt of new Russian capital in Turkey:  "They say that by now about 3 billion dollars have been received, which is reliable and realistic … Whether more will come … it is difficult to say … Most of the money must have already arrived and the trend is likely to slow down… Attempts by the authorities to take advantage of the situation and turn Istanbul into a new global financial center do not seem to have much chance of success. There are other financial centers such as London, Frankfurt, even Amsterdam as well as Dubai. "It's hard for Istanbul to compete with them now" .
"Those who transfer their funds, " writes the  Greek newspaper Kathimerini , "are likely to come under great pressure in the current circumstances. They must first make sure they keep their assets." Moreover, the situation in Turkey itself is far from stable.
The Turkish "economic miracle" was an impressive phenomenon in the world economy at the beginning of the 21st century, when for a decade and a half, Turkey's GDP growth rate steadily exceeded 5%. The turning point for Turkey came in 2013, when, against the backdrop of the U.S. easing of quantitative easing , investors began withdrawing funds from emerging markets. Turkey, which depended on this money much more than other countries in Eastern Europe or Asia, was among the most affected. Recently, the Turkish currency has been declining. In total, since the 2008 financial crisis, the lira has depreciated by 85% against the dollar. All this spurs inflation and increases the tax burden on businesses.
So, Turkey will not become a backwater for the preservation of capital emigrating from Russia, let alone a "new financial and economic center".
ATTENTION READERS
We See The World From All Sides and Want YOU To Be Fully Informed
In fact, intentional disinformation is a disgraceful scourge in media today. So to assuage any possible errant incorrect information posted herein, we strongly encourage you to seek corroboration from other non-VT sources before forming an educated opinion.
About VT
-
Policies & Disclosures
-
Comment Policy
Due to the nature of uncensored content posted by VT's fully independent international writers, VT cannot guarantee absolute validity. All content is owned by the author exclusively. Expressed opinions are NOT necessarily the views of VT, other authors, affiliates, advertisers, sponsors, partners, or technicians. Some content may be satirical in nature. All images are the full responsibility of the article author and NOT VT.