Introduction by Fabio Giuseppe Carlo Carisio for VT Europe
Before reading this article it must be remembered that the very powerful TOW anti-tank missiles sent by the Pentagon to 21 Islamic extremist groups in Syria during the MOM operation managed by the Central Intelligence Agency, the American counter-intelligence.
Many of these rocket launchers will in fact end up in the hands of formations linked to Al Qaeda (Al Nusra) or ISIS which, being financed by the Muslim Brotherhood of Qatar and Turkey, have always had great financial resources and strong protection within NATO.
Turkish papers: 21 Erdogan's jihadist militias supported by Cia, Pentagon and armed with TOW missiles
---
Interpol issues Ukrainian weapons warning
by Russia Today
The weapons that Washington and its allies send to Kiev are likely to end up in the global black market, Interpol Secretary General Juergen Stock said on Wednesday.
Criminal groups already have their eyes on these shipments, the official told the Anglo-American Press Association in Paris.
Stock urged Interpol member states to actively cooperate in tracing the arms delivered to Ukraine, adding that those who supply the weapons should play a major role in this effort. The Interpol chief also said he expects a wave of not just small arms, but heavy weapons to flood the international black market as soon as the conflict between Moscow and Kiev ends.
"Once the guns fall silent, the illegal weapons will come. We know this from many other theaters of conflict. The criminals are even now, as we speak, focusing on them," he said, adding that criminal groups would try to "exploit these chaotic situations" to get their hands on the armaments "used by the military and including heavy weapons."
"No country or region can deal with it in isolation because these groups operate at a global level," Stock warned. The Interpol chief also said that Europe might see a massive influx of illegal arms. He called for the establishment of a track and trace system for weapons sent to Ukraine, adding that they were "in contact with member countries to encourage them to use these tools."
When asked about Interpol's potential involvement in the investigation of alleged sanctions evasion and "money laundering" by Russian businessmen slapped with restrictions in the West, Stock said his organization neither investigates these issues nor participates in probes into alleged war crimes in Ukraine, since its mandate demands it maintain "strict neutrality" and avoid any political activities.
WAR CRIMES & DECEITS. ICC against Putin! Unpunished NATO Allies: Ukrainian Nazis as Bosnian Butcher, Jihadists General
"Our channels of communication remain open [to member countries] for an exchange of war crimes information. But we are not looking at war crimes; Interpol has no investigating powers," he said.
The US, along with allies such as Germany and the UK, have been steadily supplying Ukraine with weapons since the start of the conflict with Russia in late February. Most of the equipment has consisted of small arms and portable anti-tank and anti-air missiles, along with munitions and fuel.
On Wednesday, the US said it would sell Ukraine MQ-1C Gray Eagle combat drones capable of carrying up to eight Hellfire missiles. Slovakia's Defense Ministry announced on the same day that it would supply Kiev with self-propelled howitzers. The UK has previously said it was considering arming Ukraine with US-made multiple rocket launchers but needed Washington's approval first.
WAR-GAMES Escalation in Ukraine. Himars Rockets from US. Akatsiya Howitzers from Russia in Belarus. New Risks for Kiev?
The continued arms supplies have caused some law enforcement bodies to express concern about the fate of these weapons. In late May, Europol – the UE law enforcement agency – told German media that armaments delivered to Ukraine could end up in the hands of criminals. The agency's head, Catherine De Bolle, compared the present situation in Ukraine to that of the Balkans 30 years ago, when the Balkan War led to a massive influx of weapons to black markets.
"The weapons from that war are still being used by criminal groups today," De Bolle said.
Originally published by Russia Today
"Al Nusra (Al Qaeda) Terrorists Funded by Qatar". Scotland Yard Investigates. Syrian Refugees' and American Reporter's Lawsuits against Doha's banks
WEAPONS LOBBY – 5. NWO's Warfare Plan against Russia and Counter-Information. CEPA Project from Washington with NATO-EU & Defense Corporations
WEAPONS LOBBY – 4. UK and Italy in the hands of Qatar's Muslim Brotherhood: Rothschild partner and Jihadists' funder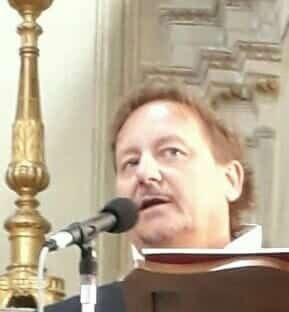 Fabio is Director and Editor of Gospa News; a Christian Information Journal.
Fabio Giuseppe Carlo Carisio, born on 24/2/1967 in Borgosesia, started working as a reporter when he was only 19 years old in the alpine area of Valsesia, Piedmont, his birth region in Italy. After studying literature and history at the Catholic University of the Sacred Heart in Milan, he became director of the local newspaper Notizia Oggi Vercelli and specialized in judicial reporting.
For about 15 years he is a correspondent from Northern Italy for the Italian newspapers Libero and Il Giornale, also writing important revelations on the Ustica massacre, a report on Freemasonry and organized crime.
With independent investigations, he collaborates with Carabinieri and Guardia di Finanza in important investigations that conclude with the arrest of Camorra entrepreneurs or corrupt politicians.
In July 2018 he found the counter-information web media Gospa News focused on geopolitics, terrorism, Middle East, and military intelligence.
His articles were published on many international media and website as SouthFront, Reseau International, Sputnik Italia, United Nation Association Westminster, Global Research, Kolozeg and more…
His investigations was quoted also by The Gateway Pundit, Tasnim and others
He worked for many years for the magazine Art & Wine as an art critic and curator.
ATTENTION READERS
We See The World From All Sides and Want YOU To Be Fully Informed
In fact, intentional disinformation is a disgraceful scourge in media today. So to assuage any possible errant incorrect information posted herein, we strongly encourage you to seek corroboration from other non-VT sources before forming an educated opinion.
About VT
-
Policies & Disclosures
-
Comment Policy
Due to the nature of uncensored content posted by VT's fully independent international writers, VT cannot guarantee absolute validity. All content is owned by the author exclusively. Expressed opinions are NOT necessarily the views of VT, other authors, affiliates, advertisers, sponsors, partners, or technicians. Some content may be satirical in nature. All images are the full responsibility of the article author and NOT VT.