by Fabio Giuseppe Carlo Carisio
After the pandemic, caused by a SARS-Cov-2 virus created in the laboratory in a deal between the old China (that of the communist gang of Shanghai) and the US of the Obama-Biden administration with the help of the European Commission, and after the war in Ukraine I opposing world blocs are opening up to new alliances.
WUHAN-GATES – 49. SARS-2 BIoWeapon: EU Commission Hides the Truth on Experiments Funded in China with USAID-CIA
But while the European Union has expressed its intention to welcome Ukraine and Moldova, with all the development problems that these countries bring with them (especially because the gas-rich Donbass is more and more under the control of the Russian army), the BRICS alliance is ready to welcome two world powers such as Iran and Argentina.
WEAPONS LOBBY – 6. Third World War Warnings! UK, Nato, US & Zelensky threaten Russia and China
If these new synergies are successful, on the one hand, they will increase the strategic military power of NATO, the true director of the EU, in Eastern Europe but on the other hand, they will make the alliance between Brazil, Russia, India, China, and South Africa an even stronger economic power that will allow the New Development Bank, the financial instrument of Brics, to question the economic monopoly of the IMF (International Monetary Fund).
UKRAINE AND MOLDOVA CANDIDATES TO JOIN EU
Heads of state of the European Union have decided to grant Ukraine and Moldova the status of candidates to join the bloc, President of the European Council Charles Michel said as the EU held a summit on Thursday, according to TASS Russian News agency.
"Agreement. EUCO has just decided EU candidate status to Ukraine and Moldova," he said on Twitter, using the acronym for the European Council.
From Fatima to Ukraine. The Useless Lesson of Peace by Pope Wojtyla to Christians that want Weapons and War
"A historic moment," he said. "Today marks a crucial step on your path towards the EU. Our future is together." The official congratulated the leaders of Ukraine and Moldova.
Regarding Georgia, the European Council "decided to recognize the European perspective of Georgia and is ready to grant candidate status once the outstanding priorities are addressed," Michel said.
IRAN AND ARGENTINA SEE POTENTIAL IN BRICS BLOC
The Islamic Republic of Iran has officially submitted its application to join the group of five leading economies made up of Brazil, Russia, India, China, and South Africa, the foreign ministry in Tehran announced on Monday. The move comes after the Iranian president addressed the BRICS summit last week Russia Today wrote.
While BRICS is not a treaty bloc, it has a "very creative mechanism with broad aspects," Iranian Foreign Ministry spokesman Saeed Khatibzadeh said on Monday, according to the Tasnim news agency. He added that Tehran has already had "a series of consultations" with BRICS about the application.
Iran's membership would "add value" for everyone involved, said Khatibzadeh, noting that BRICS members account for up to 30% of the world's GDP and 40% of the global population. 
South Asia's Arab Spring: Protests amid Hybrid Economic War in Pakistan and Sri Lanka
On Friday, Iranian President Ebrahim Raisi addressed the BRICS virtual summit hosted by China and expressed Tehran's readiness to share its capabilities and potential with the group.
Argentina has also applied to join BRICS. President Alberto Fernandez on Friday urged the creation of cooperation mechanisms that could represent the alternative to ostensibly private institutions run by – and in the interest of – the West.
During the session on Wednesday, Russian President Vladimir Putin said that the five-member group was working on setting up a new global reserve currency "based on a basket of currencies of our countries."
In 2006, the foreign ministers of Brazil, Russia, India, and China met for the first time on the sidelines of the UN General Assembly, marking the beginning of BRIC cooperation. In June 2009, the BRIC leaders held their first meeting in Russia, upgrading BRIC cooperation to the Summit level. In 2011, with South Africa officially becoming a member, BRIC was enlarged to BRICS. Since 2009, the BRICS leaders have convened 13 formal meetings and 9 informal meetings.
THE BRICS RECENT SUMMIT
On the evening of June 24, Chinese President Xi Jinping chaired the High-level Dialogue on Global Development in Beijing via video link and delivered important remarks.
President Abdelmadjid Tebboune of Algeria, President Alberto Fernández  of Argentina, President Abdel Fattah El-Sisi of Egypt, President Joko  Widodo of Indonesia, President Seyyed Ebrahim Raeisi of Iran, President  Kassym-Jomart Tokayev of Kazakhstan, President Vladimir Putin of Russia, President Macky Sall of Senegal, President Cyril Ramaphosa of South  Africa, President Shavkat Mirziyoyev of Uzbekistan, Vice President Hamilton Mourão of Brazil, Prime Minister Hun Sen of Cambodia, Prime  Minister Abiy Ahmed Ali of Ethiopia, Prime Minister Josaia Voreqe  Bainimarama of Fiji, Prime Minister Narendra Modi of India, Prime Minister Ismail Sabri Yaakob of Malaysia, and Prime Minister Prayut Chan-o-cha of Thailand attended the Dialogue.
Focusing on the theme "Foster a Global Development Partnership for the New Era to Jointly  Implement the 2030 Agenda for Sustainable Development", leaders of all countries had an in-depth exchange of views on such major issues as  strengthening international development cooperation and accelerating the  implementation of the UN's 2030 Agenda for Sustainable Development.
They discussed ways to promote development cooperation and reached wide important common understandings.
THE CHINA GOALS
President Xi stressed that China has always  been a member of the big family of developing countries. China will take pragmatic steps to give continued support to the 2030 Agenda for Sustainable Development, according to the China BRICS website.
China will allocate more resources for global development cooperation. We will upgrade the South-South Cooperation Assistance Fund to a Global Development and South-South Cooperation Fund. We will also increase input to the UN Peace and Development Trust Fund. Such efforts will further support cooperation under the Global Development Initiative (GDI).
WUHAN-GATES 43. SARS-BioWeapon & Shady Conspirators of China-US-WHO-EU Pandemic. Clinton & the Exterminator of Tiananmen
China will work with all sides to advance cooperation in priority areas and mobilize resources for development to deepen global cooperation on poverty reduction and eradication, build capacity for food production and supply, promote clean energy partnerships; step up innovation, research and development, and joint production of vaccines; work on the conservation and sustainable use of land and marine ecology; and raise digital literacy and skills of the public, transform and upgrade the path to industrialization at a faster pace, and enhance connectivity in the  digital era to inject new impetus into the development of all countries.
China will set up a platform for experience and knowledge sharing on  international development, a global development promotion center, and a global knowledge network for development, for the purpose of exchanging  governance experience. We will host a global forum on youth development  and take part in the launch of a global action plan on youth  development, in a bid to pool as much strength as possible for the  implementation of the 2030 Agenda for Sustainable Development.
THE PUTIN STATEMENT DURING BRICS
Attempts to hinder the development of the states that are unwilling to live according to somebody's rules and the reckless use of illegal sanctions instruments, compounded by the consequences of the coronavirus pandemic, have aggravated the downturn in the global economy the Russian President Vladimir Putin said during the Brics summit.
«Global trade is deeply mired in disputes, the settlement of which is deviating increasingly further from WTO norms and principles. Our colleagues mentioned the WTO today, but we know well what turns the situation within that organization has taken over the past years. The international monetary system is being destabilized, and industrial, logistics and investment chains are being broken».
PUTIN CELEBRATES THE VICTORY. "War in Ukraine against Nazis and NATO Plans". Nuclear Nightmare for NWO
«Rapid price increases for food, energy, and commodities are having a serious socioeconomic effect, especially on the development of countries in Asia, Africa, Latin America, and the Middle East. Colleagues and friends, I would like to stress once again: this is not the result of the past few months and by no means a consequence of Russia's special military operation to protect Donbass the new Tsar added.
Once again, this jump in inflation did not happen yesterday. It has been happening over the past several years as a result of the long-term, and I want to stress this, the irresponsible macroeconomic policy of the G7 countries, uncontrolled money creation, and accumulated unsecured debts. This process was accelerated by the pandemic when both the supply and demand for goods and services drastically dropped on a global scale».
«The food market has been disrupted most severely. I said this at the recent St Petersburg International Economic Forum, and I want to say it again: they printed money, distributed it in their wealthy countries, and, as a vacuum cleaner, started scooping up all the food from the global market. Only recently, the United States was a food exporter – a net exporter – but now, I think, their imports are about US$17 billion more than their exports. This is a dismal indicator for food markets around the world»
EU is Losing Energy War against Russia! Oil Embargo Failed. Instead Gas Price Triple In Winter… Analysts Forecast
Meanwhile, the soaring cost of essential agricultural commodities such as grain has hit the developing countries and markets the hardest as this is where bread and flour are vital for the survival of most of the population. I think it was French Queen Marie Antoinette who, looking over a crowd of starving citizens from her palace, reportedly said with indifference: "If they have no bread let them eat cake." Putin further said.
«This is the same cynicism that certain Western countries are now showing by destabilizing the global production of agricultural products and dealing with this matter by restricting, for example, supplies of Russian and Belarusian fertilizers and impeding exports of Russian grain to world markets. Speaking of which, we are expecting a good harvest. God willing, everything will be fine and, if we supply 37 million tonnes to the world market this year, we would most likely be able to supply 50 million tonnes of grain. However, it is becoming more difficult to ensure the transport that carries grain, bulk carriers, transactions under trade contracts, and so on.
CEDSL Group of Academics and Activists Demands Debt Cancellation to Save Sri Lanka
«At the same time, they are artificially fuelling hysterics over, say, the suspension of Ukrainian grain shipments via Black Sea ports. Meanwhile, according to American, and our, estimates, this is about 5 or 6 million tonnes of wheat plus 7 million tonnes of corn – this is something, but it does not resolve the problems in the world grain market».
«But that's not even the point. I have said publicly many times, and want to emphasize again, that Russia is not preventing the export of Ukraine's grain from its territory; we are ready to ensure safe passage of grain ships via international waters if, of course, the Ukrainian military demines the ports and nearby waters».
Fabio Giuseppe Carlo Carisio
© COPYRIGHT GOSPA NEWS
prohibition of reproduction without authorization 
follow Gospa News on Telegram
Mariupol Freed from the Zelensky's Nazis Satanists. Putin conquers the Military Target and Shows the True Face of the Kiev Partisans (video)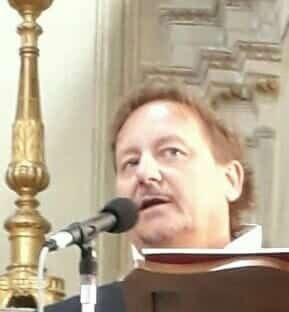 Fabio is Director and Editor of Gospa News; a Christian Information Journal.
Fabio Giuseppe Carlo Carisio, born on 24/2/1967 in Borgosesia, started working as a reporter when he was only 19 years old in the alpine area of Valsesia, Piedmont, his birth region in Italy. After studying literature and history at the Catholic University of the Sacred Heart in Milan, he became director of the local newspaper Notizia Oggi Vercelli and specialized in judicial reporting.
For about 15 years he is a correspondent from Northern Italy for the Italian newspapers Libero and Il Giornale, also writing important revelations on the Ustica massacre, a report on Freemasonry and organized crime.
With independent investigations, he collaborates with Carabinieri and Guardia di Finanza in important investigations that conclude with the arrest of Camorra entrepreneurs or corrupt politicians.
In July 2018 he found the counter-information web media Gospa News focused on geopolitics, terrorism, Middle East, and military intelligence.
His articles were published on many international media and website as SouthFront, Reseau International, Sputnik Italia, United Nation Association Westminster, Global Research, Kolozeg and more…
His investigations was quoted also by The Gateway Pundit, Tasnim and others
He worked for many years for the magazine Art & Wine as an art critic and curator.
ATTENTION READERS
We See The World From All Sides and Want YOU To Be Fully Informed
In fact, intentional disinformation is a disgraceful scourge in media today. So to assuage any possible errant incorrect information posted herein, we strongly encourage you to seek corroboration from other non-VT sources before forming an educated opinion.
About VT
-
Policies & Disclosures
-
Comment Policy
Due to the nature of uncensored content posted by VT's fully independent international writers, VT cannot guarantee absolute validity. All content is owned by the author exclusively. Expressed opinions are NOT necessarily the views of VT, other authors, affiliates, advertisers, sponsors, partners, or technicians. Some content may be satirical in nature. All images are the full responsibility of the article author and NOT VT.