Introduction by Fabio G.C. Carisio
Despite the millionaire funding provided by the National Institute of Health and the consent of the influential LGBT Lobby that goes hand in hand with the New World Order, the Tavistock Center scandals on gender children led the authorities to choose closure.
Until yesterday it was the most important clinic in the world for the administration of Puberty Blockers, the drugs that prevent the development of sexual characteristics in children, from tomorrow it will be replaced by regional centers that will probably act more in the shadows before the problem of gender dysphoria which is often masked by cases of autism and other youthful personality disorders.
It was precisely the continuous defections of doctors and their own analyzes that brought out the very serious problems of the project which, after a historic ruling by the British judges, allowed the health workers themselves to initiate a boy to change gender despite the opposition of his parents. .
---
by BBC
The NHS is to close the UK's only dedicated gender identity clinic for children and young people.
Tavistock and Portman NHS Foundation Trust has been told to shut the clinic by spring after it was criticised in an independent review. Instead, new regional centres will be set up to "ensure the holistic needs" of patients are fully met, the NHS said.
The trust said it supported plans for a new model due to a rise in referrals. The changes will take place after an independent review, led by Dr Hilary Cass, said the Tavistock clinic needed to be transformed.
She said the current model of care was leaving young people "at considerable risk" of poor mental health and distress, and having one clinic was not "a safe or viable long-term option".
The new centres – one based in London and the other in the north west of England – should be fully open in spring 2023 and would run in conjunction with leading children's hospitals, including Great Ormond Street and Alder Hey.
Keira Bell, who brought a High Court case against Tavistock challenging its use of puberty blockers, said she was pleased it was closing, adding: "Many children will be saved from going down the path that I went down."
LGBT rights group Stonewall said it was pleased the NHS was addressing "unacceptable" waiting times faced by young trans people trying to access gender-identity healthcare.
The Tavistock has faced increasing pressure in recent years. There were rising referrals and a long waiting list but at the same time some former staff were raising concerns about the way it operated.
Then, former patient Keira Bell went to court saying she had not been challenged enough about her decision at 16 to take drugs that began her transition from female to male – a decision she later regretted.
Earlier this year, Dr Cass's report said there was a lack of understanding about why the type of patients the clinic was seeing was changing, with more female to male patients and more autistic children. Dr Cass also highlighted inconclusive evidence to back some of the clinical decision making.
FANCIULLI TRANSGENDER: "TOCCA AI MEDICI DECIDERE" NON A GENITORI O GIUDICI! Sentenza Shock sul caso della Ragazza-Maschio Pentita in UK
The clinic's imminent closure will be a source of worry for other young people wanting support with gender dysphoria. The hope is the services that replace it will be more helpful, useful and efficient.
The Tavistock clinic, named the Gender and Identity Development Service (GIDS), was launched in 1989 to help people aged 17 and under struggling with their gender identity.
But in 2020, questions about the service were raised after it was rated "inadequate" by inspectors, following concerns raised by whistleblowers and reported by BBC Newsnight.
CDC Directs Kids To Secretive Online Chat Space To Explore Sex Change Operations, 'Having Mulitiple Genders,' The Occult
The Cass review was commissioned in September 2020 amid the rise in demand, long waiting times for assessments and "significant external scrutiny" around GIDS' approach and capacity, the NHS said.
In an interim report earlier this year, Dr Cass said:
The service was struggling to deal with spiralling waiting lists
It was not keeping "routine and consistent" data on its patients
Health staff felt under pressure to adopt an "unquestioning affirmative approach"
Once patients are identified as having gender-related distress, other healthcare issues they had, such as being neurodivergent, "can sometimes be overlooked"
She then suggested introducing local hubs, writing that the current provider model "is not a safe or viable long-term option".
The number of people seeking the clinic's help is 20 times higher than it was a decade ago, jumping from 250 to 5,000 referrals in 2021, according to the service's statistics.
Catho-Dem Biden: Transgenders' Lover in Masonic Cult. Us President wants Them in Govt, Army and Female's Sports
This means the average person waits two years before they are seen by a specialist. The mother of a former Tavistock patient, who is not being named by the BBC, said there are "clear difficulties" in having one clinic to treat trans and gender-questioning people across the UK.
While her son "received excellent service from Tavistock," she said having one clinic to serve England and Wales has been failing children and their families.
She said: "It was a two-hour journey to the clinic each way, and that was easy for us. People are travelling from all over the UK for appointments, which is incredibly costly and time consuming. "Having regional and local services that are integrated and accessible has got to be a better thing."
In the case of Keira Bell. now aged 25, she was prescribed puberty blockers aged 16, then received testosterone shots a year later, and aged 20 had a double mastectomy. She later changed her mind over her decision to transition to male. She argued the clinic should have challenged her more over her decision to transition.
BAMBINI AUTISTICI "CAVIE" NELLA CLINICA TRANSGENDER col farmaco gratis in Italia
Puberty blockers, which can be used to put a pause on puberty while a young person thinks about their gender identity, were first introduced into transgender care by specialists in the Netherlands in 1988.
In Ms Bell's case, the High Court ruled under-16s lacked capacity to give informed consent to the treatment. This was later overturned by the Court of Appeal which ruled doctors could judge if under-16s could give informed consent to puberty blocker use.
Ms Bell told BBC Radio 4 World at One: "I went through a lot of distress as a teenager. Really I just needed some mental health support and therapy from everything that I've been through. There needs to be mental health support first and foremost."
Dr David Bell – not related to Keira Bell – is a former consultant psychiatrist at the Tavistock NHS Foundation Trust, where he raised concerns. He said it was a "good thing" the service was closing down.
DISNEY & RAI: LE PORTE DELL'INFERNO PEDOFILO. Sui Bambini Bombardamento Sessuale LGBT in Cartoon e Film. Arresti a Disneyland
Proper funding was needed for mental health services for children and adolescents, he said.
He told the BBC: "Some children have got the double problem of living with the wrong treatment, and the original problems weren't addressed – with complex problems like trauma, depression, large instances of autism."
A Stonewall spokesperson said: "The creation of new specialist regional centres in London and Manchester next year, with more to follow, will go some way to addressing the strain experienced by having just a single, centralised service."
A spokesperson for the Tavistock said its staff had "worked tirelessly and under intense scrutiny in a difficult climate".
They added: "We are proud of them and thankful for their unrelenting patient focus and extraordinary efforts."
Dr Cass's review is ongoing, with her final report expected in 2023.
by Jasmine Andersson & Andre Rhoden-Paul
Originally published by BBC
---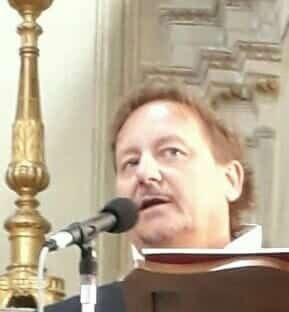 Fabio is Director and Editor of Gospa News; a Christian Information Journal.
Fabio Giuseppe Carlo Carisio, born on 24/2/1967 in Borgosesia, started working as a reporter when he was only 19 years old in the alpine area of Valsesia, Piedmont, his birth region in Italy. After studying literature and history at the Catholic University of the Sacred Heart in Milan, he became director of the local newspaper Notizia Oggi Vercelli and specialized in judicial reporting.
For about 15 years he is a correspondent from Northern Italy for the Italian newspapers Libero and Il Giornale, also writing important revelations on the Ustica massacre, a report on Freemasonry and organized crime.
With independent investigations, he collaborates with Carabinieri and Guardia di Finanza in important investigations that conclude with the arrest of Camorra entrepreneurs or corrupt politicians.
In July 2018 he found the counter-information web media Gospa News focused on geopolitics, terrorism, Middle East, and military intelligence.
His articles were published on many international media and website as SouthFront, Reseau International, Sputnik Italia, United Nation Association Westminster, Global Research, Kolozeg and more…
His investigations was quoted also by The Gateway Pundit, Tasnim and others
He worked for many years for the magazine Art & Wine as an art critic and curator.
ATTENTION READERS
We See The World From All Sides and Want YOU To Be Fully Informed
In fact, intentional disinformation is a disgraceful scourge in media today. So to assuage any possible errant incorrect information posted herein, we strongly encourage you to seek corroboration from other non-VT sources before forming an educated opinion.
About VT
-
Policies & Disclosures
-
Comment Policy
Due to the nature of uncensored content posted by VT's fully independent international writers, VT cannot guarantee absolute validity. All content is owned by the author exclusively. Expressed opinions are NOT necessarily the views of VT, other authors, affiliates, advertisers, sponsors, partners, or technicians. Some content may be satirical in nature. All images are the full responsibility of the article author and NOT VT.