On the cover image the American lawyer Asim Ghafoor and the murdered journalist Jamal Khashoggi
Introduction by Fabio Giuseppe Carlo Carisio
This new investigation by Murtaza Hussain into The Intercept raises disturbing new questions about the brutal killing of Washington Post journalist Jamal Khashoggi.
The journalistic investigation highlights the suspicion that one of the lawyers of the quartered Islamic activist in the Consulate of Saudi Arabia in Istanbul was arrested and detained in the United Arab Emirates because he knew too many secrets about his client's death.
This story brings to mind the testimony denounced by lawyer James Kreindler, a prominent New York attorney who represents thousands of 9/11 family members and survivors who are suing Saudi Arabia.
9/11 – The Avoidable Massacre Allowed by CIA. Helped Al Qaeda in Balkans, Obstructed FBI Investigations. Tribute to John O'Neill Killed in the Towers
He was the first to reveal that Khashoggi may have been killed because he knew too much about the 2001 Twin Towers bombing. Multiple investigations have shown he is the subject of an international conspiracy in which the US Central Intelligence Agency (CIA counterintelligence)  went to great lengths to obstruct the investigation of the Federal Bureau of Investigation which until the end tried to avoid the massacre.
All links to Gospa News articles have added aftermath
---
WHY IS THE UAE DETAINING AN AMERICAN LAWYER WHO WORKED WITH JAMAL KHASHOGGI?
by The Intercept 
SINCE THE AMERICAN lawyer Asim Ghafoor was arrested in July while trying to make a connecting flight in the United Arab Emirates, his supporters in Washington, D.C., have been speculating as to exactly why.
Emirati authorities detained Ghafoor on accusations of money laundering and tax evasion while he was catching a connecting flight, informing him that he had also been secretly tried, convicted, and sentenced in absentia. Because of the UAE's opaque legal system, many observers are suspicious that ulterior political motives led to his arrest. One theory stands out — and it has to do with the UAE's close alliance with Saudi Arabia.
Ghafoor was associated with the murdered Washington Post columnist Jamal Khashoggi, whose brutal killing embarrassed the Saudi crown prince and damaged his ties with the U.S. Coupled with the UAE and Saudi Arabia'sshared history of retaliating against critics — with the most infamous case in the West so far being Khashoggi himself — suspicions now suggest that this is what happened to Ghafoor.
Italy Halts Bombs for UAE-KSA used in Yemen. Years after Protests against BlackRock's Fundings
Ghafoor and Khashoggi's relationship is widely described as both a personal and professional one. Newspaper editorials, members of Congress, a statement by the D.C.-based advocacy organization Ghafoor co-founded with Khashoggi, and Ghafoor's own attorney have all referred to Ghafoor as Khashoggi's lawyer. "He previously represented Khashoggi as well as his fiancée, Hatice Cengiz," The Associate Press reported of Ghafoor.
That relationship between the two men has been called into question by at least one source: Khashoggi's widow, Hanan Elatr.
That there are close ties between the two men is not in dispute. Ghafoor helped the Saudi exile found the organization Democracy for the Arab World Now, or DAWN, the Washington-based foreign policy advocacy organization that issued a statement about the case. Yet Elatr has strongly denied the characterization that Ghafoor worked directly as a lawyer for Khashoggi.
Khashoggi Murder: "He Knew Too Many Saudi Secrets on 9/11 Massacre". US Intelligence Accused MBS but Concealed Motive
"I wish Mr. Ghafoor well, but he was not the lawyer of my husband," Elatr told The Intercept in an interview. "My husband did not have any legal issue that he needed a lawyer." Elatr, who was herself detained in the UAE on two occasions, including once after Khashoggi's death, has been critical of what she described as attempts to politicize his legacy.
Others close to Ghafoor, however, including his U.S.-based lawyer Faisal Gill, said that questions about the exact legal relationship between the two men are a "red herring," since Ghafoor was known to have provided ongoing legal advice to Khashoggi in the context of their relationship as co-founders of DAWN. DAWN, for which Ghafoor continues to serve on the board, regularly criticizes arms sales and human rights abuses in Saudi Arabia and the UAE.
"At the end of the day, Asim was one of the founders of DAWN, along with Jamal Khashoggi."
"At the end of the day, Asim was one of the founders of DAWN, along with Jamal Khashoggi," Gill said. "Asim regularly talked to him and advised him on different things, and he has also been integrally involved in the lawsuit filed over Jamal's killing. Asim signed the contract that created DAWN, which Jamal Khashoggi also signed and that got him killed. He's been involved in this entire matter since the beginning."
Since Khashoggi's murder, Ghafoor has also been part of DAWN's legal team in its lawsuit against Saudi Crown Prince Mohammed bin Salman, who is believed to have ordered Khashoggi's killing. Gill is himself an attorney in the case, which is ongoing.
Five death sentences for Khashoggi murder. The Saudi consul acquitted and released
A declaration by Ghafoor filed in federal court last year as part of the lawsuit against the Saudi crown prince describes Ghafoor as a board member involved in the initial establishment of DAWN, stating that he had also "negotiated an agreement with Jamal Khashoggi for him to serve as the executive director of DAWN" in May 2018. The declaration claimed that Khashoggi's murder had a chilling effect on the organization.
"Mr. Khashoggi's murder caused significant budgetary shortfalls for DAWN because donors reneged on commitments to financially support DAWN due to fear of retribution from the defendants in this case," the declaration said.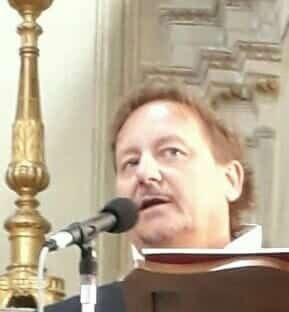 Fabio is Director and Editor of Gospa News; a Christian Information Journal.
Fabio Giuseppe Carlo Carisio, born on 24/2/1967 in Borgosesia, started working as a reporter when he was only 19 years old in the alpine area of Valsesia, Piedmont, his birth region in Italy. After studying literature and history at the Catholic University of the Sacred Heart in Milan, he became director of the local newspaper Notizia Oggi Vercelli and specialized in judicial reporting.
For about 15 years he is a correspondent from Northern Italy for the Italian newspapers Libero and Il Giornale, also writing important revelations on the Ustica massacre, a report on Freemasonry and organized crime.
With independent investigations, he collaborates with Carabinieri and Guardia di Finanza in important investigations that conclude with the arrest of Camorra entrepreneurs or corrupt politicians.
In July 2018 he found the counter-information web media Gospa News focused on geopolitics, terrorism, Middle East, and military intelligence.
His articles were published on many international media and website as SouthFront, Reseau International, Sputnik Italia, United Nation Association Westminster, Global Research, Kolozeg and more…
His investigations was quoted also by The Gateway Pundit, Tasnim and others
He worked for many years for the magazine Art & Wine as an art critic and curator.
ATTENTION READERS
We See The World From All Sides and Want YOU To Be Fully Informed
In fact, intentional disinformation is a disgraceful scourge in media today. So to assuage any possible errant incorrect information posted herein, we strongly encourage you to seek corroboration from other non-VT sources before forming an educated opinion.
About VT
-
Policies & Disclosures
-
Comment Policy
Due to the nature of uncensored content posted by VT's fully independent international writers, VT cannot guarantee absolute validity. All content is owned by the author exclusively. Expressed opinions are NOT necessarily the views of VT, other authors, affiliates, advertisers, sponsors, partners, or technicians. Some content may be satirical in nature. All images are the full responsibility of the article author and NOT VT.