Jared Taylor is an interesting fellow. He is willing to live in a morally contradictory world, so long that that world supports his "racially conscious white" identity. In his book White Identity: Racial Consciousness in the 21st Century, he quotes approvingly a Finnish scholar by the name of Tatu Vanhanen saying, "Our behavioral predisposition to ethnic nepotism evolved in the struggle for existence because it was rational and useful."[1]
If the statement that behavioral predisposition to ethnic nepotism evolved in the struggle for existence is true, then maybe that explains why Jared Taylor hasn't said a thing about Israel's behavior with respect to the Palestinians, particularly when the Israeli army literally liquidated the Palestinians in 1948 and kicked them out of their land. Maybe that explains why Jared Taylor is still silent about the Israeli settlements. If one takes his argument seriously, then no one can say that Israel is doing something wrong because this is part of the "struggle for existence." Benjamin Netanyahu himself gave a lecture at the Dimona nuclear plant during which he declared:
"The weak crumble, are slaughtered and are erased from history while the strong, for good or for ill, survive. The strong are respected, and alliances are made with the strong, and in the end peace is made with the strong…"[2]
Whether Taylor and others like it or not, they are the intellectual children of Charles Darwin, which is to say they are bound to live in intellectual contradiction for the rest of their natural lives. Taylor extensively talks about behavior in the animal kingdom and uses that to draw the conclusion that humans are basically the same.[3] "Higher animals show the same tendencies," he tells us. "Chimpanzees are our nearest living relatives, and offer hints as to how our distant ancestors may have behaved."[4] Taylor certainly got this from his intellectual father, Charles Darwin, whose book (The Descent of Man) "broke down the traditional demarcation between humans as persons and animals as things."[5]
Taylor again doesn't tell us that animals like ants and bees and lions are not moral agents. When a lion jumps onto a poor deer and slaughters it, do we call that murder? As William Lane Craig rightly puts it, "When a great white shark forcibly copulates with a female, it forcibly copulates with her but it does not rape her — for there is no moral dimension to these actions. They are neither prohibited nor obligatory."[6]
Murder and rape only apply to human beings and not animals, and there is a huge difference. As Roger Scruton writes,
"Desmond's [the name of his horse] individuality is, compared with mine, a shallow thing. I am not merely an individual animal, in the way that Desmond is. I identify myself across time. I take responsibility for my past and make promises for the future: I lay claim to the world as a sphere of my own agency. And my doing this is an expression of the deep individuality that is part of the human condition—which is the condition of the creature that can say 'I.'"[7]
Therefore, it is really invalid to compare humans and animals when it comes to moral behavior.[8] But since Taylor is operating under a system which fundamentally cuts off teleology or purposefulness from its rightful matrix, he has intellectually (and perhaps deliberately) become blind.
Moreover, Taylor cannot tell his readers that, according to Darwinism's fundamental principle, whatever is, is right in the animal kingdom. As historian of science Paul Crook puts it, "Struggle and competition, violence, bloodshed and cruelty were the filtering mechanisms, crude, chancy, wasteful, by which species change and natural progress occurred."[9]
In other words, according to the Darwinian mechanism, there cannot be "progress" without violence, bloodshed, and struggle. If Darwin is right, then "violence is a constant human potential, war is not aberrant and may even be commended as a biological necessity."[10] This was one reason why oligarchs like Andrew Carnegie and the Rockefellers embraced Darwinism.[11]
Jared Taylor on Israel
With respect to Israel, Taylor  has even more interesting things to say in 2012 when Israelis were deporting Africans: "We congratulate the Israelis on their vigorous measures to maintain the nation's character, and look forward to the day when our country can do the same."[12] Taylor concluded:
"The Israeli version of Operation Wetback is an unqualifiedly good thing for all racially conscious whites. We should support it, publicize it, and demand that our own governments act in the same manner. In this respect, Israel really can be, as it is written in the Book of Isaiah, 'a light unto the nations.'"[13]
Israel, in other words, is a perfect example "for all racially conscious whites." It doesn't matter whether the country liquidated the Palestinians in 1948 in order to get where it is at this present moment. It doesn't matter whether Israel has a history of assassinating perceived enemies.[14] It doesn't matter whether Israel has violated virtually every international law in the Middle East in order for this so-called "Jewish state" to exist.[15]
It doesn't matter whether the Israeli regime has politically bled America to death in the Middle East and then sent a six-trillion dollar bill to the American people.[16] It doesn't matter whether Israel has created, in the words of Israeli historian Ilan Pappe, "the biggest prison on earth," which is the occupied territories.[17] It doesn't matter whether Israeli historians like Benny Morris themselves admit that Israel specifically wiped out the indigenous population. Let us cite Morris in this regard:
A Jewish state would not have come into being without the uprooting of 700,000 Palestinians. Therefore it was necessary to uproot them. There was no choice but to expel that population. It was necessary to cleanse the hinterland and cleanse the border areas and cleanse the main roads. It was necessary to cleanse the villages from which our convoys and our settlements were fired on.[18]
Ethnic cleansing has been Israel's bloody history, and reputable Israeli historians have written extensively on this very issue.[19] This ethnic cleansing continues to this very day.[20] The Israeli settlements are classic examples. Ze'ev Maoz of the University of California, formerly of Tel-Aviv University, notes in Defending the Holy Land:
Israel has violated the spirit and text of the Oslo Accords by fundamentally changing the status quo through a widespread settlement policy… in 1993 there were about 110,000 settlers in the occupied territories. In 2001 there were 195,000 (Note that the number of settlers increased by 18 percent during the Al Aqsa Intifada). This was an increase of 73 percent under the guise of an agreement wherein Israel committed itself not to change the territorial status quo.[21]
According to Maoz, the settlements were a stumbling block to peace in the Middle East. In fact, "the settlement policy was self-defeating…By building new settlements and authorizing new construction in the existing ones, the Israeli government effectively engaged in a self-defeating process that would tie their hands in the final status agreements."[22] Now let us bring in Gilad Sharon, son of Ariel Sharon. He wrote in the Jerusalem Post that Israel needs to completely wipe out the people in Gaza:
"There should be no electricity in Gaza, no gasoline or moving vehicles, nothing… Were this to happen, the images from Gaza might be unpleasant – but victory would be swift, and the lives of our soldiers and civilians spared…We need to flatten entire neighborhoods in Gaza. Flatten all of Gaza. The Americans didn't stop with Hiroshima – the Japanese weren't surrendering fast enough, so they hit Nagasaki, too…
"There is no middle path here – either the Gazans and their infrastructure are made to pay the price, or we reoccupy the entire Gaza Strip. Otherwise there will be no decisive victory. And we're running out of time – we must achieve victory quickly… This needs to end quickly – with a bang, not a whimper."[23]
How do white nationalists like Taylor deal with these issues? Do they write articles condemning the Israelis for violating the Oslo Accords? Do they appeal to the moral law to challenge Israel? Of course not. Taylor again cited Israeli Prime Minister Yitzhak Rabin to buttress his racialist ideas. Listen to Taylor very carefully:
Before he was assassinated, Israeli Prime Minister Yitzhak Rabin explained that what mattered most to him as an Israeli was that his country remain at least 80 percent Jewish. No one suggested that Mr. Rabin was a bigot or hate-monger — and of course he was not. He was merely stating the obvious: That if Israel ceased to be predominantly Jewish it would change in irreversible ways that would be intolerable to Jews.[24]
Why didn't Taylor crack open a history textbook even by Zionist historians or just read an objective report on what Rabin did before he made his vacuous statement? Benny Morris, one of Israel's leading Zionist historians, writes in his Cambridge text The Birth of the Palestinian Refugee Problem, 1947–1949 that Rabin signed an order to ethnically cleanse the towns of Lydda and Ramla (or Ramleh) back in July of 1948. The order stated explicitly that "The inhabitants of Lydda must be expelled quickly without attention to age…"[25]
This incident is widely known among historians of various stripes.[26] It is commonly known as the 1948 Palestinian exodus from Lydda and Ramla, or simply the Lydda Death March. The Palestinians called it al-Nakba, or the catastrophe. According to Israeli historian Ilan Pappe, it was a form of ethnic cleansing. Pappe adds: "The city had been the target of terrorist attacks by Jewish forces in the past; the first one had taken place on 18 February 1948, when the Irgun had planted a bomb in one of its markets that killed several people."[27]
Once the Israelis entered the city, says Pappe, "they started looting" the place. "The commander on the spot was Yitzhak Rabin. He recalled how Ben-Gurion had first called him in to his office to discuss the fate of both Lydda and Ramla: 'Yigal Alon asked: what is to be done with the population [in Lydda and Ramla]? Ben-Gurion waved his hand in a gesture that said: 'Drive them out!'"[28]
They drove the Palestinians out of their homes, and this was approved by "mainstream Zionist institutions and leaders."[29] Keep in mind that this incident happened during a heat wave, which ended up killing many refugees.[30] According to one historian, Rabin used his "break their bones" policy to wipe out the Palestinians.[31]
As Israeli writer Ari Shavit put it back in 2013 in the New Yorker: "Lydda is the black box of Zionism. The truth is that Zionism could not bear the Arab city of Lydda. From the very beginning, there was a substantial contradiction between Zionism and Lydda. If Zionism was to exist, Lydda could not exist. If Lydda was to exist, Zionism could not exist. In retrospect, it's all too clear."[32] How many people did the Israelis expel from Lydda and Ramla alone during that time? Between 50,000 to 70,000.[33]
Jewish professor Tamir Sorek of the University of Florida declares that by 1975, Rabin was still confiscating lands. In 1984, Rabin "led a heavy-handed policy in Lebanon that cost the lives of hundreds of Palestinians and Lebanese." He was so brutal that he was named "the cutthroat of Tel Aviv." Sorek continues: "From 1987 to 1990, still as Minister of Defense, Rabin implemented harsh measures for oppressing the Palestinian uprising in the West Bank and the Gaza Strip. Rabin was quoted frequently as having ordered the Israeli military in the early stages of the uprising to 'break the legs and bones' of the Palestinian rebels."[34]
The British newspaper The Independent declared that "Rabin was again responsible for eradicating traces of Arab habitation. After the 1967 war, while he was still chief of staff, the Israeli army bulldozed three Arab villages in the newly captured West Bank of the river Jordan."[35] Israel wanted Palestine all for itself. And Israeli leaders and officials wanted to kick the Palestinians out. As Joseph Weitz, director of the Jewish National Land Fund, explicitly put it then:
"Among ourselves it must be clear that there is no room for both people in this country… and there is no way besides transferring the Arabs from here to neighboring countries… We must not leave a single village, a single tribe."[36]
In order to accomplish this goal, Rabin launched Operation Dani, which ended up even violating Arab women. Amos Kenan, "who served as platoon commander of the IDF's 82nd regiment when it captured Ramle," later confessed that "at night, those of us who couldn't restrain ourselves would go into the prison compounds to fuck Arab women."[37] One journalist writes:
Palestinian historian Aref al-Aref, who interviewed survivors at the time, estimated that 350 people, mostly elderly and children, died of thirst and exhaustion as they marched eastward toward the Arab lines. The heat wasn't the only danger the refugees faced. Not content with stealing everything the fleeing Arabs left behind in their homes and businesses, Israeli soldiers had set up roadblocks and were searching and robbing refugees of their money, jewelry and other precious family heirlooms.[38]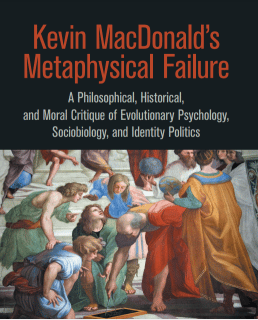 Moshe Dayan later conceded: "We came to this country, which was already populated by Arabs, and we established a… Jewish state here… Jewish villages were built in place of Arab villages. You do not even know the names of these Arab villages, and I do not blame you, because those geography books no longer exist. Not only do the books not exist, the Arab villages are not there either. Nahalal rose in place of Malalul; Givat in the place of Jibta; Sarid in the place of Haneifa, and Kfar Yehoshua in the place of Tell Shamon. There is not one place built in this country that did not have a former Arab population."[39]
So can Jared Taylor be serious when he summons Rabin to support his racialist thesis? Is he honest? Or is he blinded by his own ideology? Can Taylor's ideology be supported by morality?
This article is taken from Kevin MacDonald's Metaphysical Failure: A Philosophical, Historical, and Moral Critique of Evolutionary Psychology, Sociobiology, and Identity Politics.
---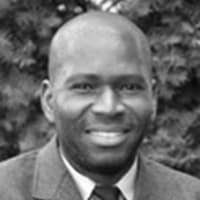 ATTENTION READERS
We See The World From All Sides and Want YOU To Be Fully Informed
In fact, intentional disinformation is a disgraceful scourge in media today. So to assuage any possible errant incorrect information posted herein, we strongly encourage you to seek corroboration from other non-VT sources before forming an educated opinion.
About VT
-
Policies & Disclosures
-
Comment Policy
Due to the nature of uncensored content posted by VT's fully independent international writers, VT cannot guarantee absolute validity. All content is owned by the author exclusively. Expressed opinions are NOT necessarily the views of VT, other authors, affiliates, advertisers, sponsors, partners, or technicians. Some content may be satirical in nature. All images are the full responsibility of the article author and NOT VT.