I have argued in the past that no philosophical, political or intellectual project can make sense without what Immanuel Kant called practical reason (the categorical imperative), and practical reason cannot really exist without metaphysical Logos, the essence of anything reasonable or rational in the universe.
I have also argued that any individual who ignorantly or deliberately dismisses or ignores practical reason in his project will inexorably end up propounding internal contradictions, incoherency, illogical leaps, and sometimes complete nonsense.
That's what happened to Darwin, and his intellectual children have never recovered from that categorical blunder. What essentially saved the philosophical projects of thinkers like Hegel is that they knew how Logos plays out in history and submitted themselves to it. Hegel himself called this "the cunning of reason."[1]
I have written numerous articles on these very issues.[2]But over the years I soon discovered that some observers, including the late William L. Pierce, progressively became victims of their own incoherent ideology largely because they started with the premise that morality plays next to no role in their enterprise.
The movements that these people founded are still failing miserably not because they were unable to produce people who understand the political climate, but rather because their metaphysical principles were built on irreconcilable contradictions. These irreconcilable contradictions eventually led their progenitors to their philosophical and intellectual death.
For example, Pierce began his book Who We Are (a compilation of essays and opinions, not a scholarly treatise) by saying, "In the Beginning was the Cosmos—and is and ever shall be. The Cosmos is the Whole, the All-encompassing."[3]
The statement explains nothing and is fraught with logical and philosophical errors. In fact, it goes against what modern science itself is now saying. To say that the universe "is and ever shall be" is a blatant denial that the universe began to exist, and to axiomatically assert that "in the beginning was the Cosmos" and then say that the Cosmos "is and ever shall be" is contradictory. If the Cosmos "is and ever shall be," then it makes no sense to assert that "in the beginning was the Cosmos."
Obviously, Pierce, who by the way was an assistant professor of physics at the Oregon State University, was unable to catch up with what mathematical physicists themselves were saying during his lifetime. As Stephen Hawking and Roger Penrose themselves acknowledged back in 1996: "almost everyone now believes that the universe, and time itself, had a beginning at the big bang."[4]
More recently, noted cosmologists Alex Vilenkin of Tufts University has stated: "It is said that an argument is what convinces reasonable men and a proof is what it takes to convince even an unreasonable man. With the proof now in place, cosmologists can no longer hide behind the possibility of a past-eternal universe. There is no escape, they have to face the problem of a cosmic beginning."[5]
Many scientists were bewildered by the discovery that the universe began to exist because it clearly pointed toward a conclusion they had been trying to avoid. Not only did it compel them to reconsider their theories, but it also implied a simple logical deduction: whatever begins to exist has a cause; the universe began to exist, therefore the universe has a cause.
If the universe has a cause, then that cause cannot be within the universe precisely because that would be contradictory. This evidently destroys pantheism, which states that God and nature are the same. If God and nature are the same, then we are back to a seemingly beginningless universe. The sad thing again is that William Pierce was a staunch pantheist, and he couldn't realize that the system itself violates both science and logic.
While physicist Paul Davies agrees that the scientific data (most specifically from his own fields of interest, which include mathematics, physics, and astronomy) suggest that the universe had a beginning, he rejects the conclusion of what British astronomer Sir Fred Hoyle would have called "a super-intellect" because, in his own words, "I never liked the idea of divine tinkering."[6]
Since the eternal universe hypothesis has now been widely abandoned because of its lack of scientific and logical rigor, we are left with two possible explanations: either the universe created itself, which is a contradiction in terms, or someone else did the job.
Unfortunately, many brilliant minds have fallen into the trap of what I call intellectual perversity. Philosopher Daniel Dennett declares in his book Breaking the Spell that the universe "creates itself ex nihilo," and that, he believes, is "the ultimate bootstrapping trick."[7]
Quite frankly, it is a bootstrapping trick, and Dennett gets stuck on that trick because he wants the origin of this "self-creation" to be "non-miraculous"—with no supernatural intervention at all.
Richard Dawkins said something quite similar. In answer to the question "How do you believe life itself began?," he responded, "The origin of life has got to be something self-replicating. We don't know what it was, but whatever it was, it was self-replicating." When the interviewer asked him to define what he meant by self-replicating, Dawkins said, "It has to grow and then split, so that it reproduces daughter units like itself."[8]
Stephen Hawking, in his recent book The Grand Design, ascribes to that hypothesis, saying, "Because there is a law of gravity, the universe can and will create itself out of nothing."[9] Peter Adkins of Oxford likewise gives allegiance to this principle, calling it the "Cosmic Bootstrap." For Adkins, "space-time generates its own dust in the process of its own self-assembly."[10]
These ideas are spurious when taken to their logical conclusions. As Oxford mathematician and philosopher of science, John C. Lennox notes in his critique of Hawking's view,
"If we say that 'X creates Y,' we presuppose the existence of X in the first place in order to bring Y into existence. That is a simple matter of understanding what the words 'X creates Y' mean. If, therefore, we say 'X creates X,' we imply that we are presupposing the existence of X in order to account for the existence of X.
"This is obviously self-contradictory and thus logically incoherent—even if we put X equal to the universe! To presuppose the existence of the universe to account for its own existence sounds like something out of Alice in Wonderland, not science."[11]
The "self-replicating" argument is important to many because it demonstrates how far some people are willing to bend reason and logic in order to justify their preexisting beliefs.
William Pierce was not exempt from the irrationality that pervades Darwinism, which Michael Ruse himself has now called a "religion."[12] He again posited that "We can look back some 15 billion years altogether, to a singular state of the Cosmos, when it existed as a primordial 'atom' of infinite temperature and density."[13]
Again, how is that an explanation for the existence of the universe and even atoms in the first place? How did we get from no atom to atom? Any serious logician will tell you that even if we go back far enough, it cannot be atoms all the way because this will lead to an infinite regress, which itself is absurd.
So Piece cannot summon atom in order to explain the very existence of the thing he is trying to prove. It is a circular argument. As our dear friend and cogent writer E. Michael Jones put it last October, "To say that 'Atoms formed' was the scientific equivalent to saying 'Shit happens.'"[14]
*******************************
What we are saying here is that William Pierce's project was not really grounded in practical reason or logical consistency but in an ideology that ended up crippling him philosophically and intellectually. This is why his book Who We Are is morally repugnant and practically worthless.
As E. Michael Jones again pointed out, you simply cannot have ethnos without Logos,[15] and people like Pierce were trying to erect an ideological edifice with no foundation in metaphysical Logos.
Since Pierce didn't ground his project in Logos, he quickly fell under the spell of racial/racist ideology, which is always the temptation when people become disillusioned with Zionism and Jewish subversive movements and at the same time embrace Darwinism, a system which is essentially incompatible with the moral order or practical reason.
Pierce's inability to see things the way they really are is quite disappointing, but that is to be expected in a way because his intellectual father, Darwin, deliberately ignored objective morality in his project as well.
According to Darwin, says historian of science Janet Browne, "The natural world has no moral validity and purpose…"[16] The concept of morality again was relative to Darwin.[17] It was not that he couldn't recognize morality as a vibrant part of human beings.[18] No, it was that he metaphysically rejected Logos and swiftly invented a system which did not allow him to see things the way they really are.
Darwin then began to slide into internal contradictions and inconsistencies very quickly.[19] "At some future period," he wrote in the Descent of Man, "not very distant as measured by centuries, the civilized races of man will almost certainly exterminate and replace throughout the world the savage races."[20]
If Darwin's "survival of the fittest" is true, they aren't the Zionists doing a good thing by exterminating what they see as "the savages"? If one can determine "the fittest" by "survivability," then people like William L. Pierce need to come to terms with the moral implications of Darwinism, which, as Darwinian philosopher James Rachels himself points out, challenge the very foundation of moral values and duties.[21] In a similar vein, noted philosopher of science Michael Ruse did not hesitate to write,
"I appreciate when somebody says 'Love thy neighbor as thyself,' they think they are referring above and beyond themselves…Nevertheless, to a Darwinian evolutionist, it can be seen that such reference is truly without foundation. Morality is just an aid to survival and reproduction…an ephemeral product of the evolutionary process, just as are other adaptations. It has no existence or being beyond this, and any deeper meaning is illusory."[22]
The late evolutionary biologist William Provine of Cornell University added: "Let me summarize my views on what modern evolutionary biology tells us loud and clear, and I must say that these are basically Darwin's views…There is no ultimate foundation for ethics, no ultimate meaning in life, and no free will for humans, either."
Take it from Darwin himself: "The natural world has no moral validity or purpose."[23] If Ruse and Provine are right, then people like Pierce are in trouble. More importantly, if Darwin is right, then people like Pierce should love the Zionists precisely because Darwin himself predicted that "the strongest" will win through perennial conflict. But because he was intellectually blind, Pierce didn't know that he was indirectly deconstructing Darwin by saying,
"In the end, though colonialism in its day had made some Englishmen very rich, nothing was left except the superstition and the softness. And because of that superstition and softness, it is now the Indians and the other conquered races who are colonizing England without opposition from the English."[24]
Well, should that be a problem to a consistent Darwinist? Pierce and others should have paid more attention to G. K. Chesterton, who forcefully argued:
"As a politician, [the new rebel] will cry out that war is a waste of life, and then, as a philosopher, that all life is waste of time. A Russian pessimist will denounce a policeman for killing a peasant, and then prove by the highest philosophical principles that the peasant ought to have killed himself. . . .
"The man of this school goes first to a political meeting, where he complains that savages are treated as if they were beasts; then he takes his hat and umbrella and goes on to a scientific meeting, where he proves that they practically are beasts.
"In short, the modern revolutionist, being an infinite skeptic, is always engaged in undermining his own mines. In his book on politics he attacks men for trampling on morality; in his book on ethics he attacks morality for trampling on men. Therefore the modern man in revolt has become practically useless for all purposes of revolt. By rebelling against everything he has lost his right to rebel against anything."[25]
*********************************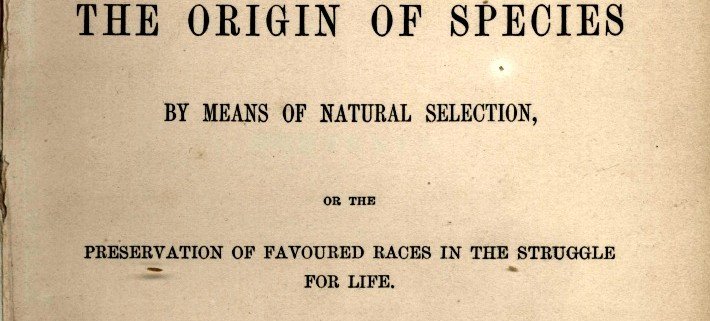 When the Origin of Species came out in 1859, a Manchester newspaper quickly realized that Darwin was implicitly perpetuating the idea that "might is right" and that "every cheating tradesman is also right." Darwin disagreed with no serious justification. Yet one year before he died, Charles Darwin proved that his critics were right all along. He said,
"I could show fight on natural selection having done and doing more for the progress of civilization than you seem inclined to admit. Remember what risk the nations of Europe ran, not so many centuries ago, of being overwhelmed by the Turks, and how ridiculous such an idea now is!
"The more civilized so-called Caucasian races have beaten the Turkish hollow in the struggle for existence. Looking to the world at no very distant date, what an endless number of the lower races will have been eliminated by the higher civilized races throughout the world."[26]
Darwin again declared at the end of his Origin of Species: "Thus, from the war of nature, from famine and death, the most exalted object which we are capable of conceiving, namely, the production of the higher animals, directly follows."[27]
So whether Darwin and his intellectual children like it or not, Social Darwinism flows seamlessly from Darwin's own ideological foundation, and this wicked enterprise has wrought havoc both in Europe and America in the 1920s and 30s.[28]
****************************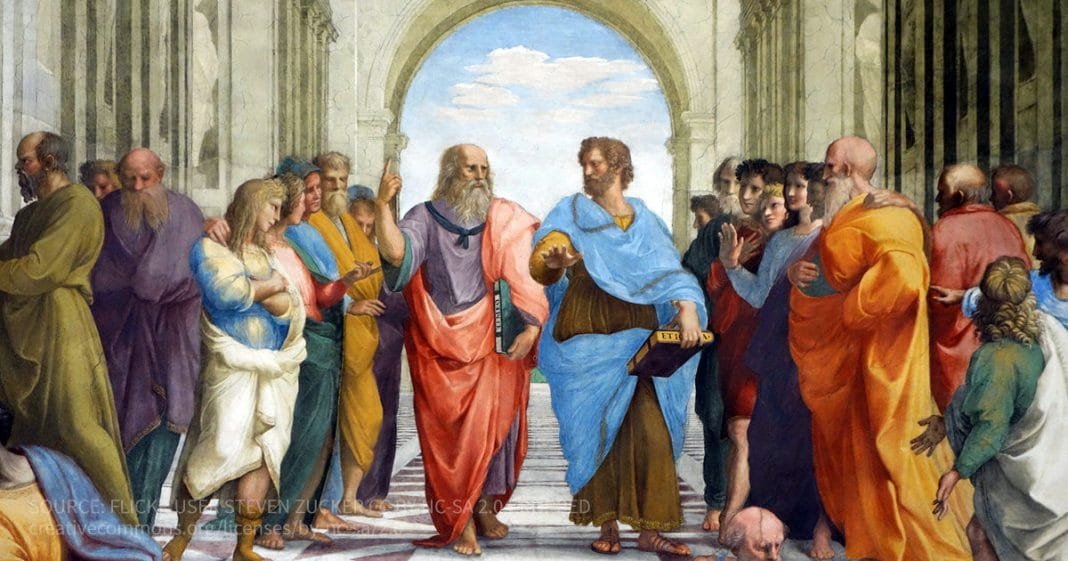 Both Plato and Aristotle established the idea that human beings are living in a moral and intelligible universe. This universe, they argued, can be understood by rational creatures like us. For them, rationality inexorably leads to practical reason, and practical reason is simply another word for morality.
"Moral virtue," says Aristotle, "is a state of character concerned with choice," and is therefore "practical."[29] Choice, Aristotle continues, "cannot exist without reason and intellect or without a moral state."[30]
People who can "see what is good for themselves and what is good for men in general" do possess something called "practical wisdom."[31] This practical wisdom "issues commands, since its end is what ought to be done or not to be done."[32] Wisdom, not just plain knowledge, "must plainly be the most finished of the forms of knowledge."[33]
Aristotle emphasizes again and again that "the work of man is achieved only in accordance with practical wisdom as well as with moral virtue."[34] In other words, if practical wisdom is banned, then man would quickly fall into irrationality and contradiction. For Aristotle, "it is not possible to be good in the strict sense without practical wisdom, or practically wise without moral virtue."[35]
Without practical wisdom, or practical reason, which necessitates telos (final cause or purpose), then everything becomes chaos. This practical wisdom, in a nutshell, is what kept the West alive for the past two and half millennia. But Darwin challenged all that in the 19th century and unleashed an essentially irrational and wicked ideology onto the universe, which is still intellectually crippling its finest proponents.
Without practical reason and telos as guiding principles, then you'll eventually end up with strife or "survival of the fittest," which, by the way, is itself a tautology.[36] William Shakespeare seemed to have understood this principle. He wrote:
Take but degree [or practical reason] away, untune that string
And hark what discord follows! Each thing meets
In mere occupancy. The bounded waters
Should lift their bosoms higher than the shores
And make a sop of all this solid globe.
Strength should be the lord of imbecility.
And the rude son should strike his father dead.
Force should be right, or rather right and wrong,
Between whose endless jar justice resides
Should lose their names, and so should justice too.
Then everything includes itself in power,
Power into will, will into appetite,
And appetite, a universal wolf,
So doubly second with will and power
Must make perforce a universal prey,
And last, eat itself up.[37]
Telos, which logically leads to "practical wisdom" and inexorably to Logos, is the intellectual patrimony of the West. Immanuel Kant picked that theme up and philosophically expanded it to the moral universe. Kant convincingly argued that human beings cannot live rationally and consistently without practical reason or morality. As he put it in his Foundations of the Metaphysics of Morals:
"Act only according to that maxim by which you can at the same time will that it should become a universal law."[38]
This moral and universal law, says Kant, is what binds human beings together as rational creatures, and it is on that basis that we can judge people's actions. So, any system that seeks to dismiss that moral law must be wrong precisely because that system will inevitably be incoherent and therefore worthless.
Conversely, an intellectual project without moral law is not really a serious project. It is a perversion of it. Kant continues to say that for an action to be good, "it is not enough that it should conform to the moral law—it must also be done for the sake of the moral law."[39]
Both Shakespeare and Kant kicked Darwin's project out the window because there is no Darwinian maxim that can logically become a universal or moral law. As we have already seen, Darwin denied a universal moral law and specifically excluded morality from his intellectual project. This eventually led him to a weltanschauung which philosophically is contradictory and ultimately repugnant.
Darwin could make neither heads nor tails of Kant's arguments because Darwin, as he himself admitted, had "no practice in following abstract and abstruse reasoning."[40] This inexorably led Darwin to make elementary and categorical errors, such as morality cannot be "objective and universal."[41]
As soon as Darwin denied the metaphysical nature of morality, say biographers Adrian Desmond and James Moore, he began to embrace "a terrifying materialism," according to which "the human mind, morality, and even belief in God were artifacts of the brain…"[42]
In that sense, Darwin believed that morality was created, not discovered, by evolution.[43] The "moral faculties of man" are not something that are inherent but evolved from "social qualities."[44]
By this time, Darwin began to use "science" to smuggle irrational ideas into the West. According to the historian of biology Peter J. Bowler, Darwin
"was trying to turn morality into a branch of biology through the proposal that our instinctive behavior can only be understood as a product of natural processes that have adapted us to a particular way of life based on the family unit as a means of raising children."[45]
Darwin's intellectual children are still clinging to biology in order to explain morality,[46] a philosophically vacuous enterprise that always locks them into an intellectual mumbo jumbo. If everything, including morality, is the artifact of the brain, if our behavior is "instinctive, programmed by evolution into the very structure of our brains," and if "morality is merely the rationalization of these social instincts,"[47] then there is no moral responsibility whatsoever.
In response to Plato's "necessary ideas" of good and evil, Darwin said, "read monkeys for preexistence."[48] Here we see again and again that Darwin was essentially deconstructing Plato and Aristotle, and one can logically argue that Darwin's Descent of Man, which came out in 1871, sent the West into intellectual darkness and perpetual conflict, which eventually gave rise to the eugenic movement in Europe and America.
*****************************
So it is no accident that Pierce, an ardent proponent of Darwin, could not solve the moral problem. The difference between Friedrich Nietzsche and Darwin's intellectual children is that Nietzsche understood that once morality is rooted out of its metaphysical matrix, then claiming that something is right or wrong is just flimflam.[49]
Other metaphysicians like Jean-Paul Sartre came to similar conclusions.[50] In fact, Sartre declared that once morality is out of the equation, finding moral "values in an intelligible heaven" is crazy. Man, therefore, is a 'useless passion."[51]
Sartre, who bragged about having been "in whorehouses all over the world,"[52] added that "Nowhere is it written that good exists, that we must be honest or must not lie, since we are on a plane shared only by men."[53]
The interesting thing is that Pierce read Nietzsche but he didn't seem to understand what Nietzsche was saying when it came to the metaphysical implications of rejecting morality. Again, if we take Nietzsche's Superman seriously, then Zionism or Jewish subversive movements are right since we don't even know whether this Superman is a Zionist or some Jewish revolutionary. In fact, Nietzsche agreed with Dostoyevsky that if God is dead, then objective morality is over and that truth can become a lie. Nietzsche said:
"To be truthful means using the customary metaphor—in moral terms: the obligation to lie according to a fixed convention, to lie herd-like in a style obligatory for all."[54]
According to E. Michael Jones, Nietzsche deliberately infected himself with syphilis in a form of a demonic pact.[55] Throughout much of his life, Nietzsche sought to overthrow the moral order in the West. He even disliked Socrates because he thought Socrates was a proto-Christian philosopher. As Jones puts it, "Nietzsche portrayed Socrates as the villain in the cultural history of the West."[56]
Nietzsche's own term, the transvaluation of all values, was a concept that sought to overthrow the moral values of the West, and he thought that music was the main vehicle to bring that about. Nietzsche also replaced the moral order with the Dionysian madness, which he sought through the music of Richard Wagner, most particularly Tristan and Isolde. Wagner's conversion to Christianity was a breaking point between him and his former friends and revolutionaries.
************************************
Interestingly enough, Nietzsche was the person who had a tremendously powerful influence on Pierce. Pierce even thought that people can base their qualities "on Nietzschean values" as swell. When he was asked "What kinds of qualities are at the top of the scale as you see?" he responded, "Wisdom is one—wisdom grounded in objectivity, the ability to see the world as it really is. And there's courage, not being fearful or cowardly. Self-mastery is one—in fact, this is probably the most valuable trait a person can have."[57]
What we are seeing here is that Pierce was a weak and unscrupulous thinker, and I do not say this lightly. The Nietzschean worldview is the antithesis of everything the West represents, and Pierce was trying to erect his edifice based on that weltanschauung.
Nietzsche got his ideas from Arthur Schopenhauer, who ended up hating his mother and contracting syphilis, presumably as a form of revenge for their turbulent and unhappy relationship. Syphilis had already taken a toll on figures and writers like Schubert, Donizetti, Paganini, Manet, Baudelaire, Maupassant, etc.[58]
Schopenhauer's relationship with his mother had a powerful influence on his philosophy, which he fleshed out in his famous work The World as Will and Representation.
"We begin in the madness of carnal desire and the transport of voluptuousness," writes Schopenhauer elsewhere, and "we end in the dissolution of all our parts and the musty stench of corpses."[59] Schopenhauer viewed the world not in a Logo-centric way but in a meaningless void that some writers have called "vitalistic irrationality."
Virtually everything is a manifestation of pure will, which has no ultimate telos but which has the potential to magically create things such as the universe. Some writers have argued that "The roots of Schopenhauer's misanthropy and pessimism should be sought in the traumas of his childhood and youth rather than his Kantian-Buddhist philosophy, whose conclusions simply served to confirm his pessimism."[60] This seems to be true.
Nietzsche read Schopenhauer's The World as Will and Representation in 1865, and that had a powerful influence on the newly appointed professor. The book had such an influence that Nietzsche expanded it in his own book, The Will to Power. Here again, Schopenhauer's tone can be easily recognized in Nietzsche's own philosophy:
"I felt for the first time that the strongest and highest Will to Life does not find expression in a miserable struggle for existence, but in a Will to War, a Will to Power, a Will to Overpower."
***********************************
The logic is pretty straightforward here: Nietzsche attacked Socrates and the moral order; Pierce loves Nietzsche, and Pierce was advocating white nationalism in America. So, where was Pierce really leading his followers? Could it be that Pierce's white nationalism is essentially an extension of Nietzschean ideology?
And if so, could it be that Pierce's movement was infected by a diabolical worldview that categorically rejects the moral law and order and substitutes "The Superman"? If that also is plausible, then could it be that Pierce's white nationalism metaphysically leads to madness, chaos, and sometimes moral and spiritual death? Could it be that Pierce's white nationalism was born out of a worldview that was hatched in a demonic pact and a sexually transmitted disease known as syphilis? Pierce married no less than five times, and I wonder if he was trying to extract some objectivity or the Superman from that enterprise.
When asked the question, "The Superman—what does that concept mean to you?" Pierce responded:
"The Superman does not exist as yet. He is not yet born. But he will be born out of mankind. He isn't some kind of separate or transcendent being. So it comes down to an evolutionary job, a breeding job, which is to be completed over, probably, a great period of time. The task of those alive now is to prepare the earth for Superman, pave the way, serve this process. Do you see what I am saying?"[61]
People like Pierce are trying to simultaneously retain their cake and eat it: moral claims are relative, they chirp, but it is universally and ontologically wrong for Zionists and the state of Israel to slaughter innocent men, women, and children in the Middle East!
Complete nonsense.
Walter Kaufmann, Nietzsche's most meticulous biographer, said that Nietzsche "felt that the death of God threatened human life with a complete loss of all significance."[62]
Kaufmann moved on to add that "Nietzsche prophetically envisages himself as a madman: to have lost God means madness; and when mankind will discover that it has lost God, universal madness will break out. This apocalyptic sense of dreadful things to come hangs over Nietzsche's thinking like a thundercloud."[63]
Pierce could not see Nietzsche's metaphysical deduction here because Pierce was morally and intellectually blind. Nietzsche seemed to have foreseen in Thus Spake Zarathustra that when individuals kill metaphysical Logos, they start plunging "backward, sideward, forward, in all directions" and they start "straying as through an infinite nothing."
That statement characterizes the life of William L. Pierce, and it is really sad that some of his devoted followers even today do not have the moral and intellectual insight to realize that Pierce was leading them into "an infinite nothing."
Nietzsche, says Kaufman, "called himself 'the Antichrist,'"[64] which to us means the opposite of metaphysical Logos and which St. Athanasius would have called Satanism.[65] In a sense, Pierce and his followers were knowingly or unknowingly following a wicked principle largely because it was taken from Nietzsche's Antichrist.
Like Nietzsche, Darwin eventually realized that the elimination of Christianity would eventually lead to moral chaos, "and Thomas Henry Huxley, of all people, elected to the first London School Board, argued strongly for religious instruction in state school."[66]
Both Darwin and Huxley were living on borrowed principles because their own system didn't have a moral mechanism to sustain itself. That's embarrassing enough, but Pierce was in a worse shape because he categorically denied and attacked Logos in all its manifestations.
---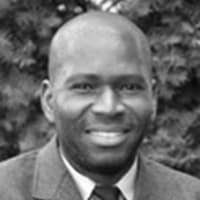 ATTENTION READERS
We See The World From All Sides and Want YOU To Be Fully Informed
In fact, intentional disinformation is a disgraceful scourge in media today. So to assuage any possible errant incorrect information posted herein, we strongly encourage you to seek corroboration from other non-VT sources before forming an educated opinion.
About VT
-
Policies & Disclosures
-
Comment Policy
Due to the nature of uncensored content posted by VT's fully independent international writers, VT cannot guarantee absolute validity. All content is owned by the author exclusively. Expressed opinions are NOT necessarily the views of VT, other authors, affiliates, advertisers, sponsors, partners, or technicians. Some content may be satirical in nature. All images are the full responsibility of the article author and NOT VT.