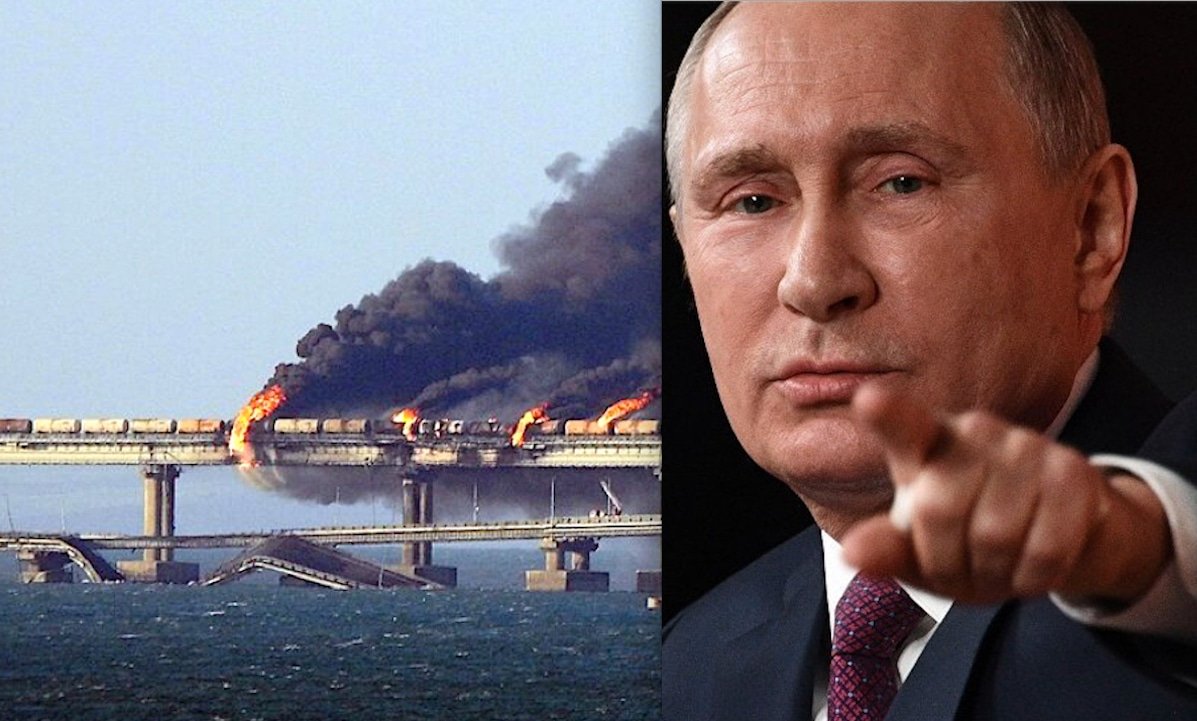 by Fabio Giuseppe Carlo Carisio for VT Europe
Two different sources, Putin and the New York Times, blame KIev's intelligence for the bomb attack on the Crimean bridge.
The 19-km long bridge linking Crimea to Krasnodar was hit by a massive explosion on Saturday morning, killing three people, causing part of the road section to collapse into the sea and oil tankers on the adjacent rail section to catch fire. Ukrainian officials hinted at Kiev's responsibility for the terrorist incident in a series of Twitter posts.
The attack on the Crimean Bridge was ordered, hatched, and carried out by Ukraine's special services, Russian President Vladimir Putin has indicated.
"This was a terrorist attack aimed at destroying critical Russian civilian infrastructure," Putin said, speaking at a meeting with Russian Investigative Committee head Alexander Bastrykin on Sunday evening. "The Ukrainian special services were the authors, perpetrators and customers," Putin added.
Putin confirmed Launching Massive Strikes on Ukrainian Energy, Military Infrastructure after the Crimean Bridge Explosion
But the same accuse coming up by American famous newspaper New York Times.
«A senior Ukrainian official corroborated Russian reports that Ukraine was behind the attack. The official, speaking on the condition of anonymity because of a government ban on discussing the blast, added that Ukraine's intelligence services had orchestrated the explosion, using a bomb loaded onto a truck being driven across the bridge» wrote few hours ago the journalists Michael Schwirtz and Andrew E. Kramer.
Also Russian Security Council Deputy Chairman Dmitry Medvedev says the Kiev regime is responsible for the Crimean Bridge terror act and Russia should respond by eliminating terrorists, according Sputnik News.
"The perpetrator of the crime is the failed state of Ukraine. This is a terrorist act and sabotage committed by the criminal Kiev regime. There is no doubt, and there never was… Russia's response to this crime can only be the direct destruction of terrorists," Medvedev said in an interview with a Donbas journalist.
According to Sputnik News, the chief investigator informed Putin that the Ukrainian special services received assistance from Russian citizens and foreign nationals in preparing the attack.
THE ROUTE OF TRUCK-BOMB FROM BULGARIA TO KRASNODAR
"We are continuing our investigation into the goals and objectives of this bombing. It undoubtedly carries a terrorist character. This was an act of terrorism. All our data allow us to draw an unambiguous conclusion – this was a terrorist attack prepared by the Ukrainian special services. The purpose of this terror attack was to destroy a large piece of civilian infrastructure which carries great importance for Russia," Bastrykin said, as reported by Ilya Tsukanov for Sputnik.
The Investigative Committee head also said that the Federal Security Service (FSB) had identified suspects in the blast. The attack on the bridge was aimed at Russia's "critical infrastructure," Bastrykin said, adding that it was "an act of terrorism." 
"We opened a case under the second part of Article 205 "Terrorism", and this is confirmed by the data at the initial stage of the investigation. They interrogated a lot of eyewitnesses, started special expert studies, which have been mainly completed – this is an explosive, genetic, forensic examination. Relevant instructions were given to conduct operational-search activities to the agencies of the FSB, the Ministry of Internal Affairs of Russia," he said.
Investigators have tasked Russia's Interior Ministry and the FSB domestic intelligence agency to conduct investigative and search operations in connection with the crime.
Bastrykin said the route of the truck that was blown up on the bridge has been established, and includes Bulgaria, Georgia, Armenia, and the Russian regions of North Ossetia and Krasnodar.
Russia's National Anti-Terrorism Committee reported Saturday that a section of the motorway on the Crimean Bridge was destroyed after a truck exploded at 6:07 am local time, with several fuel tanks on a train traveling along the nearby rail portion of the bridge catching fire. Two motorway sections suffered a partial or complete collapse, but the bridge's arches appeared not to have been damaged.
Crimean Bridge reopens after Truck-Bomb Blown Up (video & updates): 3 Deaths. Ukrainian Officials: "This is Just the Beginning"
Russian authorities announced a series of measures to repair damage and ensure stable transport ties between Crimea and Krasnodar Territory. Putin signed a decree Saturday night to step up security for transport crossing through the Kerch Strait, as well as electricity and energy infrastructure in the area.
Light vehicle and train traffic via the bridge resumed via the undamaged rail portion and the surviving roadway section of the bridge. However, buses and trucks were asked to use the emergency ferry service until an engineering assessment of the damage is completed.
RUSSIAN SECURITY COUNCIL SCHEDULED BY PUTIN
Russian President Vladimir Putin will hold an operational meeting with the permanent members of the Security Council on Monday, Kremlin spokesman Dmitry Peskov told TASS. "Tomorrow the President is scheduled to hold a meeting with the permanent members of the Security Council," he said.
Peskov did not specify whether the situation with the Crimean bridge would be discussed at the meeting. "We'll let you know following the results [of the meeting]," he said.
"General Armageddon" to lead Russian Forces in Ukraine after Crimean Bridge Blast
Also in the Donbass, in the early hours of Saturday night, there was an attack on a train convoy. Meanwhile the Russian Ministry of Defense appointed General Sergey Surovikin, also known as General Armageddon, as new commander of all Military Special Operation in Ukraine
BELARUS ALARMED BY OTHER ATTACKS
And Belarus is alarmed by other attacks that are manifesting the terror strategy implemented by Kiev according to a logic well known to military intelligence of NATO and the Five Eyes.
Ukrainian forces have destroyed almost all bridges and mined the roads along the border with Belarus, Anatoly Lappo, chairman of the State Border Committee of Belarus, said on Sunday. Minsk has accused Kiev of planning imminent strikes on its territory.
STRATEGIA DEL TERRORE GLOBALE DA 007 NATO & "14 EYES". Pandemia da Laboratorio, Crisi Gas, Attentati di Kiev per la III Guerra Mondiale
"Today, almost all border bridges have been blown up, and automobile and railway border routes are completely mined," Lappo told Belarusian TV, according to Russia's Interfax news agency.
The blasting attack to Crimean Bridge happened after the terroristic sabotage of Nord Stream gas pipeline and the lethal attack to Darya Dugina, daughter of philosopher Aleksander: in this one the FSB Russian Secret Service identified two Ukrainians as material executors.
Fabio Giuseppe Carlo Carisio
© COPYRIGHT GOSPA NEWS
prohibition of reproduction without authorization 
follow Gospa News on Telegram
Ex-advisor to Pentagon Chief suggests US, UK might be behind Nord Streams Sabotage
Dugina Assassination: Russian FSB Identified the Suspect Ukrainian BombMaker (video)
Nobel Peace Prize 2022 to Kiev NGO Created by Soros & US for Ukrainian Coup. Funded also by EU Commission which Bought Arms for Zelensky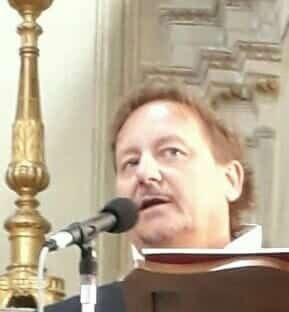 Fabio is Director and Editor of Gospa News; a Christian Information Journal.
Fabio Giuseppe Carlo Carisio, born on 24/2/1967 in Borgosesia, started working as a reporter when he was only 19 years old in the alpine area of Valsesia, Piedmont, his birth region in Italy. After studying literature and history at the Catholic University of the Sacred Heart in Milan, he became director of the local newspaper Notizia Oggi Vercelli and specialized in judicial reporting.
For about 15 years he is a correspondent from Northern Italy for the Italian newspapers Libero and Il Giornale, also writing important revelations on the Ustica massacre, a report on Freemasonry and organized crime.
With independent investigations, he collaborates with Carabinieri and Guardia di Finanza in important investigations that conclude with the arrest of Camorra entrepreneurs or corrupt politicians.
In July 2018 he found the counter-information web media Gospa News focused on geopolitics, terrorism, Middle East, and military intelligence.
His articles were published on many international media and website as SouthFront, Reseau International, Sputnik Italia, United Nation Association Westminster, Global Research, Kolozeg and more…
His investigations was quoted also by The Gateway Pundit, Tasnim and others
He worked for many years for the magazine Art & Wine as an art critic and curator.
ATTENTION READERS
We See The World From All Sides and Want YOU To Be Fully Informed
In fact, intentional disinformation is a disgraceful scourge in media today. So to assuage any possible errant incorrect information posted herein, we strongly encourage you to seek corroboration from other non-VT sources before forming an educated opinion.
About VT
-
Policies & Disclosures
-
Comment Policy
Due to the nature of uncensored content posted by VT's fully independent international writers, VT cannot guarantee absolute validity. All content is owned by the author exclusively. Expressed opinions are NOT necessarily the views of VT, other authors, affiliates, advertisers, sponsors, partners, or technicians. Some content may be satirical in nature. All images are the full responsibility of the article author and NOT VT.