by Veronica Melkozerova – originally published by Politico
All links to Gospa News articles have been added aftermath for relevance to the topics covered
President Volodymyr Zelenskyy refused to veto a new law that strengthens punishment for wayward military personnel on Thursday, rejecting a petition signed by over 25,000 Ukrainians who argue it's too harsh.
"The key to the combat capability of military units and ultimately of Ukraine's victory, is compliance with military discipline," Zelenskyy said in his written response to the petition.
Ukrainian soldiers have stunned the world with their resilience and battlefield successes, withstanding a year-long onslaught from Russian troops. But among Kyiv's forces, made up largely of fresh recruits lacking previous military experience or training, some are struggling to cope. There are those who have rebelled against commanders' orders, gotten drunk or misbehaved; others, running low on ammunition and morale, have fled for their lives, abandoning their positions.
Seeking to bring his forces into line, Zelenskyy in January signed into force a punitive law that introduces harsher punishment for deserters and wayward soldiers, and strips them of their right to appeal.
Video Shock! "KIEV OCCULTA I SUOI SOLDATI MORTI NEI BURRONI". Prigioniero Ucraino svela Crimini di Zelensky: "Chi non Combatte viene Fucilato"
The law aims to standardize and toughen the repercussions for rule-breaking, improving discipline and the combat readiness of military units. Disobedience will be punishable by five to eight years in prison, rather than the previous two to seven; desertion or failure to appear for duty without a valid reason by up to 10 years. Threatening commanders, consuming alcohol, questioning orders and many other violations will also be dealt with more harshly, potentially with prison time; those who broke these rules in the past may have gotten away with a probation period or the docking of their combat pay.
Those who lobbied in favor of the new law, such as the Ukrainian Army General Staff, argue it will make discipline fairer: Previously, because courts adjudicated infractions on a case-by-case basis, some perpetrators were able to escape punishment for serious rule-breaking entirely, while others received harsher sentences for less significant violations, according to an explanatory note that accompanied the new law.
Russian Orthodox Church's Patriarch issues Apocalyptic Warning. Musk against "Relentless Escalation" in Ukraine
But soldiers, lawyers and human rights watchdogs have slammed the measures as an inappropriate and blunt instrument that won't deal with the root causes of military indiscipline — and over 25,000 Ukrainians called on the president to veto the law altogether in a petition submitted to the president late last year.
The new punitive rules remove discretion and turn courts into a "calculator" for doling out punishment to soldiers, regardless of the reasons for their offenses, lawyer Anton Didenko argued in a column on Ukraine's Interfax news agency.
"This law will have negative consequences for the protection of the rights of military personnel who are accused of committing a crime and will reduce the level of motivation during service," an NGO, called the Reanimation Package of Reforms Coalition, said in a statement. "This can carry risks both for the protection of human rights and for the defense capability of the state."
An American Neo-Nazi who Fought within Azov Battalion Avowes the Crimes of his Ukrainian 'colleagues'
"The army is based on discipline. And if the gaps in the legislation do not ensure compliance, and refuseniks can pay a fine of up to 10 percent of combat pay or receive a punishment with probation, this is unfair," argued the Commander-in-Chief of the Armed Forces of Ukraine Valerii Zaluzhnyi in a video in favor of the new rules.
Zelenskyy, in his response to the popular petition asking him to scrap the changes, agreed that disciplinary action against military personnel should take into account their individual circumstances, and promised that the cabinet of ministers would further consider how to improve the disciplinary mechanism — though he did not specify when this work might be done; nor suspend the law in the meantime.
Army of civilians
Ukraine's armed forces have swelled rapidly to over a million soldiers in the year since Russia launched its full-scale invasion in February 2022 — up from 250,000 personnel.
The influx of hundreds of thousands of new recruits, whom Ukraine has had to equip and train while withstanding the barrage from Russia, has compromised the usual vetting process and meant some unsuitable soldiers have ended up in combat, Valerii Markus, the chief master sergeant of the 47th Separate Assault Brigade, told subordinates in a lecture about "desertion at the front," posted to his YouTube channel in January.
Kiev's Forces Shelled a Detention Center in Donbass because "the Nazi began to Testify on War Crimes". 53 Azov POWs Killed
"We were trying to vet the candidates as well as we could in those circumstances," Markus said. "However, many people in our own brigade don't want to be there." He said some of those who had joined up for the wrong motivations, such as for a pay check, subsequently "break down under pressure and want to flee; start to revolt."
by Veronica Melkozerova – originally published by Politico
WHOLE ARTICLE CONTINUES HERE ON POLITICO
NATO Leopard for the Ukraine War Escalation. "Only very Experts can Manage its Power". Analysis by former Italian Tank Commander
ZELENSKY's GASH AT CHRISTMAS TRUCE! Biden's Neo-Nazi Rejects Putin and Kirill's Gesture of Peace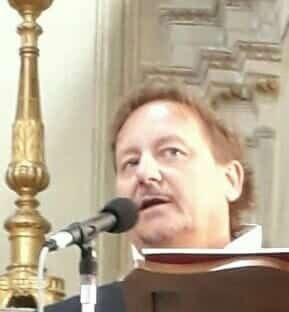 Fabio is Director and Editor of Gospa News; a Christian Information Journal.
Fabio Giuseppe Carlo Carisio, born on 24/2/1967 in Borgosesia, started working as a reporter when he was only 19 years old in the alpine area of Valsesia, Piedmont, his birth region in Italy. After studying literature and history at the Catholic University of the Sacred Heart in Milan, he became director of the local newspaper Notizia Oggi Vercelli and specialized in judicial reporting.
For about 15 years he is a correspondent from Northern Italy for the Italian newspapers Libero and Il Giornale, also writing important revelations on the Ustica massacre, a report on Freemasonry and organized crime.
With independent investigations, he collaborates with Carabinieri and Guardia di Finanza in important investigations that conclude with the arrest of Camorra entrepreneurs or corrupt politicians.
In July 2018 he found the counter-information web media Gospa News focused on geopolitics, terrorism, Middle East, and military intelligence.
His articles were published on many international media and website as SouthFront, Reseau International, Sputnik Italia, United Nation Association Westminster, Global Research, Kolozeg and more…
His investigations was quoted also by The Gateway Pundit, Tasnim and others
He worked for many years for the magazine Art & Wine as an art critic and curator.
ATTENTION READERS
We See The World From All Sides and Want YOU To Be Fully Informed
In fact, intentional disinformation is a disgraceful scourge in media today. So to assuage any possible errant incorrect information posted herein, we strongly encourage you to seek corroboration from other non-VT sources before forming an educated opinion.
About VT
-
Policies & Disclosures
-
Comment Policy
Due to the nature of uncensored content posted by VT's fully independent international writers, VT cannot guarantee absolute validity. All content is owned by the author exclusively. Expressed opinions are NOT necessarily the views of VT, other authors, affiliates, advertisers, sponsors, partners, or technicians. Some content may be satirical in nature. All images are the full responsibility of the article author and NOT VT.