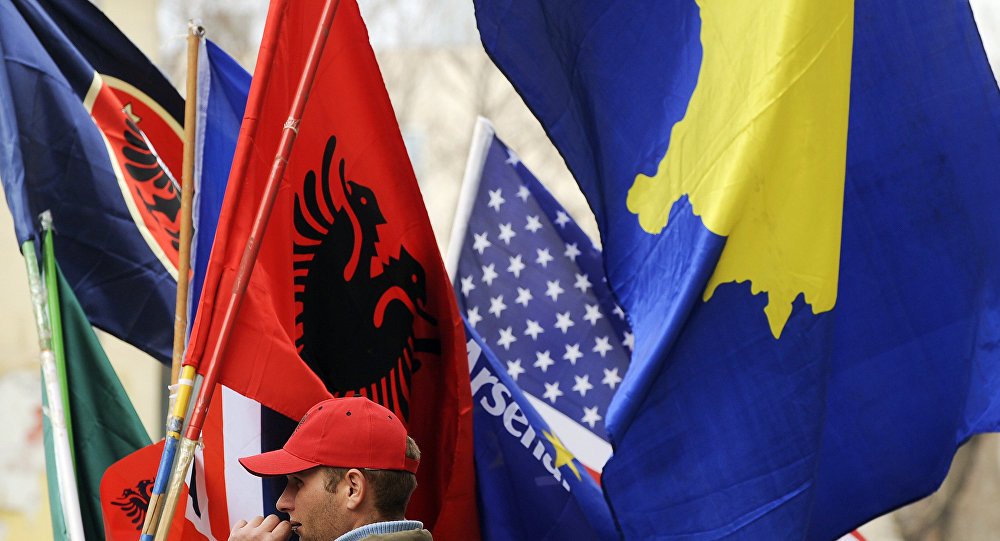 The Kosovo region owes recognition of its 2008 "declaration of independence" to Albania's long-practised skill at lobbying US politicians, Nenad Vasic, researcher at the Belgrade-based Institute for International Politics and Economics, told Sputnik Serbia.
Albanian and Kosovan politicians have successfully pursued their policy objectives thanks to close links to US lobbyists, Nenad Vasic, researcher at the Belgrade-based Institute for International Politics and Economics told Sputnik Serbia.On Tuesday Politico reported that in 2012, current Albanian Prime Minister Edi Rama was involved in a scheme to pay $80,000 to the Obama Victory Fund prior to that year's US presidential election. In return for the donation, Rama was allowed to attend an Obama fundraiser in San Francisco.
In Albanian parliamentary elections in June 2013 Rama used a photo taken with Obama at the fundraiser with to suggest the US President supported his election.
Vasic told Sputnik that the episode is demonstrative of Albanian politicians' successful habit of US lobbying to achieve their aims, and that Kosovan Albanian politicians also use the corrupt system to their advantage.
"It is important to note that it was in 1999 that Kosovan representatives first openly employed a US lobbying firm. Today, they have a contract for representation that has been renewed three times, and it is in force until 2017," Vasic said.
The researcher said that the connections between US lobbyists and Albanian politics can be traced back to the late 19th century, but the engagement deepened in the late 1980s, when a delegation of top US politicians made a visit to the former Yugoslavia, including Kosovo.
Among the delegation was former US Senator and1996 Republican Presidential candidate Bob Dole. Vasic says that in the 1990's Dole was one of the main figures in the pro-Albania lobby, and brought Albania's policy objectives to the attention of President Bill Clinton.
"That's when the issue of human rights for ethnic Albanians in Kosovo officially began to be the agenda in the US Congress. Later it was internationalized via different media and lobbying campaigns and resulted in Albanians constantly enhancing their international position and authority, and in particular the authority of the main pro-Albanian figures – Dole, DioGuardi and Lanatosh, who were later joined by Joe Biden and Elliott Engel," Vasic says.
"Thanks to them, the US Congress passed a lot of resolutions against the former Yugoslavia. Lobbyists are very important in Washington, especially those who are from an ethnic community campaigning for nationalist issues, or even secessionist movements, which were exploited in the 1990s and later when Kosovan Albanians announcedKosovan independence."
Kosovo's assembly unilaterally declared independence from Serbia in February 2008, a decision which was criticized by many in the international community. Serbia has vowed never to recognize Kosovan independence, and Russia and China also support Serbia's continued sovereignty over the region.
The other three members of the UN Security Council, the US, UK and France, responded to the declaration by recognizing Kosovan independence.Last year Albanian Prime Minister Edi Rama laid bare Tirana's long-term foreign policy objectives, when he claimed that Kosovo would one day be part of Albania.
"The unification of the Albanians of Albania and Kosovo… is inevitable and unquestionable," Rama said in an interview on Kosovo television in April.
Belgrade responded by calling on Albania to "stop banging the war drums" in the region, and "devote itself fully to respecting its international and good-neighborly obligations."
"I ask Albanian leaders to stop inciting instability in the region," said Serbian Prime Minister Alexander Vucic, adding that Albania and Kosovo would "never unite."
Nenad Vasic told Sputnik that the Albanian government is not the only one of Serbia's neighbors to use the US lobbying system to its advantage. He says that since the 1990s, Serbia has remained the only ex-Yugoslav country not to employ a US-based PR firm to lobby on its behalf.According to Vasic, US public relations firm Ruder Finn has been employed by the Croatian and Bosnian governments to influence political and media analysis of events in the Balkans, with the Croatian government apparently paying the company more than $100,000 per month to push its agenda in Washington.
Vasic cited an analysis by German researchers of 157 contracts agreed by 40 US public relations firms to represent parties to conflicts in the former Yugoslavia between 1991 and 2002. According to the study, 90 percent of the contracts were commissioned by opponents to the survival of the Yugoslav state.
ATTENTION READERS
We See The World From All Sides and Want YOU To Be Fully Informed
In fact, intentional disinformation is a disgraceful scourge in media today. So to assuage any possible errant incorrect information posted herein, we strongly encourage you to seek corroboration from other non-VT sources before forming an educated opinion.
About VT
-
Policies & Disclosures
-
Comment Policy
Due to the nature of uncensored content posted by VT's fully independent international writers, VT cannot guarantee absolute validity. All content is owned by the author exclusively. Expressed opinions are NOT necessarily the views of VT, other authors, affiliates, advertisers, sponsors, partners, or technicians. Some content may be satirical in nature. All images are the full responsibility of the article author and NOT VT.