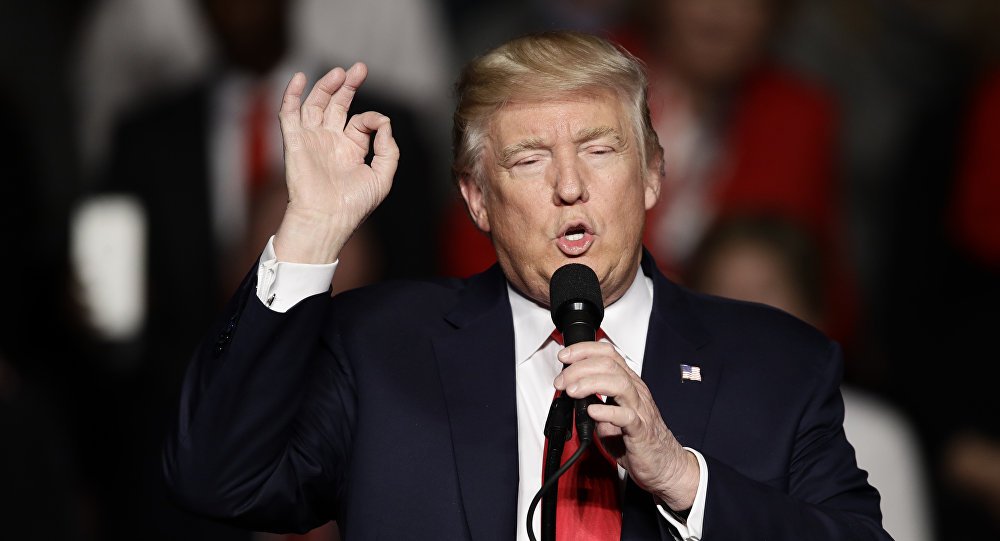 During his press conference on Wednesday, the US President-elect Donald Trump said US medicines are made overseas and are too expensive, and proper bidding could help lower the costs, provoking a selloff in big pharma and biotech stocks.
Sputnik: US big pharma suffered a major hit during Wednesday's press conference of the President-elect Donald Trump, who blasted drugmakers for making their product overseas and subsequently importing it, and vowed to introduce proper bidding procedures in order to curb drug prices and "save billions."
Biotech and drugmaker stocks slumped in the immediate aftermath of these remarks, reflecting the market perception of the big pharma as artificially overpriced. Pharmaceutical and biotech equities crashed on Wednesday after President-elect Donald Trump blasted the "big pharma" lobbying practices as artificially driving prices and supporting vicious foreign trade patterns.
"They're getting away with murder," Trump said. "Pharma has a lot of lobbyists and a lot of power and there is very little bidding. We're the largest buyer of drugs in the world and yet we don't bid properly and we're going to save billions of dollars."
The US government, Trump said, is paying much more for medicines than the open market price would be, therefore, transparent bidding is vital in order to counter the powerful pharma lobbies. Subsequently, the market sentiment shifted toward expectations of lower biotech and drug industry premiums down the road, resulting in a selloff in related stocks.
"Our drug industry has been disastrous, they're leaving left and right," Trump said. "They supply our drugs but they don"t make them here, to a large extent." Obamacare, Trump said, must be repealed and replaced "essentially simultaneously."
The iShares Nasdaq Biotech exchange-traded fund (ETF) plunged 4pc in its biggest one-day decline in three months. S&P Pharmaceuticals, Biotechnology & Life Sciences Index dipped 1.7pc
"When the president-elect says we're going to negotiate drug pricing, you have to take that seriously, but at the same this is a complicated issue because there's not going to be clarity on drug pricing reform anytime soon," Brad Loncar of the Loncar Cancer Immunotherapy ETF said. "When somebody that high profile says something that negative, people do not want to invest in it."
Initially, when Trump was still a candidate for the US presidency, he was perceived as pharma industry champion, and his most recent remarks align him with Congress Democrats in a way, who, however, tend to favour tougher administrative regulation rather than proper and transparent competitive bidding.
Trump might have become disgruntled with select industries doing business with the US government most recently because of high costs of their services to US taxpayers, and President-elect is committed to cut the expenses of the federal government as part of his fiscal strategy.
During the 20 minutes of Trump's press conference, big pharma lost some $24.6 bln out of its aggregate market value of $906.8 bln.
In particular, equities of Celgene dropped 3.5pc on Wednesday afternoon; Johnson & Johnson retreated 1.61pc; Bristol-Myers dropped 5.5pc; Pfizer declined by 2.75pc; Amgen slid 2.27pc; AbbVie lost 4.2pc; Gilead shed 2.3pc; and Eli Lilly tumbled 2.6pc.
Shares of the Kenilworth, NJ-based Merck & Co., Inc were surprisingly up 1.67pc because of the news of the Food and Drug Administration having decided to speed up their review of Merck's proposed lung-cancer medicine.
Previously, Trump criticised defence enterprises for overcharging the US government, including the highly publicised story focusing on Air Force One, dubbed by Trump as "too expensive." During the press conference on Wednesday, Trump mentioned Lockheed Martin, Ford, and United Technologies amongst the companies whose business practices are harmful to the US economic interests, mainly, in the form of consumer goods being produced overseas and subsequently imported into the US.
The drug industry, on its part, has greatly benefitted from the Obamacare reform, which attracted more funds out of Americans' pockets into the sphere of medical services. The bloated budget spending of the past eight years has also resulted in significant redistribution of wealth towards the well-connected Washington lobbies, with pharma being among the biggest.
Despite his critical stance on the issue of drug prices, and the cautious support from the Democrats, including the now-again-independent Bernie Sanders, Trump is still seen by big pharma as good news. The S&P Biotech Index is still 9pc above its election day level.
"We look forward to working with the new administration and Congress to advance proactive, practical solutions to improve the marketplace and make it more responsive to the needs of patients," Stephen Ubl of Washington-based Pharmaceutical Research and Manufacturers of America (PhRMA) said.
___________
ATTENTION READERS
We See The World From All Sides and Want YOU To Be Fully Informed
In fact, intentional disinformation is a disgraceful scourge in media today. So to assuage any possible errant incorrect information posted herein, we strongly encourage you to seek corroboration from other non-VT sources before forming an educated opinion.
About VT
-
Policies & Disclosures
-
Comment Policy
Due to the nature of uncensored content posted by VT's fully independent international writers, VT cannot guarantee absolute validity. All content is owned by the author exclusively. Expressed opinions are NOT necessarily the views of VT, other authors, affiliates, advertisers, sponsors, partners, or technicians. Some content may be satirical in nature. All images are the full responsibility of the article author and NOT VT.