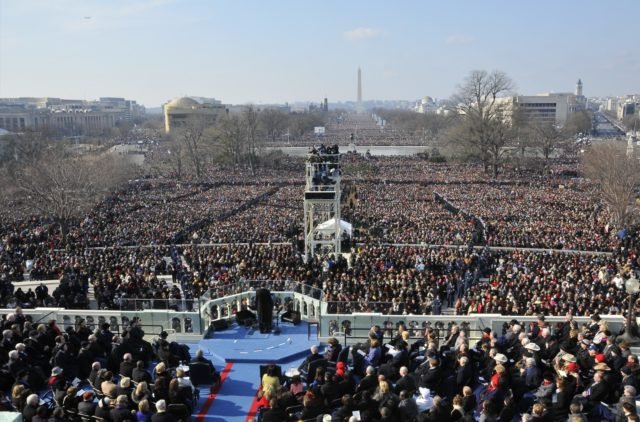 The Inauguration Ceremony
Forget the media jibes about the crowd being 'only' 900,000, (Editor's note:  250k actually, confirmed through hotel bookings and transportation usage figures as well) which was probably an underestimate. The ceremony was impressive, not just in itself, but in the very fact that it was taking place at all. We know that the DVD pulled out all the stops to stop Donald Trump being elected and there was always the risk of his being assassinated before he could be sworn in.
In an ill-mannered and unprofessional piece of journalism CNN lovingly explained what would happen if both President-Elect Trump and Vice-President-Elect Pence were assassinated before they could be sworn in. Thankfully CNN and the other illiberal 'liberal' media outlets hoping for an assassination were to be disappointed.
We are hearing whispers over here of a security alert during the ceremony. There was a moment when a phalanx of military gathered behind the President during his speech, which I am not sure was planned. Whether it was or whether it wasn't, nothing bad happened, thank goodness.
This may have been due to good work by NSA and DIA in the days leading up to the inauguration. I gather that certain security precautions were taken and certain individuals close to the DVD who may have had an interest in installing a German asset in the White House in the place of Donald Trump were placed under an informal form of house arrest. Well done NSA and the DIA! Not everyone at CIA was best pleased, if reports circulating in Moscow are to be believed, although the President was given a warm welcome at Langley yesterday.
It's noteworthy that Director Pompeo's confirmation was put back until after the inauguration. His first task at CIA will probably be to find out what the heck went on last week. No doubt he will carefully review the attendance at the World Economic Forum in Davos. The WEF are a well-known DVD front organization – with several of the world's most evil people there, including George Soros and the Chinese kingpin Jinping, it would be interesting to know what was discussed in the side meetings.
One thing the media are going to have to forget is the sniping over President Trump's lack of military experience. The man has physical as well as moral courage, and demonstrated it throughout the whole of Friday's ceremonies, when, as he well knew, he was a walking target. As a Commander-in-Chief willing to stand up for America he will be at constant risk of assassination.
I respectfully agree with your President that the media have been engaged in outright deception over attendance at the inauguration. Channel Four News in the UK were typical – they showed pictures of the crowd after it had started to disperse. Press Secretary Sean Spicer was right to go after the mainstream media. Their behaviour has been a disgrace. They have abandoned even the pretence of impartiality. In their bias, unprofessionalism and lack of integrity the MSM have demonstrated an absence of commitment to a core principle of liberal democracy – fair reporting of current affairs.
The President and Mrs Trump's Grace
The handover was marked by gracious behavior from both President and Mrs Trump. I expected nothing less. Neither President Trump's election nor his ability to be both gracious and magnanimous to his political enemies has taken me by surprise.
It was particularly sweet and thoughtful of Mrs Trump to bring a gift for Michelle Obama. Since it was from Tiffany's we may fairly assume that it was more than a trinket. I imagine that the gift was chosen with as much thought and care as it was wrapped.
President Trump's behavior towards both Barack Obama and Hillary Clinton was perfectly proper and correct. If there was any lack of grace it was shown by Hillary Clinton, who might have shaken the President's hand a little more warmly, with respect. I was pleased to see President Carter there. It was entirely right that he should be.
The Music
It was very silly of stars to boycott the inauguration. Who did they think they were kidding? Inaugurations are occasions best suited to choirs rather than solo performers anyway. The choir from Missouri were good, but the Mormon Tabernacle Choir, suitably adorned with tartan, were just superb. They are one of the finest choirs in the world.
Jackie Evancho was nervous to start with. That is hardly to be wondered at. The poor girl is only 16 and was performing in front of no fewer than five presidents, a crowd of a million people and a TV audience estimated at one billion. She recovered well however and finished strongly. She has a beautiful singing voice and if she wasn't a big-name star before the ceremony she is now! Super Bowl next, I shouldn't wonder.
Did you notice the quiet well-done the President gave Jackie after she sang the National Anthem? This is a president who believes in encouraging the young and for all the hysterical accusations leveled against him is prepared to encourage young women as well as young men. I am sure that many Americans who did not vote, or voted for Hillary or the minor candidates, will have been reassured by their new president's performance on his first day in office.
The Threat from the DVD
The DVD are clearly the biggest threat to the Trump Administration. Totally opposed to the idea of any country running its own affairs, let alone a country as powerful as America, with high-level penetration assets in Washington and US law enforcement and intelligence and a bloodthirsty record of murdering democratic politicians the DVD are certainly an enemy to be reckoned with.
They are not however an enemy to be feared, or respected. They are blackmailing, murderous scum and deserve no-one's respect. They can also be beaten.
2017 is not 1963. The DVD have two huge problems: they no longer operate unknown in the shadows and unlike 1963 they don't have an asset in place ready to take over. In 1963 the Germans could assassinate whoever they wished, confident in the expectation that no one would lay a finger on them. The media were even more intelligence-illiterate than they are now and nobody in Congress had ever heard of the DVD. They had an almost endless supply of tame judges like Chief Justice Warren whom they could blackmail into signing off worthless reports. There was no Internet.
For decades the American people were only ever permitted to read junk about the Kennedy Assassination. Even today there are tame outlets like Wikipedia and the New York Times willing to drench themselves in the blood of President John F. Kennedy by pushing the lies that he was shot by Lee Harvey Oswald and that Oswald acted alone.
No one with any intelligence could seriously believe either of these propositions. They are too absurd for words. Only a cretin could believe that President Kennedy was shot by one man when bullets of at least two different calibers were used and he was hit from at least two different directions.
Judges no longer command the respect they did in 1963, in either Britain or America. Chief Justice Warren's ridiculous report is partly responsible for that. Most senior judges are now seen as largely political animals, of questionable integrity, lacking intellectual rigor. The Supreme Court in particular has acquired a reputation for handing down decisions which are more or less farcical, although our own Supreme Court has joined it in a race to the bottom.
If, God forbid, the DVD were to succeed in assassinating President Trump it would be an Act of War by the Federal Republic of Germany on the United States, as indeed the assassination of President Kennedy was an Act of War on the United States by West Germany. Successful assassinations are invariably state-sponsored, which is why the KGB and the Soviet leadership were so anxious in the days following November 22nd. I am sure that it came as a huge relief to Moscow when the KGB, in a brilliant piece of intelligence work, discovered that the shooters were French and had been brought in from Saigon (they didn't make all the shooters of course, but they didn't do too badly).
Germany is therefore faced with strategic calculations she did not have to make in 1963. Berlin saw what happened to Baghdad after 9/11 and they won't be too anxious to see B-52s overhead doing the Lord's work.
The second big problem is that Vice-President Pence is no LBJ. LBJ was a tyrant of a man, fully committed to the use of assassination and willing to murder his way into the White House. He had no qualms agreeing to German demands that he relax America's borders and lumber the American economy with huge welfare expenditure. He was also willing to  throw away American lives in Vietnam and was happy to pursue a losing strategy in the war.
Only superb work by the CIA stopped the bastard from getting even more Americans killed. That climb-down in 1968 was an historic moment and it has been my privilege to work with two of the brilliant American intelligence officers who helped bring it about.
Vice-President Pence is a good man, clearly loyal to the President and the Constitution. No one should be under any illusion that he was not serious about the oath he took on Friday from that nice man Justice Thomas, who is, by the way, an honorable exception to my comments above about your Supreme Court.
Happily, double assassinations are far more difficult to pull off than single assassinations, both operationally and in terms of organising the cover-up. The Oswald 'lone-shooter' nonsense would never have got off the ground in 1963 if LBJ had been working for you guys and the DVD had been faced with the task of assassinating him as well. The rough rule of thumb is that successful double assassinations are about three times as difficult as single hits.
Security however is going to need to be tighter than a duck's bottom, as it was on Friday. The best thing the Administration could do, in my humble opinion, is to go public on the DVD, preferably in concert with Moscow, who know all about them. London also knows, but Prime Minister May is Prime Minister Won't when it comes to being frank about security matters. (She's just landed herself in the soup by refusing four times to answer a perfectly proper question from that nice man Andy Marr on his politics show on BBC 1 this morning about that Trident missile which was sent off course last year).
I wish President Trump and his Administration well. I have of course conveyed my congratulations privately. If I can be of any help they know they only have to call. My prediction is that President Trump will be a great President, who will change the course of history. His election has probably doomed the People's Republic of China just as President Reagan's election and strength in surviving the DVD's failed assassination attempt doomed the bad old USSR. The foul German attempt to murder President Reagan however should serve as a warning. As President Trump knows only too well, there are some bad hombres out there and they don't all wear sombreros.
This Week's TV Review: The Grand Tour, Amazon, First Series
I know I've already reviewed the first episode, but this show is so good it's worth reviewing again! I watched Episode 11 last night and it was a hoot.
For readers who don't have Amazon Prime, get it! To recap: in 2015 a monumental fool, Tony Hall, sacked the BBC's star presenter Jeremy Clarkson, in the single most monumental error in British television history. Clarkson's fellow presenters on the long-running Top Gear show, the BBC's biggest export-earner by a mile, Richard Hammond and James May, walked out with him, along with the producer.
Lord Hall and the Cabinet Office, who doubtless cleared the sacking (in practice the BBC is a state propaganda organisation reporting to the Cabinet Office), seemed to have been in a competition with our late community partner the Kaiser to see who could win the booby prize for the silliest sacking in history.
To say that it has blown up in the BBC's faces would be an understatement, a bit like saying that Hiroshima was a bit hot after you guys successfully nuked it. The Grand Tour has been a runaway ratings success, whilst the revamped Top Gear flopped like the Ford Edsel.
The latest episode was based in Scotland, and featured a hilarious clip about a tour of France in three beat-up Maseratis, purchased for about $11,500, which doesn't buy you a lot of Maserati. As a team, Clarkson, May and Hammond are superb. They dispense with political correctness, but not with sound motoring advice, such as needing to have a budget of more than $11,500 if you want to buy a Maser.
The locations are great – Episode 11 featured some charming towns in Normandy and the magnificent Pont du Normandie, over which I was driven on my way back from the D-Day commemoration in 2014. Above all, it's good clean fun, well apart from the plastic willy in the latest episode, that is.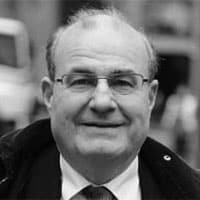 Michael Shrimpton was a barrister from his call to the Bar in London in 1983 until being disbarred in 2019 over a fraudulently obtained conviction. He is a specialist in National Security and Constitutional Law, Strategic Intelligence and Counter-terrorism. He is a former Adjunct Professor of Intelligence Studies at the American Military University.
Read Articles from Michael Shrimpton;
ATTENTION READERS
We See The World From All Sides and Want YOU To Be Fully Informed
In fact, intentional disinformation is a disgraceful scourge in media today. So to assuage any possible errant incorrect information posted herein, we strongly encourage you to seek corroboration from other non-VT sources before forming an educated opinion.
About VT
-
Policies & Disclosures
-
Comment Policy
Due to the nature of uncensored content posted by VT's fully independent international writers, VT cannot guarantee absolute validity. All content is owned by the author exclusively. Expressed opinions are NOT necessarily the views of VT, other authors, affiliates, advertisers, sponsors, partners, or technicians. Some content may be satirical in nature. All images are the full responsibility of the article author and NOT VT.