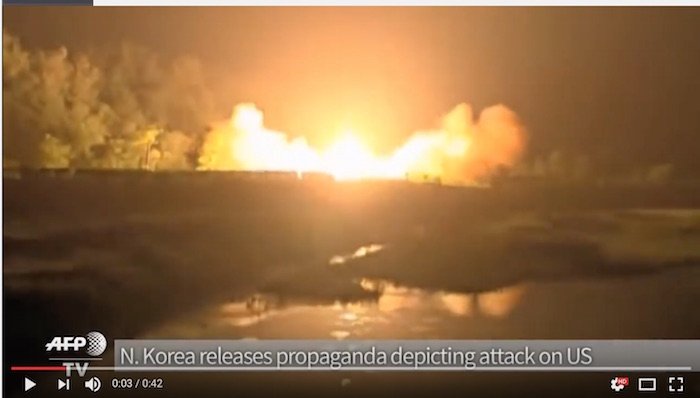 Is Trump preparing for war against North Korea and/or Iran?
Our wild and crazy president insists North Korea's next big missile test "won't happen." But stopping it would be an act of war; while failing to stop it would ruin US credibility. Trump has tweeted himself into a corner.
As North Korea prepares to put Washington, DC in its nuclear cross-hairs, the Trump Administration pretends to be even more panicked about nonexistent Iranian nuclear weapons. Trump has filled his administration with anti-Iran hardliners, and despite the departure of the most prominent, Michael Flynn, the bellicosity remains. "A false flag followed by war with Iran," as Zbigniew Brzezinski warned the Senate a few years ago, remains a real possibility. Such a war would have nothing to do with the US national interest, and everything to do with Likudnik Israel's.
A highlight of last week's Tehran Conference on the Palestinian Intifada, which I had the great pleasure of attending as an unofficial US representative, came when the head of North Korea's parliament urged Palestinians to develop a nuclear deterrent — and insinuated he knew where they could get one. Oddly, this amazing moment was not reported in mainstream Western reports on the Conference.
Things look very different from Tehran than they do from the imperial power centers. Back home in North America, countries like Iran, North Korea, and Palestine are cast as "rogue nations" by US officialdom. Such nations, we are told, should never be allowed to have a robust nuclear capability.
But why is it OK for Israel, China, India, Pakistan, France, Germany, Russia and the US to have nukes, but not OK for the "rogue nations"?
Iran and North Korea are "rogues" because they won't take orders from anyone and don't have Rothschild central banks. Palestine is "rogue" because it is targeted for genocidal obliteration by Israel.
All three nations have legitimate historic grievances against the US. The best possible American weapon against any "threat" from such nations would be a 100-megaton apology.
Iran remembers how the US overthrew Prime Minister Mossadegh in 1953, installed the tyrannical Shah, oversaw his torture chambers, and proceeded to loot the country during the following 25 years, until the 1979 revolution restored Iranian independence. North Korea remembers how the US decimated its people during the early 1950s, murdering millions in one of the worst acts of state terrorism in human history.
The best way for the US to end hostilities with these and other nations would be to apologize comprehensively for past crimes, then vow to change its behavior and become a planetary good citizen. Such a change of course would allow America to shift its resources away from the wasteful, economy-killing military sector, and reinvest in the infrastructure that supports the main street economy. Abolition of the Federal Reserve, coupled with confiscation of the banksters' ill-gotten gains and the establishment of a transparent public banking system, would complete the transformation.
The US would thus be able to maintain its leading global economic position, while establishing itself as a moral leader and "first among equals" on the international stage. A revitalized and democratized UN could prevent the the disappearance of the bullying US hegemon from creating a power vacuum that could destabilize the planet and inadvertently trigger major wars.
If Donald Trump were really the peace-loving populist some imagine him to be, he would follow the above prescription. But he isn't. Trump has no brain; Steve Bannon is his brain. And Bannon is wholeheartedly devoted to murdering hundreds of millions of people in a "4th Turning" war which, he has announced, will be bigger than World War II.
The choice for the US and the American people is simple: Apologize and radically change course (starting by eliminating Steve Bannon from power ASAP) or get ready to die of radiation poisoning.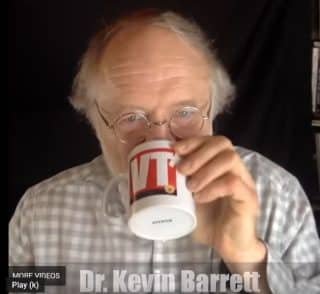 Dr. Kevin Barrett, a Ph.D. Arabist-Islamologist is one of America's best-known critics of the War on Terror.
He is the host of TRUTH JIHAD RADIO; a hard-driving weekly radio show funded by listener subscriptions at Substack and the weekly news roundup FALSE FLAG WEEKLY NEWS (FFWN).
He also has appeared many times on Fox, CNN, PBS, and other broadcast outlets, and has inspired feature stories and op-eds in the New York Times, the Christian Science Monitor, the Chicago Tribune, and other leading publications.
Dr. Barrett has taught at colleges and universities in San Francisco, Paris, and Wisconsin; where he ran for Congress in 2008. He currently works as a nonprofit organizer, author, and talk radio host.
ATTENTION READERS
We See The World From All Sides and Want YOU To Be Fully Informed
In fact, intentional disinformation is a disgraceful scourge in media today. So to assuage any possible errant incorrect information posted herein, we strongly encourage you to seek corroboration from other non-VT sources before forming an educated opinion.
About VT
-
Policies & Disclosures
-
Comment Policy
Due to the nature of uncensored content posted by VT's fully independent international writers, VT cannot guarantee absolute validity. All content is owned by the author exclusively. Expressed opinions are NOT necessarily the views of VT, other authors, affiliates, advertisers, sponsors, partners, or technicians. Some content may be satirical in nature. All images are the full responsibility of the article author and NOT VT.