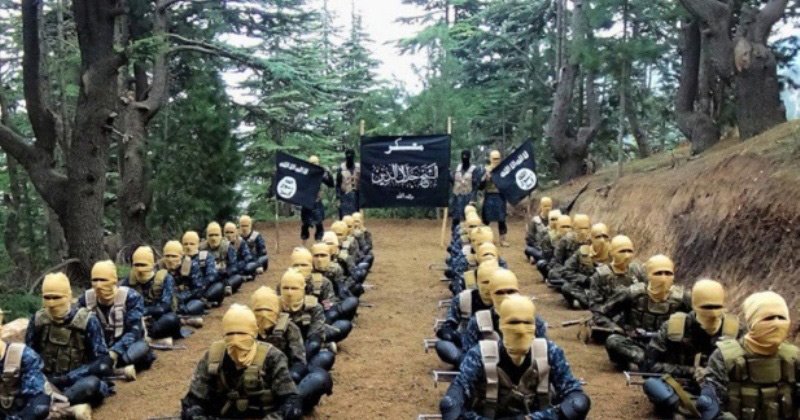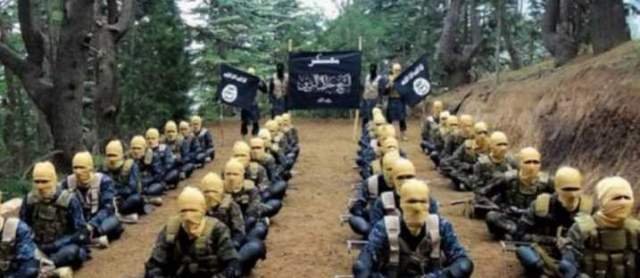 … from Russia Today,  Moscow
Update (2:50pm EST);  Unconfirmed reports came in at noon that the SAA is advancing still, east of Suweida, SE of Damascus in what appears to be a clearing operation along the Jordan border of the US-backed Jaish Maghaweer Al-Thawra militant group. The country is open desert, with no real defensive positions, and it is expected that the militants will retreat under pressure.
This will have the SAA forces moving NE along the border, approaching Al-Tanf from the south, where the US Special Ops base is. The report says that the SAA advance had air cover.
Other reports claim, possibly as part of the "deconfliction" discussion described below, that Jaish Maghaweer Al-Thawra will be withdrawn from the SE Syria area and redeployed on the south flank of Deir Ezzor. Public information on the group mentions the group (or parts of it) being from that area.
What will happen to the US base at al-Tanf has not been mentioned, but there is a report that a US-coalition Norwegian force, traveling across Iraq had not taken over the Iraq side of the al-Tanf crossing, under the pretext of defending it from ISIS attacks that might have occurred in the past few days, or been staged by US-Coalition "ISIS pretenders" to justify this Norwegian deployment and have this main Baghdad-Damascus road blocked not only by the US Coalition, but with what appears to be Iraqi compliance.
VT will be asking our Iraqi sources what is going on here, why Baghdad would not want its own troops or PMU soldiers on their side of the border. We will post more as we get confirmations or corrections… JD
*
[ Editor's Note: This is a timely news piece on the US-Russian "deconfliction" evolving story with the odd twist that it does not technically include the Syrian forces.
But there is some room for light here in the mention below that, although legally precluded from coordinating with the Russians, the Pentagon admits it is working on doing so. This was made easier due to Trump's shift of giving more authority to the field commanders.
We must now interpret that the "preclusion" is a political one, where the military is given a wink and a nod to work on not having a shooting incident with the Russians. One would think that it could include SAA forces, also, unofficially. I say that because Mattis made an obvious effort to call the column that was bombed last week as an "Iranian one", some cover for having the attack viewed as one against Syrian forces.
Mattis is on very thin ice here, with his describing the bombing as a "force protection" one, as this small column with no real infantry component was way outside combat range and had a bulldozer with it. That is a strong indication that it wanted to establish a base presence in the area itself, as the US says it was there to fight ISIS, so why can't the Syrian coalition do the same? This convoy movement would not have been attempted without Damascus' approval, and Russia did denounce it as illegal from no less than Mr. Lavrov.
The US claim of "strangling ISIS" is the usual con on the American people. Raqqa is not surrounded, as the road to Deir-Ezzor has been open, left open really. What US Special Envoy Bret McGurk  is doing below is acclimating the public to accepting the US getting in control of Syria's borders simply as part of its anti-ISIS work. But the goal is really for putting the squeeze on the eventual political process by holding as much border ground as possible. If you look at the Syrian map, it is not a good situation for Damascus.
The US intent now is clearly to block Iraqi forces from crossing over to help the Syrians, as that would tip the scales hugely in Damascus' favor.
Hence you may have seen the story dropped last week that 20,000 US personnel would remain in Iraq after the fall of Mosul to help "clean up" ISIS in western Iraq. That is way too big a contingent to do "cleaning up".
It seems it wants remain there to conduct an aerial war to block the Syrian border from the Iraqi Popular Militias (PMU). This could not be done without the Iraqi Prime Minister Abadi having been bought off, or using the US to keep a lid on the 100,000+ strong PMU from becoming too influential.
That will create a dicey situation with Iran, which has been funding and supplying the PMU forces which are an official part of the Iraqi military and are helping Baghdad save itself. If Abadi has agreed to letting the US "counter Iran" in Iraq, it would be a nasty way to repay the favor, especially when Iraq is way behind in debt payments to Iran for electricity it is buying and the free help during the anti-ISIS war.
Control of the Iraqi-Syrian border has become a major military goal for the US coalition. It is not only to strangle ISIS, but Damascus as well. While talking deconfliction, the US is planning confliction, and trying to isolate the Russians from interfering, which will make Damascus very nervous, which it already has been as to what Russia's real long term game is for helping Syria… Jim W. Dean ]
Jim's Editor's Notes are solely crowdfunded via PayPal – JimWDean@aol.com
This includes research, needed field trips, Heritage TV Legacy archiving, and more – Thanks for helping out
*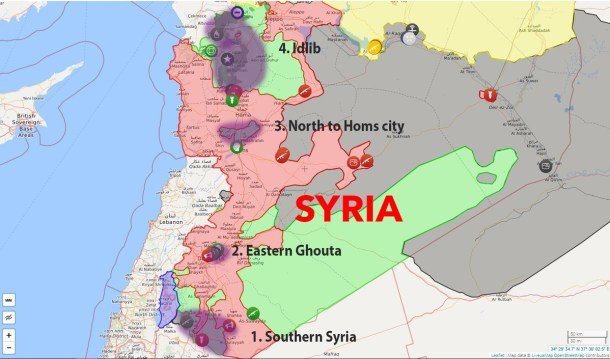 – First published  …  May 20,  2017 –
The Trump administration is giving more leeway to field commanders and focusing on annihilating Islamic State forces, top US officials said. A proposal is also in the works to "deconflict" operations in Syria with Russia.
US forces are legally precluded from coordinating with the Russians, General Joseph Dunford, chairman of the Joint Chiefs of Staff, told reporters at the Pentagon on Friday. However, the US and Russian militaries have been maintaining multiple communication channels to "deconflict" operations in Syria.
"We have a proposal that we're working on with the Russians right now," Dunford added, declining to offer any details. He did say that it would address the presence of a Syrian government pocket in Deir ez-Zor, halfway down the Euphrates River between the IS (formerly ISIS/ISIL) stronghold of Raqqa and the Iraqi border.
"The Russians are as enthusiastic as we are to deconflict operations" and focus on fighting IS, Dunford said.
The comments came after Moscow condemned the US airstrike against a government-allied force near the Jordanian border as "illegitimate and unlawful." Advisers with the Pentagon-backed Maghawir Al-Thawra militia group in the town of Tanf called in the strike.
Defense Secretary James Mattis described the targeted fighters as Iran-backed, rather than backed by the Syrian government, and called the airstrike "self-defense of our forces."
"It was necessitated by offensive movement, of what we believe were Iranian-directed forces," Mattis said, that acted "against the advice of the Russians."
Mattis did not speculate whether the targeted forces were directed by Iran's Revolutionary Guards Corps or Hezbollah, but he did blame Iran for "extending a war that should have been done years ago."
Dunford described the attack as "force protection," adding that measures were being put into place to ensure such situations do not happen again. Mattis also briefed reporters on the major changes to the strategy against IS adopted by the Trump administration.
"First, he delegated the authority to the right level to aggressively and in a timely manner move against the enemy vulnerabilities," Mattis said. Secondly, the tactical objective shifted from pushing IS forces back in a battle of attrition to surrounding them in a war of annihilation.
IS forces have been surrounded both in the western parts of Mosul and in Raqqa, and "there is no escape" for them, Mattis said.
"We carry out an annihilation campaign, so we don't simply translate this problem from one location to another," Mattis said. "Our intent is that foreign fighters don't get out."
The US special envoy to the anti-IS coalition, Bret McGurk, described the US strategy as an "anaconda-like approach to suffocate ISIS of its territory, funds and propaganda."
"The end of the phony caliphate is coming into sight," he told reporters.
Giving field commanders more flexibility means that the White House is no longer micro-managing tactical actions on the ground, Mattis said. McGurk illustrated the change by the example of Tabqa Dam west of Raqqa, which was taken by US-backed Syrian Democratic Forces (SDF) in March, when the opportunity presented itself.
"The delegation of authority has made a difference in terms of speed of execution," McGurk said.
Trump also authorized the delivery of weapons and supplies to the Kurdish component of the SDF, and allowed US advisers to accompany local forces at battalion level, closer to the battle, Dunford said.
"We have been providing weapons to the Arab component for some months," the general said, noting that deliveries to the Kurds have not started yet, but that the Pentagon has been stockpiling materials in anticipation of Trump's decision.
Asked if moving the advisers forward would put more US personnel in harm's way, Mattis said that the troops know their job, which is to support their local partners, not do the fighting for them.
"Barbara, when you're on patrol you can't always be in a safe position," Mattis told CNN correspondent Barbara Starr. "The lads know they're not part of a life insurance corporation. They're trained for this, and they go out and they do their job the best they can."
Asked about reports that the Turkish government has requested his dismissal, McGurk brushed them off as "tactical differences," praising Turkey as a strategic ally and adding that "we cannot defeat ISIS without Turkey."
He did say that the US will "never work with the Assad regime" in Syria, however.
*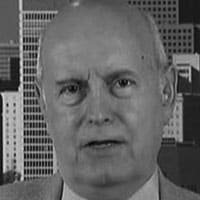 Jim W. Dean is VT Editor Emeritus.  He was an active editor on VT from 2010-2022.  He was involved in operations, development, and writing, plus an active schedule of TV and radio interviews.  He now writes and posts periodically for VT.
ATTENTION READERS
We See The World From All Sides and Want YOU To Be Fully Informed
In fact, intentional disinformation is a disgraceful scourge in media today. So to assuage any possible errant incorrect information posted herein, we strongly encourage you to seek corroboration from other non-VT sources before forming an educated opinion.
About VT
-
Policies & Disclosures
-
Comment Policy
Due to the nature of uncensored content posted by VT's fully independent international writers, VT cannot guarantee absolute validity. All content is owned by the author exclusively. Expressed opinions are NOT necessarily the views of VT, other authors, affiliates, advertisers, sponsors, partners, or technicians. Some content may be satirical in nature. All images are the full responsibility of the article author and NOT VT.