DISCLOSURE: VT condemns the horrific tragedy committed by the NAZI Party against Jewish Citizens of Europe during Word War II known as the "Holocaust". VT condemns all racism, bigotry, hate speech, and violence. However, we are an open source uncensored journal and support the right of independent writers and commentors to express their voices; even if those voices are not mainstream as long as they do NOT openly call for violence. Please report any violations of comment policy to us immediately. Strong reader discretion is advised.
---
The "Deep State" track at the Left Forum was hugely popular last year. This year, the Zionist censors killed it. Why are they so afraid of letting people speak? Read Craig McKee's article below and decide for yourself. Then come to New York for the Left Out Forum!
Introduction by Dr. Kevin Barrett, VT Editor
Just a few days before the Left Forum begins this Friday, the Board canceled yet another Deep State panel due to libelous attacks from Zionists. Here is the email received by Left Forum organizers:
"a big german organization Left Forum has worked together with many years said they will withdraw panels etc. when Anthony Hall speaks at Left Forum, he is a Holocaust denier. The board and the staff of Left Forum will act now and cancel the panel "Political Correctness: The Dangers of Thought Crime Police"   -Marcus Graetsch, Co-Director, Left Forum leftforum.org  | 212-817-2003"
 I responded as follows:
Sent to marcus@leftforum.org
Dear Marcus,
You just committed libel, leaving both the Left Forum as an organization, and you personally, legally exposed. In the email copied below you call Anthony Hall a "holocaust denier." That is a lie. And it is the most career-damaging lie imaginable.
Speaking of "holocausts," you are capitulating to the very people responsible for the murder of 32 million people based on the 9/11 big lie. The lobbyists preventing truth-tellers from speaking at the Left Forum are paid or unpaid agents of the state of Israel, which orchestrated 9/11 and the ongoing Holocaust of Muslims it triggered.
The Australian Jewish physician
Dr. Gideon Polya explains
that:
"…about 60 Americans have been killed by terrorists in 

America since the US (sic) Government's 9-11 false flag atrocity that killed 3,000 mostly American people (one would hope that the governments of non-American victims of 9-11 would conduct their own expert inquiries into this atrocity – indeed failure to do so is evidence of depraved indifference).  In stark contrast, 32 million Muslims have been killed by violence (5 million) or through deprivation (27 million) in the subsequent Zionist-promoted US War on Muslims (aka the US War on Terror)."
You, Marcus, are now a Holocaust perpetrator.
Sincerely
Kevin Barrett
*
LEFT FORUM CAVES TO PRESSURE: BANS PANELS AMID CLAIMS SPEAKERS ARE HOLOCAUST DENIERS, ANTI-SEMITES
'Thought crimes' panel is the latest scrapped, just four days before event: 'Left Out Forum' created so banned speakers can be heard
May 28, 2017
By Craig McKee, Truth and Shadows
Ironically, this year's Left Forum is called "The Resistance." But it seems that what America's largest leftist conference is resistant to is free speech. And integrity.
This article was going to be about three "Deep State" panels, focusing in particular on 9/11 and false flag terrorism, being banned earlier this month because of just two letters of "complaint" that targeted individual speakers with ad hominem attacks, alleging the speakers to be "anti-Semitic," "Holocaust deniers," and (the real kiss of death) "conspiracy theorists."
But just as I was about to post the article, and just four days before the event is to start (it runs June 2-4 at John Jay College in New York City), the Left Forum informed these same organizers that a fourth of their panels, ironically the one on the topic of "thought crimes," has also been given the boot based on a threat by an unidentified German organization to pull out of the conference if Professor Anthony Hall of Lethbridge, Alberta, Canada is allowed to speak. (Hall was the subject of a previous post on Truth and Shadows here, which also addresses other examples of Zionist attacks on academic freedom and free speech.)
Others who are scheduled to be part of the panel include Joy Karega, an assistant professor of rhetoric and composition who was fired from Oberlin College in Ohio for posts she made on Facebook charging that Israel and Zionists were behind 9/11 and the Charlie Hebdo event; and activist Jeremy Rothe-Kushel, who was arrested at an event in Kansas City after attempting to ask a second question to author and diplomat Dennis Ross about the use of state-sponsored terrorism by the U.S. and Israel.
The organizers of the four banned panels, and a fifth that was accepted by the Forum, have decided to create their own event, appropriately called the "Left Out Forum" that will allow them to go ahead with their panels on Sunday, June 4 at an as yet undisclosed location (organizers are afraid that pressure will be brought to bear on the owners of the alternative venue to cancel that event if the location is released too early). To find out where the venue is in New York, check http://noliesradio.org/archives/130703 on June 2. These panels will be live streamed by No Lies Radio.
Left Forum co-director Marcus Graetsch informed the organizers of the banned panels that the German organization is accusing Hall of being a Holocaust denier. (These organizers have asked that their names not be included in this article to avoid the harassment by Zionist "activists" that others have been subjected to.) Hall, who is currently fighting his suspension by the University of Lethbridge, is not a Holocaust denier. He believes, quite correctly, that any historical subject should be open for discussion and debate.
Graetsch wrote: "a big german [sic] organization Left Forum has worked together with many years said they will withdraw panels etc. when Anthony Hall speaks at Left Forum, he is a Holocaust denier.  The board and the staff of Left Forum will act now and cancel the panel 'Political Correctness: The Dangers of Thought Crime Police'"
The other co-director, Ashley Abbott, followed this email with one of her own:
"And to elaborate, hundreds of people contacted us. This prompted us to do further research and upon doing so, we (the board and staff) agree that a panel featuring Anthony Hall should not occur at Left Forum."
It took just two letters to get three panels banned initially, but the fourth resulted from "hundreds" of complaints about Hall. Of course we only have their word for this. I find it virtually impossible to believe that "hundreds" of complaints could be received unless all were co-ordinated by the same organization. Interestingly, it is the panel that has been banned, not the speaker. So, organizers don't even have the option of bringing in a different speaker.
Both Graetsch and Abbott did not respond to interview requests. Neither did five members of the Left Forum board of directors who I contacted by email.
Here are the four panels being censored:
"9/11 Truth: Ground Zero for a Resistance Movement," with speakers Kevin Barrett, Richard Gage, and Barbara Honegger. Moderated by Dr. Lucy Morgan Edwards.
"Terrorism": Fake Enemies, Fraudulent Wars," with speakers Michael Springmann, Anthony Hall, and Patrick Henningsen. Moderated by Tom Kiely.
"False Flags: Staged, Scripted, Mass Psy-Op Events," with speakers Kevin Barrett, Dave Lindorff, and Ole Dammegard. Moderated by Dr. Lucy Morgan Edwards.
"Political Correctness: The Dangers of Thought Crime Police," with speakers Anthony Hall, Joy Karega, and Jeremy Rothe-Kushel. Moderated by Cheryl Curtiss.
This is the only one of the five panels that has been approved:
"Co-Opting the Left: Infiltration by the Corporate State to Neutralize Resistance," with speakers Kevin Zeese and Glen Ford. Moderated by Cheryl Curtiss. (June 4 from 12-1:50 p.m. in room 1.91)
The issue arose initially when someone named Stewart Sunshine wrote to the Left Forum on April 3, claiming to be writing "on behalf of a group of New York activists," although he provided no names other than his own. In his letter he leveled accusations that speakers involved in some of the panels are anti-Semites. He provided a list of profiles of individuals who he objected to in the 2016 conference, although just one was actually among the speakers that had been invited to participate in any of the five panels this year. Sunshine wrote:
"I am writing to you, on behalf of a group of NYC activists, to express our objection to a number of antisemitic conspiracy theorists and Holocaust deniers who appeared on the 'Deep State track' last year. The most well-known of these speakers, Kevin Barrett, bragged on the Far Right website VT that they had tricked the Left Forum into hosting their speakers…"
Barrett, who hosts the weekly podcast False Flag Weekly News with Anthony Hall, actually called Sunshine to confront him about his accusations, and you can listen to that very entertaining call here. You can also read Barrett's detailed refutation of Sunshine's accusations here.
One of the panel organizers responded to the Sunshine letter, writing this:
"Sunshine and his anonymous group target an ever-expanding kitchen sink of activists who challenge their orthodox dogma.  Their most radioactive tactic is to smear dissenters with unfair and unaccountable hateful epithets such as 'neo-Nazi,' 'anti-Semite,' 'Jew hater' — gross inflammatory trigger words."
A second letter of complaint to the Left Forum followed on April 11 from Kai Kieferle of Calgary, Alberta, who wrote this: "I am writing to suggest Kevin Barrett, Anthony Hall, and others of their ilk should not be allowed to participate in the 'Left Forum' this year. Hall and Barrett are well understood to be conspiracy theorists relying on deeply anti-Semitic material. Their intellectual credibility is suspect given their nonsensical writings about 9/11, what they call the 'Zio-American Empire', and many other topics where they consistently find Jewish people to be responsible for it all."
Barrett responded in writing to the Left Forum after having the letters forwarded to him: "Kai Kieferle has been stalking and harassing me for years using many false names. He has repeatedly refused to stop contacting me despite my repeated requests. He made a brief, creepy, aggressive, threatening appearance at my talk in Calgary in summer 2015 — spent a few minutes unsuccessfully trying to intimidate me, identifying himself as "Count One," then fled.  I didn't learn his real name until much later."
Regrettably, none of this is new for people like Barrett and Hall. In recent years, we have seen many examples of universities—where freedom of speech and critical thinking are supposed to be in great supply—being successfully pressured by Zionists and ardent supporters of Israel. So, we should not be surprised that this conference of "progressive" thinkers would be just as timid and weak-willed that it would ban and censor academics and intellectuals based on intimidation and baseless attacks.
It confirms for us once again that you might get away with discussing 9/11 and false flag operations at a conference like the Left Forum, but if you dare to criticize Zionism and the State of Israel in the process, you'll find yourself on the outside looking in.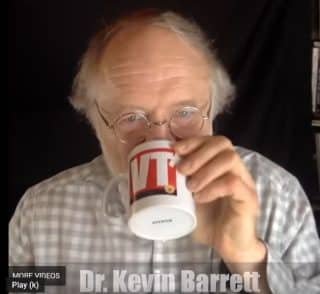 Dr. Kevin Barrett, a Ph.D. Arabist-Islamologist is one of America's best-known critics of the War on Terror.
He is the host of TRUTH JIHAD RADIO; a hard-driving weekly radio show funded by listener subscriptions at Substack and the weekly news roundup FALSE FLAG WEEKLY NEWS (FFWN).
He also has appeared many times on Fox, CNN, PBS, and other broadcast outlets, and has inspired feature stories and op-eds in the New York Times, the Christian Science Monitor, the Chicago Tribune, and other leading publications.
Dr. Barrett has taught at colleges and universities in San Francisco, Paris, and Wisconsin; where he ran for Congress in 2008. He currently works as a nonprofit organizer, author, and talk radio host.
ATTENTION READERS
We See The World From All Sides and Want YOU To Be Fully Informed
In fact, intentional disinformation is a disgraceful scourge in media today. So to assuage any possible errant incorrect information posted herein, we strongly encourage you to seek corroboration from other non-VT sources before forming an educated opinion.
About VT
-
Policies & Disclosures
-
Comment Policy
Due to the nature of uncensored content posted by VT's fully independent international writers, VT cannot guarantee absolute validity. All content is owned by the author exclusively. Expressed opinions are NOT necessarily the views of VT, other authors, affiliates, advertisers, sponsors, partners, or technicians. Some content may be satirical in nature. All images are the full responsibility of the article author and NOT VT.