Another good article from Dr. Morrow. -KB
US Military Actively Training White Supremacist Terrorists
By Dr. John Andrew Morrow
For over a decade and a half the US claims to be engaged in a War against Terror. However, when one looks at the body count of civilian casualties, the death of each one being a crime of war, there is little doubt that the US is waging a War of Terror.
If the US Government is spreading death, destruction, and chaos internationally, it is also spreading death, destruction, and chaos nationally by permitting its military to train white supremacists and pseudo-Christian terrorists.
Take, for example, the case of Timothy McVeigh who graduated from the US Army Infantry School at Fort Benning, Georgia. Although he was repranded by the military for buying a "White Power" t-shirt at a Ku Klux Klan protest, McVeigh acquired expertise in firearms, sniper tactics, and explosives and became a top-scoring gunner. It was at Fort Benning that he befriended Terry Nichols, another white supremacist who served a one-year stint in the US Army from 1988 to 1989.
Deployed to Operation Desert Storm, McVeigh reported that he decapitated an Iraqi soldier with cannon fire on his first day and celebrated his achievement. After serving in Iraq, he was honorably discharged in 1991.
According to official accounts, on April 19, 1995, McVeigh took a truck, containing a 5,000-pound bomb he and Terry Nichols had constructed, and parked it in front of the Alfred P. Murrah Federal Building in Oklahoma City. Het set a two-minute fuse and fled from the area.
At 9:02 a.m., a devastating explosion tore down the north half of the building. It destroyed or damaged over three hundred other buildings, shattered glass in over two hundred and fifty other buildings, and scorched nearly one hundred cars. The blast caused over six hundred and fifty million dollars in damage. In total, 168 people were killed, including 19 children in a day care. 684 other people were injured. Known as the Oklahoma City Bombing, it was the deadliest terrorist attack on US soil until the event of September 11th, 2001.
Timothy McVeigh was raised Catholic and received his confirmation. When interviewed after the terrorist attack, he stated that he believed in God and that he always maintained core Christian beliefs. He was strongly influenced by the Christian Identity Movement and the Turner Diaries in particular. As for Terry Nichols, McVeigh co-conspirator, he was a born-again Christian when he committed the terrorist attack.
The unrepentant McVeigh was a Christian until the moment he died. In fact, he received the Last Rites from a priest before he was put to death in June of 2001. As regards Terry Nichols, he is currently serving 161 life-sentences without possibility of parole. He is so profoundly Christian that he had worn out numerous Bibles through prayer. In fact, defense attorney Creekmore Wallace stated that "Terry Nichols' belief in God is so firm that he believes if the rapture occurred today he is going to heaven." By Jove! I think I have it: Christianity + White Supremacy + US Army Training = Terrorism.
While there is no doubt that Timothy McVeigh and Terry Nichols can be categorized as white supremacists and Christian fundamentalists, there are serious doubts with the official narrative. Although McVeigh may have been responsible for parking the truck, there is no evidence that he planted the other explosives that reportedly contributed to the blast.

Although there were four separate security cameras aimed at the Alfred P. Murrah Federal Building at the time of the explosion, the footage from all of them is missing at points immediately before 9:02 a.m. The government alleges that the gap in footage was the result of replacing the tapes; however, it is not reasonable to believe that all four different cameras were out of operation during the critical, potentially incriminating moment, right before the bombing.
Whether McVeigh and Nichols were both connected with al-Qaedah, neo-Nazis, the CIA or the Deep State, the evidence overwhelmingly indicates that they did not act alone. Nichols is a man of limited intellectual powers while McVeigh did not have the skill set required to organize and execute a deadly conspiracy of such magnitude. If anything, they were but pawns, patsies, and scapegoats. The "other unknowns," orchestrators and accomplices, have yet to be positively identified.
For an assessment of the evidence, readers can refer to William F. Jasper's "Proof of Bombs and Coverup" (https://www.theguardian.com/us-news/2015/apr/13/oklahoma-city-bombing-20-years-later-key-questions-remain-unanswered) as well as Andrew Gumbel's "Oklahoma City Bombing: 20 Years Later" (https://www.thenewamerican.com/usnews/crime/item/16440-proof-of-bombs-and-coverup).
Whether it's the Oklahoma City Bombing, the Twin Towers, or the scores of other terrorist attacks committed in North America, Europe, and elsewhere, the official explanations from Western governments are untenable. Time and again, we are told that radicalized individuals, both Christian and Muslim, are the culprits. They are always immediately identified, with a handy passport or ID that miraculously survives, and were always "known to intelligence agencies." If terrorists do no blow themselves into oblivion, they are killed rather than apprehended. As the saying goes, "dead men don't speak." In other words, they cannot identify their handlers.
Although the Western propaganda machine is obsessed with the threat of so-called radical Muslims, it pays insufficient attention to the threat of so-called radical Christians and entirely ignores the malevolent forces that foster them both. Regardless of their professed religion, terrorists are but puppets on a string.
As the FBI acknowledges, there are hundreds of white supremacists, pseudo-Christian fundamentalists, radical right-wing survivalists, and anti-government extremists in the US Armed Forces and veteran community. According to the calculations of other analysts, they number in the thousands. Between 2001 and 2008, the FBI investigated 203 cases of white supremacist extremists in the veteran community. Evidently, these hate-filled fanatics represent a tiny minority. This does not, however, minimize the threat that they pose. They have both the military means and the intent to act. 
In the words of Charles Wilson, the spokesperson for the National Socialist Movement, the largest neo-Nazi group in the United States: "We do encourage [our members] to sign up for the military. We can use the training to secure the resistance to our government. Every one of them takes a pact of secrecy … Our military doesn't agree with our political beliefs, they are not supposed to be in the military, but they're there, in ever greater numbers."
A report released in 2006 by the National Gang Intelligence Center, which operates under the Department of Justice, noted that: "various white supremacist groups have been documented on military installations both domestically and internationally."
According to Scott Barfield, a gang detective who works for the Department of Defense, Neo-Nazis "stretch across all branches of service, they are linking up across the branches once they're inside, and they are hard-core." In fact, as Matt Kennard revealed in 2012, the US Military has been recruiting neo-Nazis, gang-members, criminals, and the mentally-unfit to fight the War on Terror; namely, to target Muslims both at home and abroad.
The claim that Muslim servicemen in the US Armed Forces represent some sort of fifth column is false. Apart from an occasional lunatic, they are loyal and patriotic Americans. Muslims have been serving in the US military since the time of the Revolutionary War. They served in World War I and World War II. They served in the Gulf War, the Iraq War, and the War in Afghanistan. They number in the tens of thousands.
White supremacists, neo-Nazis, skin-heads, and pseudo-Christian extremists, however, have been infiltrating the US military for decades. What is more, T.J. Leyden, a former skin-head who served in the US Marines, reports that neo-Nazi groups actively attempt to recruit on-duty personnel outside of every major military installation.
Whether they enter the US military as extremists or are radicalized during their service, these anti-government white supremacists and pseudo-Christian extremists all share a common goal: acquire military experience at the expense of American tax-payers in preparation for a racial and religious war. We need not look to the Middle East for signs of Armageddon: the apocalypse is brewing in our own backyard.
If there is no place for so-called radical Muslims in the US Military, there is no place for so-called radical Christians and right-wing racists as well. Rather than open the gates of hell by training criminals, gang-members, racists, fanatics, and bigots, the Armed Forces of the United States should discharge these dangerous individuals and adopt a more selective recruitment policy. Let us not be the tools of our own destruction.
If it is ironic that so-called radical Muslims are serving the interests of the infidel elites, it is even more ironic that so-called radical Christians are serving the interests of the same infidel elites: the real "white supremacists" in the sense that they are a predominantly white elite dedicated to maintaining their global supremacy.
Just like the globalists recruit rejects from ethnic Muslim communities to launch false flag operations, they recruit rejects from Caucasian Christian communities to commit crimes on their behalf. Although they own and control both parties, they pit them against each other in a blood match.
So long as Muslims, Christians, and Jews hate one another, and blame each other for all the evils in the world, the True Masters of the World will continue to reign unfettered. The white supremacists in our military represent a real danger; however, they are merely the dogs of war of the most dangerous of white supremacists: the cabal of globalists, the 1% who control most of the world's wealth while the 99% scramble for the scraps.
Behind every so-called white trash supremacist, there is white globalist garbage, Malthusian madmen and Mistresses of the Feast who hold all human beings in contempt regardless of race, color, nationality or religion. There is no room for us, the 99%, at the table of the 1%.
Dr. John Andrew Morrow is an Amerindian with Canadian and American citizenship. He received his PhD from the University of Toronto in the year 2000. He worked as an Assistant, Associate, and Full Professor of Foreign Languages for over a decade and a half at Park University, Northern State University, Eastern New Mexico University, the University of Virginia, and Ivy Tech Community College. He is the author of over thirty academic books in the fields of Hispanic, Islamic, and Indigenous Studies. A public figure and activist, he lectures all around the globe and acts as an advisor to world leaders. In recognition for his accomplishments, Dr. Morrow received an ISNA Interfaith Leadership Award in 2016. He may be followed on Twitter at @drjamorrow. His websites are www.johnandrewmorrow.com as well as www.covenantsoftheprophet.com. His videos can be viewed on The Covenants of the Prophet Channel on YouTube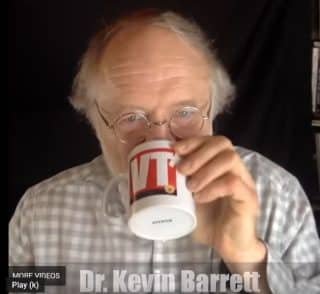 Dr. Kevin Barrett, a Ph.D. Arabist-Islamologist is one of America's best-known critics of the War on Terror.
He is the host of TRUTH JIHAD RADIO; a hard-driving weekly radio show funded by listener subscriptions at Substack and the weekly news roundup FALSE FLAG WEEKLY NEWS (FFWN).
He also has appeared many times on Fox, CNN, PBS, and other broadcast outlets, and has inspired feature stories and op-eds in the New York Times, the Christian Science Monitor, the Chicago Tribune, and other leading publications.
Dr. Barrett has taught at colleges and universities in San Francisco, Paris, and Wisconsin; where he ran for Congress in 2008. He currently works as a nonprofit organizer, author, and talk radio host.
ATTENTION READERS
We See The World From All Sides and Want YOU To Be Fully Informed
In fact, intentional disinformation is a disgraceful scourge in media today. So to assuage any possible errant incorrect information posted herein, we strongly encourage you to seek corroboration from other non-VT sources before forming an educated opinion.
About VT
-
Policies & Disclosures
-
Comment Policy
Due to the nature of uncensored content posted by VT's fully independent international writers, VT cannot guarantee absolute validity. All content is owned by the author exclusively. Expressed opinions are NOT necessarily the views of VT, other authors, affiliates, advertisers, sponsors, partners, or technicians. Some content may be satirical in nature. All images are the full responsibility of the article author and NOT VT.